News
Google has updated its mobile Maps apps for Android and iOS with the release of Google Maps for iOS 2.5.0 and Google Maps for Android 7.4.0.

Both apps include the obligatory bug fixes, but there they diverge, with iOS users now able to see flight, hotel and restaurant reservations from Gmail, while Android users get improved tools for step-by-step directions and commuting.

Google Maps for iOS 2.5.0 brings some of the functionality found in Google Now -- and which was previously introduced in the desktop version of the app. Users with confirmation information from restaurants, hotels or departing airports emailed to their Gmail account will find that searching for these places in Google Maps automatically brings up the user's plans when clicking on the location.

Android users gain two new features. First they can now browse public transport directions to get information about the route they're following, including any transfers or changes. Commuters can also add their home and work locations to get the latest commute information delivered before leaving to or from work.

Google Maps for iOS 2.5.0 and Google Maps for Android 7.4.0 are both available now as free downloads for compatible devices.


Read more »

---





I'm a huge fan of Zombies, Run! The immersive app, available for iOS and Android, helped me to lose weight and get fit again, providing the motivation I needed to run on a regular basis. If you've not heard of it, the app is a bit like a radio play that unfolds between songs and turns a real-world run into an entertaining journey through the zombie apocalypse.

Now the developers behind that app, Six to Start and Naomi Alderman, have released a new fitness tracker and game for iPhone, iPod touch and Android devices, which is designed to help players incorporate more walking into their everyday lives.

The Walk has been funded by the UK's Department of Health and the National Health Service (NHS) and like Zombies, Run! is story based. There are no undead shamblers in this particular app, however. Instead, following a bomb explosion at Inverness station you find yourself carrying a package that could save the world. It's a gripping thriller, in the same vein as classics like North by Northwest or The 39 Steps.

The app adapts to how many steps you can manage in a day and won't expect you to suddenly start going out on long walks (although that's the ultimate hope). It's estimated the game will take around three months to complete (nearly long enough to virtually travel the length of the UK) and audio story clips and mysterious clues are unlocked as you walk.

Adrian Hon, CEO of Six to Start, says, "The Walk is a truly unique app. We don't just record your daily steps -- we provide the motivation for players to literally go that extra mile, and we're twenty times more affordable than other fitness tracking devices. We also have unique partners in the Department of Health and the NHS, who both recognise the power of apps to improve everyone's people's health and save millions of pounds".

Naomi Alderman, co-creator and lead writer, adds, "We already know from Zombies, Run! that a great story can motivate people of all fitness levels to move more. I'm particularly proud of the immersive world we've created in The Walk -- with engaging characters and a gripping story but also a host of maps, newspaper cuttings, audio artefacts and even a comic strip you'll find to help you work out who did plant that bomb in Inverness station, and why. The Walk is designed to be addictive, in the best possible way".

The Walk is available now from the App Store and Google Play. The regular price is $4.99 (£2.99 / €4.49), but there's currently 20 percent off, so you can pick it up for $3.99 (£2.49 / €3.59).


Read more »

---





Twitter has released two major updates to its mobile app roster: Twitter 6.0 for iPhone, iPad and iPod touch, and Twitter 5.0 for Android users.

Both apps sport a new design, and support photos in Direct Messages as well as targeted notifications. iOS users also gain an improved search tool and support for Safari's Reading List.

The Twitter apps' redesign sees Timelines become the predominant view. Users will find that Home, Activity and Discover views appear to be missing, but these are now accessed by swiping horizontally while in Timelines view. Surprisingly, this new look doesn't extend to the iPad version, which sports a minor facelift involving some icons and headers for each section, but little else that looks different from the previous version.

The big new feature in both Android and iOS version is direct support for photos in Direct Messages, which is highlighted by the fact Messages now gains its own button on the tab bar. The feature, which allows users to send and receive photos via DM without a third-party service, is only supported by the official app due to the lack of an API, meaning friends using third-party apps will be able to receive photos, but not compose them (yet!) in return.

Another shared feature is the ability to filter notifications from your network, allowing users to only view replies, retweets and favorites from people they follow. Verified users can also filter responses to just fellow users with the blue tick. iPad users will find these preferences under their profile settings.

Twitter 6.0 for iOS also gains an improved search tool, which makes it easier to access tweets from people both followed and nearby directly from the search results. There's also support for adding web links to Safari's Reading List for viewing later.

iOS users also gain in-app notifications, making it easier to see when people have responded, either through direct message or by replying, favoriting or retweeting one of the user's tweets.

Android users can now limit the push notification feature to specific users, simply by tapping the start next to their profile to add them as a favorite.

Both Twitter 6.0 for iPhone, iPad or iPod touch, and Twitter 5.0 for Android are available now as a free downloads via their respective app stores.


Read more »

---





Miami-based startup Textter has developed a new service aiming to revolutionize the way people send and receive text messages.

We spoke to company founder Carlos Cueto in an exclusive interview ahead of next week's official launch to find out more about the product and what it has to offer.

BN: For people who haven't heard of Textter can you give us a brief overview of what it does?

CC: Textter is a Live Messaging System (LMS), which allows users to see their friends' key strokes prior to pressing send. It's a Live communication tool in which you can respond prior to the other person pressing send.

BN: What gave you the idea?

CC: Observing my kids communicate with their friends via SMS texting. Kids today do not communicate on the phone. They literally spend all day texting, rarely calling anyone. The other reason, I do not have a lot of patience.

I use an iPhone and I am tired of seeing the 3 dots when I am waiting for a response. One day at the movie theater, I was in line buying goodies for my kids and their 8 friends. They were in the theater with my wife. The list was specific, when I got to the front of the line, the young lady told me they did not have watermelon Sour Patch Kids. So I texted my daughter and immediately saw the 3 dots. Unfortunately, I had people behind me but I wanted to read her response which was "The regular is fine, I am sorry, I got confused, the one on the Grove had the watermelon, love you!" The extra 20 seconds does not seem like a lot but when you are holding up a line, it's stressful. Had we had live messaging, I would have seen her response in 10 characters vs waiting for a 76 character entry and then her pressing send. Our service will literally save every Textter time every day.

BN: How big is the potential market and which services do you see as your competition?

CC: Currently, I have not seen any service similar to this, so the competition is nil. I believe eventually every smartphone, tablet and computer will load Textter as their Live Messaging System. At the start, our initial target market is 8 to 18 years old, 100s of millions of whom use SMS and are switching to web-based chats.

BN: What will make people choose Textter over other messaging apps?

CC: It's the only live app available.

BN: Is Textter browser based or will it have its own app? Which platforms will it support?

CC: It will be an app plus browser based and will work across all platforms (smartphones, tablets and computers).

BN: Is it secure, are messages encrypted for example?

CC: Yes, connections made over SSL (Secure Socket Layer) and users must log in.

BN: Will this be a free app? How will you monetize it?

CC: Our basic tool will be free, eventually we will roll out a pro version for use in the office and another version to follow celebrities. Can you imagine reading a text/post from one of your favorite stars or athletes as they are pressing each letter? It's almost as if you can see what they are thinking.

BN: How will you take the product forward? Are there any other ideas in the pipeline?

CC: We use grassroots, social media and word of mouth to move it forward. Yes, we have quite a few additions we plan on launching but are keeping a lid on our secret for now. Development really starts after launch as we improve and adapt our product to service our users' requests.

The service launches on December 16 initially on the iOS and Android platforms. You can register now for an invitation to use Textter by visiting the http://textter.com/ website.

Photo Credit: bloomua/Shutterstock


Read more »

---





If you've been on a bus or subway lately, you probably observed many people consuming the news on a mobile device. However, this is not a new phenomenon. After all, 20 years ago, you would see people consuming the news on-the-go too -- just in paper form.

While the medium and method of consumption has evolved, on-the-go news can still improve. Today, Google announces that it is improving its news service in mobile browsers. Sadly, Windows Phone users are getting the shaft again -- it is an Android and iOS-only affair.

"Increasingly people are reading News on the go and using their smartphones to keep abreast of the latest happenings around the globe. Over the next few days Google News readers on Android and iOS devices will start to see a beautiful new version of the mobile web app that will provide an improved overall experience resulting in a kind of real time news desk for you on your phone", says Mayuresh Saoji, Product Manager, Google News and Social.

Saoji lists the following new features:

Improved overall look-and-feel making it easier to read and track separate stories.
Ability to customize the web app to suit your taste by changing the theme from light to dark, the font size and opting for a larger "story card" with more information per story at your fingertips (from the Settings menu, at top right).
Simplified navigation to any section within News; just click on the Google News icon (top left) to see a list of available sections (including any custom sections you created).
Easier integration with Google Feedback located in the menu at the top right.
A weather gadget in the Local section.
The popular "Editors Picks" option.
Social posts from Google + related to the story are included in the article cluster

Sadly for most of the world, this upgrade is only being released in the USA for the time being. However, Google promises to release it globally "soon". If you are interested in trying it, simply visit news.google.com from Chrome or Safari on a mobile device.

Photo Credit: Ryan Jorgensen-Jorgo/Shutterstock


Read more »

---





Apple is a company that, generally speaking, likes to keep itself to itself -- but that's not to say it doesn't like to keep its finger on the pulse and learn about what others are talking about. This is demonstrated perfectly by the company's latest purchase. This time around Apple has invested a reported $200 million in Topsy Labs, a social media analytics firm that specializes in monitoring trends on Twitter.

Topsy has access to every single tweet sent since Twitter inception back in 2006, making it the most extensive database of the micro-blogging service. The information available through Topsy is the sort of data that would prove immensely useful to advertisers, but at this stage it is not clear just how Apple intends to use the information. Topsy Labs' tool can be used to monitor trends on Twitter, check the topics that are being discussed, as well as determining the success and impact of online campaigns.

In addition to being useful for advertising, information gathered through Twitter would enable Apple to make better use of this and other forms of social media. The ability to analyze Twitter in real-time is a valuable tool for any company, but it is certainly something that one the size of Apple would be able to put to a variety of uses.

There is potential for integration with existing services such as Apple TV. It is easy to imagine Twitter data being used to make program recommendations based on users' Twitter activity and the other Twitter users they interact with. But perhaps the most obvious use for the data is for advertising. Analysis of social media data is just one way in which ads can be better targeted at specific groups, and this could be something we see developed in future iOS and OS X apps -- but only time will tell.

This is far from being the only purchase Apple has made recently. In the past fortnight we have also seen the company buy PrimeSense, the firm behind the 3D motion detection technology used in the Kinect for Xbox.

Photo Credit: Sebastian Kaulitzki/Shutterstock


Read more »

---





Online backup and sharing provider Dropbox has released Dropbox for iOS 3.0, a major update to its app for iPhone, iPad and iPod touch users. Version 3.0 debuts a new design, AirDrop support and streamlines the iPad user experience.

It also comes with improved sharing and exporting tools, promises faster performance and squashes a number of bugs, hopefully reducing the number of times the app crashes.

The new release debuts a redesigned user interface, aimed at fitting in better with iOS 7, but already the focus of sharp criticism from certain parts of its user base ("one of the most ugly, lazy, uninspired and uninspiring iOS 7 redesigns I have seen so far", was one of the most negative comments posted).

Away from the controversy over the design, Dropbox hopes it should remain familiar to existing users while applying enough small tweaks to make it much easier to use. It also hints that the changes set the stage for "some exciting things to come".

User interface tweaks include a more streamlined user experience for iPad users, allowing them to toggle files and photos between split-screen and full-screen views with a single tap. Also promised is improved sharing and exporting options, plus the ability to easily save videos to user libraries.

One key new feature is AirDrop support, making it possible for users to now quickly and directly share files and links with nearby supported devices -- namely recent iOS devices as well as Macs -- via Wi-Fi or Bluetooth.

Also promised is improved performance -- including faster launch times, photo loading and video playback -- and better viewing options for PDF files.

The app also comes with a number of bug fixes, one specific one fixing issues whereby HTML was rendered as text, and a host of other unspecified fixes linked to the most common causes of crashes.

Dropbox for iOS 3.0 is available now as a free download for iPad, iPhone and iPod touch running iOS 7.0 or later. Other available versions include Dropbox for Android, and Dropbox 2.4.7 FINAL for Windows, Mac and Linux.


Read more »

---





According to a new survey from Strategy Analytics, Windows Phone development is expected to ramp up significantly in 2014. Of the 1,600 interviewed devs, 32 percent plan to support the tiled smartphone operating system next year, a number that is twice as large compared to the current statistics for 2013. Android and iOS continue to rank as the top two picks, followed by HTML5 in third place and Windows Phone in fourth.

This is certainly good news for both Microsoft and Windows Phone users. The platform should receive more quality apps, an area where it is sorely lacking in numbers, and, as a result, gain more followers in the coming years. The third ecosystem dream, as Strategy Analytics says, is becoming real. The only thing that stands in the way is the developers' commitment.

I chatted with the makers of Foresee (BorderLeap founder Nate Dicken) and Ruffl (Ruffl founder Laurence Carver) to find out how the two apps, which are developed using the Corona SDK and available for Android and/or iPhone, will make their way onto Windows Phone Store, what are the challenges and how will their strategies adapt to the tiled smartphone OS.

BN: What can you tell us about Foresee/Ruffl?

ND: Foresee helps you plan the best times for your activities by intelligently measuring the weather with your ideal conditions. We like to call it your "Personal Activity Forecast" as the app enables you to quickly foresee how the weather will affect what you enjoy doing, but based on the conditions important to you.

LC: Ruffl is the future of restaurant discovery and booking. The mobile app enables diners to discover new restaurants with real-time availability and great offers wherever and whenever they want.

The platform enables restaurateurs to control their inventory, increasing "walk-ins" and topping up existing trade at the tap of a few buttons from a smartphone. It's a mobile first, hyper local brokering platform for consumers wanting to transact on the move.

BN: Why choose Windows Phone at this point?

ND: Windows Phone is a big market that we have not been able to dive into yet. We'd love to offer Foresee for Windows Phone users and with Corona SDK soon offering build capability for Windows Phone, this is now possible. The nature of the Foresee app and what it offers users, will work well on a Windows Phone.

LC: As you can imagine, the majority of our customers use iPhones and Android devices. We'd love Ruffl to work on every platform out there, but this isn't achievable for us at the moment. We've had a few emails asking if we have plans to release Ruffl on Windows Phone and up until now, we've had to say that it's on our roadmap.

With Corona Labs' upcoming support of Windows Phone and Windows Phone 8, we're excited to go back to these individuals and say the app is on its way.

BN: What are you expectations about releasing an app on Windows Phone Store?

ND: Considering the success of Foresee in Apple's App Store, we have high hopes for success in the Windows Phone market. As it's a new market that we haven't really dived into yet, there are some unforeseen issues surrounding marketing and user adoption. We will be looking into these as we build out the app for Windows Phone.

LC: We expect that Windows Phone downloads will be considerably lower than today's downloads on iOS and Android. However, people have made the effort to contact us and ask about Ruffl on Windows Phone, so we are happy to accommodate.

I think there is plenty of space in the UK for Windows Phone. For example, Apple's stronghold is loosening thanks to Android, and with the right marketing and partnerships, Windows Phone can grab the opportunity and take a share of the market.

BN: What would be the biggest challenges in gaining traction?

ND: The biggest challenges we foresee are marketing and prominence in the Windows App Store.

LC: At this time, Windows Phone is a tiny market in the UK. Currently, we use Facebook ads that target iOS and Android users. The ads link directly to the App Store or Google Play and so far these advertisements have been working very well. Unfortunately, Facebook don't support Windows apps.

Other than that, it comes down to seeing how well the app will work with Windows Phones. Only time will tell.

BN: What are the challenges in porting the app to Windows Phone?

ND: Building with Corona SDK, porting an app to another platform such as from iOS to Android, is relatively easy and straightforward. I expect it to be just as easy to port to Windows Phone.

Ultimately, the biggest challenges with an app such as Foresee is making sure that performance works well on Windows Phones and that the UI is optimized for any unique screen sizes. Furthermore, there are some specific components such as social integration and others that are unique to individual platforms that might need more in-depth reworking or customization for Windows Phone. These things aren't difficult to overcome but do take a bit of time.

LC: Since we started using Corona Enterprise, it's been incredibly easy for us to release Ruffl on iOS and Android. We expect that it will be just as easy to get the app on Windows [Phone] and connect with even more customers.

BN: Which monetization options do you plan to implement?

ND: Foresee will be a paid app. We have explored a freemium model and are considering this for the future. However, due to the nature of the weather service we use and the needs for this type of app, we've chosen a premium monetization strategy, especially so that we can recover our costs.

LC: Our aim is to keep Ruffl free to use for diners. We take a small cut from the restaurant, but only after the restaurant receives a booking from Ruffl. It's a simple pay as you go pricing model.

BN: What are you revenue expectations compared to the current platforms?

ND: Foresee has done quite well in Apple's App Store and the Amazon Appstore. I anticipate that with the right marketing and exposure in the Windows Phone market, it could do just as well.

LC: N/A.

BN: Do you have any plans to develop for Windows 8 as well?

ND: Not at this time.

LC: No.

BN: Do you plan to include any exclusive features for Windows Phone?

ND: Quite possible! When we get further into customizing the app for Windows Phone, we plan to look into that.

LC: The only changes we have considered are UI and UX changes to match Windows Phone. We may adjust Ruffl to use the Windows Phone tile-based UI.

BN: When can users expect to see the app in Windows Phone Store?

ND: Shortly after Corona Labs releases the capability to port Foresee to Windows Phone -- most likely in early 2014. Stay tuned!

LC: In the new year.

You can check out Foresee in the Amazon App Store (Kindle Fire) and Apple App Store (iPhone and iPad) and Ruffl in the Apple App Store (iPhone and iPad) and Google Play (Android).

Photo Credit: Rafal Olechowski/Shutterstock


Read more »

---





Take a look at your wallet. How many debit cards, credit cards and loyalty cards do you have? If it's anything like mine it is probably bursting at the seams with an inch or more of plastic cards. Reach the checkout in a store and you may well have ended up red-faced as you rummage for the right payment and loyalty card. With Coin, all of this could come to an end. The idea of a catch-all replacement that combines multiple cards into one is not new, but thus far solutions have taken the form of mobile apps. Coin is different -- this is a real card that acts as many.

Coins have a tendency to weigh down your pockets, but this Coin is a single lightweight unit. The card features an integrated display which you can use to view the last four digits of a stored card along with the expiration data and CVV so you, and the person you hand the card to, knows which of your stored cards you are using. You may well have used a mobile app that replaces loyalty cards, and Coin is taking this idea to the next level.

In fact, there is a mobile app (for iOS and Android to start with, with the possibility of a Windows Phone version if there is sufficient demand), and it is used to manage the physical Coin card. You can load an unlimited number of your cards into the app, and you will then need to transfer them to the Coin using a supplied dongle. Up to eight cards can be stored on the Coin at any one time, and you can cycle through them with a quick button press -- this is where the display comes in handy.

The mobile apps serves a handy second purpose -- it can alert you if you are parted from your Coin. This is helpful if you accidentally leave the Coin at the checkout, but there is also the option of deactivating the card after a pre-defined length of time in case it is stolen.

It's difficult to believe, but Coin really is just about the same size as a regular credit card. If you were thinking that this is a chunky piece of kit, think again…it will slip into your wallet beautifully as it is a mere 0.84 mm thick. Incredibly, it can even be used in an ATM.

Coin is due to hit the market some time in 2014, priced at $100. If you're keen to get your hands on one as soon as possible, and like the idea of saving some money, there are a limited number of Coins available for just $50. You might usually feel that it's good to have a heavy moneybag, but Coin lightens your wallet in a very good way.

Want to learn a little more? Check out the Coin website, as well as the introductory video:


Read more »

---





While Microsoft has its own mobile operating system with Windows Phone 8, the company generously supports its competitor's products too. After all, with its own OS having such a small user base comparatively, it would be insane not to.

Back in June, the company's flagship non-OS software, Office 365, was released for Apple's iOS to the surprise of many. Today, while less of a surprise, Microsoft announces some major changes to its cloud-storage SkyDrive app.

"One of the most popular features on Windows Phone is the ability to automatically upload the photos and videos you capture to SkyDrive. With the new SkyDrive app for iOS, we're bringing that same capability to those of you who use iPhones and iPads. The update also includes improved editing and viewing in Office Mobile, and OneNote integration. Finally, we're also really excited to share some updates to our Facebook integration on SkyDrive.com, an experience that no other cloud provider offers", says Ryan Hoge, Lead Program Manager at SkyDrive.

With camera backup, Microsoft is offering iOS users the ability to upload their photos to the cloud, so they can clear some space on their Apple devices. With higher-megapixels comes larger photo files, so this will give users some much needed breathing room. After all, Apple charges a considerable amount for every storage spec-bump when configuring the device. Microsoft could be saving them money by reducing the need for increased internal storage.

Of course, a sad fact with modern cellular carriers is that data being capped and throttled has become the norm. With that said, backing up photos over cellular data could have dire (and potentially costly) consequences. No worries though, Microsoft has users covered by allowing them to only backup over Wi-Fi if they choose. Users can then share these photos on Facebook with improved tools through Skydrive.com.

In addition, the SkyDrive for iOS app is gaining new features for opening Office files. Previously, the app would launch the files in a quick-view mode, which was great for viewing documents but not so much for editing. Now, the app can open these files directly with Office Mobile or OneNote, which empowers the user to decide how they want to interact.

If you are interested in trying the new SkyDrive app on your iOS device, you can download it here.


Read more »

---





I'm a Surface Pro user; that I won't deny. I also own an iPad -- it's an old iPad 2, but it still does the job. It may not have the fancy 'more pixels than you can see without the aid of a microscope' display of newer models, but it's perfectly functional. However I'd still pick the Surface over Apple's tablet for just about everything. I'll admit I was tempted by the idea of an iPad Air when it was launched, but after thinking it over a little, I decided to stick with the old model and continue to enjoy my Surface Pro.

But the time will come when I am in the market for a new tablet. Having had my attention flagged by the iPad Air, it would seem that it would be a toss-up between the Surface 2 (Pro or regular) and Apple's offering. However much I think about it, I still find myself falling on the side of the Surface. Why? Several reasons:

1. Flexibility. There might only be two different models of Surface 2 available, but that's one more than is the case with iPad Air. Ok, if you want to get technical about it, there are various capacity Airs available as well as the option of a data-enabled model, but they are all essentially the same device. With Surface 2 there are the Pro and non-Pro versions. If you want to do things on the cheap, the RT model is available in the form of the Surface 2, but if you need the full desktop experience, the Pro model gives you the best of both worlds.

2. Storage. The largest iPad Air that's available has a capacity of 128GB -- Surface Pro 2 goes all the way up to 512GB. You might argue that life is lived in the cloud these days, but it is not always the case. Not all types of work are suitable for conducting online -- I wouldn't fancy editing videos over a flaky Wi-Fi connection, for instance. Local storage is important and the Surface Pro 2 easily wins here. 512GB still not enough? That brings us on to point 3.

3. USB port. It's a little thing, but the Surface has a USB port. Need to charge a phone? Plug it in to the Surface. This is great if you're out in a coffee shop, only have access to one power outlet and want to charge tablet and phone. Need to copy files onto a USB drive? No problem... just plug in an away you go. Oh, there's the microSD card reader too. Like the idea of using a mouse -- plug one in and fling that cursor around the screen.

4. Kickstand. Working with a tablet is meant to be flexible. With the iPad you're restricted to working with the tablet flat on your lap as you hunch over it, having it flat on a table top, or working out some way of propping it up against other things. The Surface has the kickstand which, whether used in conjunction with a keyboard cover or not, offers a far more comfortable working position both on a table and in the lap.

5. It's different. The world and its dog has an iPad. It used to be cool, it used to be something people aspired to own, now it is tired, dull and common. It is very easy to deride something that is different, but this is not the same as trying it out and giving it a reasoned assessment. The idea of Surface seems strange to some people, but this is due, at least in part, to Apple's dominance -- thus far -- of the tablet market. However it is a delightfully well thought out product. To try it is to love it. If more people were willing to break away from the norm, more would realize that. I'm not convinced that the iPad is as popular as it is because it is the best tablet, more than the word iPad has become synonymous with tablets -- for many people other tablets just don't exist. They do. And they are better.

To counter one complaint before it's even made: price. Yes, the Surface is more expensive. But it is a fully-fledged computer, and it's not much more expensive. Compare the 64GB models. iPad Air $699, Surface Pro 2 $899. There is the same $200 difference between the 128GB models -- $799 and $999. $200 to jump from a tablet to a computer. It's a small price to pay.

You can view my colleague Wayne Williams's counter-argument here.


Read more »

---





It's been in development for a long time, but PC remote control app ROCCAT Power-Grid is finally available for iOS and Android devices. And so you're now able to view your PC's status, launch and control programs, monitor emails/ Twitter/ Facebook, play music and more, all from the comfort of your own smartphone.

This is just the start, though. You're also able to create your own "grids", collections of tools which help you to control particular programs or perform various tasks. It's possible to download and install grids created by others, too, and just browsing these will give you an idea of what Power-Grid can do.

Unsurprisingly, this does require a little preparation, and there are some potential problems along the way. You have to install a PC host program, set it up, then install an app on your mobile device and get the two connected. Plenty of people are having difficulties with that final step in particular, and it didn't work for us immediately, either.

The Windows interface side appears designed for style rather than usability, too, but after experimenting for a while you should have the basics working: choose a grid on the PC, you can apply it to the bar you'll see on your device, and it'll be immediately available for use.

Exactly how useful this might be is open to question, at least for the built-in grids. Okay, yes, you can play music, or use the "Incoming Center" to monitor emails, Facebook, Skype, Teamspeak and RSS feeds, but you can do this on your phone already without the hassle of networking with a PC. Or having your phone screen always displaying more or less the same remote control images, draining the battery and maybe risking burn-in.

Still, the ability to create and share grids does make for a versatile package, and if you could use a PC remote control then ROCCAT Power-Grid is certainly worth a closer look. Give it a try.


Read more »

---





Canadian maker BlackBerry is expanding the reach of its BBM service through the latest update for the iOS app, that now includes support for non-cellular Apple-branded devices. As a result, Wi-Fi iPad and iPod users can also communicate with their BBM-using friends, as the app no longer limits access only to iPhones and 3G/4G iPads.

BlackBerry has yet to bestow non-cellular Android devices with the same ability, as BBM is still listed as being incompatible with tablets like the Wi-Fi 2013 Google Nexus 7 even in the latest version of the app that arrived yesterday. Now let's take a look at what (else) the Android and iOS updates for BBM add.

When BBM launched on Android and iOS the frenzy lead to various posts on social networks with people manually sharing their PINs, just so they can get in touch with someone using BBM. The company has added two features which are designed to ease the process.

First, BlackBerry now allows folks to share their PIN and the PIN barcode on social networks from within the app. And, second, Tell Your Friends aims to connect users with friends using social networks by showing which of their contacts have PINs.

BlackBerry also added the option to invite BBM contacts to BBM Groups via email in the iOS app. The other changes for the platform include improvements and fixes for performance, right to left language support and missing BBM contact names.

The Android app also gets BBM Contact categories, list filtering and sorting in BBM Groups and the usual bug fixes (including a fix for high battery use) and performance improvements.

BBM is available to download from Apple App Store (iOS) and Google Play (Android).


Read more »

---





There's nothing stopping tablet owners from making use of mobile websites, but apps are where it is at. Gmail has a perfectly serviceable website, but the app does make many tasks easier to perform. Today, Google takes the lid off a completely redesigned version of its iPad app which has been designed to make it easier to do more, whether you choose to work in landscape or portrait mode.

Despite the fact that this release is, based on version number at least, a small move forward -- this is version 2.7182 -- there are a lot of changes, some cosmetic, some functional. Landscape mode benefits from the addition of a new navigation bar that can be used to switch between accounts and categories. This is essentially an iPad friendly version of the tabbed inbox that has been introduced online.

Just as with online tabs, each category has its own message count, but this is a feature you'll either love or hate. Switch to portrait mode and you'll see a full screen preview of messages. This is a clean, uncluttered look that still manages to provide access to frequently used features. Working in portrait view gives a larger message composition window.

Google is also claiming "improvements to scrolling performance" and the announcement posted on the Gmail blog also touts "several iOS 7 visual updates on both iPad and iPhone". You can grab yourself a copy of the app from the App Store.


Read more »

---





Five words, 25 letters, all indicating the latest addition to Apple's growing iPad family. Let's try to skirt over the name that extends to almost Tolstoyan lengths before we get too bogged down in it. But it does bear mentioning that this is a name no one is going to use; this is the iPad mini, perhaps the 'new' iPad mini to help differentiate from its predecessor. However it's not just the official title that's big… there's that price tag too.

While the price is not a new revelation -- we knew about it when the new iPad mini was announced a few weeks back -- now that the latest model is actually available to purchase, it seems a good time to reassess it. Head over to the Apple website and you can pick up the diminutive tablet for $399. And that's just the base price.

The fat end of $400 gets you the 16GB model, progressing through $499 for 32GB and $599 for 64GB, all the way up to $699 for 128GB. What's that? You want a data connection as well? That'll be an extra $130, please. These prices are, in my opinion, off the scale. They are insane. The big selling point for this latest version of the iPad -- so important a change that it is crowbarred into the awkward name -- is the Retina display. The screen is what Apple is using to push this tablet.

But how special is it? Look at what is one of the iPad mini's closest rivals, Google's Nexus 7. Apple's device has 0.88 inches on the Nexus 7's 7.02 -- 7.9 inches compared to 7 -- but it does have a higher resolution -- the Nexus 7 offers 1920x1200 while the iPad mini is 2048x1536. At first glance it might seem like this is a significant difference, but break it down into pixels per inch and it becomes far less significant. It turns out that Apple boasts 326ppi while Google has 323.

With these small differences, surely the prices are fairly close? Nope. The Nexus is $170 cheaper for the 16GB model and a staggering $230 cheaper for the 32GB version. 32GB is the largest Nexus 7 available, and it is the only model that comes with a data option. What do you pay for this privilege? Not $130 extra, that's for sure -- just $80.

Taken at face value, the iPad mini offers a screen that is less than an inch larger than the Nexus and a meager 3ppi more. Is this worth the extra $170, $230 or $280? I can't see that it is. What is sickening is that people will pay this kind of money for what is really a very ordinary tablet. But it's clear that Apple is preaching to the converted here. With a starting price of $399, this is a purchase that will appeal to those who are already ingrained in the world of Apple, but for anyone just looking for a rough-seven-inch tablet, it's obvious which is going to be more attractive.

For newcomers, the price is going to be seriously offputting. If you already own a full-sized iPad and want a smaller model without incurring the expense of re-purchasing apps for a different platform, the mini might make sense, but for the most part Apple is pricing itself out of the market. Apple's hardware has long had a reputation for being expensive, and this latest round of pricing does nothing to shake off this idea.

Has the price put you off, or are you willing to pay more to be part of the Apple world?


Read more »

---





Cloud storage service Mega arrived with a bang early this year, after its controversial founder Kim Dotcom revealed that users will get a whopping 50 GB of storage at no cost. The man's involvement with the defunct Megaupload certainly piqued people's interest, with more than three million users trying or relying on the service within the first month.

More than nine months after its launch, Mega has announced, via its official blog, the end of the beta stage. The cloud storage service now touts "significant improvements and optimizations" as well as a refreshed look for the site. Let's take a look at what's new.

Mega says that it has improved the loading times, after trimming the code and implementing dynamic feature fetching. The service has also improved the file transfer feature, allowing users to navigate its site while uploads and/or downloads are in progress; the queue shrinks to a small widget which appears in the left corner of the page, after leaving the file manager.

The contact management is improved as well; users will be able to see the number of files that other users are sharing with them, as well as the time-stamp of the files.

As far as new features go, Mega now comes with a refreshed website that, according to the company, should reduce the CPU overhead (workload) and provide a more responsive interface. There is also a new navigation panel, which allows for easy switching between the service's features. Mega added user avatars, which appear in contacts lists.

The cloud storage service now makes use of local caching -- it should improve loading times as the browser will only fetch changes from the server. A new Firefox extension is touted to make virtually everything better: lower loading times, improved download speeds and beefed-up security. Downloaded content is saved straight to the user's drives (bypassing the browser buffering), folder structures can be downloaded and the updates are cryptographically signed by Mega.

Mega is still waiting for Apple to approve its iOS app, which is expected to arrive in the App Store later in November. Also later this month, the service is set to receive an official Sync client for Windows. Encrypted messaging and real-time chat will arrive in early 2014, says Mega.


Read more »

---





Sometimes there is revolution in evolution. That's my surprising reaction to iPad Air, which Apple started selling on November 1. This is simply the best tablet I have ever used. Period. The fruit-logo company wisely chose to resist reinventing the wheel and build a vehicle around four instead.

For people who complain -- and there are many -- that Apple's newest 9.7-inch tab shows waning innovation, let me correct the record. You are oh-so wrong. iPad Air is an amazingly refined piece of art -- like a sculpture chiseled to perfection. iPad 3 and 4 are unpolished bricks by comparison. More importantly, anyone looking for a tablet to largely, or completely, replace a Windows PC or Mac, Air is it.

Apple's newest full-size tab is so remarkable, the two previous models look bad. For critics searching for lacking innovation, there it is. Rather than advance the motif, the company reversed by putting in a fat, heavy battery to support the previous generations' higher-resolution displays. The new iPad knocks almost 200 grams off iPad 3's or 4's weight and reduces width by 16 millimeters and thickness by 1.9 millimeters.

By contrast, iPad Air is heavy where it counts -- performance from the 64-bit A7 chip, iOS 7's smooth operation and the device's long battery life -- and light everywhere else. With respect to thinness, lightness and innovation, only Sony Xperia Tablet Z comes close.

Air Smells Sweet

On launch day, I queued up with 30 other people before my local Apple Store opened to buy the tablet for my nearly 92 year-old father-in-law. He is moving from the original MacBook Air released five years ago to iPad Air. While buying the tab for him, I snatched one, too. WiFi for him, LTE for me.

For months he asked about possibly replacing the laptop with a tablet. The time is right. By branding and marketing material, Apple positions iPad Air as a PC alternative, acknowledging what analysts have said for a year (and I for three) -- tablets cannibalize computer sales.

"Air" branding clearly is deliberate, tying to the company's lightest laptop. There is the 64-bit chip, which further closes the gap with OS X. Finally, Apple now provides the iOS versions of desktop productivity apps Keynote, Numbers and Pages free with Air (and iPad mini Retina Display), too. By that reckoning, the cheapest Mac you now can buy is $499, not $999 MacBook Air. Something else: I find iOS 7's flat design to be superior to OS X's quasi-3D. The desktop OS motif is more cluttered, visually distracting and more eye-exhausting to use, by comparison.

Some people complain about iOS 7, perhaps because they're too attached to the past motif. But the usability is tremendously greater, and the UI is better-suited to touch than its predecessors.

iPad Air feels fast and resoundingly responds. My father-in-law marvels at webpages that open nearly instantly compared to seconds and seconds and seconds on his aged Mac laptop. That's with the benefit of a 64GB SSD I installed two years ago.

How Air Compares

Since so many of our readers obsess about specs, let's dispatch with them before getting to my nuts-and-bolts first impressions and compare to two other worthy tablets.

Apple iPad Air: 9.7-inch display, 2048 x 1536 resolution, 264 pixels per inch; 64-bit A7 chip with M7 motion coprocessor; 1GB of RAM; 16GB, 32GB, 64GB or 128GB storage (depending on model); 5-megapizel rear- and 1.2MP front-facing cameras; WiFi N; LTE (some models); Bluetooth; 10-hour battery; iOS 7. Measures 240 x 169.5 x 7.5 mm and weighs 469 grams (WiFi) or 478 grams (LTE). Prices range from $499 (16GB WiFi) to $929 (128GB LTE).

Sony Xperia Tablet Z: 10-inch display, 1920 x 1200 resolution, 224 ppi; 1.5GHz Qualcomm Snapdragon S4 Pro APQ8064 Cortex-A9 processor; 2GB of RAM; 16GB or 32GB storage (depending on model); 8MP rear- and 2MP front-facing cameras; NFC; WiFi N; LTE (some models); Bluetooth; micro-SD card slot; 10-hour battery; Android 4.2.2. Measures 266 x172 x 6.9 mm and weighs 495 grams. 16GB: $499. 32GB: $599. 16GB LTE: $629.

Google Nexus 10: 10.055-inch display, 2560 x 1600 resolution, 300 ppi; 1.7GHz Exynos 5 (Cortex A-15) dual-core processor; Mali T604 graphics chip; 2GB of RAM; 16GB or 32GB storage (depending on model); 5MP back- and 1.9MP front-facing cameras; NFC; WiFi N; Bluetooth; 10-hour battery; Android 4.3. Measures 263.9 x 177.6 x 8.9 mm and weighs 630 grams. 16GB: $399; 32GB: $499.

Nexus 10 is the most-affordable of the three tabs and packs the highest pixel density. Xperia Tablet Z is water- and dust-resistant and offers expandable storage. iPad Air's merits aren't as obvious. They're a culmination of finely-tuned attributes.

Lighter Than Air

The new iPad's screen is supremely bright and crisp, even if by the specs inferior to Nexus 10 in pixel density and absolute resolution. Some of the iOS apps displease by how odd-sized some fonts render. Many are just too large or deliver too many mixed-sizes; displeasing.

But the overall app experience outclasses Android, particularly ebooks, magazines, newspapers and webpages. As I expressed about the original iPad three years ago, the reading experience is enormously immersive. That hasn't changed, nor has it improved on Android. There are several reasons for this difference. Platform and app designs rank highly. Another is subtle and relates directly to screen size and tablet shape.

iPad Air's dimensions and weight are perfect for one-handed use. No tablet in the 9-inch+ category compares. Sony Xperia Tablet Z is close, mainly because of similar lightness. The Sony is 23 grams heavier and about a millimeter thinner, but iPad Air's dimensions are better.

Most Android slates -- Tablet Z, among them -- are taller in portrait mode, while iPads are generally squatter. Air's appearance is more pronouncedly squat because the screen stretches closer to the rim -- like the mini. Android apologists scoff at iPad's screen dimensions, because they aren't 16:9. But such orientation, while good for landscape mode makes tabs top heavy in portrait orientation. Apple's tablet is much better for reading. Yeah, some of us actually do this rather than primarily watch movies or play games -- activities more-than-enjoyable on iPad Air. But not just reading, truly immersive -- as in content absorption.

Apple's tablet feels good in the hand. Solid, and the screen doesn't show fingerprints as much as, say, Google Nexus 10. This is the first 9-inch+ tab I can comfortably and accurately type on with my thumbs in portrait orientation. Again, Xperia Z is close. The Sony tablet is easer one way because it's narrower than longer in portrait. However, iPad Air has better balance.

Balance is everything in gadgets, something photographers have known for decades. Moto X has great balance. By comparison, Nexus 5 does not. iPad Air is superbly balanced, something you really feel shifting it in your hands. The last two models were heavy and unbalanced for any long-time use, particularly for reading in portrait mode. Apple committed customer injustice by chucking to market iPad 3 and 4 bricks. Air is iPad 2's true successor.

Breath of Fresh Air

For years I have toyed with the idea of replacing laptop with tablet. But none has offered the right combination of performance, usability and productivity apps. iPad Air may be the one, and I strongly contemplate putting aside Chromebook Pixel for the Apple tab.

iPad Air is a tablet that can replace a laptop -- hey, my elderly father-in-law is doing just that. Granted, his needs are more limited. Hell, if I can be satisfied with Chromebook, why not Air?

Apple pushes 64-bit architecture across its product line. That's unification underway the Android camp shouldn't underestimate. There's more to tablet computing benefits than how many cores the main processor packs.

My positive reaction isn't about one thing. It's a culmination. iPad Air is refreshing and the user experience is exceptional. Under Steve Jobs' leadership, Apple wowed with category-changing products that led to well-deserved reputation for innovation. Last month, many Apple critics and fans reacted negatively to another seemingly-the-same iOS tab. Don't be fooled by them. Refinement is innovation, too.

iPad Air is a fine wine. You have to crack the cork, take in the fragrance and savor the taste to appreciate its vintage.

Photo Credits: Joe Wilcox


Read more »

---





Google groupies make too much of third quarter tablet shipment estimates released yesterday. By IDC's reckoning, Apple's global share fell from 40.2 percent to 29.6 percent year over year. Meanwhile, Samsung soared from 12.4 percent to 20.4 percent share. The whole Android market grew at iPad's expense -- that's the popular contention smirked across the InterWebs. Yeah, right.

Apple apologists are quick to give the money rebuttal whenever market share tides turn against the products -- that the fruit-logo company earns more per device than rivals, sometimes all of them combined. The revenue rebuttal is exhausting for being so predictable but often also it's right and no truer than the tablet market. Q3 share numbers make lots of sense behind CEO Tim Cook's shocking decision to raise iPad mini 2 prices by $70 over the original -- that's about 22 percent. Profit share is his priority.

Price Hikes

"While some undoubtedly hoped for more aggressive pricing from Apple, the current prices clearly reflect Apple's ongoing strategy to maintain its premium status", Jitesh Ubrani, IDC research analyst, says. "It's worth noting that Apple wasn't the only one to increase the price of its small-sized tablet during this product cycle: Both Google and Amazon increased the price of their newest 7-inch tablets from $199 to $229 to cover the higher costs associated with high resolution screens and better processors".

Samsung and ASUS made commendable share gains, but their tablet shipments increased while Apple's largely remained flat but strong -- 14.1 million units versus 14 million a year earlier. The point: iPad didn't decline, rather the market grew larger. The more significant number isn't Android tablet makers' share gains, but iPad's revenue decline -- from $7.1 billion to $6.19 billion, for fiscal fourth quarter to fiscal fourth quarter (essentially synonymous with calendar Q3) -- while selling about the same number of units.

Apple's smaller tablet pulls down average selling prices and margins with them. By dividing fiscal Q4 revenue by number of units shipped you get:

2011: $611.58 (only 9.7-inch iPad available)
2012: $508.19 (Lower-cost iPad 2 sells alongside costlier models)
2013: $439.37 (iPad mini, starting at $329, available for 11 months)

These ASPs don't take into account channel inventory versus sell-through, which would be the same for comparing competitors. Clearly Apple prices iPad mini to increase margins and with them profit share.

"We continue to view the tablet market as huge", Cook said this week during Apple's quarterly conference call. "We see it as a large opportunity for us. We are not solely focused on unit share as I've said many times, but we're focused on usage in customer's side, the loyalty and other things that are very important to us".

Android vs. iOS

But the company doesn't abandon the low-end of the market, where share climbs fastest and ASPs decline nearly as quick, reducing the original mini to $299, according to NPD. Using the U.S. market as one measure, retail unit sales rose 38 percent in September, year over year, but revenue fell 3 percent, with ASPs down 30 percent -- from $453 to $318. For the largest growth segment -- 7-inch to 8.9-inch tabs, up 550 percent year over year -- ASPs rose to $229 from $190, according to NPD.

Android and iOS tablet sales were near even, 47 percent and 48 percent, respectively. NPD puts Android share of 7-inch to 8.9-inch tabs at 64 percent -- 35 percent for iOS. For 9-inchers and larger, iOS share was 68 percent and Android 20 percent.

Globally, Android handily leads iOS, according to IDC. The Android army of fanboys claims increased market share dooms iOS, because developers follow the money, which the more popular platforms deliver. But the logic is flawed. If you assess the range and quality of apps available for iPad, Android still trails. Rather, increased Android popularity means better tablet apps for the platform, not necessarily fewer for the other.

Still, developers' preferences make a difference which platform gets apps first. Globally, preferences vary -- often dramatically -- by region, according to Vision Mobile's Developer Economics. Australia, Canada, France, Germany, Russia and the United States are iOS strongholds, for example. Android rules in China, India and much of Eastern Europe.

"In almost all countries there are a significant fraction of developers who treat Android as their primary platform and overall the number of developers with iOS and Android as primary platform is almost exactly even", explains analyst Mark Wilcox (we're not related, that I know of).

Something else: There is the platform's robustness to consider. Lower-cost tablets largely account for Android share gains, making "tablets available to a wider market of consumers, which is good", Tom Mainelli, IDC research director, says. "However, many use cheap parts and non Google-approved versions of Android that can result in an unsatisfactory customer experience, limited usage, and very little engagement with the ecosystem".

He emphasizes: "Android's growth in tablets has been stunning to watch, but shipments alone won't guarantee long-term success. For that you need a sustainable hardware business model, a healthy ecosystem for developers, and happy end users".

Top Five Tablet Vendors, Shipments, and Market Share, Third Quarter 2013 (Shipments in millions) 

| | | | | | |
| --- | --- | --- | --- | --- | --- |
| Vendor | 3Q13 Unit Shipments | 3Q13 Market Share | 3Q12 Unit Shipments | 3Q12 Market Share | Year-over-Year Growth |
| Apple | 14.1 | 29.6% | 14.0 | 40.2% | 0.6% |
| Samsung | 9.7 | 20.4% | 4.3 | 12.4% | 123.0% |
| Asus | 3.5 | 7.4% | 2.3 | 6.6% | 53.9% |
| Lenovo | 2.3 | 4.8% | 0.4 | 1.1% | 420.7% |
| Acer | 1.2 | 2.5% | 0.3 | 0.9% | 346.3% |
| Others | 16.8 | 35.3% | 13.5 | 38.8% | 25.0% |
| Total | 47.6 | 100.0% | 34.8 | 100.0% | 36.7% |

Source: IDC Worldwide Tablet Tracker, October 30, 2013
Mac Metaphor
The Mac is excellent measure, often ignored, where Cook leads iPad. Customer satisfaction/retention and preserving margins are top priorities. Apple's PC shipment market is less than 10 percent in most countries -- 11.6 percent in the United States, according to IDC. Nevertheless, there is a vital, robust Mac app ecosystem. In fact, there are in many categories better "native" apps selection than Windows 8.1, because of radical changes Modern UI introduces.
Endpoint analyst Roger Kay argues that for PCs, shipment share obsession ignores the more vital metric: Revenue. By shipments, Lenovo is No. 1, using IDC data. But by revenue, Apple is global PC leader, Kay contends.
"Apple enjoys an operating margin that hovers around 20 percent, while Dell, HP, and Lenovo have to content themselves with operating margins in the low single digits (1-3 percent)", Kay says. "Acer's earnings have hovered around the zero mark in recent quarters".
Absolutely, Android makes stunning share gains -- and that's good for bringing more affordable tablets to more people and bolstering the larger app ecosystem. But Android's success isn't iPad's doom, and Cook wisely looks to preserve margins and brand equity over gaining market share.
Be honest, would you rather have more pumpkin pie or tastier?
Read more »
---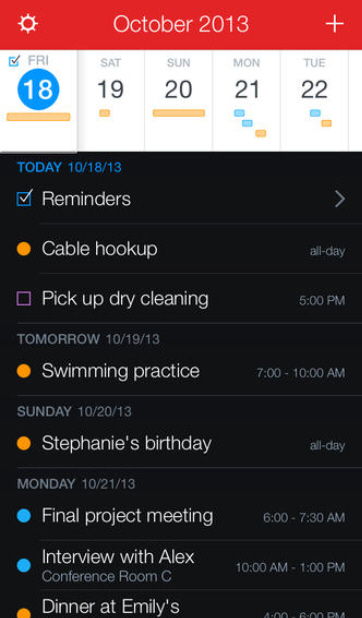 Flexibits has released Fantastical 2 for iPhone, a major new update for its popular calendar app (which, despite its moniker, also works natively on the iPad). Fantastical 2, which is also available for Mac, is designed to work with existing calendar services -- including iCloud and Google -- but adds a more powerful front end for managing and viewing reminders.
Version 2.0 has been redesigned from the ground up to blend in with the new flatter look of iOS 7, but also ships with a number of major new features.
The Reminders tool has been revamped to allow users to view both events and dated reminders together in a single list. It also now supports adding reminders directly from either the main Reminders list or new event screen.
Reminders also now supports dates, times and geofences, which allows users to trigger alerts when they arrive at or leave a particular location.
Fantastical uses a natural language parser to help users more easily create new appointments, supporting both voice dictation and typed text. Version 2 introduces an extended keyboard with numbers and symbols on 4-inch screens for easier data entry.
Version 2 also adds support for new commands, such as trigger words for creating reminders (including "reminder", "todo", "task" or "remind me to"), recurring events ("second Friday of every month", "every weekend" and "last weekday of the month") and alerts ("alert 1 hour before" and "alarm 7AM").
Fantastical 2 also adds new event details for recording extra information such as a map of the event location and wider options for setting up recurring events. Similarly, users can now tap on a birthday for contact information or to send a quick greeting.
The new version also adds a weekly view, accessible simply by rotating your iOS device to landscape orientation, plus includes a new background app updater that pushes events, reminders and alerts to Fantastical from cloud-based services even if it's not opened frequently. Support for TextExpander has also been implemented.
Fantastical 2 for iPhone (and iPad) is available as a paid-for purchase through the App Store. For a limited time only, it's on special offer at $2.99. Mac users can also download a 14-day trial of Fantastical 1.3.10 – the full version costs $14.99.
Read more »
---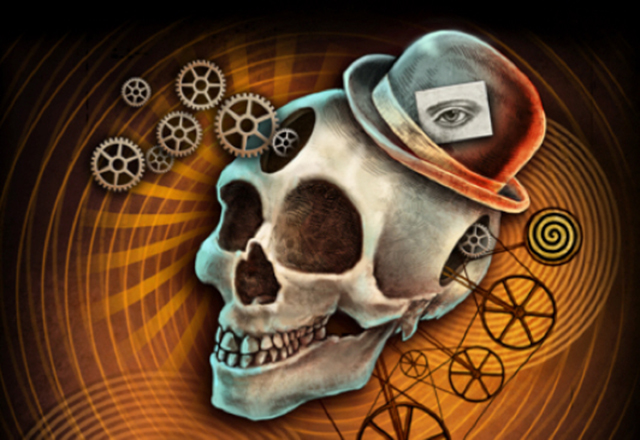 I like unusual games, and the original Papa Sangre really appealed to me. If you've never heard of it, it's essentially a sound-only game for iOS in which you listen for 3D audio clues as to where you are and the direction you need to be going in. The follow up, The Nightjar (featuring the voice of Benedict Cumberbatch), added more of a story to the proceedings, and now in time for Halloween, Papa Sangre returns.
I was one of the beta testers for the new game, and I'm pleased to report Papa Sangre II is a massive improvement over the original. The rebuilt binaural processing Papa Engine does an amazing job of recreating a 3D soundscape in your mind and the addition of actor Sean Bean's vocal talents, a choice of control systems and some inspired levels -- one moment you're escaping a burning house, the next shooting ducks in the dark -- combine to create a very rewarding experience.
In Papa Sangre II you are dead. There's no way to sugar coat it. But by following Sean Bean's instructions, and collecting memory fragments from dead souls, you might be able to find a way back to the World of the Living.
The improved control systems -- you can choose Gyro (point in the direction you want to go), Swipe (drag your finger on screen to change direction) or Tilt (angle the device where you want to face) -- mean you can play it anywhere. I prefer to use the Gyro mode while seated in a swivel chair in the dark (or with my eyes closed), as I find it's so much easier to follow the sounds. With the original Papa Sangre it could be difficult sometimes to work out if a sound was in front, or behind. There's no such confusion in the sequel -- you know exactly where the sounds are coming from (provided you have your headphones on the right way round).
You walk or run by tapping the bottom half of the screen (left, right, left, right) and interact with items or your surroundings using the hand icons at the top of the screen. It's very intuitive and you don't need to see the screen to use it.
The biggest complaint I had with the first game was the lack of variety in levels. That's definitely not an accusation that can be leveled at Papa Sangre II. As well as trying to escape a burning building, or shooting incoming ducks, other challenges have you rescuing a dog from an ice field, using a Geiger counter to avoid radioactive steam blasts, making your way through a thunderstorm, and swimming under water (not all at once, thankfully).
The game is very challenging at times, and it can be frustrating repeating levels that you can't seem to master, but that just makes it all the more rewarding when you finally make it through.
The fact the game takes place in your mind, means it's surprisingly scary at times. Inching forward trying not to make a sound while something is growling by your shoulder really does get the blood pumping.
Obviously this is not a game for everyone, but if you fancy trying something different and giving your imagination a workout, I can definitely recommend it. Papa Sangre II is available in the Apple App Store now, priced at $3.99/£2.49.
Read more »
---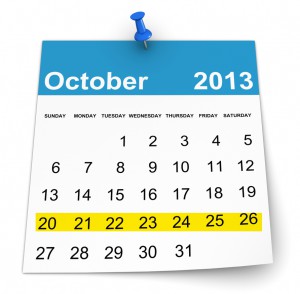 Apple took center stage this week. At a special event the new iPad Air, iPad mini, Mac Pro and a raft of free software were all revealed, and we liveblogged through the whole thing. Not to be outdone by Microsoft, Apple decided to give Mavericks away free of charge along with iWork and iLife. But it was the iPad Air and mini that stole the show, sharing the same innards as the recently announced iPhone 5s, but boasting a redesigned exterior -- at least in the case of the Air.
Of course, no tablet launch would be complete without matching cases. There was also the interestingly designed Mac Pro which looks delightful and is a serious powerhouse, but has a price tag to match. After the big launch of the iPhone 5s, Apple showed off the latest addition to the iPhone range in a TV commercial.
It has been a week of mixed fortunes for Microsoft this last seven days. After the launch of Windows 8.1, Internet Explorer 11 users were disappointed to find that Google was not working in the browser. A quick tweak saw that it was fixed, however. Surface RT users looking to upgrade to RT 8.1 had a slightly rough time and Microsoft ended up pulling the update from the Windows Store before quietly fixing the problem and re-issuing the update. We also showed you how to grab the Windows 8.1 ISO without the need for an MSDN subscription.
Surface 2 went on sale this week and Microsoft targeted musicians with the intriguing Surface Music Kit. The company also made a move to get rid of stock of the previous generation Surface Pro by dropping the price.
Google launched a series of tools aimed at promoting freedom of speech around the world while at the same time ruffling some feathers by experimenting with banner ads in search results. It was the end of an era as torrent website isoHunt shut up shop. In other online news Yahoo acquired image recognition startup LookFlow.
Despite later deciding to spend a week using only Microsoft products, Brian was more than a little impressed with the Acer C720 Chromebook.
Moving on to smartphones, Windows Phone users gained a new alternative browser in the form of Maxthon and Mihaita was keen to highlight why you might want to try out a Microsoft/Nokia handset. Following the release of Update 3 last week, new larger Windows Phone handsets were showcased. Nokia also unveiled its new Windows RT 8.1 tablet, the Lumia 2520. In a break from the norm, LG released its first Firefox OS phone, the Fireweb.
That's it for this week. The next seven days promise to be action-packed... there's a distinct possibility that Google may have a word or two to say about the Nexus 5. We have our ears to the ground.
Photo Credit: vinz89/Shutterstock
Read more »
---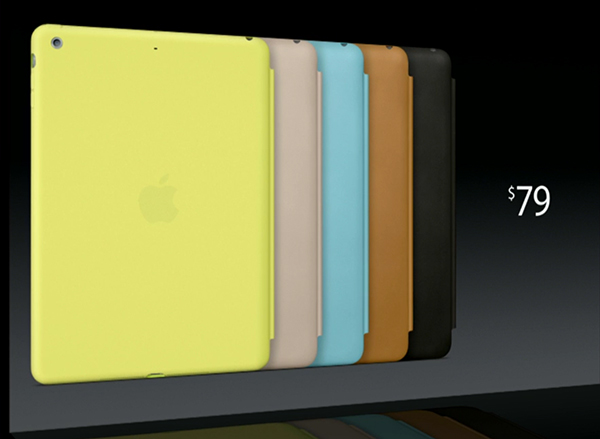 When you spend a sizable amount of money on a device, it's understandable that you wish to have a bit of insurance on your investment, and a fair amount of us do that by purchasing a protective case. Apple is no stranger to the accessory market and today pushes it a bit further, announcing new offerings for its latest iPad devices.
These protective wombs for your tablet are available in a range of colors. The Smart Covers for iPad Air and iPad mini with Retina display will retail for $39, and hit the market in a choice of blue, green, pink, yellow, black and red.
Meanwhile, Smart Cases will lighten your wallet a bit more, taking $69 from your bank account for iPad mini cases and $79 for iPad Air. These leather cases come in the ever-popular beige and brown shades, as well as black, blue, yellow and red.
The company promises that "Smart Covers and Smart Cases are available through the Apple Online Store, Apple's retail stores and select Authorized Apple Resellers".
Of course, these prices are on top of what you will already be shelling out for the devices themselves, though its not uncommon -- after all, neither Google nor Amazon will be throwing in freebies with your purchase.
Read more »
---

Despite being billed in the press as an iPad event, Apple announced much more than just the iPad Air and new iPad mini today. As well as improved hardware it revealed its OS update Mavericks would be free, and the giveaways didn't stop there.
Its iWork productivity apps -- Pages, Numbers and Keynote -- and its iLife creativity apps -- iPhoto, iMovie and GarageBand -- have been redesigned to take full advantage of OS X Mavericks and iOS 7, updated to 64-bit, integrated with iCloud and made entirely free. They'll come bundled with new Macs or iOS devices. If you're an existing user, and running Mavericks or iOS 7, you'll be able to update to the new versions. Not planning on buying new hardware and not an existing user? You'll still need to pay to get them, I'm afraid.
Well most of them, at least. GarageBand however, is now free for all OS X Mavericks and iOS 7 users, although it will cost you $4.99 (per-platform) if you want to purchase additional GarageBand instruments and sounds.
"This is the biggest day for apps in Apple's history," said Eddy Cue, Apple's senior vice president of Internet Software and Services. "These new versions deliver seamless experiences across devices that you can't find anywhere else and are packed with great features like iMovie Theater, Drummer and a new unified file format for iWork documents across all your devices".
Here are some of the highlights:
iWork for Mac and iOS introduces a new unified file format, and the iWork for iCloud beta adds support for real-time collaboration -- you can work on a document on an iPad, Mac and on a PC via the cloud.
iPhoto for Mac and iOS is now 64-bit, and offers new tools and effects. You can share images as custom slideshows,
iMovie for Mac and iOS has been redesigned to make it easier than ever to browse your video library and share favorite moments. iMovie for Mac includes simplified editing tools, while iMovie for iOS lets you edit movies on your iPhone and iPad.
GarageBand for Mac has received a huge update with a new Sound Library, and additional features like Drummer and Smart Controls. GarageBand for iOS has been updated to match the look and feel of iOS 7 and offers a full recording studio with up to 32 tracks.
Are you excited about the new software?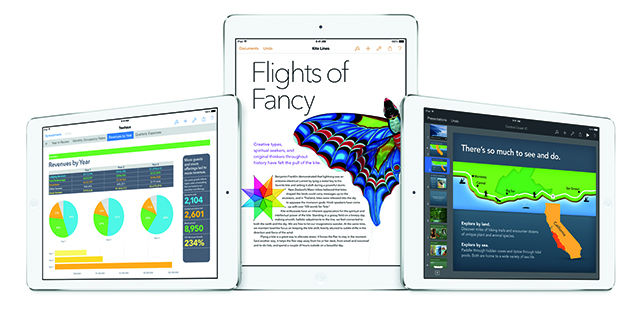 Read more »
---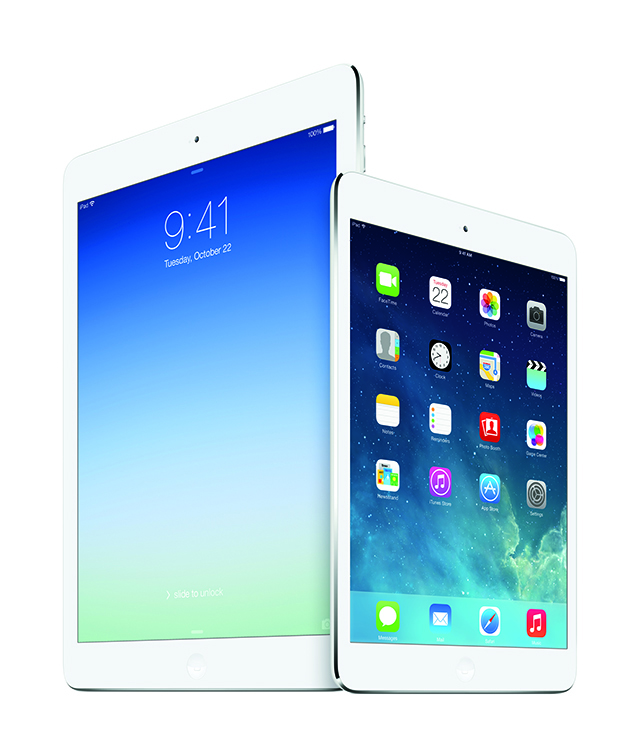 It was a feature-packed morning of announcements where it seems as though Apple was going to give away everything for free. Sadly the freebies are limited to software and the new range of hardware has to be purchased in the regular way. The big news for tablet fans is the iPad Air. Borrowing its name -- in part at least -- from the MacBook Air range, thinner and faster are the adjectives of the day.
Phil Schiller said: "Thinner, lighter, more powerful than ever before, and incredibly, excitingly new that it deserves a new name: iPad Air". Boasting the same A7 processor as the recently announced iPhone 5s, the iPad Air is just 7.5mm thick and weighs 1 pound -- compare this to 9.4mm and 1.4 pounds for the previous model. Despite the thinner design and smaller battery size, we can still expect 10 hours of usage from the tablet which offers up to eight times the performance of the original iPad, and up to 72 times the GPU performance.
Silver and white, and space gray and black models are available from 1 November with prices starting at $499 for the Wi-Fi-only 16GB model. If you want a cellular data connection, the price jumps to $629. The iPad 2 remains on sale for $399.
The iPad mini is also sure to cause some excitement. This miniature model really is just a shrunken version of its bigger brother. The screen may be smaller but it is now a Retina display which boasts the same number of pixels as the iPad Air. Inside, there's the same A7 processor, up to four times faster graphics than its predecessor and the same 10 hour battery life.
The color choices are the same as with the iPad Air (silver and white, and space gray and black), and the 16GB Wi-Fi-only model starts at $399. The original iPad mini remains on sale for the reduced price of $299. It's still more expensive than the likes of the Nexus 7 and the Kindle Fire HDX, but the gap is closing.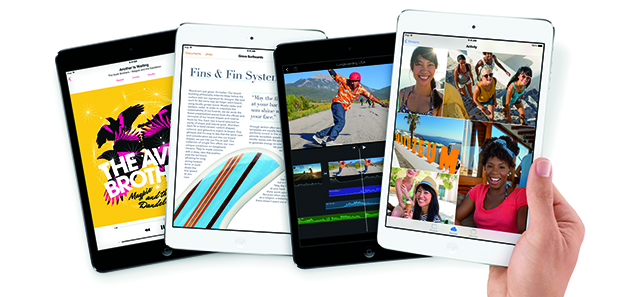 Read more »
---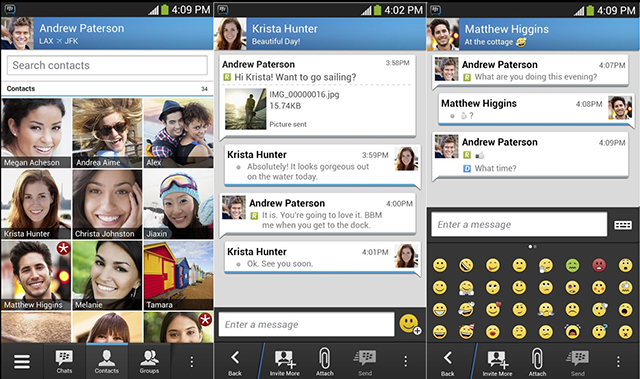 BlackBerry has relaunched BlackBerry Messenger (BBM) for Android and iOS, almost a month after its previous attempt was derailed by a leaked edition.
This time the company appears to be keeping more control over events, in particular by making some users wait for an official notification email before they can use the app.
If you signed up in advance at BBM.com then this shouldn't be a problem, according to a BlackBerry blog post -- you'll be given access right away.
Everyone else will have to launch the app, enter an email address and wait for a while. How long? BlackBerry says it's "focused on moving millions of customers through the line as fast as possible". It seems to have allowed the first block of five million new users online just after launch, but nothing has happened since then, as we write.
If you're impatient to find out more, than the @BBM Twitter feed will keep you up-to-date with the latest.
And while we're all waiting, it's tempting to wonder if all this demand for BBM, at least, means there's a future somewhere for BlackBerry, after all?
BBM is available for download (if not use) now.
Read more »
---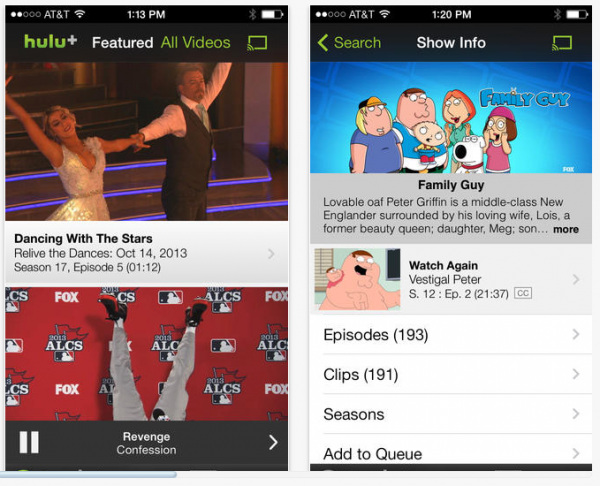 Back at the start of this month, Hulu Plus for Chromecast made an appearance, but aimed only for Android phones and tablets, as well as iPad customers. Those using Apple's platform as a smartphone device were feeling a bit left out, but today the streaming video service aims to right the ship.
"Today, we are excited to add the Chromecast integration for Hulu Plus to your iPhones", announces Hulu's Karan Nischol. "The Hulu Plus integration with Chromecast will convert your app into a custom remote letting you control video on your Chromecast connected TVs, while allowing you to browse the Hulu Plus app directly from your iPhone", the statement continues.
Version 3.3.1 requires you to be running iOS 6 or newer, and it's a free download from the Apple Store. It will, of course, require a subscription to Hulu Plus -- and, as you can guess, that $35 dongle from Google. Why this was not included previously is anyone's guess, but Hulu certainly wasted little time getting the iPhone update ready to roll.
Read more »
---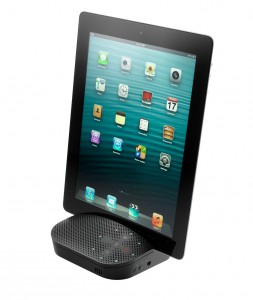 More and more business users are shunning a traditional desktop or laptop for tablets and smartphones. While tablets are great for consuming information, with the help of keyboard attachments, they are sufficient at creation too. However, tablets and smartphones are very personal devices; they are not optimized to handle a conference call for multiple users. Today, Logitech announces a product designed to solve this dilemma -- the Mobile Speakerphone P710e.
The company says, "with the Mobile Speakerphone, you can be more productive with hands-free access to your mobile device of choice and an integrated experience for video conferencing and conference calls. Whether you're hosting your noon conference call using your mobile device in a hotel room or joining a call from a conference room in your local office with your PC, the Logitech Mobile Speakerphone is the ideal travel companion for the mobile employee or small business owner".
Logitech further explains, "with up to 15 hours of battery life, the Logitech Mobile Speakerphone allows individuals or small groups to easily set up an instant conference room virtually anywhere -- in the office, at home or on the go, using their PC, Mac, tablet or smartphone".
The manufacturer seems to have put much thought into the design. It can serve as a stand for both tablets and smartphones, allowing the device to be positioned properly for video chat. This should enable an entire meeting room to be seen with proper placement. All video chat services should work through Bluetooth audio, but Logitech specifically mentions Skype, Cisco, Microsoft Lync and Facetime as being compatible.
This stand-mode will also position the tablet or smartphone like a computer monitor. You can then pair a Bluetooth mouse and keyboard and have the ultimate mobile workstation.
Pairing this speakerphone with a mobile device is extra-easy thanks to NFC support. By simply tapping an NFC-enabled mobile device against it, Bluetooth pairing will be established. Logitech even demonstrates a Windows Phone device pairing with NFC; it is nice to see Microsoft's OS being represented.
In addition to Bluetooth, the device can also be connected to a Windows or Mac machine by USB. This may also work in Linux, however, there is no guarantee from the company that it will.
Overall, this seems like a really useful product for business customers, but home consumers may be interested too. While the $169.99 price is a bit high, anything to get you ahead in your career is priceless. Having your employees crowd around an iPhone for a conference call is just tacky and unprofessional. Not to mention, nobody likes the guy on the call that sounds garbled with static -- don't be that guy.
Read more »
---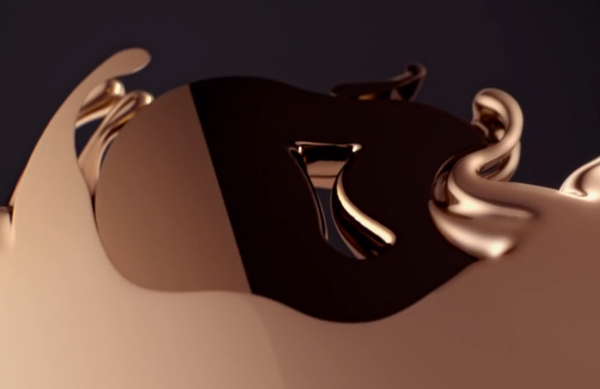 Apple's first TV ad for the iPhone 5s shows off the gold version of the phone, but fails to mention the existence of the space gray and silver models. Backed with Goldfrapp's Ooh La La, the commercial seems to draw inspiration from the liquid metal effects seen in Terminator 2. There have already been ads for the cheaper iPhone 5c but this is the first time the premium version of the iPhone has been showcased on television.
In the ad, ribbons of liquid gold swirl and intertwine before converging and melding together to form the body of the iPhone. Shortly after airing, the advertisement was also uploaded to Apple's YouTube channel. As is the norm with Apple, comments are disabled, but it's likely that views and shares will rocket over the coming day.
There's some excellent timing in the ad, which is titled Metal Mastered. As Alison Goldfrapp sings "I want to touch you", a finger reaches out to touch the home button of the iPhone 5s complete with its built in fingerprint reader.
We already know that the iPhone 5s is selling well and it is understandable that Apple would be keen on pushing the latest hue to become part of the range.
But at the same time, it is a little odd that the other two models are not even referred to in on-screen text. It could be argued that everyone in the world is already aware of the existence of the iPhone -- coverage has been so widespread, information can almost be absorbed by osmosis -- and the ad is in keeping with Apple's stylish, minimalist leanings. The message is simple. "You already know you want an iPhone; here's a little reminder why".
Take a look and see what you make of it.
Read more »
---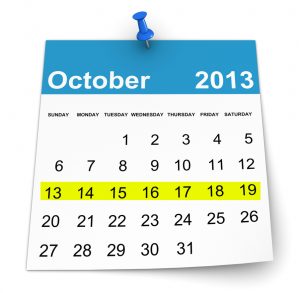 This was another week in which Microsoft managed to steal the show, this time with the public release of Windows 8.1. Here at BetaNews we were fully prepared for the upgrade and showed off what's new. While we're generally impressed with the update, there's still a little room for improvement. Of course the Start menu (or lack thereof) is still a sticking point, but you can get this back. The operating system update was preceded by a raft of updates to Window's built in apps.
Windows 8.1 may be where it's at right now, but there are still plenty of people running Windows XP. Google announced that Chrome users on XP would be supported for a year after the OS is retired.
Anyone in the market for a new portable computer might be considering a Surface 2, or Surface Pro 2 to run Windows 8.1 should be aware that these are two very different beasts as one runs Windows RT, although this may not be immediately obvious to everyone.
This was not the only release from Microsoft this week. Just days after celebrating the third birthday of Windows Phone, Update 3 (formerly GDR 3) was released. There was nothing groundbreaking to be found, but this was already expected, and we installed it as soon as was possible. The freebies from Microsoft didn't end there -- it was also announced that students will be able to get their hands on Office 365 completely free of charge from December.
A final software release saw an update to Visual Studio being made available at a time-limited low price. There's not long to go until the Xbox One is launched, and Major Nelson himself showed off some of the upcoming gaming hardware. In other Microsoft news, BetaNews was issued with a DMCA takedown notice for linking to old software on the Microsoft website.
OS releases were not limited to Microsoft: Ubuntu 13.10 Saucy Salamander was also unleashed onto desktops and mobiles. Microsoft decided to make it easier to access Windows PCs from Android and iOS devices with its mobile Remote Desktop apps.
Not wanting to be left out of the burgeoning phablet market, HTC unveiled the latest addition to the One range: the HTC One Max. This 5.9 inch monster retains the look of the original device and borrows the fingerprint reader idea from the iPhone 5s. Other hardware of note from this week included the Lenovo Miix 2, a tablet which includes full-blown Windows 8.1 for just $299 -- no sign of RT here. Brian was impressed with the LG G2.
The keenly anticipated Nexus 5 was, whoops! accidentally-on-purpose (?) revealed in Google Play only to quickly disappear. Amazon started shipping the 7-inch Kindle Fire HDX some time after it had been announced. Apple noticed that some drives in MacBook Airs were at risk of failure, and issued a recall.
In the online world Twitter decided that DMs should be made available to everyone while music streaming service Rdio branched out into videos with a documentary. Yahoo decided to catch up with other email providers and make HTTPS enabled by default. To tie in with the release of Windows 8.1, a Facebook app was finally released  for Microsoft's desktop OS.
Stay tuned over the next seven days, they're sure to be busy. We might hear something more about the Nexus 5 from Google, and Apple has an event on Tuesday which is likely to include new iPads, new MacBook Pros and availability info for OS X 10.9 Mavericks...
Photo Credit: vinz89/Shutterstock
Read more »
---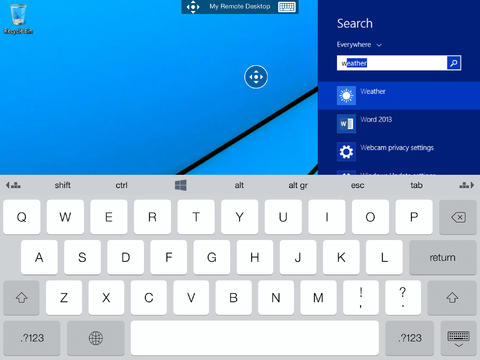 Microsoft's big release of the day may be Windows 8.1, but it doesn't end there. The desktop operating system may have stolen the headlines today, but Microsoft also recognizes the importance of mobile devices. The company is not only concerned with its own devices, realizing that Apple and Android still dominate the mobile arena. But this does not mean that mobile users do not need access to Windows PCs -- hence the release of Microsoft Remote Desktop for iOS and Android.
The prospect of running Windows on an Android or iOS device may be a little way off yet, but it can be achieved via remote access -- which has the handy side effects of making it possible to access files, apps and anything else that might be needed whilst away from your computer. There is no shortage of remote desktop apps in the App Store, but Microsoft's offering aims to keep things simple. As you would expect, this is an app -- free of course -- that can be used to control a Windows PC from an iPhone, iPad, iPod touch or Android device.
Weirdly, there is no Windows Phone version yet, but if you are an Apple or Android owner, you're in luck. Using the remote desktop protocol means there's no need for extra software to be installed on the desktop machine, you just need to know the IP address in order to establish a connection.
That feature list in full:
Access to remote resources through the Remote Desktop Gateway
Rich multi-touch experience with remote desktop protocol (RDP) and RemoteFX supporting Windows gestures
Secure connection to your data and applications with breakthrough Network Layer Authentication (NLA) technology
Simple management of all remote connections from the connection center
High quality video and sound streaming with improved compression and bandwidth usage
Easy connection to external monitors or projectors for presentations
So if you fancy the idea of controlling your PC from your phone or tablet (or you have a need to), take this app for a test drive and see how it compares to the myriad remote access apps there are to choose from.
Read more »
---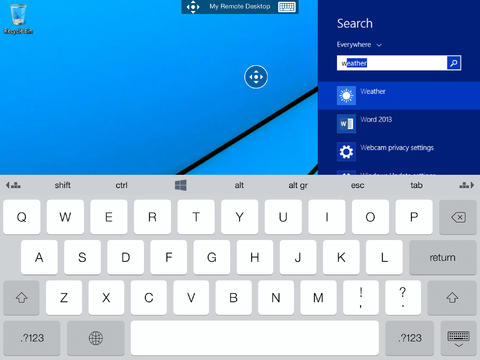 Microsoft's big release of the day may be Windows 8.1, but it doesn't end there. The desktop operating system may have stolen the headlines today, but Microsoft also recognizes the importance of mobile devices. The company is not only concerned with its own devices, realizing that Apple and Android still dominate the mobile arena. But this does not mean that mobile users do not need access to Windows PCs -- hence the release of Microsoft Remote Desktop for iOS and Android.
The prospect of running Windows on an Android or iOS device may be a little way off yet, but it can be achieved via remote access -- which has the handy side effects of making it possible to access files, apps and anything else that might be needed whilst away from your computer. There is no shortage of remote desktop apps in the App Store, but Microsoft's offering aims to keep things simple. As you would expect, this is an app -- free of course -- that can be used to control a Windows PC from an iPhone, iPad, iPod touch or Android device.
Weirdly, there is no Windows Phone version yet, but if you are an Apple or Android owner, you're in luck. Using the remote desktop protocol means there's no need for extra software to be installed on the desktop machine, you just need to know the IP address in order to establish a connection.
That feature list in full:
Access to remote resources through the Remote Desktop Gateway
Rich multi-touch experience with remote desktop protocol (RDP) and RemoteFX supporting Windows gestures
Secure connection to your data and applications with breakthrough Network Layer Authentication (NLA) technology
Simple management of all remote connections from the connection center
High quality video and sound streaming with improved compression and bandwidth usage
Easy connection to external monitors or projectors for presentations
So if you fancy the idea of controlling your PC from your phone or tablet (or you have a need to), take this app for a test drive and see how it compares to the myriad remote access apps there are to choose from.
Read more »
---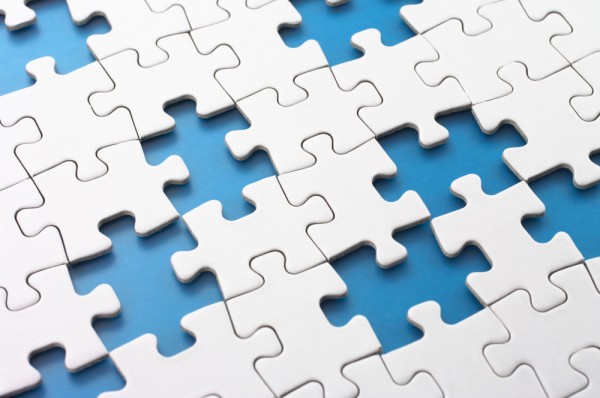 There is no denying that Windows 8.1 dwarfs Windows 8 in every single way that matters. The new operating system is more feature-rich, more suited for tablet use, more suited for PC use and far closer to what a modern OS should be like. The warm feelings towards it are reflective of how Windows 8 was like at first -- let's just say that the standards were low to begin with.
But for some strange reason, Microsoft still does not prioritize having a notifications panel in any of its consumer operating systems. This is an oversight that I thought the software giant would address in Windows 8.1, seeing as it has been a major known problem since Windows 8 arrived. However, once again Microsoft has decided to not include it. And, to be frank, it is one of the worst decisions that the company made this year. I bet not many will miss Steve Ballmer. I sure won't.
Windows Phone 7, Windows Phone 8, Windows RT, Windows RT 8.1, Windows 8 and Windows 8.1 all have shipped, or are shipping, without any efficient way of tracking notifications. This is a step in the wrong direction nowadays. The lack of one would have been fine years ago, when no OS had it, but a notifications center or panel has become an essential part in having a great user experience today. And, no, live tiles and notification toasts don't cut it.
The Half-Baked Implementation
To some extent, live tiles can replace a notifications center. It is certainly possible to do so, but some problems do occur. The live tiles are spread across the screen so the user has to look at them frequently in order to see if there are any changes in their appearance. Some live tiles do not immediately update after a notification sound is triggered, which may confuse the user, while others show no counter at all. And there is very little information that can be crammed inside any live tile.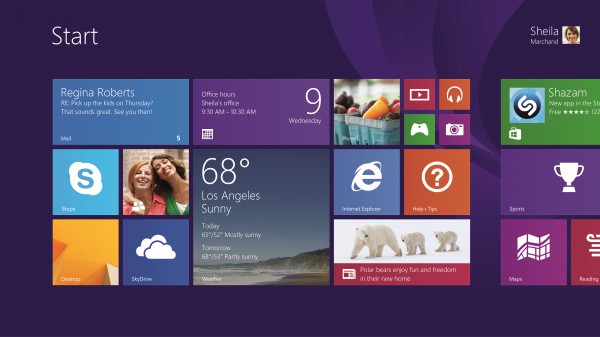 Microsoft has tried to improve this situation slightly by using toast notifications, which pop up on the screen whenever an application receives an update (new email, new status update, etc.). But except when the user sets them not to automatically disappear, they usually go away in less than 20 seconds. That may seem like a lot of time, but when you walk away from the device there is a very good chance that you will miss all of them. And you don't know they had even popped up, because there is no icon in the status bar or any counter anywhere (except in the live tiles, of course). And have I mentioned that toast notifications are not even enabled by default in all apps? Users have to do it manually in the Mail app for instance, on a per-account basis.
Likely for another year or so, I will have to open more than a dozen apps to see whether there is something new that interests me. This is a scattered approach that just does not work well, disrupts my workflow and leads to me wasting valuable time.
How Competitors Tackle Notifications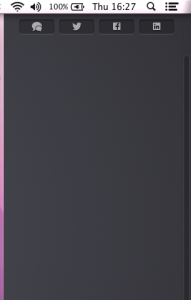 In early-September, I purchased a 2013 Apple MacBook Air that, naturally, ships with OS X 10.8 Mountain Lion. Prior to using it, I have been an exclusive Windows 8 and Windows 8.1 user, who had grown accustomed to the fragmentation of notifications.
OS X shows that there is a better way. The operating system has a notifications panel, which is triggered by a swipe to the left on the touchpad or by clicking a button on the taskbar. All notifications, from what is basically Desktop-like software, are listed there, and can be dismissed with little effort. And the icons in the Dock (the OS X equivalent of the Windows taskbar) show notification counters, that neatly complement this feature.
The notifications panel pops up on the active screen where it is triggered from, not solely on the main one. It is a very refreshing approach, after using Windows 8 and Windows 8.1. And it works. It still eludes me why Microsoft has chosen not to implement a similar feature.
Heck, even Google Chrome has a notifications panel even though it is just a browser. But this is hardly surprising seeing as the search giant knows a thing or two about notifications and how important it is to have a unified approach.
On my 2013 Nexus 7, which runs Android 4.3 Jelly Bean, notifications are a pleasure to deal with. They can be individually dismissed from the notifications panel. And they are actionable, which means that I can archive emails without opening the Gmail app, for instance.
Apple's iOS works similarly, in this regard, to Android. Microsoft is the only player that wants to be taken seriously which has yet to rank a notifications panel highly in the priority list. And this will do nothing to help its new products take off.
How Should Microsoft Tackle It?
Interestingly enough, Windows 8.1 is already built as to show or trigger a different feature after swiping from any side of the screen. This either means that Microsoft has to alter the way the OS works right now or implement a notifications panel as an app on the Start screen. The latter approach is simpler, but not better considering that users will have to stop whatever they may be doing to check a notification.
So that leaves the former option as the right one for Windows 8.2 or 9. The way I'd like to see a notifications panel being implemented is by having it show up alongside the charms bar, after swiping from the right side of the screen.
Microsoft should definitely adopt a unified notifications panel going forward, but not just for Modern UI apps. Desktop software could benefit from this as well, if OS X is of any indication. This would be a feature which may convince Windows 7, Windows Vista and Windows XP users to switch, seeing as the benefits would be noticeable and would improve productivity.
Still Not Good Enough
Some of the criticisms that I pointed out about Windows 8 are still present in Windows 8.1 as well, perhaps slightly addressed in the new release -- the Windows Store offers more apps of higher quality, the Microsoft services integration is tighter and the revamped Modern UI is more user and tablet-friendly. But the high learning curve persists and so does the lack of a notifications panel, the latter of which is a feature that I consider essential on an OS released in the second half of 2013. The omission was, perhaps, excusable last year but not this time around.
Some people may like being masochistic and admit to liking the way Microsoft operates, but I do not feel the same way. There is no reasonable excuse as to why we should still have to put up with this shortcoming.
Photo Credit: tadamichi/Shutterstock
Read more »
---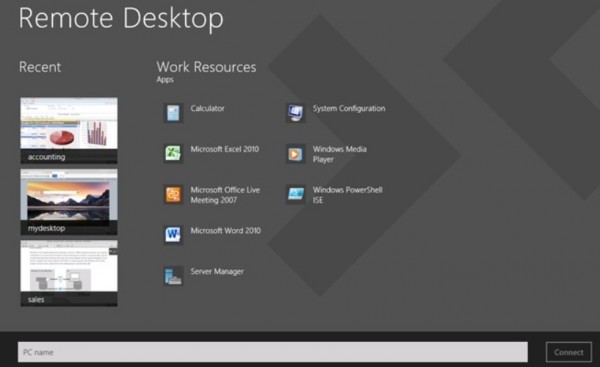 In his "5 reasons Surface tablets blow away iPads for a mobile business workforce" piece, my colleague Derrick Wlodarz explained why Remote Desktop on Windows RT (and, by implication, Windows 8) is better compared to third-party clients on Android and iOS. Derrick says that the former offers a richer feature set, a smoother experience, improved stability, less compatibility issues and comes with no initial cost (because it is free, as a built-in feature). As you can tell, the lack of official Remote Desktop apps on Android and iOS tips the scale in Microsoft's favor.
That is about to change, as Microsoft has announced that it will release Remote Desktop apps on "a variety of devices and platforms", which include Windows, Windows RT, OS X, Android and iOS. The software giant says the offerings will be introduced with Windows Server 2012 R2, which launches later this month, on October 18, alongside Windows 8.1.
The hat tip goes to Mary Jo Foley who dug up this information that was buried inside one of Microsoft's lengthy press releases. I find it interesting that the software giant did not announce the new apps with the usual fanfare which is typically associated with even the tiniest of app updates.
Perhaps Microsoft is afraid to signal that it is slowly crippling Windows RT's chances against Android and iOS, and moving one step closer towards fully embracing the new "devices and services" mantra.
The Android and iOS apps will offer a competent feature set from the get-go, according to Microsoft Valued Professional Michel Roth and CITEworld (that posted some screenshots). The former version will likely support Android versions as old as Gingerbread while the latter is only expected to run on iOS 6 and iOS 7.
Read more »
---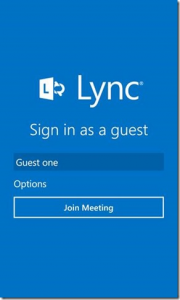 Back in March of this year Microsoft released its mobile clients for Lync and Lync Server 2013 and, since that initial release, the company has twice updated the app. Today marks the third refresh for the enterprise communications tool, which is available across Windows Phone, iOS and Android (though the latter is not included in this update). This latest update brings two important new features to the platform.
First, is the ability to join and participate in a Lync Meeting without having to own a Lync account. "We've heard that many people want the ability to join Lync Meetings from their smartphones, even if they do not have a Lync sign-in. For example, contractors or partners may want to join your Lync Meeting while travelling or away from their PC", the team explains.
Second, the company is adding the ability to start an unscheduled Lync Meeting (either IM or video) directly from a mobile device with multiple participants. "The ability to connect with people quickly and easily is one of the best features of Lync on the desktop, and we're excited to bring it to our mobile apps for Windows Phone, iPhone and iPad today".
Finally, Microsoft is also adding an additional authentication mechanism to the Lync mobile applications and reducing the need to store Lync credentials on any of the other devices.
The update is available for all users today, and Microsoft promises that more are on the horizon.
Read more »
---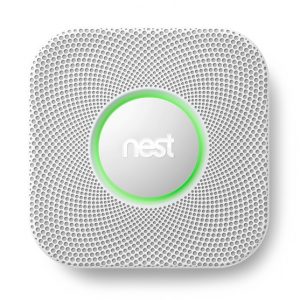 When it comes to fire, you can never be too safe. Sadly, I know all too well. You see, I once lived through a fire that destroyed my apartment and all of my belongings. While it was a devastating event, I came out of it uninjured and with a new respect for fire safety.
Today, Nest announces a new product that combines technology with not only fire safety but carbon monoxide protection too.
"Safety shouldn't be annoying...it was unacceptable to us that almost two-thirds of home fire deaths resulted from fires in properties without working smoke alarms. These products are required by law and are supposed to keep us safe, yet people hate them. We wanted to change that, so we created Nest Protect: Smoke + Carbon Monoxide", says Matt Rogers, Nest founder and vice president of engineering".
Founder and CEO Tony Fadell says, "the Nest Protect smoke and carbon monoxide (CO) alarm was born one night when I lay in bed, sleepless as usual, watching the smoke alarm blink. It blinked and blinked and I realized I had no idea what that meant. Was it working? Broken? Was it going to wake me up with low-battery chirps? Or go off for no reason? The smoke alarm was a black box painted beige. I trusted it with the safety of my family, but my first instinct was to tear it off the ceiling every time it made a noise".
The company highlights the following features of the product:
High-quality smoke and carbon monoxide alarm -- Nest Protect is a multi-criteria detector with heat, CO, and smoke sensors that work together to detect danger.
Heads-Up -- If Nest Protect sees that smoke or CO levels are rising but have not yet reached emergency alarm levels, it will give you an early warning so it can avoid crying wolf.
Nest Wave -- No need to wave towels or climb on chairs. Nest Protect lets you silence nuisance alarms with a wave of your hand.
Mobile notifications -- Connect Nest Protect to your free Nest account using Wi-Fi and you can receive low-battery alerts, Heads Up and emergency alarm notifications on your smartphone or tablet. In an emergency, the What to Do feature will remind you of recommended actions and give you one-button access to an emergency phone number.
Nightly Promise -- Sleep safe and sound. Before you doze off, Nest Protect shows you its sensors and batteries are working with a quick green glow after you turn off the lights so low-battery chirps don't rattle your dreams.
Pathlight -- Nest Protect offers more than just smoke and CO warnings. Its LED lights can be a night light in your home. When it's dark, Nest Protect will light your way as you walk underneath it.
Vocal alarm --  According to a study by Victoria University, children can sleep through beeping smoke alarms. So in addition to alarm sounds, Nest Protect uses female Voice Alarms to help wake sleeping children in case of emergency.
More sensors, more features -- Nest Protect's sensors include a photoelectric smoke sensor, CO sensor, heat sensor, light sensor, ultrasonic sensors and activity sensor. Together, they analyze smoke and CO levels, see when you wave, and light your way at night.
Wireless interconnect -- If you have more than one Nest Protect, they connect so you'll hear alarms from all Nest Protects in your home, even if the danger is in only one room.
Design -- Nest Protect introduces a distinctive square shape with a white sunflower pattern. A black version will be available only at www.nest.com.
Multiple languages -- In the US, Nest Protect offers voice alerts in both English and Spanish. Simply select your preferred language during setup.
While owning the Nest Thermostat is not required for the Nest Protect to function, there is an added benefit to having both. The company explains "if Nest Protect's carbon monoxide alarm goes off, your Nest thermostat automatically turns off your gas furnace, a possible source of poisonous carbon monoxide leaks. In addition, the Nest Protect activity sensors improve the Auto-Away feature of your Nest thermostat".
The Nest Protect can interface with mobile devices; both Android and iOS are supported. Sadly, but as expected, Windows Phone users are shut-out once again. Of course, you can also interface by web browser.
Overall, this is appears to be a great product that should save lives. While the $129.99 price seems reasonable at first, please remember that you will likely need more than one to properly protect your home (unless you are in a studio apartment). This can be very costly, especially if you buy the Nest Thermostat to take full advantage of the features. However, can you really put a price tag on you and your family's lives?
Read more »
---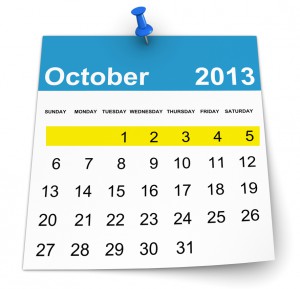 This has been a week with a lot of news about operating systems. As we near the official release OS X Mavericks went GM and was made available to developers, while in the world of Linux Red Hat Enterprise 5.10 was also unveiled. Windows 8.1 was made available for pre-order, but a study of sales figures revealed that Windows 7 continues to grow faster than Windows 8. Ahead of his retirement sometime in the next twelve months, Microsoft's Steve Ballmer was punished for poor performance with a bonus reduction, with first generation Surface sales partly to blame.
Things look better for Surface 2 and Surface Pro 2, with reports of the tablets selling out -- this is perhaps not surprising when Delta Airlines has bought 11,000 of the devices for its pilots. As well as looking forward, Microsoft also came over a little nostalgic, choosing to show off the capabilities of Internet Explorer 11 with a revived version of the classic Windows 95 game Hover.
After last week's look at the usability of Windows Phone, we took a second look at the Pfeiffer report to address some of the queries it raised. Windows Phone may have fared poorly in this particular test, but sales are improving in Europe. In software developments, Google announced AdMob for Windows Phone.
Speculation was rife about the possibility of Android and Windows Phone making an appearance on HTC devices, and the Windows Phone version of Facebook was updated. This was far from being the only Facebook news as Graph Search was extended (much to the concern of those worried about privacy), and status updates were made editable with the possibility for hilarious results.
Not to be left out, iOS felt the benefit of the arrival of online radio and music promotion platform Earbits. In less pleasing news, investigations into benchmarking found that Samsung may have been massaging the figures to help make its devices look better.
In the world of security Adobe suffered a breach that resulted in the theft of millions of customer records, while Evernote aimed to increase security by adding two-factor authentication. Yahoo showed that it was serious about security by offering a reward of up to $15,000 for vulnerability a bug reports. The company also bolstered defenses with new second sign in and App Password features. Better known for helping to speed up file sharing, BitTorrent revealed a new secure messaging service.
Staying with the web, the BFI announced a new movie streaming service and Chromecast users felt the benefit of the arrival of Hulu. Microsoft gets the final words this week as the company revealed more details about Smart Files in Windows 8.1's integrated SkyDrive. Ahead of the release of the latest version of the operating system, the Start button was highlighted in the company's latest ad campaign.
Back again in seven days after what promises to be another busy week.
Photo Credit: vinz89/Shutterstock
Read more »
---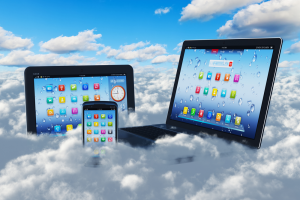 In a blog post that looks forwards as well as backwards, Skype lays out details of planned improvements for the desktop and mobile versions of the app. Mark Gillett applauds the technological improvements that have been made over the past year and also gives a glimpse of the changes we can expect to see in the year to come. The post acknowledges that a large proportion of Skype usage is on mobile devices, and a number of mobile-friendly changes are revealed.
One particularly noteworthy feature specific to mobile users is the promise that chat synchronization across devices will be improved. This is something that anyone who used Skype on multiple devices will have noticed can be a problem. Send a large number of text based messages from the desktop version of Skype and when you launch Skype on another computer or a phone, you'll currently find that there can be quite a delay as message history is downloaded. While no details are provided, Gillet says:
"We are working to synchronize chat message status across all of your devices so you will know the current status of all of your chats on every device you use to interact with Skype. This capability will be rolling out across clients over the next few months".
Mobile users look set to reap the benefits of efficiency improvements. The blog post makes reference to the battery-saving "sleep" mode which enables Skype's cloud backbone to take care of the bulk of the work, taking the strain off handsets. No further specifics are given, but further improvements in this area and account security are mentioned.
Microsoft has put a lot of work into Skype since acquiring it, and this shows no sign of slowing pace.
Image Credit: Oleksiy Mark / Shutterstock
Read more »
---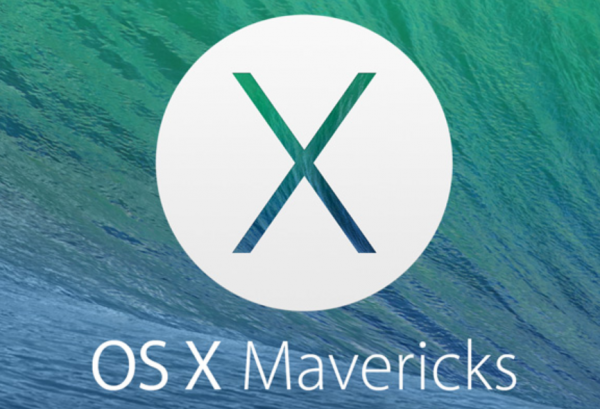 Just two weeks after the release of iOS 7 Apple takes the wraps off the OS X 10.9 Mavericks GM. The latest version of the operating system, which is now only available to developers, is likely due for general release later in the month and it is extremely unlikely there will be any further changes -- barring the discovery of any serious problems, what we see now is what we'll get on release day.
The same build was released earlier to Apple employees and members of AppleSeed, and there are also updates to iPhoto and Xcode to enjoy. Within Mavericks, there are a number of changes from Mountain Lion. First off, iBooks is familiar to iPad and iPhone owners and now the ebook management system is brought to Macs -- of course, everything is kept in sync between devices.
Calendar has a new look which combines simplicity with a wealth of information, and the oft-maligned Safari has also been updated. Top Sites provides easy access to your most frequently used sites, while the new Side Bar helps you to keep up to date with what's happening on Twitter.
Security has been upped, with iCloud keychain storing your passwords, syncing them between devices and protecting them with 256-bit AES encryption. The new Maps app comes complete with interactive flyover viewing with touch gesture support. There's also a handy Send To iOS option that enables you to configure a route on your desktop and push it to your phone ready for navigation in the car.
Fans of multiple monitors have new ways of working. Each display you connect to your Mac is assigned its own dock and menu bar, helping to eliminate mouse scroll -- AirPlay can even be used to transform your TV into a second monitor. Finder gets a much sought after update with the addition of tabs, making it much easier to work with several folders without filling up the screen. Of course there's much, much more -- and there's probably not long to wait now!
So if you have a developer account, head on over to the Mac Dev Center and get downloading!
Read more »
---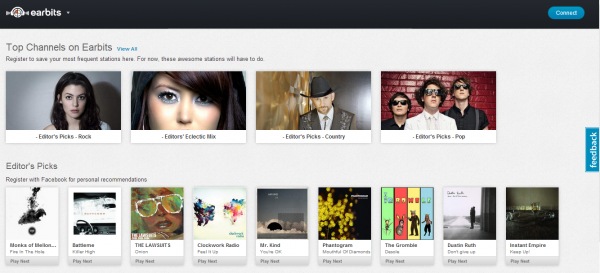 iOS comes with its own built-in music solution in the form of iTunes, but sadly for Apple, not every customer wishes to use it, or at least not full-time. But the mobile platform allows other services to compete for your ear and now one which has already established a presence on both the web and Android is making its case to iOS users.
Earbits, an online radio and music marketing platform, is available worldwide, aiming to showcase independent artists, and promising music from more than 12,000 musicians. Much like other similar services, Earbits works on recommendations, with a premise of allowing the customer to discover new music based on current tastes. It does so not only by using what you listen to via the service, but also by examining songs stored on your device.
"Consumers can play Earbits curated channels or songs on their mobile devices, switching seamlessly between their music and Earbits' catalog. Unlike other streaming music apps, the Earbits iPhone and iPad app is available worldwide and without commercial interruptions", the music service explains.
"The Earbits Radio iOS app puts artists in the center of the experience, providing simple ways for listeners to engage with them", claims CEO Joe Flores.
The service, which was started back in 2010, is making its first foray into the iOS world, but has become established on other platforms already. Customers can grab the app now from iTunes.
Read more »
---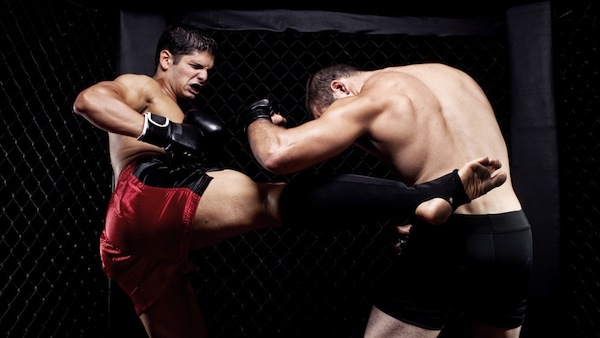 Microsoft is going after Apple's number two spot in the European smartphone OS market as Windows Phone is steadily approaching iOS across five major local markets, according to a new report from research firm Kantar Worldpanel. Unsurprisingly, the dominant player is Google's Android, that has yet to show any noticeable signs of weakness against its less popular rivals.
In the five major European markets -- France, Germany, Italy, Spain and UK -- Android handsets accounted for 70.1 percent of all smartphones sold between June and August 2013. In second place is iOS with 16.1 percent market share, followed by Windows Phone with 9.2 percent market share. Compared to the same period, last year, iOS and Windows Phone grew by 14.18 and 80.39 percent, respectively. The latter of the two is growing much faster than its main rival, which could lead to a different hierarchy in little over a year, assuming the same growth rate is maintained.
"Windows Phone's latest wave of growth is being driven by Nokia's expansion into the low and mid range market with the Lumia 520 and 620 handsets", says Kantar Worldpanel strategic insight director Dominic Sunnebo. "These models are hitting the sweet spot with 16 to 24 year-olds and 35 to 49 year-olds, two key groups that look for a balance of price and functionality in their smartphone".
The buyer attraction towards low-end Windows Phones, like the Lumia 520, should not come as a surprise. The average selling price (ASP) of new smartphones plunged from $443 in 2011 to $372 in the first half of 2013, and is expected to continue its dive to $309 by 2017. The cheaper smartphones are the better for smaller players, like Nokia, that want, or desperately need, to gain traction in the market.
It will be interesting to see whether the drop in ASP will lead to other changes, like slower growth in developer and app store revenues (low-end smartphone buyers are likely to spend less on buying apps) as well as a decreased developer interest in less popular platforms, like Windows Phone.
Apple's new entry-level iPhone 5c just launched and is positioned as a cheaper alternative to the company's flagship, the iPhone 5s (it is also the replacement for the iPhone 5 that is no longer sold by the company). The smartphone will appeal to buyers seeking a different smartphone experience in terms of design. It's also meant to attract first-time Apple users. All of these factors, combined, should help Apple boost its market share and, to some extent, take advantage of the lowering ASP for smartphones. The results are likely to be felt after the winter shopping season.
According to the data provided by Kantar Worldpanel, Android's strength -- its explosive growth -- can also be its main weakness in mature markets, where the growth is slowing down. "After years of increasing market share, Android has now reached a point where significant growth in developed markets is becoming harder to find", says Sunnebo. "Android's growth has been spearheaded by Samsung, but the manufacturer is now seeing its share of sales across the major European economies dip year on year as a sustained comeback from Sony, Nokia and LG begins to broaden the competitive landscape".
The report places Samsung (47.1 percent market share) as the top smartphone vendor, followed by Apple (16.1 percent market share), Sony (8.2 percent market share), Nokia (7.8 percent market share) and HTC (6.3 percent market share), in the five major European markets. The hierarchy is not the same worldwide, where none of the last three vendors are listed in the top five.
Android's highest market share in Europe comes from Spain, where green droid smartphone sales accounted for 90.8 percent of the market. By contrast, iOS and Windows Phone's highest market shares are 27.5 percent and 12 percent, respectively, both in UK. So while Android may be threatened by its closest rivals, its rank isn't likely to change anytime soon even if there is no sales growth.
credit: Nicholas Piccillo/Shutterstock
Read more »
---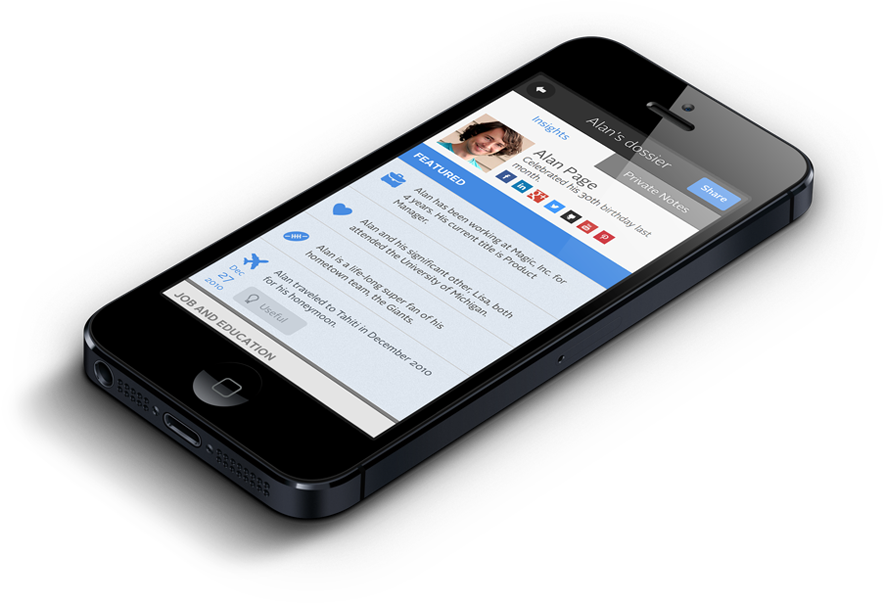 My friend Paul Tyma (ex-Google, creator of Mailinator, occasional stand-up comic) released a mobile product this week and one thing I find interesting is the difference between how he describes it and how I describe it.
Paul: "Let's say you had an important meeting with someone you really want to impress. A smart person would probably spend a non-trivial amount of time scouring the Internet for information about that person. What are they tweeting about? If you're LinkedIn to them, then go check out their LinkedIn profile. If you were really interested you might go look up their house on Zillow. Or see how their company's stock price faired today on Yahoo Finance".
Bob: "Let's say you are nosy and want to know a lot about someone, anyone, and prefer to get that information through a Mission Impossible interface".
My version's better, right? More honest, if a little creepy?
Either way you start it here's the point: every time you put something on the net it becomes part of your personal Internet record. The cost of processing is now low enough and our prurient interest is high enough that we're beginning to see intelligent apps that can find this information for you (or about you) in real time.
Paul's product, called Refresh, is one of those. At the moment it is solely an iOS app. Refresh, which you can download for free from Apple's App Store, examines your calendar, figures out who you are meeting, then 15 minutes before the meeting sends you a push notification to examine that person's dossier.
"Your dossier, Mr. Cringely".
I generally hate phone notifications, but I don't hate these because they are always relevant, just-in-time, and have already kept me from forgetting meetings entirely (I was a beta tester of this app, can you tell?).
Refresh scours dozens of data sources to create a dossier about the person you are meeting or the person you'd like to meet sitting at the end of the bar.
If you know their name, Refresh can generally figure out who they are even if there are dozens of other people with the same name (serious data mining mojo, that). It will tell you where they went to school, the name of their significant other, work history, what he or she likes to do, what teams they root for, how their company is doing financially, their latest blog post, among other things.
Refresh dossiers are not static -- they are generated on-the-fly in real time and represent the intersection between two social data sets -- yours and the other person's. Going a step further, Refresh -- like the briefing cards for any talk show host -- will suggest good questions like "how was your trip to Disneyland?" The creepy/cool part about this question is it's dependent on Refresh's knowledge not just of the other guy but also of me, because it knows I took my family to Disneyland recently, so this could be good conversational territory.
Paul assures me that user privacy is a top priority and absolutely no information is provided that you don't already have access to. If I were Facebook friends with the person I wanted to know about, then I'd see information from his Facebook. If I wasn't Facebook friends with him, I wouldn't.
This thing works. But should I use it or run away from it? Good question. I'll answer that in two parts.
First consider the tech, which is simple on the outside and astounding on the inside. Refresh was not easy to do. It doesn't depend solely on computers being really fast, though I suppose it doesn't hurt. Why else would there be entire companies built around Ruby?
Refresh lives in a domain where all data is fuzzy. All of it. The application can count on nothing. Facebook says I'm Bob. LinkedIn says I'm Robert. and Foursquare says I'm, well I'm not going to tell you what Foursquare says I am, but it's not a name my mother would find funny.
Every major component of Refresh is a fuzzy system. When it sees "Lunch with Tom" -- without exaggeration 100 bots go out and vote who Tom is. One says "You have a Facebook friend named Tom". One says "You met with a Tom person 3 months ago at the same location". One says "It's not your cousin Tom -- you hate him". Some are heuristic and some are statistical.
The same goes for insights -- hundreds of bots -- and for figuring out Bob is the same Bob on Facebook and LinkedIn.
If you've downloaded the app by this time you'll see it has access to all your other apps. How does Refresh keep users safe?
Apart from user logins the app doesn't store anything about people. All the personal information is gathered anew each time from the original sources. If people ask Refresh to delete their data, there's almost nothing to delete. So privacy is at the data provider level. LinkedIn, for example, definitely lets you make data private to third-party apps. Other apps don't allow that.
In the bigger sense privacy has become somewhat futile. My 89 year-old mother, for example, will probably never figure out Facebook privacy settings.
I have chosen to use this app because I find it useful and because I see this as a sort of arms race and Refresh is my weapon of choice. It helps me know more than the other guy.
As long as I participate in social media services, well I'm already in over my head. Given that I am a public person living a public life, my position is that my best defense is a good offense. And as a tool to help me figure out who and what I am dealing with on a daily basis, Refresh is more than worth the risk.
Read more »
---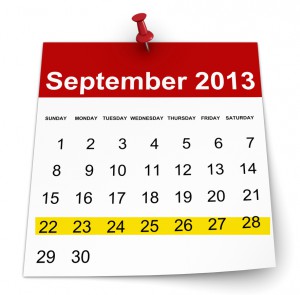 Microsoft held an event in NYC to launch the Surface 2 and Brian was live-blogging. The full video of the launch is available to view online as are advertisements that show off the tablets' versatility. Microsoft is pinning a lot on the updated product after the first generation suffered from poor sales. There were no great new features, but there is a redesigned kickstand, a healthy speed boost, new dock and updated covers -- Brian was particularly impressed by the Blades.
Anyone buying a Surface 2 or Surface Pro 2 earns themselves a SkyDrive upgrade. Purchase a new device and your online storage gets upgraded to 200GB, but the same amount of space is available for $100 per year. Moving away from Surface-related news, Microsoft turned its guns on Google Docs, highlighting user complaints to demonstrate the superiority of Office 365.
After last week's launch, Apple's iPhone remained in the headlines. Selling 9 million units in the opening weekend seems impressive on the face of things, but all may not be as it seems. It came as no great surprise that the top of the range iPhone 5s proved more popular than its cheaper counterpart, but the device's fingerprint reader was shown to be "hackable" with a printer and some glue.
Back on the desktop, Apple launches four new iMacs and also lost a patent case relating to the click wheel on iPod Classics.
It has been a week of mixed news for BlackBerry. The beleaguered company found a potential buyer, and then went on to announce massive losses when its financial results were published. The figures had been widely anticipated and had been preceded by the cancellation of a previously scheduled conference call with analysts.
A few new tablets were announced or released this week including a cheap offering from UK supermarket Tesco. New Kindle Fires boasting faster performance and better screens were also unveiled. For owners of Android phones and tablets, Android Device Manager was updated to include the option of remotely adding password protection to a device, and Mihaita showed how to achieve the same in Windows Phone. A report suggested that Windows Phone is the most unusable mobile OS available was published and lead to some lively debate in the comments!
In the Linux world, Gnome 3.10 was released and SteamOS, Valve's take on home media streaming, was also unveiled. Sticking with the media streaming theme, Roku updated its line of boxes and Netflix boosted video quality.
There was quite a lot happening online over the last seven days: Google changed YouTube commenting to be Google+ powered and Yahoo's email recycling program backfired slightly when it resulted in private data being handed over to the wrong people. Gmail suffered an unscheduled outage, and it was also revealed that some people are perfectly happy to remain cut off from the web.
That's it for now. Here's to another seven action-packed days.
Photo Credit: vinz89/Shutterstock
Read more »
---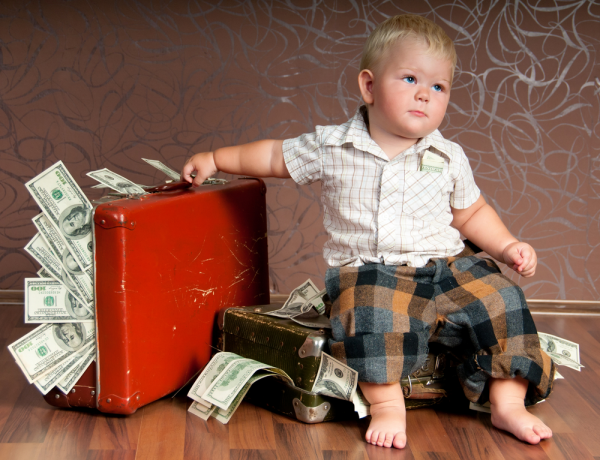 The Office of Fair Trading (OFT) is calling on the games industry to avoid pressuring children into making in-app purchases in games and potentially running up large bills. Back in April, an investigation began into the ways in which children are pressured into making in-app purchases. 38 web and app-based games thought to appeal to children were looked at, and the results of the investigation are available in the Children's Online Games report.
The OFT aimed to determine whether the way in-app purchases were presented could be considered "misleading, aggressive or otherwise unfair". As a result of the investigation, the OFT has drawn up a set of eight proposed principles that apps and games should follow. The principles include clearly and prominently informing app users about the potential for costs to be incurred through the app. It is suggested that users should be able to fully understand the current and future costs associated with any app they download.
The proposed principles also suggest that app developers should make a clear distinction between free and paid-for content. There are concerns that the wording of links to premium content is such that costs are not made clear. A clear distinction should also be made between real-world payment with money and in-game purchases with virtual money, the OFT suggests. Principle six states that games should not employ practices that are "aggressive" or "have the potential to exploit a child's inherent inexperience, vulnerability or credulity".
The final principle states that payments should not be taken unless authorized by the payment account holder. This would mean that a child using their parents' phone or tablet should not be able to make purchases without the parent being aware of it. The OFT suggests that a password be entered every time a purchase is made, and that account holder consent should not be "assumed" through the use of an opt-out system or any other means.
To help parents who are concerned that their children might rack up hefty in-app charges, the OFT has put together a series of video guides that demonstrate how to disable or password-protect in-app purchases. There are guides for BlackBerry, Android, iOS 6 and 7, and Windows Phone, as well as details of how to disable roaming before heading off on a trip abroad.
Feedback on the proposals can be left until 21 November 2013.
Image Credit: Yarkovoy / Shutterstock
Read more »
---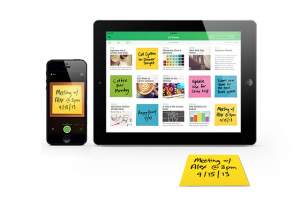 Some habits are hard to kick. Even though the world is trending towards a digital lifestyle, many business users still use Post-it Notes. I am guilty of using these low-tech pieces of paper daily. Sometimes, I need to quickly jot-down a note or phone number; a piece of paper can be faster than unlocking my smartphone or workstation. However, at the end of the day, I find my desk littered with these things. I have often wished for an easy way to transfer them to my computer.
Apparently, I am not alone as today, Evernote announces a partnership with Post-it which aims at organizing these notes. The company says, "for us at Evernote, Post-it Notes are a Hero Product. We strive for the sort of flexible, instantly-understandable usefulness that draws hundreds of millions of people to purchase Post-it brand products. There is one drawback. As ubiquitous as they are, they're also, well, attached to stuff. That's where Evernote comes in. Evernote is giving Post-it Notes a digital life and whole new set of tricks".
The company further says, "our latest update to Evernote for iPhone and iPad introduces the new Post-it Note camera. What it does looks simple, but is actually powered by a bunch of engineering magic. The camera lets you take multiple photos of Post-it Notes in a single session. Evernote then recognizes the color, extracts the handwriting, enhances it and finally places it onto a digital representation of the paper inside a note. What you'll see inside of Evernote are beautiful Post-it Notes that are saved, easy to find and accessible from anywhere".
In other words, these are not just pictures of a Post-it Note -- your hand-writing will be converted to digital text using the iPhone, iPad or iPod touch camera with Optical character recognition. This will save users a lot of time by preventing unnecessary transcribing. However, a user may want to test the feature before they entirely trust it. After all, if the software misreads a single digit of a phone number and you throw away the original, you may lose contact with an important customer, business contact or pretty-lady that you want to have lunch with!
Also, the company has come up with an ingenious way to actually organize the pieces of paper based on color. Anal-retentive and OCD business users can now purchase different colored Post-it Notes that can correspond to different thoughts or subjects. This is a great way to stay organized.
Sadly, the company has not announced plans to bring this exciting technology to Android. This is very curious as Android's market-share for Q2 2013 is 79%, while iOS is only at 14%.
Read more »
---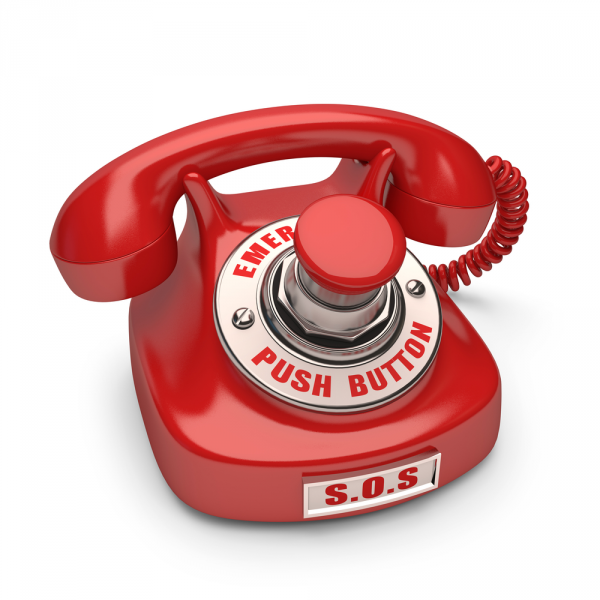 Twitter announces details of its new Twitter Alerts service which will make it possible to disseminate information when other methods fail or when large groups of people need to be notified about something. What does this mean? In times of national emergency, crisis or natural disaster, Twitter Alerts could be used to provide details about what is happening and what steps are being taken by authorities.
In times of emergency, it is very common for people to turn to the internet. But as we know all too well, the internet is home to a wealth of misinformation so this could end up to be less helpful than it should be. A number of international organizations have already signed up to be part of Twitter Alerts including the American Red Cross, FEMA, the World Health Organization, and various police and fire departments. Other interested organizations are invited to take part.
When you visit the Twitter page of a group or organization that is involved in the program, you'll see an invitation to sign up for alerts to the left. You can then choose to activate alert notifications. Ordinarily, tweets that have been marked as being alerts will stand out in your timeline as they'll be highlighted with an orange bell icon. But when you sign up you can also opt to have the alert sent to you via SMS, or pushed directly to your phone.
Twitter Alerts' push notifications work with the iOS and Android Twitter apps, assuming you're running iOS 5.10 or higher, or Android 4.1.6 or higher. Full details of how the Alerts system works can be found in Twitter's support pages.
Image Credit: ktsdesign / Shutterstock
Read more »
---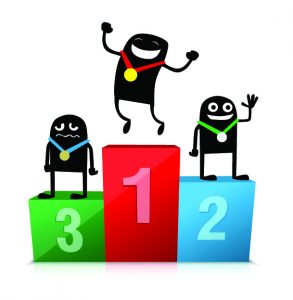 The release of iOS 7 seems like as good a time as any to reassess the mobile operating system market, and this is precisely the thinking of Pfeiffer Consulting. The firm pitted Android, Blackberry 10, iOS 7, iOS 6 and Windows Phone 8 head to head (to head to head to head), comparing the aspects of the OS that have direct impact on user experience. Rated in four key areas, Windows Phone 8 came bottom of the list in terms of overall usability.
The results are quite damning. Looking at what the report terms "cognitive load" (how easy it is to pick up the OS), Windows Phone 8 actually fared well, receiving the same rating as iOS 7 and being praised for its "streamlined user interface". However the OS is criticized for reducing the overall user experience and efficiency.
Then things start to really go downhill. Looking at "Efficiency and Integration" (how easy it is to access and use key features), Windows Phone 8 was rated just 4 out of 10, lower even than Blackberry 10 at 5 out of 10. Coming out on top, iOS 7 and Android both received ratings of 7 out of 10. Complaints about Windows Phone 8 echoed my own -- "notification management is limited, multitasking control is very basic and does not provide any way of selectively quitting running apps, and there is no quick access to key settings".
Unsurprisingly, rated in terms of customization, Android scored highest (7 out of 10) with iOS 7 not far behind (6 out of 10). Windows Phone 8 was singled out for offering the "poorest customization options", highlighting the lack of background images, minimal tiles options and a lack of folders -- earning it a score of 2 out of 10. The final area for scrutiny was User Experience Friction (the niggling frustrations that drive users crazy). In this test Windows Phone 8 received high scores… but that's not a good thing here.
While iOS 6 and 7 received low scores (14 and 17 respectively), Windows Phone 8 scored a colossal 51 (Android was pretty much in the middle with 30 points). Microsoft's mobile OS is again criticized for its lack of customization options which make "the stylish interface oppressive".
So who came out on top in the end? Each OS was assigned a Mobile Operating System User Experience Index rating, with higher being better. iOS 7 received the highest score (73.35), and iOS 6 took second place (70). Android found itself in the middle (57.25) closely followed by Blackberry 10 (56.37). Bringing up the rear with just 47.25 was Windows Phone 8.
You can read through the findings in full in the online report.
How does the result fit in with your experience? Is iOS 7 as good as Pfeiffer Consulting claims? Is Windows Phone 8 really that bad?
Image Credit: Lindwa/Shutterstock
Read more »
---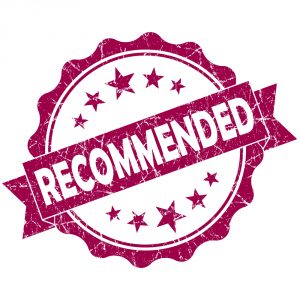 Twitter is in the process of rolling out a new notification system designed to help users find interesting people to follow. It is not an entirely new system -- the micro blogging site is basing the feature on its @MagicRecs account, which started off as an experiment earlier in the year, making "magic recommendations" about who Twitter users might like to follow.
@MagicRecs monitors the activity of the people you follow and people in your network and sends out direct messages letting you know when several people you are connected to follow a particular user. The thinking is that if two or more people are interested in following someone else, there's a high chance that you will be too. In a blog post, Senior Software Engineer, Venu Satulur explains how the recommendation system has been tweaked and updated.
Satulur says "we've been tweaking the algorithms -- based on engagement and your feedback -- in order to send only the most relevant updates". So what has changed? Well the main change affects Android and iPhone users. The mobile apps have been updated so that rather than DMs, recommendations are now sent out via push notifications.
The @MagicRecs account remains active as an experimental feature if you fancy giving that a try as well.
Have you started to receive recommendations yet? Are you finding that they're relevant?
If you're disappointed with the quality or frequency of recommendations you can disable them by toggling the Recommendations setting in the app options.
Photo Credit: Aquir/Shutterstock
Read more »
---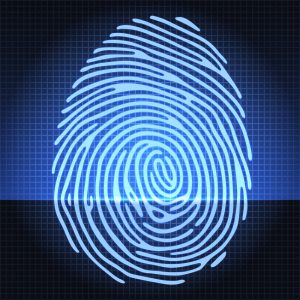 Just days after the launch of Apple's iPhone 5s, German security and privacy group Chaos Computer Club, claims to have found a way to bypass the Touch ID fingerprint reader. The group says that this demonstrates that "fingerprint biometrics is unsuitable as an access control method" but the "hack" is longwinded enough to mean that it is unlikely to be of concern to most people.
The Chaos Computer Club (CCC) goes as far as explaining precisely how it managed to bypass Touch ID using a fake fingerprint fabricated from a photo of a print.
The group has previously shown how easy it is to fake fingerprints using original prints left on glass surfaces. Bypassing the security of the iPhone 5s uses very much the same method, but relies on a higher resolution fake to help fool the high resolution sensor found on the phone.
So how does it work? CCC says that the hack can be accomplished with "materials that can be found in almost every household". After dusting a suitable fingerprint left on a glossy surface, the print is photographed, touched up and laser printed out onto a transparent slide. The toner from the laser printer gives a slightly raised representation of the fingerprint which can then be used to create a fake fingerprint. The secret ingredient? Wood glue.
The glue is smeared over the printout and lifted off when it dries. To help trick the iPhone's sensor, the latex fingerprint is then breathed upon to give it the slightly moist feel of a real finger and it can then be used to unlock the phone.
Have doubts about whether it could work or not? Check out the demonstration video on YouTube :
Does this concern you or is this a hack we don't need to worry about?
Image Credit:  NREY/Shutterstock
Read more »
---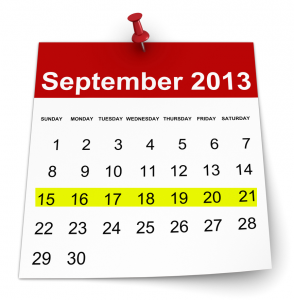 Apple stole the limelight from just about everyone else this week. The big news was, of course, the release of the iPhone 5c and iPhone 5s. Just about as soon as online orders opened up, delays in shipping started to lengthen; Joe was somewhat skeptical about the limited supplies.
Before the new hardware hit the stores, iOS 7 was released to mixed reviews -- I hated it, Wayne loved it. A couple of security holes were found in the operating system including one that allowed for Siri to be used to post messages and access phone details even on locked handsets. There was also a new iOS 7 inspired look for iCloud and the addition of a bookmark syncing option.
It hasn't all been about iOS -- Windows Phone users got a chance to download Angry Birds Star Wars 2 early. Research revealed that tablets are used mainly for fun and this is probably true for anyone looking to buy one of NVIDIA's newly announced tablets. Fans of custom ROMs for phones and tablets will be excited at the revelation that CyanogenMod has become a company in a bid to not only boost interest but also steer the project forward in a meaningful direction.
Microsoft pulled a series of anti-iPad ads which it admitted were off the mark and then busied itself with a redesigned logo for Bing and a new look for the search tool. The update was not made available to everyone immediately, and Mihaita tired of staggered roll outs. Bing's iOS app was also updated to add support for the latest version of the mobile operating system.
Elsewhere, Microsoft revealed Windows 8.1 pricing and also made Windows 8.1 Enterprise RTM available to Technet and MSDN subscribers. Internet Explorer 11 Release Preview for Windows 7 also came blinking into the sunlight.
The Motion Picture Association of America complained that Google doesn't do enough to stop piracy, and I expressed some views on the way piracy is perceived. Brian shared research that showed that searches for celebrity women can lead to malicious sites, while Microsoft said that users need to do more to protect themselves when online. This is entirely understandable when it has been found that a terrifying number of people use public wifi connections to carry out work-related tasks.
Apart from new phones from Apple, a few other pieces of hardware were scrutinized this week including new Panasonic headphones and the colossal Droid Maxx. Alan found that the Logitech T630 touch mouse took a little getting used to.
Not wanting to be left out of the headlines, Google bought Bump and also started to roll out a new look navigation menu. If you're not yet able to access it, there's a handy trick you can use to force it to appear. Whether through altruism or in an attempt to steal some of Apple's thunder, Google also made QuickOffice available free of charge to iOS and Android users.
Busy week! We all need a day off to recover...
Read more »
---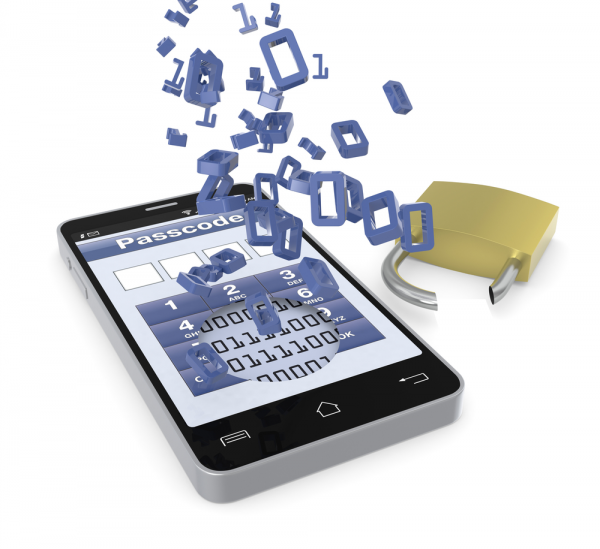 The number of people who are running iOS 7, either by buying a new iPhone or by downloading the update from Apple, is high. Very high. But shortly after the excitement of the new operating system, a security flaw with Siri emerges -- and it's not one to be taken lightly. Security firm Cenzic reveals details of a vulnerability that enables anyone to bypass the lock screen of an iPhone using Siri.
The voice activated assistant is better known for providing answers to questions and allowing for hands-free operation of iPhones. But Cenzic researchers show that it can also be used for more sinister purposes. You would think that when your phone is locked it should not be possible to do anything, besides answering calls, until you unlock it.
But Cenzic Security Engineers, Abhishek Rahirikar and Michael Yuen found that it is possible to use Siri to use phone functions that really should be inaccessible when a device is locked -- such as the ability to post Facebook and Twitter updates, viewing call records and even send emails. This means that, in theory, should your iPhone be lost or stolen, someone else could use it to post messages on your behalf.
The ability to make calls from a locked phone could be seen as being useful to a legitimate owner of a phone. Cenzic says that the vulnerability demonstrates that "there is a thin line between security and convenience" and has called on Apple to remedy the problem. I've reached out to Apple to get their side of the story, and I'm awaiting a response.
A video has been posted to YouTube showing how the vulnerability works. It may seem that Siri first refuses to post a Facebook status update and then just gives in on the second request, but Abhishek Rahirikar explains that "you need to give right command, and Siri does not think whether the phone is locked or not, it carries out the action. This is true for some commands that we think should have some restrictions."
The problem is not restricted to iOS 7; it is also to be found in iOS 6.1.4.
Check out the YouTube video to see the vulnerability for yourself:
Image Credit:  lucadp / Shutterstock
Read more »
---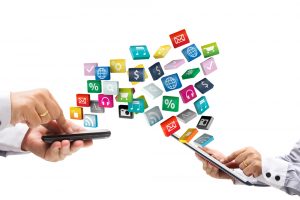 If you own a smartphone it's likely you download apps for it, and given the proliferation of mobile devices, it's not surprising that the volume of app downloads is continuing to rocket.
According to Gartner, mobile app stores will see annual downloads reach 102 billion in 2013, up from 64 billion in 2012, with free apps accounting for a whopping 91 percent of the total downloads this year.
"Free apps currently account for about 60 percent and 80 percent of the total available apps in Apple's App Store and Google Play, respectively," says Brian Blau, research director at Gartner.
While it's obviously difficult to make a paid app stand out in a hugely crowded marketplace, there is still money to be made, with total revenue from apps set to reach $26 billion this year, up from $18 billion in 2012. Gartner predicts that in-app purchases (IAPs) will account for 48 percent of app store revenue by 2017, up from 11 percent last year.
"We expect strong growth in downloads through 2014, but growth is forecast to slow down a bit in later years," says Sandy Shen, research director at Gartner. "The average downloads per device should be high in early years as users get new devices and discover the apps they like. Over time they accumulate a portfolio of apps they like and stick to, so there will be moderate numbers of downloads in the later years".
"iOS and Android app stores combined are forecast to account for 90 percent of global downloads in 2017," Brian Blau says. "These app stores are still increasingly active due to richer ecosystems and large and very active developer communities. However, we expect average monthly downloads per iOS device to decline from 4.9 in 2013 to 3.9 in 2017, while average monthly downloads per Android device will decline from 6.2 in 2013 to 5.8 in 2017. This relates back to the overall trend of users using the same apps more often rather than downloading new ones".
Mobile App Store Downloads, Worldwide, 2010-2016 (Millions of Downloads)
| | | | | | | |
| --- | --- | --- | --- | --- | --- | --- |
| | 2012 | 2013 | 2014 | 2014 | 2016 | 2017 |
| Free Downloads | 57,331 | 82,876 | 127,704 | 167,054 | 211,313 | 253,914 |
| Paid-for Downloads | 6,654 | 9,186 | 11,105 | 12,574 | 13,488 | 14,778 |
| Total Downloads | 63,985 | 102,062 | 138,809 | 179,628 | 224,801 | 268,692 |
| Free Downloads % | 89.6 | 91.0 | 92.0 | 93.0 | 94.0 | 94.5 |
Source: Gartner (September 2013)
Additional information is available in Gartner's report "Forecast: Mobile App Stores, Worldwide, 2013 Update".
Image Credit: KROMKRATHOG/Shutterstock
Read more »
---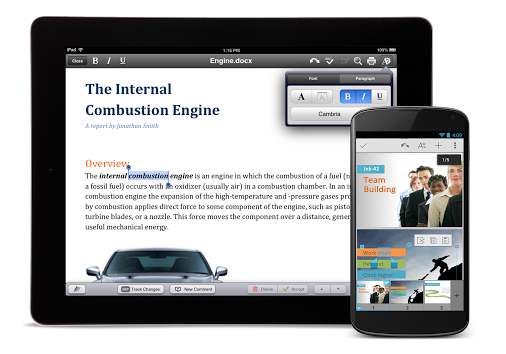 When I bought the first-generation iPad in 2010, I intended to use it for taking notes in college classes. Unfortunately, the iPad didn't come with an office suite and Microsoft's was not available. And so, I was forced to try a bunch of alternatives. Ultimately, I found one that stood out among the rest -- Quickoffice. I found it to be complete and a pleasure to use.
While my iPad is long gone, Quickoffice has followed me to Android with great results. However, Google bought my beloved Quickoffice in June 2012 and I became very nervous. My concern was that the software development would cease under Google's leadership. I am happy to say that my concerns were for naught -- Google announces today that QuickOffice has been updated and is now free.
"Starting today we're making Quickoffice for Android and iOS available for free, for everyone. With Quickoffice, you can edit Microsoft Office documents across your devices, giving you the freedom to work with anyone no matter what hardware or software they're using. Plus, it's integrated with Google Drive storage so you can safely access your files from anywhere", says the search giant.
The company further says, "while we're on the topic of free stuff, if you sign in to your Google Account from the new Quickoffice app for Android or iOS by September 26, 2013, you'll get an extra 10GB of Google Drive storage for two years, which will be added to your account in the next few weeks".
In other words, not only is the software improved and free but you will also be gifted 10GB of cloud storage just for trying the app. Even if you don't have a need for Quickoffice, you might as well try it to score the free storage.
In my testing, I found the new Quickoffice to be a dream on both my Android smartphone and tablet. As a Google Drive user, I can now share and edit my documents between Android and my Mac, Chromebook and Windows machines with more ease and style than before. The fact that it is free is just icing on the cake.
Unfortunately for Microsoft, this may be the final nail in the coffin for Office on iPhone and Android phones. After all, unlike the Redmond company's offering, Google's Quickoffice does not require a subscription and is available for Android tablets and the iPad (in full-screen).
Download Quickoffice for Android here.
Download Quickoffice for iPhone and iPad here.
Read more »
---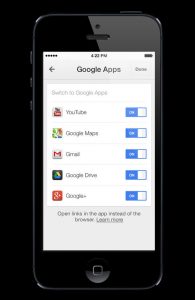 Just in time for iOS 7, Google has announced the release of Chrome 30 for iOS. Or for iOS 6-7, anyway -- the search giant has shifted its minimum requirements, so anyone still on iOS 5.x is now out of luck.
If you missed the release of Chrome 29 -- hardly surprising, as it only appeared last week -- then that extended searching with what Google called "intelligent pronoun understanding". And basically this gives your searches some context, so if you ask "Who directed Star Wars?", then "Where was he born?", you'll get sensible answers in each case.
Chrome 30 meanwhile gains better integration with Google Apps. It's easy to add or remove accounts in Settings, and once you've signed in to Chrome, you can then log in to other Google Apps with a single click.
You can now also have Chrome directly open links in Gmail, Google Drive, Google Maps, Google+ and YouTube apps (although this can be selectively disabled in Settings, under "Google Apps", if you prefer.
Elsewhere, there's what Google calls "improvements to the fullscreen experience on your iPad", some design updates for iOS 7, and the usual selection of bug and security fixes.
Chrome 30 for iOS is available now free for iPad, iPhone and iPod touch running iOS 6.0 or later.
Read more »
---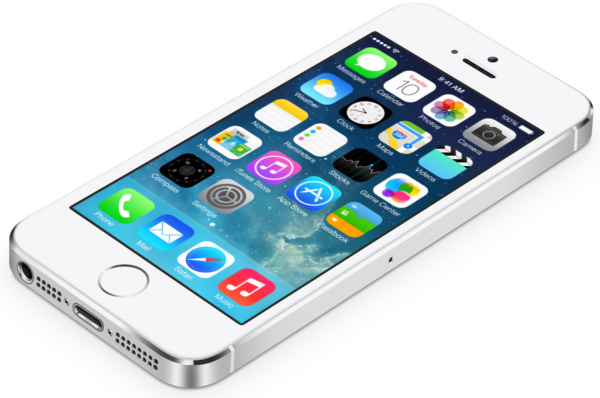 Anyone who manages to get their hands on an iPhone 5c or iPhone 5s on Friday will find that it comes with iOS 7 pre-installed. But if you're not planning on investing in new hardware, head over to Apple's update server right now and you can grab yourself an upgrade free of charge.
The OS revamp is available as of 10am PST / 6pm BST, and if you jump on the download straight away you may well find it a slow and frustrating experience as the world and its dog tries to do exactly the same. But hang on in there... it'll be worth the wait.
There's a great deal to explore in the latest version of Apple's mobile OS, and it is the new look that is the immediate eye-catcher; one that Apple has brought to iCloud as well as iOS. This time around there is a flatter, layered look that is quite a change from previous versions, but this is an OS that is about much more than just looks. Apple has taken a leaf out of Google's book and added a new control center which provides easy access to frequently used settings such as Wi-Fi, brightness and camera.
There are also plenty of new features to explore. The Notification Center keeps you up to date with everything you need to know from your calendar and other apps, while AirDrop simplifies the process of sending files from one device to another. There's better multi-tasking, an improved version of Safari, enhanced Siri, and free web radio in the form of iTunes Radio. Wayne looked at more of the changes when iOS 7's release date was announced.
So, can you get the upgrade? As has been the case with previous iOS releases, Apple has not forgotten people who have had its devices for a few years. Numerous older products are eligible for upgrade -- Phones all the way back to iPhone 4 are in line for the update, although iPod touch users need to be packing a fifth generation model. For iPad owners, it is only people with first generation devices that are out of luck -- iPad 2, Retina display iPads, and iPad minis are all supported.
So… what are you waiting for? Well, you could just wait for your device to offer you the upgrade in due course, but where's the fun in that?! Fire up your iOS device, head to Settings and tap Software Update in the General section. It might take a while, so crack open a cold one while you wait. Enjoy!
Read more »
---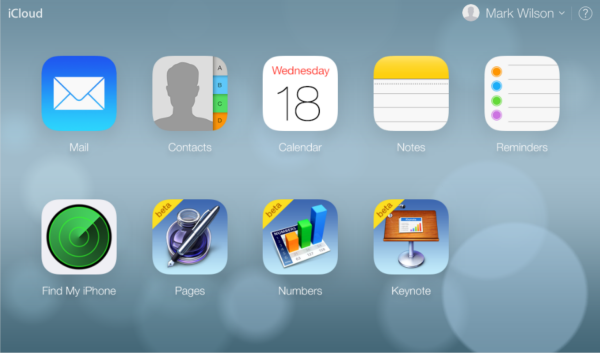 Today is iOS 7 day! But there is more than just a new operating system for your iPhone, iPad and iPod to look forward to; Apple also has a redesigned iCloud website for you to use. Unsurprisingly the new design takes heavy inspiration from the look of iOS 7, mimicking the floaty, layered styling that graces the new mobile OS.
Log into your account and you'll immediately be greeted by a muted, blurry background, over the top of which various icons appear to float. Apps including Mail, Contacts, Calendar, Notes, Reminders and Find My iPhone all now sport the iOS 7 look, but the beta editions of Pages, Numbers and Keynote retain their older design. It looks as though there might still be a little work to do -- not all icons have been redesigned, for instance.
There have been a lot of redesigns in the tech world recently. Google's flat logo is appearing on its sites for many people, Yahoo has a new logo, and Bing just revealed a new look for its news site as well as a new logo. With iOS 7 being such a radical departure from the previous versions of the OS, it makes perfect sense for Apple to give the rest of the product line a similar feel.
If you're keen to try things out, you may have to wait for a bit as iCloud appears to be groaning under the weight of traffic as millions of iOS users back up their data in preparation for the big upgrade.
What do you think of the new design for iCloud?
Read more »
---
Today Bump becomes the latest addition to Google's portfolio. In a blog post, Bump CEO David Lieb reveals that the company has been acquired by the search giant. Bump is known for two tools -- the eponymous Bump file transfer service, and Flock for sharing photos.
But it is the Bump transfer app that is most famous, making it possible to shift files from one device to another with a gimmicky bump together -- using "a matching algorithm" rather than NFC. The blog post assures users that "Bump and Flock will continue to work as they always have for now", and it is the "for now" part of this announcement that is intriguing. Google has yet to make an announcement of its own, so it is not yet clear whether Bump's tools will live on under the same name, get rebranded, or disappear into Google's fat folds.
The full announcement reads:
We're excited to announce that the Bump team is joining Google!

Our mission at Bump has always been to build the simplest tools for sharing the information you care about with other people and devices.  We strive to create experiences that feel like magic, enabled behind the scene with innovations in math, data processing, and algorithms.  So we couldn't be more thrilled to join Google, a company that shares our belief that the application of computing to difficult problems can fundamentally change the way that we interact with one another and the world.

Bump and Flock will continue to work as they always have for now; stay tuned for future updates.

We'd like to extend a special thank you to all of you who have used our products so far.  It continues to be a pleasure to serve you, and your feedback and evangelism inspire us every day.
A Google spokesperson told me "The Bump team has demonstrated a strong ability to quickly build and develop products that users love, and we think they'll be a great fit at Google".
While we don't know quite what the future holds for Bump and Flock, it's entirely possible that the features of each could be incorporated into a future version of Android.
Read more »
---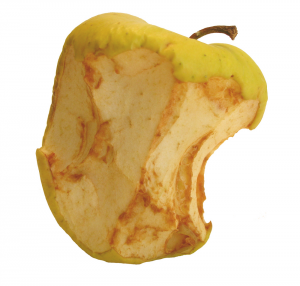 Today, Apple announced two new iPhones, the 5S and 5C. Sadly, through various leaks and rumors, the wind was taken out of the fruit logo company's sails; the element of surprise was lost. Surprise or not, either way, both new smartphones look really well made, attractive and full-featured. There is only one problem -- no one cares.
Well, "no one cares" is an exaggeration. I'm sure existing iPhone users care and these phones will sell well. Unfortunately, it won't be enough to lure the people Apple really needs to target -- first-time smartphone buyers and Android users. In other words, Google will continue to erode Apple's market-share, one chomp at a time.
As the news from the event trickled in today, I found myself getting a bit excited. To me, a 64-bit processor in a smartphone is something cool. However, I am a nerd and the majority of first-time smartphone users are not (if they were, they would already have one). In other words, the general public doesn't care about specs, and OpenGL|ES 3.0 will not sell product.
What does sell product? Price, features and apps. While Apple is the market-leader in quality apps, it simply cannot compete with free or low-cost Android handsets. Heck, even Windows Phone 8 is better positioned for the inexpensive-focused market. The iPhone 5C was supposed to be that saving-grace but unfortunately the cost savings are negligible at $99. While some people may say $99 is a lot of money, if someone cannot afford that difference in price, they cannot afford the latest smartphone.
From a feature perspective, the iPhone 5S does introduce a new fingerprint reader. While this is a genius move for the business market, it remains to be seen how consumers will take to it. It is an intriguing feature for sure, but it will not sell a phone. As of today, Verizon is offering the wonderful Nokia Lumia 928 for free with a 2-year contract. A first-time smartphone buyer is unlikely to be willing to shell out $199 more for a fingerprint reader.
In fact consumers who are more interested in color swatches than biometric security may opt for the 5C instead of the 5S for reasons unrelated to price.
Overall, both new iPhones and iOS 7 are beautiful and amazing. Any consumer would be lucky to own one of the new devices. However, for many people, they are not worth their premium pricing when compared to Android or Windows Phone 8. Apple had an opportunity to knock it out of the park today. Unfortunately, it failed to excite when it really needed to. Had the company only priced the 5C more competitively, it may have had a chance of striking back at Android.
Image Credit: Joanna Laznicka / Shutterstock
Read more »
---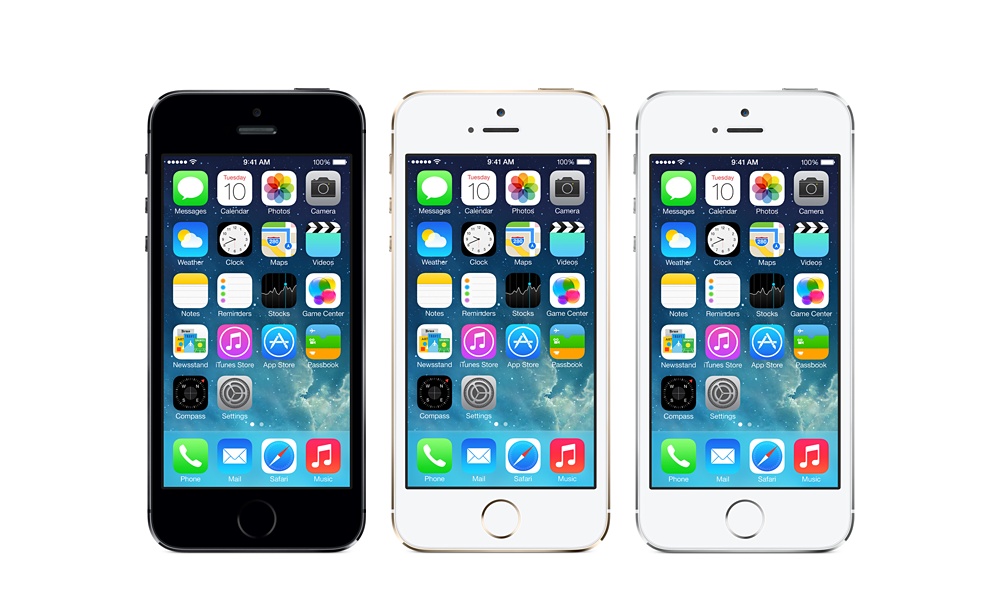 There were so many leaks prior to today's announcements at Cupertino that we pretty much already knew what to expect. Apple has taken the wrapper off the latest version of the iPhone and the company has stuck to its recent release schedule of following up a major iPhone with an S edition -- the iPhone 5S. Visually, things are very much the same as before, but in addition to black and white models, there's also the light gold colored model -- colors we now know should be referred to as space gray, silver and gold.
The promise to "brighten everyone's day" seems to have meant not only an addition to the color options for the iPhone 5C and 5S, but also new features. While the 5C retains the same processor as in the 5, the 5S boasts a new A7 processor which is the world's only 64-bit chip in a smartphone. iOS 7 has been re-engineered as a 64-bit operating system, but the chip is capable of running 32-bit and 64-bit apps. Apple claims the processor is double the speed of the iPhone 5 according to the graph they showed. And the processor now supports OpenGL|ES 3.0, the same as Nexus 7.
There's also a new M7 co-processor which measures the accelerometer, compass, and gyroscope which Apple claims will lead to a new breed of health and fitness apps. In terms of battery life, iPhone 5S users can expect 10 hours of talk time and 120 hours of standby. As with previous S models, there are other upgrades to the hardware to be found inside the case. The phone's camera has come a long way in recent years, and the 5S take things further boasting an F2.2 aperture lens.
The 8 megapixel camera takes multiple photos when the shutter is pressed, processes them and combines the elements of each for the best results. Two LED flashes -- one warm, one cool -- help to create a better light balance in shots, and there is a new burst mode than can take up to 10 shots per second. There's also double-speed video capture to experiment with thanks to 120 FPS video capture at 720p.
The rumoured fingerprint reader has indeed materialized, despite the fact many commentators thought it fantastical ahead of today. The Touch ID reader can be used to unlock the iPhone as well as confirming identifies when making a purchase. Forget typing a password or tapping a PIN, your finger is all you need. Orientation is not important as the reader, which is built in to the home button, and can scan at 500ppi in 360 degrees. Talking of the home button, it is now made of sapphire to eliminate the risk of scratches. If you're concerned about security, Apple assures users that fingerprint data is never shared with other apps, or even Apple.
Those all-important dimensions? Height: 4.87 inches (123.8 mm), Width: 2.31 inches (58.6 mm), Depth: 0.30 inch (7.6 mm) and Weight: 3.95 ounces (112 grams).
Of course, there's also iOS 7. As this had already been previewed there were few surprises here. You don't have to be packing an iPhone 5S to take advantage of the updated operating system, it can be installed on everything back to the iPhone 4 and iPad 2. There's the new, flat look, improvements to Siri, the addition of iTunes Radio and AirDrop and a new multi-tasking view as well as easy search access and more. Get downloading on 18 September.
So we now know the details, we've got the full rundown. When can we get our hands on the iPhone 5S? Not long to wait -- the device will be available from 20 September. Expect to pay $199 for the 16GB model and $299 for the 32GB version and $399 for 64GB -- all on a two-year contract. There are also multi-colored cases available for $39 a piece.
Ordering starts 20 September, in the meantime you can check out the iPhone 5S website.
Read more »
---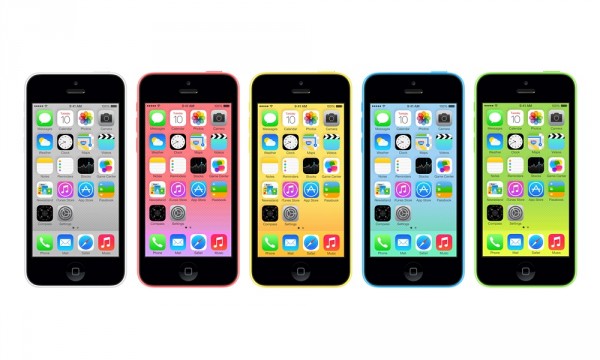 Apple changed the smartphone market dramatically with the original iPhone, which launched in mid-2007. The company took the world by surprise as it reenvisioned the basic smartphone concept by forgoing the (typical) unintuitive user interfaces and adopting a simpler, hardware and software, design instead. The iPhone had turned Apple into the top smartphone vendor, a title which the Cupertino, Calif.-based corporation can no longer claim today. Why?
The short answer is "Android". The long one is a bit more complicated. Apple began changing the smartphone market in 2007, but the smartphone market changed as well since then. The iPhone was and still is a flagship product, a high-end handset with the price to reflect it. Consumers, however, have been slowly moving away from that price range and type of device to cheaper, mid-range and low-end products. According to an IDC report from June, the smartphone average selling price (ASP) dropped from $443 in 2011 to $372 in the first half of 2013, and is expected to drop even further, to $309 by 2017. That is a price-bracket that Apple could not tap into, as it had no product to fight with. The iPhone 5C, that the company just unveiled during a special event, is designed to change that.
The drop in smartphone ASP coupled with the iPhone 5C announcement portray an Apple that is committed to reclaiming its lost crown, as top smartphone vendor, by doing something concrete about it, something that's albeit indicative of a reactive strategy instead of a proactive one as was the case with the original iPhone, in 2007. The iPhone 5C is to the iPhone what the iPad Mini is to the iPad -- a downsized iteration, only this time around, unlike the smaller tablet, this doesn't refer to the actual size of the handset.
The iPhone 5C is about the same size (124.4 x 59.2 x 8.97 mm and 132 grams) as the new iPhone 5S, that my colleague Mark Wilson covered here. But, being a mid-range smartphone, something had to give. Here's what you need to know in respect to the iPhone 5C corner cutting. Apple's new, entry-level smartphone does away with the all-aluminum back that the iPhone 5 introduced, last year. Instead, the company is using a plastic/polycarbonate back (with a steel frame, which acts as an antenna), that we almost forgot about since the iPhone 3GS days.
The plastic back, however, brings along with it something that has always been missing from the iPhone lineup -- a wider color palette. The iPhone 5C will be available in blue, green, pink, yellow and white. The first four were not previously available, while the last one was (and continues to be). Apple likely hopes that the extended color palette will help the iPhone 5C reach a new userbase, who isn't afraid to experiment with non-traditional colors (black and white) and is looking for more differentiation options than a third-party case can provide (although Apple now offers that too, for $29 a pot, in various colors, featuring circular holes on the lower side). It's something similar to what Nokia has been doing with its Windows Phone lineup, since launch, but without the back cover-swapping.
With the iPhone 5C, Apple also cut corners in the camera and processor departments by reusing existing hardware. The smartphone offers an 8 MP "iSight" unit and relies on an A6 chip to power all the tasks, both of the same type as in the iPhone 5. It's by no means a budget-oriented approach. Instead it points out that Apple's definition of budget smartphone isn't the same as with other makers (it's budget, but at a premium). The screen gets a pass, as it's a 4-inch "Retina" LCD panel, with the same resolution of 1,136 by 640 as in the iPhone 5. On the front, there's a FaceTime HD camera (720p video recording).
Connectivity-wise, the iPhone 5C features 4G LTE mobile network support; Wi-Fi 802.11 a/b/g/n (no "ac" support) and Bluetooth 4.0 as the main highlights. There's nothing really out of the ordinary in this department, as these are all features that we have already seen in other smartphones. The 4G LTE support, however, is instrumental in ensuring proper mobile operator backing with latest-generation networks (4G LTE started to roll out in Europe, for instance, since last fall and is expected to expand in a larger number of markets in the near future).
The iPhone 5C, as you might suspect, runs iOS 7. The latest iteration of the operating system will be launched on September 18, eight days down the road from now. You can read about what's new here. My colleague Wayne Williams has covered everything that you need to know.
For the iPhone 5C Apple quotes up to: 10 hours of talk time using 3G networks, 250 hours of standby time, 10 hours of 4G LTE or Wi-Fi web browsing (eight hours on 3G networks), 10 hours of video playback and 40 hours of music playback.
Being a mid-range smartphone, the pricing scheme of the new iPhone 5C reflects that. The smartphone will be available, in the US, at AT&T, Sprint and Verizon for $99 alongside a two-year contract for the 16 GB version, and $199, still with the same type of mobile operator agreement, for the 32 GB model. The base price is half of what local mobile operators charge for the iPhone 5 (and for the iPhone 5S too, once it's available). The launch day has yet to be revealed. Pre-orders kick off on September 13. Unlocked prices are $549 for the 16 GB version and $649 for the 32 GB model.
Read more »
---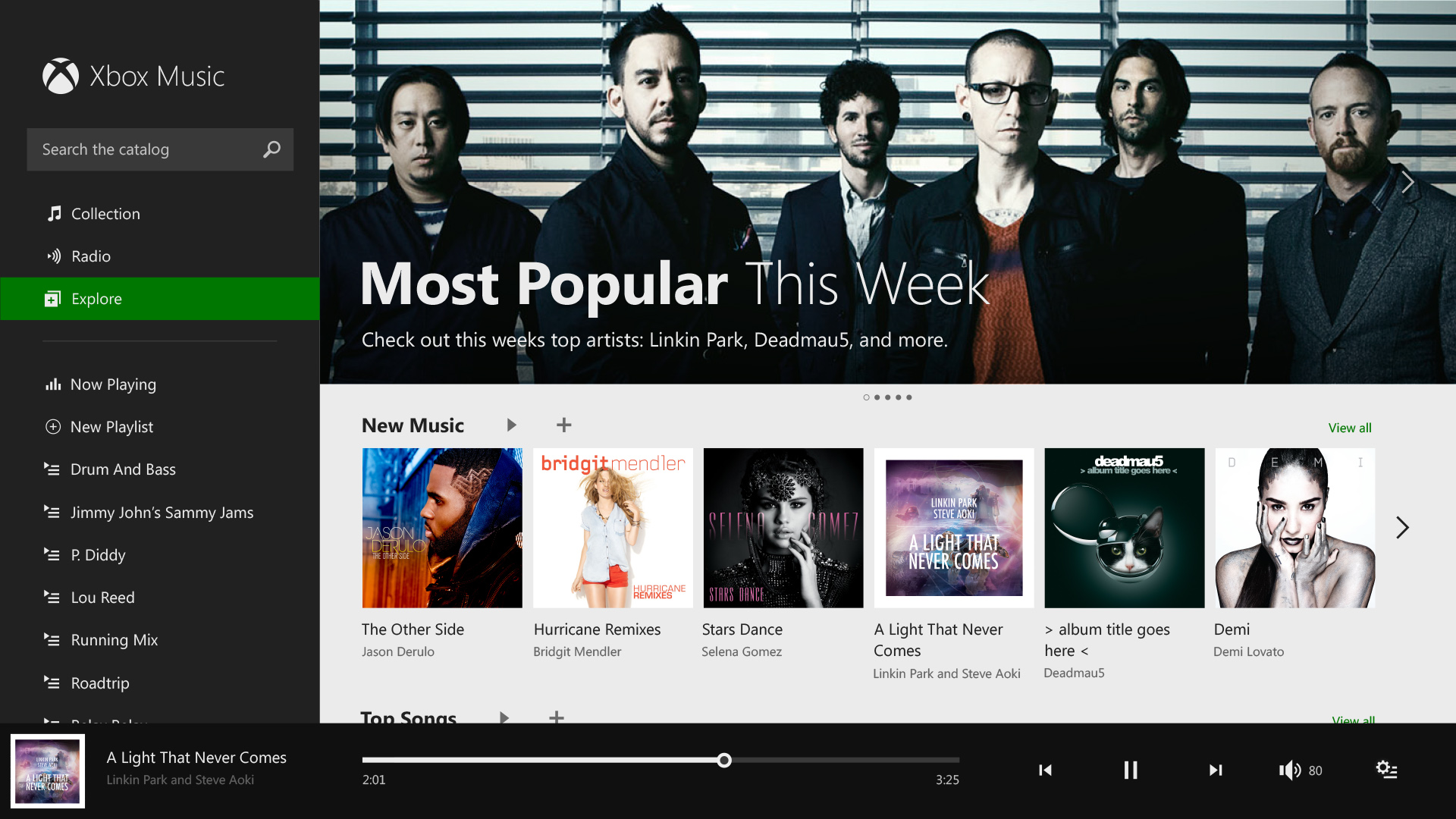 Nearly a year after it debuted Xbox Music, Microsoft has introduced iOS and Android apps for its impressive music service, and sent out a clear warning to the likes of Spotify with the introduction of free web streaming.
iOS and Android users with an Xbox Music Pass can now enjoy unlimited access to 30 million songs for $9.99 per month or $99.99 per year. When you add a song to your music library on Xbox, it will be instantly available on the mobile device.
In the coming months the new apps will gain an offline mode that will let you save music to your device for playback in those times when you find yourself in the back of beyond without an Internet or data connection.
The software giant has also added free streaming to the Xbox Music Web player at http://music.xbox.com (as well as through the Windows 8 Xbox Music app). Initially you'll be able to enjoy unlimited listening, but Microsoft plans to restrict the free hours of streaming after six months -- it didn't go into details of how strict (or otherwise) this cap will be. Anyone with an Xbox Music Pass will be able to continue to enjoy unlimited streaming, however.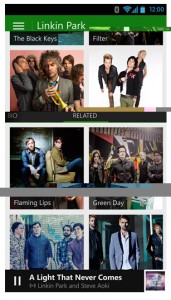 The Xbox Music expansion doesn't end there. Microsoft will be adding Radio to its web player in the coming months, and a Web Playlist feature -- which scans tracks on a web page and then creates a custom playlist inside Xbox Music -- will be added to Windows 8 on October 17, rolling out alongside Windows 8.1.
Jerry Johnson, general manager of Xbox Music said: "Xbox Music now, more than ever, powers music experiences between Windows 8, Xbox, Windows Phone, and now iOS, Android and the Web. We're also excited to connect artists with their fans on the most anticipated consumer product of the year when Xbox One launches Nov. 22".
If you're not already using Xbox Music will this new announcement inspire you to give the service a try? Are you excited by the addition of free web streaming? Let me know in the comments below.
Read more »
---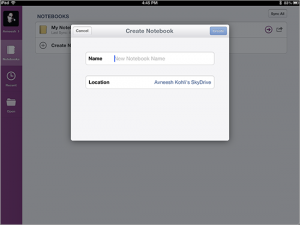 Microsoft is locked in a battle for your note-taking needs on mobile devices. Evernote is the perceived king of the field, but OneNote is certainly a strong competitor and today the software giant announces improvements to the iOS version of the Office app.
The latest update allows users to create notebooks on the iPad as well as create, delete and rename sections. Microsoft claims this was one of the most requested features from customers already using the previous version, but it is also not the only enhancement made to this build.
Avneesh Kohli, a Program Manager on the OneNote team, tells us that SkyDrive also plays a much larger role on the Apple mobile operating system -- "we're happy to announce that OneNote for iPad now has full support for creating new SkyDrive notebooks".
Other enhancements made to the OneNote app include typing improvements for Japanese-language customers, a download of less than half the size of the previous release, support for automatic list detection and the usual array of bug fixes that are a part of every software update these days.
Both the iPhone and iPad versions of OneNote are completely free for download. The service works fine as a stand-alone app, but being an office customer on the desktop adds another dimension to the experience.
Read more »
---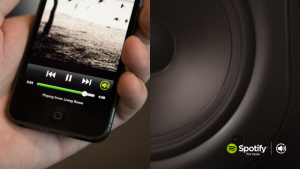 Spotify users with both an iOS device and a premium subscription -- oh, and at least one set of compatible speakers -- will soon be able to take advantage of a new Chromecast-like feature. Spotify Connect allows for a seamless music experience, transferring music playback between devices and sound systems. Everything can be controlled using an iOS app, turn your iPhone into the ultimate music remote.
The new service is showcased in a YouTube video that demonstrates the ease with which music can be transferred from one set of speakers to another. Walk home from work listening to your favorite album on your iPhone earphones, and as soon as you step through the front door you can push the music to your home stereo.
At the moment it looks as though there is no way to automate the process -- but this may come in time. It would be great to walk home listening to "Heaven Knows I'm Miserable Now", reach the front door and have playback automatically transferred to the stereo so you can sing along loudly to the line "In my life / Why do I give valuable time / To people who don't care if I live or die?".
There are a number of big names getting involved. The likes of Panasonic, Yamaha, and Bang & Olufsen will all be producing Spotify Connect compatible speakers and audio systems, but it's also possible to transfer music from one iOS device to another -- so you can use your iPhone to control the music playback on your iPod that's hooked up to a speaker dock.
There is currently no word on an exact release date for the necessary iOS app, but Spotify says that it will be "available soon". Android and desktop users have not been forgotten, but again no timeframe has been specified. While the service will be added to home audio systems "over the coming months", if you're not an iOS user you'll have to sit back and wait as there are "updates to follow".
Read more »
---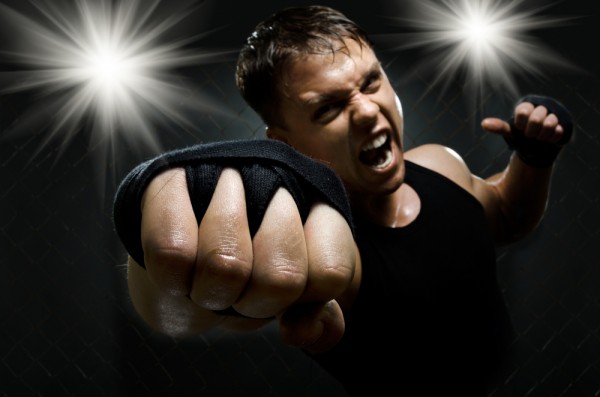 Or is it? It's not often that I see Windows Phone linked to being a "key player" on the smartphone market (quite the contrary, if some pundits are to be believed). But, according to a new report from Kantar Worldpanel Comtech, it appears that Microsoft's operating system has established itself as a "real adversary" to Android and iOS. That appears to be no small feat.
Between May and July 2013, Windows Phones accounted for 8.2 percent of all smartphone sales in five major European markets -- France, Germany, Italy, Spain and UK. Compared to the same time-frame from last year (when it had 4.9 percent market share), the OS grew by 3.3 percentage points, or 67.34 percent. That is a sizeable increase, however one that did not lead to Windows Phone's market share hitting double digits in a larger region (which, in my opinion, is a noteworthy steppingstone for any podium contender).
In the five aforementioned markets, Windows Phone had hit its highest market share in France (11 percent). UK takes second place (9.2 percent), followed by Germany (8.8 percent), Italy (7.8 percent) and Spain (1.7 percent). By contrast, the lowest market share for iOS, during the same time-frame, is 6.1 percent (Spain), while Android fares better with a whopping 55.2 percent (UK).
"Android and Apple take the lion's share of the headlines and continue to dominate smartphone sales, so it's easy to forget that there is a third operating system emerging as a real adversary", says Kantar Worldpanel ComTech strategic insight director Dominic Sunnebo. "Windows Phone, driven largely by lower priced Nokia smartphones such as the Lumia 520, now represents around one in 10 smartphone sales in Britain, France, Germany and Mexico".
Windows Phone's market share did manage to make a real splash, but outside of Europe. "For the first time the platform has claimed the number two spot in a major world market, taking 11.6 percent of sales in Mexico", says Sunnebo. And, Microsoft's local arm has a very good reason to celebrate -- in Mexico, Windows Phone's market share surpassed BlackBerry's (10 percent) and iOS' (9.2 percent). And even though it's the latter achievement that really matters, outpacing the Canadian maker's OS in one of its traditional markets is also a huge victory.
The market where Windows Phone's share should show major signs of improvement (but doesn't) is US -- Microsoft's OS grew to 3.5 percent, in beween May and July 2013, from three percent, in the same respective time-frame from last year, market share. The slight increase shows to prove that both the software giant and its partners need to show up with more appealing propositions to US customers (extended carrier support for all locally-available handsets is one area where Windows Phone still needs to show signs of improvement, aside from sustained marketing efforts).
So where do the new Windows Phone sales come from? Well, it's not from Android and iOS. "Windows Phone's success has been in convincing first time smartphone buyers to choose one of its devices with 42 percent of sales over the past year coming from existing featurephone owners", says Sunnebo. "This is a much higher proportion than Android and iOS. The Lumia 520 is hitting a sweet spot, offering the price and quality that new smartphone buyers are looking for".
"Featurephone owners present a huge opportunity, representing more than half of all mobile users globally [Argentina, Australia, Brazil, China, France, Germany, Italy, Japan, Mexico, Spain, UK and US] and this will be the new battleground over the next year", says Sunnebo. There are two takeaways here.
First, Windows Phone will have to be increasingly convincing to featurephone users, in order to make them switch and gain considerable ground against Android and iOS in this end of the market. And, second, it appears that Windows Phone cannot fight Android and iOS on equal terms, in its current state. Both are indicative of a wishful-thinking type of strategy (that featurephone users will switch and Windows Phone will improve, respectively), but not of a thought-out, long-term plan. Microsoft's OS has to gain big in the mid-range and high-end segments, in order to strive in mature markets and insure healthier margins for OEMs.
Photo Credit:  tankist276/Shutterstock
Read more »
---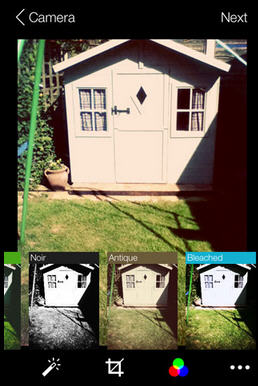 Yahoo has released Flickr 2.20 for iPhone and iPod touch, a major new update to its app for quickly sharing and uploading photos using your iOS device's camera.
The new build adds three major new filter-based features to its roster, plus adds new camera tools while dropping the paywall on some of the more professional editing tools. Both sets of tools are also jazzed up with new animated transitions for "the best camera experience yet".
The mobile app debuts a brand new set of filters that appear to have been inspired by Yahoo's recent acquisition of GhostBird, the publisher behind PhotoForge and KitCam on iOS.
In addition to this, users can also apply live filters to their snaps, allowing them to preview various effects and use them as a lens while snapping the shot. Finally, if users don't like the stock filters provided, they can be further customized to personal preference.
The update also adds a number of tools to help take better photos, with grids, pinch-to-zoom support, focus lock and improved exposure management controls, allowing users to ditch other third-party apps for snapping photos for use on Flickr.
Yahoo has also removed the paywall on its professional editing tools, meaning users can further enhance their photos with the help of enhance, crop, sharpen, adjust color, use levels and vignette adding tools among others without having to pay for the privilege.
The end result is an app that gets a much-needed update to close the gap on rival photo-sharing services like Instagram. Flickr 2.20 for iPhone and iPod touch is available as a free download now. Also available is Flickr 2.1 for Android.
Read more »
---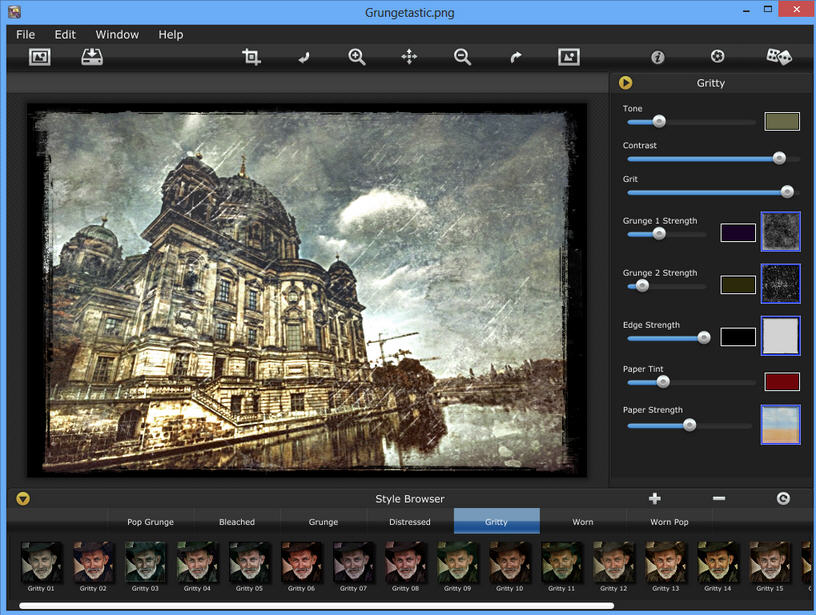 Most graphics software will do its best to clean up your photos, removing noise, optimizing brightness and contrast, and generally leaving them bright and polished.
If you're bored with this approach, though, you could always try Grungetastic ($0.99 iPhone -- $7.99 Windows, Mac), which prefers to reduce colors, add layers of scratches, dirt and grime, tear image borders, and generally leave your pictures looking as though they've been left in a box in your garden for a very long time.
Why? Strange as it might seem, trashing your pictures in this way often produces amazing results. Ordinary portrait shots, or dull photos of places or objects, can be transformed into cool images which look like stylish album covers. Don't take our word for it: check the gallery at the bottom of the official "Grungetastic Story" page to see for yourself.
We're not just talking about the feeble "oil painting" or "old photo" effects you'll get with some photo editors, either. Grungetastic is much more powerful, combining so many filters, textures, color tweaks and distortions that the results can be very impressive indeed. Whether you're looking for some heavily processed, posterized effect, or just a great way to make a new image look like a scratched and damaged old photo, there's something for you here.
All this power doesn't make the program difficult to use, though. At a minimum, all you have to do is open an image, and click the "Randomize" button. Grungetastic will randomly combine a range of styles, and you can either save the result (in the full version, anyway -- "Save" is disabled in the trial) or click "Randomize" and try again.
And if you need more control, there are separate options for "Tone", "Contrast", "Grit", "Paper Strength", and more. Helpful tooltips do a reasonable job of explaining what these do, but you don't have to understand the low-level details -- just drag each individual slider to fine-tune the image.
We did occasionally wish there were a few more settings. The images can often be a little on the dark side, and being able to tweak the brightness alone would have been useful.
Overall, though, Grungetastic is a great tool, which combines several powerful techniques to (often) spectacular effect. Give it a try.
Read more »
---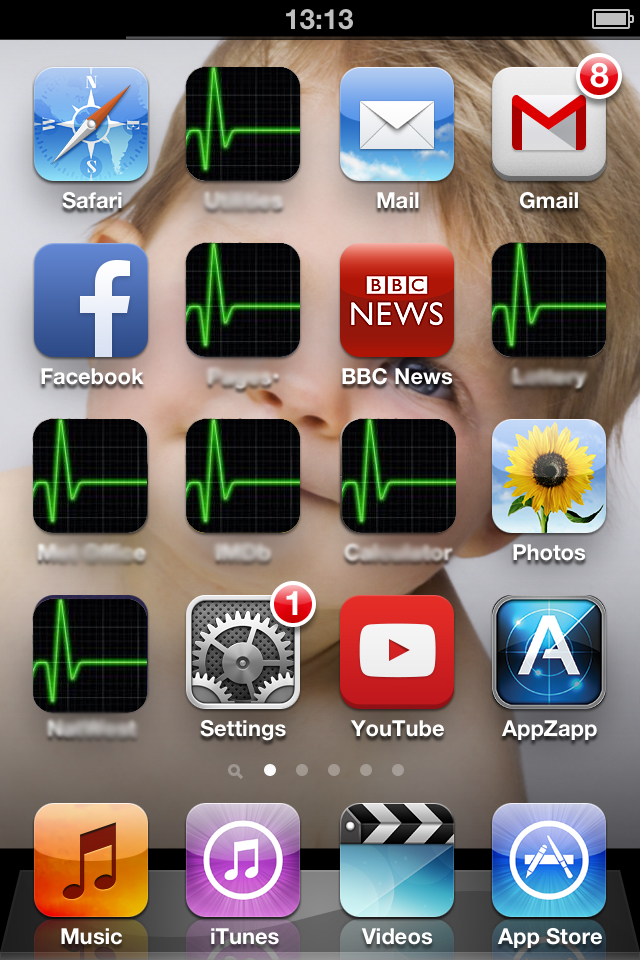 It's no secret that most mobile users only install a tiny fraction of the total number of apps available in the relevant stores. There are hundreds of thousands of offerings for Android, iOS and Windows Phone, but the vast majority will never make it onto your smartphone or tablet -- some cater to a very specific audience (like root-only apps for Android), some are designed for certain local markets (Internet banking apps, for instance) and some are plain dreadful (half-baked third-party clients spring to mind). It comes as no surprise then that there are apps that users don't even know about or which developers have abandoned entirely. The question is: How many?
Well, according to a new infographic that was just released by StarDust, over 41 percent of all Android apps available in Google Play can be deemed as "dead" -- they have received less than 10 reviews and ratings and not a single update throughout their existence -- while a more significant 65 percent of all iOS apps in the Apple App Store and 69 percent of all Windows Phone apps in the Windows Phone Store share a similar fate. The numbers are staggering, and show that it's not easy to make an app popular. The low number of reviews indicate abysmal user awareness and interest, which may have lead to the developers ceasing to release updates (and vice-versa).
I am sure I am not alone in saying that I have often dismissed installing a certain app due to a low review count and the lack of recent updates (to me, that suggests that the developer is not committed to his or her offering). And, when there are tens of apps that pretty much do the same thing, the word of mouth may point you in one direction (towards a certain offering) and make you dismiss the others. Case in point -- how many battery apps (from the couple dozen available) have you tried on your Windows Phone?
The infographic also claims that the number of apps available in the Apple App Store and Google Play (and, to some extent, Windows Phone Store) is much lower than the numbers we read in news stories or hear about during developer conferences. According to Francois Viallon, the man who conducted this study, the reason for this lies in the way apps are discovered. Viallon told me that he believes users must take a "deep look into store results to find them", which is why there is such a significant difference between the official numbers and what the infographic lists. Another reason for the discrepancy might be the app availability -- developers can restrict downloads only to a certain number of markets, which makes their offerings unavailable in remaining regions (a good example of this is Microsoft's OneNote, which is not offered in every country where Apple and Google allow users to download and install apps).
Another interesting tidbit that the infographic reveals is the paid app percentage of all available offerings -- Apple App Store leads the way with 50 percent, followed by Google Play with 32 percent and Windows Phone Store with 13 percent. The same hierarchy doesn't apply to average selling prices (ASPs). The ASP on Apple App Store is €3.49, on Google Play it is €1.73 and on Windows Phone Store it's €2.03. This basically means that, on average, a developer makes more money per sold app on iOS and Windows Phone than on Android.
The infographic also reveals an interesting statistic related to app updates. Most daily updates occur on Android (2,341), followed by iOS (806) and then Windows Phone (179). A high count, however, is not particularly telling. More updates could imply low app quality in the same way as a lower number could. That said, the infographic implies that Android developers are the most committed ones when it comes to improving their offerings (take that as you wish). The same applies to average time between updates (Android apps are fastest, followed by iOS and Windows Phone ones).

Read more »
---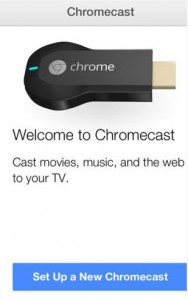 Apple users tend to like Apple things. Typically, the user's experience will be the best when all of their hardware is Apple. However, Google is hoping that iOS users will change course and shun the Apple TV in favor of its inexpensive Chromecast device.
Today, Google took a big step towards its goal by releasing a Chromecast app for iOS. Will it be enough to lure Apple users from the Apple TV?
Google explains that the app can be used to "set up your Chromecast to work with your Wi-Fi network" and "manage your Chromecast settings (such as changing your device name, Wi-Fi password, etc.)". In other words, this app is simply used to setup and manage your Chromecast. The actual streaming or "casting" happens from within the compatible YouTube or Netflix apps.
Compatibility includes the following devices on iOS 5.1 or later:
iPhone 3GS, 4, 4S, 5
iPod touch (3rd, 4th, 5th generations)
iPad (all models)
While the Chromecast is very attractive at $35, Apple users should still opt for the AppleTV at this time. The $99 price tag is higher, but so is the value. The Apple TV will allow you to access a much broader range of services compared to the Chromecast's paltry Netflix and Youtube. Not to mention, mirroring from iOS to a TV is still a killer feature that the Chromecast cannot deliver -- yet.
Read more »
---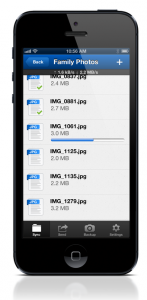 I have been using BitTorrent Sync between my desktop and laptop since it debuted in private alpha form. The service has since matured to beta, and now ages a bit more as it spreads to another platform -- iOS, after landing on Android last month.
"Today, we're happy to report that BitTorrent Sync is now available for iOS devices on the App Store. iOS fans: you can now sync freely", the company reports.
Beyond this latest move to another platform, the organization also unveiled localization efforts to get into additional markets. The latest version of the BitTorrent Sync Beta will be available across ten languages, including German, Spanish, French, Italian, Japanese, Russian, Chinese (Simplified and Traditional) and Portuguese (Brazil and Portugal).
BitTorrent prides itself on the fact that your files should be secure and it promises that Sync skips the cloud to deliver files faster, and safer. The service doesn't rely on servers, which are vulnerable to hacks and prying eyes.
The service will be rolling out this week, so do not fret if you can't yet find it on iTunes just yet, as it will be there soon enough. There is no word on when the service will find its way out of beta.
Read more »
---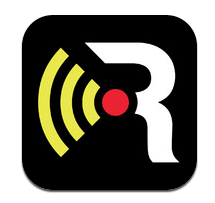 About 3 months ago, my heart was aflutter for Google's Play Music All Access. I was so enamored that I declared iTunes dead. While it remains my favorite streaming music service, there is still not an iOS version. I am typically an Android guy, however, there is a fourth-generation iPod touch in my family that gets use too -- mostly for music.
This week, I discovered a new addition to the crowded streaming music category, called Radical.FM. The question becomes: is it a worthy addition to iOS?
The company describes its new iOS app by saying it has "world-first features like 'Custom Genres' and 'Unblock', and the most comprehensive library in the industry. Powered by a unique 25-million-song catalogue Radical includes online rarities like The Beatles, AC/DC, and Bob Seger, all expertly curated into logical genres. A unique mixer allows users to tune personal stations to reflect their musical tastes with more control than any existing radio service".
An ambitious statement to say the least; but one that also piqued my interest. And so, I downloaded the app for my iPod. Gladly, you can register using your Facebook account -- I can't be bothered to type a lot on the tiny iPod touch keyboard.
Once registered, the app asked me to tell it the music genres that I enjoy. While my taste is eclectic, I mostly listen to Hip-Hop music. I told the app that I liked all types of Hip-Hop music, and I was off to the races.
It immediately presented me with a song from B.o.B., followed by Tone Loc, Blondie and the Beastie Boys -- I was in heaven! I was very impressed at how obscure the selections could be. I could comfortably start the app, get the music going and relax.
The company provides the following highlights of the app:
User-defined "Custom Genres" that can access 30 second previews of songs for curation. Once a Custom Genre contains 30 songs or more, it can be added to a station where the full-length song versions will be played.
The ability to 'Tune' Personal Stations using intuitive sliders to adjust the values of active genres relative to one-another, and to easily add more genres at any time.
An industry-unique feature that allows users not only to block songs or entire artists' catalogues but to retrieve them to active rotation later via the Unblock feature.
A wide range of interactive options for the user from a simple, intuitive lean-back experience, enabled by a few clicks to the most immersive, customizable online radio service ever offered via "Custom Genres".
An 'open-source' wiki that combines the expertise of music radio programming professionals with concrete feedback and requests of active users.
Sadly, while the music selection is great and the UI is beautiful, I did find the app to lag a bit when skipping tracks. However, it was very rare that I encountered a song that I wanted to skip. Since this is the 1.0 release, things should only get better and I expect the lag to subside.
So, is it a worthy addition to iOS? Absolutely, this app is definitely worth a look. However, it is not on the same level as a Pandora or Spotify; yet. But hey, the price is right -- free! Give it a try and tell me in the comments if you like it.
Read more »
---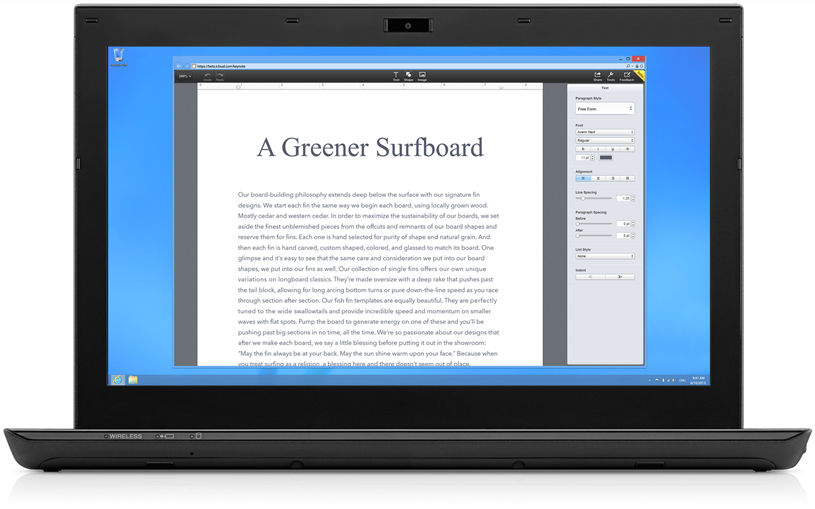 iWork for iCloud beta was originally only available for developers (or people with developer accounts), much to the ire of the fruit-logo company's eager and loyal following. Today, without any fanfare, the cloud-based Office platform is now available to all Apple ID users.
Apple describes the service by saying "iWork has always been the best way to be productive on the Mac. And iWork for iOS made it easy to create beautiful documents on iPad and iPhone. With iWork for iCloud we're bringing Pages, Numbers, and Keynote to the web -- on Mac and PC. And thanks to iCloud, your work is always up to date on all your devices".
Apple reports that the service will work with Safari 6.0.3 or later, Chrome 27.0.1 or later, and Internet Explorer 9.0.8 or later.
Google Docs users are probably rolling their eyes at this news and certainly they have the right to do so. After all, Google's service already offers this functionality. As a Chromebook owner I use the service regularly with success. However, while Google Docs feels like a cheap web-app, iWork for iCloud beta actually has a premium native-app feel. It is truly more rewarding to use.
A real killer feature is that you can drag and drop Microsoft Office files onto your browser window and they will be imported into iWork for iCloud beta. In my testing, this worked flawlessly. The computer I used for my testing is a Windows XP machine running Google Chrome -- certainly not a Mac. I dragged and dropped multiple Word Docs (.docx) and a fairly complicated Excel sheet (.xlsx) and all the formatting and data displayed as it should.
On my Hackintosh, I use Microsoft Office 2011, so I am not a paid iWork user. Despite this, iWork for iCloud works fine. It remains to be seen whether it will be a free or paid service. If it is free, Google will have some serious competition on its hands.
Apple says the service is "Coming this fall" so all questions should be answered soon.
Read more »
---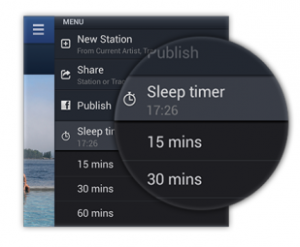 Pandora, the popular music service, is adding yet another feature to its mobile app. The customizable radio station service, built on the Music Genome project, splits its time between development and fighting for its right to be treated as a radio station in the eyes of the MPAA.
Today the service announces an update to the mobile app that brings a new sleep timer feature for both free and "One" customers. "Today I'm thrilled to share that we're releasing a new version of our Pandora mobile app for both iOS and Android that contains one of our top-requested new product features from listeners: a Sleep Timer. With the new Sleep Timer in version 4.5 of our app, you can now fall asleep to the sounds of your favorite Pandora stations", says Pandora's Mike Grishaver.
To use this new enhancement you simply need to begin playing your station of choice, then hit the menu button. From there you will spot the sleep timer. Click on it and you will be able to choose from increments of 15, 30, or 60 minutes.
The company also took the time to point out that "we're also dedicated to listening to our listeners and personally answer every inquiry that comes in to our support team whether it's via email (to the tune of more than 50,000 emails a month!) or our social channels".
Pandora may be gaining stiff competition from rivals, but it remains one of the better, cheaper and more popular contenders on today's music scene.
Read more »
---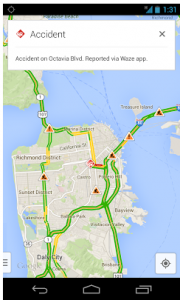 Google purchased mapping firm Waze back in June, bringing two services that many mobile users feel are among the best on the market under the one roof. The acquisition led to speculation that the unique features offered by Waze would slowly be rolled into Google. Much of Waze's information is crowd-sourced, such as accident reporting, traffic delays and even police radar.
That speculation begins leading to fruition today as the search giant rolls out step one. "No one likes getting stuck in traffic. That's why the Waze and Google Maps teams are working together to harness the power of Google technology and the passion of the Waze community to make it easier to navigate your daily life", says Brian McClendon, VP of Google Maps.
Incident reports, including all of the ones I previously mentioned, will continue to appear in Waze, but now also within the Google Maps app as well. This will be effective in Argentina, Brazil, Chile, Colombia, Ecuador, France, Germany, Mexico, Panama, Peru, Switzerland, UK and the US.
Google, referring to the Waze app, also says "the Android and iOS versions of the app have been updated with Google Search. Wazers will now have access to even more search results when navigating. Google Search joins other search providers making it easy to find favorite businesses and any local address". The Waze app will now have access to Google Street View, as well.
So far Google shows no signs of intending to take the technology from Waze and then kill the service, though given the company's penchant for getting rid of services, it will always loom as a possibility.
Read more »
---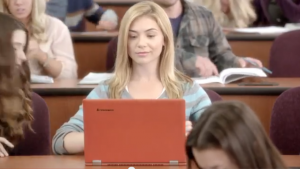 In a recent ad Microsoft levelled its guns at Google, but this time around it is Apple who finds itself in the crosshairs. The thinly veiled attack pits the Lenovo Yoga against Apple's iPad in a bid to win favour in time for the 'back to school season'.
The advertisement is set in a lecture hall and finds the lecturer's audience divided into three distinct camps -- old-school pen and paper fans, iPad users, and a solitary student with a convertible Windows device. As the cue comes to start taking notes, the Windows user casually stops playing the word game she was engrossed in, flips the Yoga into 'notebook' mode and starts typing.
Meanwhile, the other students scrabble to attach keyboards, stands and other peripherals to their iPads, panic as pens fail to work, and even email Microsoft-girl to ask for a copy of her notes.
As well as highlighting the flexibility of convertible, hybrid devices such as the Yoga, the ad also manages to focus on the multitasking capabilities of Windows 8. Not bad going for a 30-second commercial.
YouTube commenters have been quick to point out that the advertisement compares products that are in completely different price brackets.
Read more »
---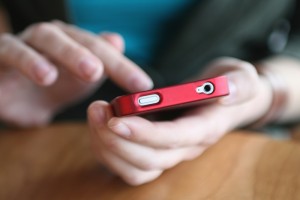 It's easy to learn how many iPads and iPhones have been sold -- sales figures are readily available. But this isn't enough information for advertisers who need to know what type of demographic makes up their potential market. Research by Flurry helps to shine a light on the types of people who own different iOS devices.
A random sample of over 44,000 iOS device owners reveals that 72 percent have an iPhone and 28 percent an iPad. Plotted on a chart, the figures make for interesting reading but, as ever, the most intriguing results are to be found at the extremes.
Flurry's research found that more than 90 percent of people classified as being single in the study owned an iPhone, and therefore just under 10 percent of iPad owners were partnerless. Sports fans were far more likely to own an iPhone than an iPad, and just under 70 percent of users of Apple's tablet were pet owners. It appears that gambling is where the dividing line lies. Just under half of iOS device owners classed as Casino Gamers used an iPhone, while just over half of Card Game Players own one of Apple's phones.
The figures show that the iPad proves popular with bookworms, those interested or involved in education, and parents. iPhones are more popular with tech heads (perhaps no surprise there), but their portability means they are also loved by photography enthusiasts and people keen on health and fitness.
So how was the research done? Flurry categorizes people into a number of different Personas -- this seems reasonable enough. But the categorization is not done based on interviews, surveys, or other solid methods. Instead a person is assigned a Persona based on their app usage. Use a series of dating apps on your iPhone and you've probably been singled out as being, well, single. Use your iPad to track stocks and shares? Maybe you're a "business professional". But what about if you own an iPhone and an iPad? Flurry says "Those who own more than one device may not be assigned to the same Personas on all of their devices because their app usage patterns may not be the same across devices".
Other interesting results from the findings show that iPads are used most in the early evening -- probably when sitting in front of the TV -- and while iPhones are used around the same time, they start to prove more popular as the night wears on.
Full analysis, complete with enough graphs to keep even the most demanding statistics fans happy, can be found at the Flurry blog.
Photo Credit: D. Hammonds/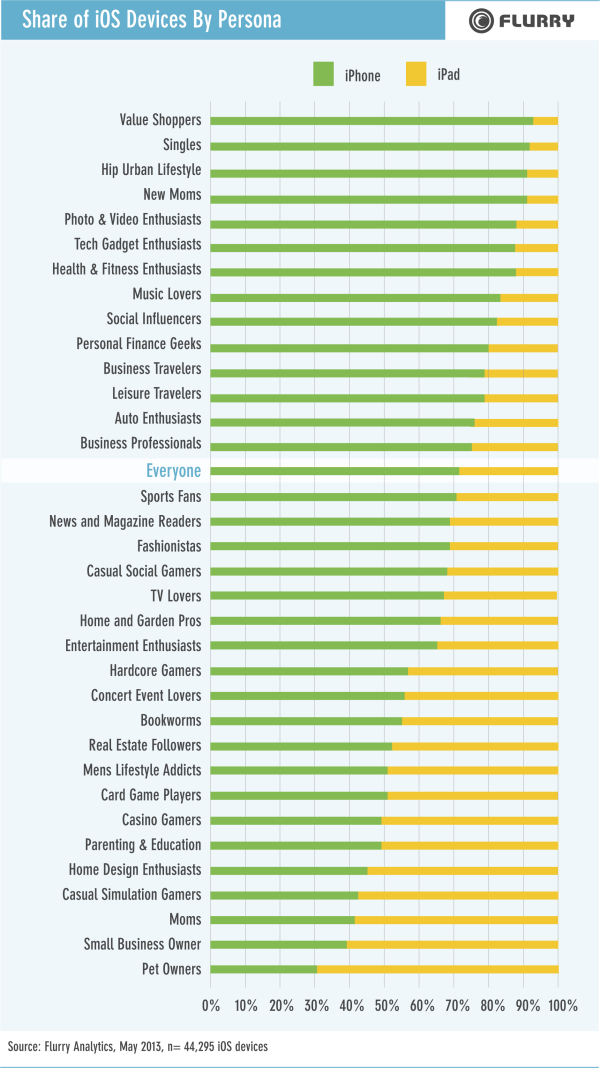 Read more »
---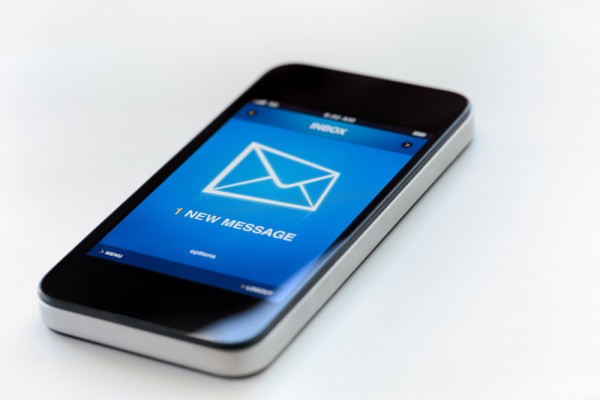 A survey by Constant Contact shows that mobile devices are more important than ever, particularly to those under the age of 30. The study reveals that 80 percent of smartphone owners say it is "extremely important to be able to read emails" on their mobile devices. But marketers take note -- if an email doesn't display correctly, it's highly likely it will just get deleted.
High mobile email usage is hardly a revelation in itself, but the way the figures break down is interesting. Predictably it is the 18-30 age bracket that has the highest mobile usage, with 88 percent of users turning to their mobile for emails.
Move up through age ranges and the number starts to drop, but not as much as you might think; 85 percent of 30-39 year olds, 74 percent of 40-49 year olds and, perhaps most shocking of all, 71 percent of those aged between 50 and 59, and 66 percent of those over 60.
There are very few people, it seems, who have not used their mobile device for reading emails. In the youngest age range, more than half (52 percent) use a mobile device as their primary source for email -- move up an age bracket and this only drops slightly to 48 percent.
There are slight variations between platforms. iPhone owners are more likely to open emails on their mobile (82 percent), compared to users of other mobile brands (72 percent).
But what is interesting about the research is the way in which it demonstrates how emails need to take mobile viewing into account. We all complain about the amount of spam we receive, but marketing emails play an important role in the economy -- cast a wide net and a few new customers are sure to be picked up at virtually no cost.
Sadly for advertisers, a massive 75 percent of those surveyed said that they are highly likely to delete emails they are unable to read on their smartphone. The viewing of emails on smaller screens is something marketers need to take into account. I've stopped counting how many press releases, product announcements and other emails I've received that are just not suited for easy reading on the screen of my Android phone.
I'll persist though. It's very rare that an email actually cannot be viewed on my mobile, although it may be awkward. If things are too difficult to make out, or require too much zooming and scrolling, I'll save the message for later and look at it on my computer. It looks as though I'm in a minority however.
With almost half of respondents (49 percent) saying they are likely to click on links contained in emails sent to them by businesses, maybe it's time for high mobile usage to be looked at differently. It's not just a way for developers to sell apps, or for consumers to be able to access the web on the move. Mobile users have changed a lot over the years; perhaps it's time for advertisers to try to keep pace.
Photo Credit: bloomua/Shutterstock
Read more »
---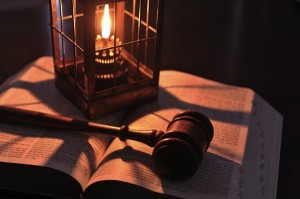 The Apple and Samsung battle continues to rumble, and less than a week after a proposed ban on the sale of iPhones and iPads was overturned, another ruling has -- at least for the time being -- gone Apple's way. The US ITC has upheld a previous ruling dating back to 2011 that found Samsung has infringed various Apple patents, potentially leading to a US ban on various devices from the South Korean company.
The ruling found that Samsung had violated two patents relating to Apple's iPhone. The first patent (often referred to as the "Steve Jobs patent") relates to the use of a touchscreen interface as means of interacting with a device using one or more fingers. The second patent relates to the design of an audio socket that can determine the type of microphone or headset that has been plugged into it.
But, as happened last week, there is potential for the ruling to be overturned. President Obama has 60 days to review the Commission's ruling, and the ban is on hold until a final decision is made.
There is no word on exactly which Samsung product would be affected by a ban, but as the initial case dates back two years, it is likely that older products would be involved.
One thing is for sure...this is one court drama that looks set to run and run for sometime to come.
Read more »
---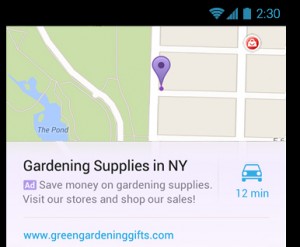 Ads are prevalent and all but unavoidable online these days, and in a bid to keep software free and fund development, in-app advertisements are increasingly common.
The latest kid to the party is Google Maps for iOS and Android. Perform a search for a restaurant, coffee shop, or other establishment, and you may well find that the bottom of your mobile is adorned with an ad for a related business.
The AdWords-powered addition sees the arrival of advertisements that feature the names and ad text for a, hopefully, relevant business.
Tapping through reveals the address, contact details and directions.
There's no way to opt out of the ad service, but if you're looking for a particular type of establishment and the adverts are related, this is one example of advertising that could prove genuinely useful.
Read more »
---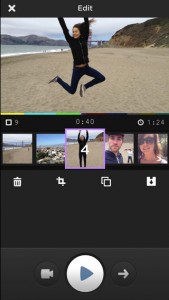 YouTube founders Chad Hurley and Steve Chen have launched MixBit for iPhone 1.0.3 through their company AVOS Systems. The app -- also coming to Android next month -- is aimed firmly at the social networking market, providing users with a convenient tool for constructing hour-long videos from 16-second clips that can subsequently be published on the parent Mixbit.com site or shared via popular social networks.
Mixbit.com is described as "a community of creators", according to its website, highlighting the public nature of videos uploaded to it. All shared videos become public domain, allowing other users to easily embed all or parts of those videos into their own work.
Creating the initial video is done one of two ways: users can shoot up to 16 seconds of video from their iPhone or select clips from publicly shared videos on Mixbit.com. These clips can then be combined to create a single video of up to 256 clips -- or around an hour in total length -- that is shareable a number of different ways: via Mixbit.com itself, Facebook, Twitter or email.
Individual clips are stored independently of each other, meaning they can be trimmed, rearranged, duplicated or deleted once shot or selected. However, all currently selected clips play as a single, seamless video, with a color bar below the video preview representing each of the clips for simpler navigation.
The app supports multiple video projects, and videos can be edited even after publishing or sharing. The user interface is built specifically for iPhone and iPod touch users, but will function on the iPad. An Android version is promised "soon", with an estimated shipping date of sometime in September.
MixBit for iPhone 1.0.3 is available now as a free download for iPhone, iPod touch and iPad running iOS 6.0 or later.
Read more »
---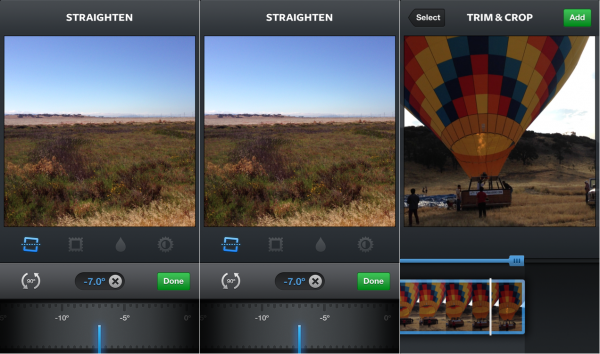 Instagram just introduced a major change to the video-posting feature in its Android and iOS mobile apps, with the popular social network now allowing users to upload pre-recorded clips from the smartphone's gallery.
The revamped video-posting feature is part of the new Instagram apps for Android and iOS, version 4.1. "Starting today you can upload videos from your phone's media library and share those moments to Instagram regardless of when they were captured", says Instagram. "Once you select the video clip you'd like to import, you can trim it down to the exact part you like best. We've also made it so that you can choose how you square-crop your clip so you can keep the action front and center".
So what does this mean for Instagram? Well, aside from letting users post short clips from their past trips or vacations, the popular social network also opens the door to businesses that wish to promote their products through professionally-recorded video ads -- prior to this change, this was only possible with photos.
As a result, users might notice a growth in third-party advertisements in the near future. However, this should not negatively impact user-engagement levels, seeing as many brands have already attracted major followings by promoting their products. A good example of this is Audi -- the German car maker constantly manages to get a high number of comments and likes for its car photos, even though the content is clearly designed to act as ads.
The popular social network also revealed that the latest Instagram app for iOS adds automatic straightening for photos through the new Straighten button, while its Android counterpart introduces support for Video on Instagram to handsets running Ice Cream Sandwich.
Instagram 4.1 is available to download from Apple App Store and Google Play.
Read more »
---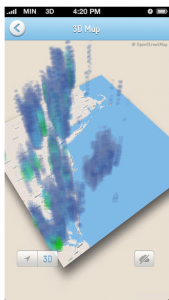 "I have a good weather app. It's called...looking out the window". That is what my colleague Brian Fagioli told me when I said I was testing Minutely, a new mobile weather service. Still, despite that rather true comment, we all still want to look up those possibly inaccurate forecasts, and this latest offering provides a better way to do it -- or at least a better looking way.
The name is derived from the app's promise to provide real time details right down to the minute - the rain slider feature allows you to travel in time and watch the rain move across your location. Minutely will let you know if it will be raining, snowing, hailing, or sleeting in any location you choose down to the minute for the next 2 hours.
However, the service also uses a gaming engine to render 3D images of the weather maps to display 3D radar in real-time, provides Twitter and Facebook sharing, allows users to easily correct the information, helping the app be as accurate as possible through crowdsourcing (very much like Waze does for traffic) and adds Sunrise and Sunset times, 9-day forecasts, moon phase timeline, full day forecast descriptions, day and night mode, an activity feed, and the ability to win achievements and rewards.
The app has just been released, and is free for users. It will require those customers to make it really work, just as Waze does, but that is really half the fun with these crowd-sourced services. My colleague, Wayne Williams, tested it out from his base in the UK and claims the app works quite well there as well.
The app is live now in the iTunes Store and will soon be open to Android customers as well.
[Update] Minutely is now in the Google Play store.
Read more »
---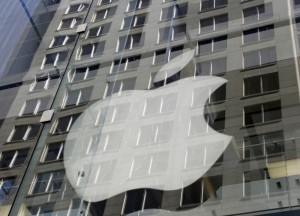 In a letter to the International Trade Commission chairman, the Honorable Irving A Williamson, the Obama administration vetoes an earlier ITC ruling that was due to block the sale of a number of Apple products. The original ruling came in June and was to prevent the sale of various products including certain models of the iPhone 4 and the iPad 2.
The letter from Ambassador Michael Froman explains that having reviewed the information surrounding the patent dispute between Apple and Samsung, he had decided to "disapprove the USITC's determination to issue an exclusion order and cease and desist order". Under section 337 of the Tariff Act of 1930 the President is obliged to evaluate decisions made by the Commission during a 60-day review period, and in this instance the authority was passed to the USTR.
The reason for Ambassador Froman's overturning of the ban? It is based on his "review of the various policy considerations discussed [in the letter] as they relate to the effect on competitive conditions in the U.S. economy and the effect on U.S. consumers".
The letter concludes by saying that the vetoing of the ban does not mean that Samsung, as patent holder, was not "entitled to a remedy" but that the company was free to "continue to pursue its rights through the courts".
You can read the letter in full -- and revel in all its delightful legalese -- at the USTR website.
Photo Credit: BMCL/Shutterstock
Read more »
---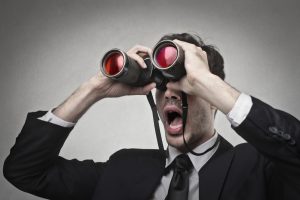 Windows 8 is an operating system designed for touch PCs, but it's struggling to find a sizeable audience on them. PCs as we know them are on their way out, and tablets are the future, as we've been told time and again by analysts. Figures from the likes of Gartner and IDC clearly back up this sea change.
So if people aren't buying into Microsoft's new OS on regular PCs (with or without touch) then they must be scrambling to buy tablets running Windows 8 and RT surely? Well things don't look too rosy for Microsoft there either.
RT devices are struggling with lacklustre sales and limited backing from hardware partners, and Windows 8 tablets have yet to really take off. According to the latest research from Strategy Analytics, global tablet shipments, including white box (rebadged) devices reached 51.7 million units in the second quarter of 2013, up 43 percent from 36.1 million in Q2 2012.
Android, thanks to high profile hardware partners like Samsung, Amazon and Google itself, was on 34.6 million of the tablets shipped in the quarter, dwarfing Apple's 14.6 million shipments. However, when you strip out the white box tablets (branded tablet shipments accounted for 36.2 million units) the gap between the two leading mobile operating systems is greatly reduced.
Tablets running some form of Windows accounted for just 2.3 million shipments in the quarter.
According to Strategy Analytics' figures, Android tablets secured a 67 percent global share, while Apple iPad lost a significant chunk of market, declining from 47.2 percent in Q2 2012 to 28.3 percent, due in part to the lack of new models, this quarter. And right down in the distance, Microsoft picked up a global share of just 4.5 percent.
Strategy Analytics cites the lack of big name apps as one of the main reasons for low Windows 8/RT market share. "There may be an uptick in Windows RT shipments in Q3 following savage price cuts by all the partners still involved in the RT Market. Microsoft has reduced prices by $150 and other vendors even more; they are still not cheap, but are much more where they should be to compete. The shortage of apps continues to be a problem, with seemingly little incentive for developers to work on the platform".
Photo Credit: ollyy/Shutterstock
Read more »
---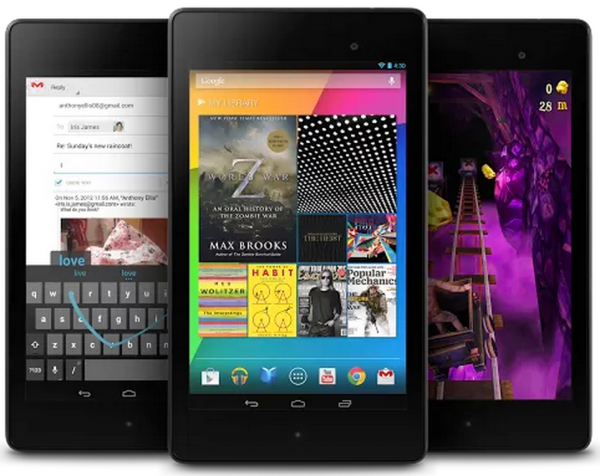 Rest in peace, iPad mini. Google killed you. The question then: Is it murder or manslaughter -- or justified homicide, putting the Apple tablet out of our misery?
Three days using the new Nexus 7, I can't imagine why Apple let Google, and partner ASUS, seize back-to-school buying with the tablet. I don't refer just to the instrument of destruction but the means. The 2013 edition is widely available through major US retailers, including Amazon and Best Buy. By all indications there is inventory to meet demand, not the typical supply shortages, although the 32GB WiFi model is unavailable this weekend from many retailers -- but Google Play is stocked.
Now would be a really good time for Apple to launch a new iPad mini. Waiting to release iOS 7 is a mistake, but it's one I expect the fruit-logo company to make. I wouldn't recommend iPad mini over Nexus 7 to anyone. Last week, my daughter asked for the Apple tablet to take back to college. She can have the Android, and will thank me for it later.
Google announced the tablet on July 24, with sales slated for the 30th, but they started early; on Friday. Outstanding, emotive marketing video "Fear Less", along with new textbook purchases and rentals, is sure sign Nexus 7's release timing is quite deliberate. Google knows parents and students will shop for tech tools over the next month. Nexus 7 isn't just launched, it's widely available here, as Google also ramps up distribution elsewhere.
Imagine students taking Nexus 7 to class who could have gone iPad mini. Marketing and distribution make the difference. Apple's tablet is the elephant in the room, from a market share perspective, and surely won't lose loads of weight because of Google's device. But any sales losses are unnecessary, if only there was a more competitive -- and affordable -- iPad mini ready for back to school.
Epic Competition
Let's compare the two tablets.
iPad mini specs: 7.9-inch back-lit IPS display (1024 x 768 resolution, 163 pixels per inch); A5 dual-core processor; 1GB RAM; 16GB, 32GB or 64GB storage; 5-megapixel rear-facing and 1.2MP front-facing cameras; Bluetooth; WiFi A/N; HSPA+/LTE (on three models); accelerometer; GPS; gyroscope; microphone; and iOS 6. Measures 200 x 134.7 x .28mm and weighs 308 grams.
iPad mini 16GB WiFi: $329
iPad mini 32GB WiFi: $429
iPad mini 16GB WiFi/LTE: $459
iPad mini 64GB WiFi: $529
iPad mini 32GB WiFi/LTE: $559
iPad mini 64GB WiFi/LTE: $659
Nexus 7 specs: 7-inch back-lit IPS display (1920 x 1200 resolution, 323 ppi); 1.5GHz Snapdragon S4 Pro quad-core processor; Adreno 320 graphics; 2GB RAM; 16GB or 32GB storage; 5MP rear-facing and 1.2MP front-facing cameras; Bluetooth (support for Bluetooth Smart), WiFi A/N; HSPA+/LTE (on some models); accelerometer; GPS; gyroscope; magnetometer; microphone; near field communications; wireless charging; and Android 4.3. Measures 114 x 200 x 8.65 mm and weighs 290 grams.
Nexus 7 16GB WiFi: $229
Nexus 7 32GB WiFi: $269
Nexus 7 32GB WiFi/LTE: $349
The new N7 costs more than it's predecessor -- $30 for the starter WiFi, for example. Google's Nexus 7 price increase surprises but timing is perfect. The high-end LTE model, while costing more than its HSPA+ predecessor, is quite the value compared to the entry-level mini.
So for $349, you can buy a 7-inch HD tablet from Google, with fast processor, 32GB storage and LTE, or for $20 less a 7.9-inch iPad mini with 1024 by 768 resolution, 16GB and WiFi. The comparable model to Nexus 7 is $559. For the budget-conscious, and who isn't when back-to-school shopping, Google's entry tablet costs $100 less than Apple's, but with superior processor and screen resolution.
Apple, or even most Android manufacturers, cannot compete with Google on tablet pricing. That gives Nexus 7 huge opportunity to gain market share, now that the screen is HD, global LTE is available, more retailers sell the device and service Google Now rises as the killer app.
Google doesn't make money from devices but from contextual content, services and advertising wrapped around them. So the company can keep margins thin on the hardware, unlike Apple which makes the majority of profits from hardware sales. The fruit-logo company can never compete on price and doesn't have a device ready for back-to-school buying. That's a sour crop for the season.
First Impressions
Colleague Alan Buckingham writes BetaNews' first formal review of the new Nexus 7, but I would be remiss not expressing something about the experience.
There's little to dislike about Nexus 7, unless you're attached to another platform, such as iOS, or insist on something larger. At 323 pixels per inch, the HD display awes the eyes. Meanwhile, like its predecessor, the tablet fits comfortably in one hand, and two-thumb typing is easy.
I find the new Nexus 7 very comfortable to hold, and the tablet feels super light. It's a perfect throw-in-a-purse-or-backpack size. The more I use the tablet, the more the size feels right.
This is how much: My wife and I recently repurposed my daughter's old 32GB iPad 2 for around-the-house use, such as looking up recipes. The tablet is bulky for the purpose, but paid for and otherwise not used. A couple hours after receiving Nexus 7, I hauled down to Best Buy to trade in the iPad 2. I took in the tablet a couple weeks back and got a $200 offer, which I rejected. Ha! New offer: $170! No thanks to that! I Craigslisted for $250 and sold the Apple tablet Friday night. I'll use the cash to buy another Nexus 7, which is better suited to the task set to the iPad 2.
Google Now and voice search are major reasons. I can't overstate the value of the services on the form factor. The "Fear Less" advert is exceptionally good marketing. The video communicates many benefits, particularly from those two features, which, granted, are available on other Androids (and even iOS, if you like, though not as accessible). But they feel just right on Nexus 7. Think Star Trek TNG.
The Star Trek vision of responsive computing rapidly moves from science fiction to everyday reality. Google stands apart for pushing forward Star Trek-like human responsiveness. Now and voice search rise above others; you command actions and ask for answers, rather than tap with finger. The two services are a watershed development that fundamentally changes how people interact with tech products. Together, they make Nexus 7 special and particularly suited to students' needs -- or mine (or yours), in the kitchen and around the house.
Google's marketing tagline for the device is perfect for the benefits: "For what matters". The tablet's performance is snappy, the size just right for hands and fingers and supporting services exceptionally useful. All this while iPad mini offers last year's screen for next-decade pricing (think inflation).
Nexus 7 could be late-summer's surprise sleeper hit.
Tough luck, Apple.
Read more »
---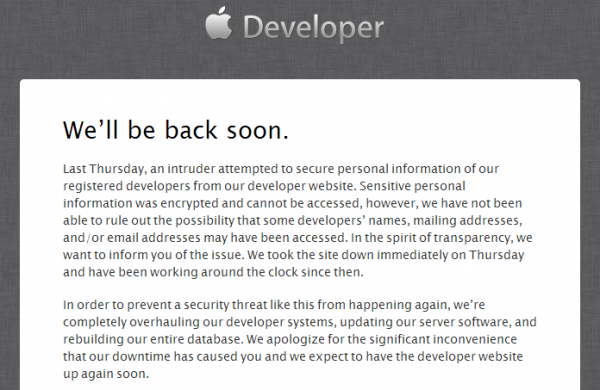 The Apple Developer site remains inaccessible after a security breach on Thursday. The company is quick to point out that personal information accessed in a database was encrypted, but goes on to say the possibility that personal data had been accessed could not be ruled out. Apple is taking the intrusion very seriously it seems.
The fact that the site is inaccessible is down to Apple rather than being the direct result of an attack. Apple states that as soon as it was aware of the breach, the site was purposely taken down. This initially saw the site replaced with a message informing visitors that the site was down for maintenance, but was later replaced with a message from Apple that goes into more detail.
The message now apes the email that was sent to developers over the weekend, with Apple revealing more about what is happening "in the spirit of transparency". The site is offline while the compromised database is rebuilt, server software is updated and the developer system is overhauled.
Anyone attempting to access the iOS or Mac sections of the Apple Developer site is greeted by a message from Apple stating "We'll be back soon". No timeframe is given for when things will be back up and running, but developers with memberships expiring during the downtime are assured that their apps will remain in the App Store until things are sorted out.
Developers with any concerns about their accounts are encouraged to contact Apple through the company's website.
Read more »
---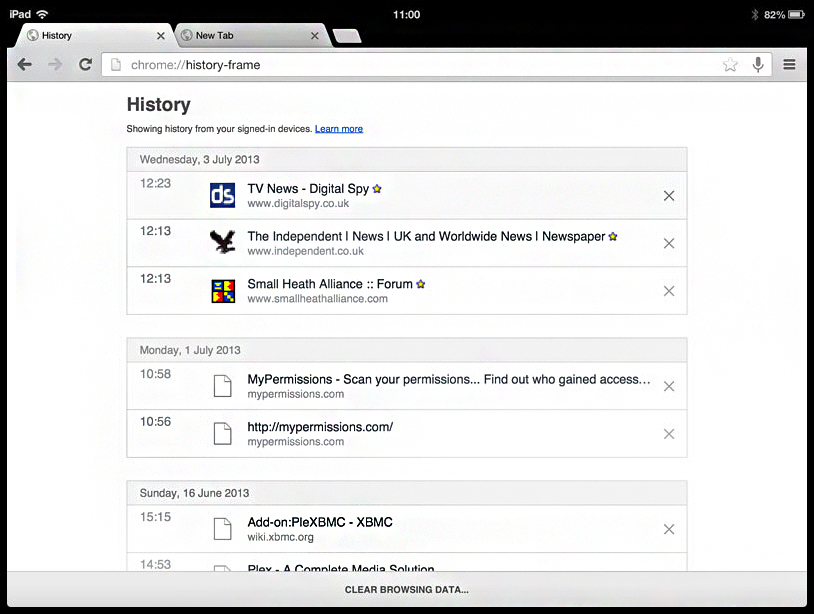 Hot on the heels of its Google Maps for iOS update, Google has unveiled Google Chrome for iOS 28, its alternative web browser for iPad, iPhone and iPod touch users. The new build contains a number of notable new features, plus rolls out full-screen support for iPad users, something that has been available to iPhone users for quite some time.
The first major new feature is better interoperability with other Google apps. By tapping Settings > Google Apps in Chrome itself, users can instruct the browser to pipe relevant links through to other installed Google apps such as YouTube, Google Drive and Google Maps rather than using the browser itself.
Another new feature is added support for synced browser history, which allows iPad and iPhone users to access (and share) their browser history from the iOS device with other Chrome installations they're signed into. Users can view and access web pages from other machines, plus manage the history by deleting unwanted pages direct from the app.
The app implements improvements to its Voice Search feature, plus comes with the promise that users will be able to make data usage savings by opting to run all pages through a Google server. The server then optimizes them by using elements such as WebP images to reduce the page size to deliver fast loading times and reduced data usage.
The feature -- which will be rolled out over the next few days -- will be optional for those with privacy concerns.
As always, the update is rounded off with "lots of stability improvements and other bug fixes" -- all unspecified of course. Google Chrome for iOS 28 is available now free for iPad, iPhone and iPod touch running iOS 5.0 or later.
Read more »
---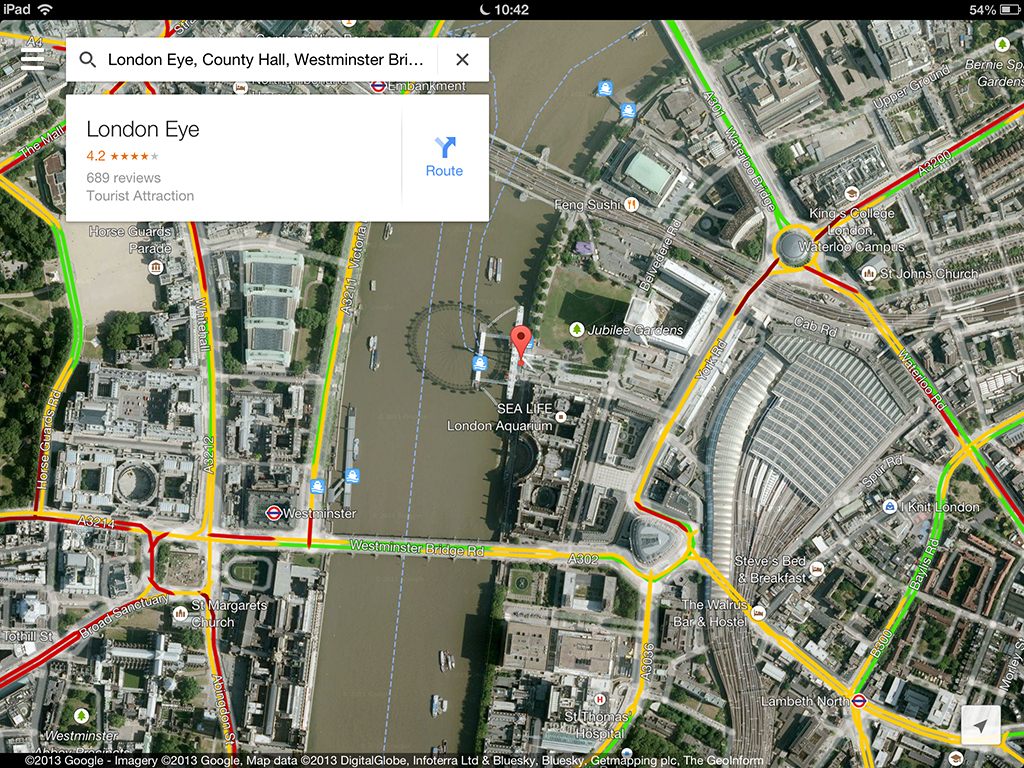 Google showed off a new version of Google Maps for the web at its I/O conference back in May, but made the updated preview invite only. Yesterday, the search giant finally opened up the new Maps to all -- no sign up required. Just go to Google's Explore Maps page, click the Try Now button, and you're ready to start using it.
In addition to that, a week after Google rolled out a "new mapping experience" for Android smartphones and tablets, the firm has updated its app for iOS devices, introducing the same enhanced search and navigation features, as well as an optimized iPad design.
As much as I liked the old Google Maps on iOS (introduced back in December as an antidote to the awful Apple Maps), the absence of an iPad version was always something of an annoyance. 2x the iPhone interface just wasn't the same.
Fortunately, the iPad design in the update shows Maps off the way it should be shown off. All the features you'd expect to see are there, including Street View, and it looks great on the larger high-res screen.
As for the other features, the enhanced navigation lets you view live incident reports on road closures, construction, accidents and so on, alongside the usual voice guided, turn-by-turn navigation, and live traffic conditions. There's also schedule information for more than one million public transit stops around the world.
Bike riders now get turn-by-turn directions and voice guided navigation for more than 330,000 miles of trails, paths, and bike lanes, and the new Explore feature shows you places to eat, drink, shop, play, and sleep nearby. The app features a new 5 star rating system for restaurants, bars and cafes too, with the Zagat badge of excellence and curated lists integrated directly into search results.
The app is available to grab from the App Store now.
Read more »
---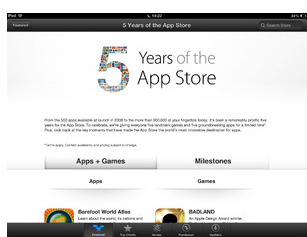 In the real world, when you have a birthday people give you gifts. But when these celebrations happen for software and services, the roles are frequently reversed. That is the case today as Apple celebrates the fifth birthday of its iTunes App Store by giving gifts to its customers.
Apple launched its iOS store on July 10, 2008 and the number of apps has grown exponentially since then -- from 500 apps at launch to 900,000-plus available today.
A new anniversary section titled "5 Years of the App Store" is live now, and users can access it from the desktop app, or directly from iOS devices. Apps included in this section have been slashed down to zero in price, and include premium releases, such as the $19.99 Traktor DJ app, and hot games like Infinity Blade II.
The site announces "To celebrate, we're giving everyone five landmark games and five groundbreaking apps for a limited time." The page also features an interactive look at big events over the five-year history.
As Apple states, these deals are "limited" so if you find something listed that is to your liking then today is the time to grab it. With more than 900,000 apps currently available, it's fair to assume we'll be seeing a "one million apps" celebration of sorts in the near future.
Read more »
---
Google has started rolling out a new version of Google Maps for Android devices, with plans to update the iOS edition "soon".
According to Daniel Graf, Director, Google Maps, the updated app builds on the version Google released for the iPhone last December, but improves on it by adding additional search and navigation features, as well as a dedicated design for iPads and Android tablets.
New features include:
Explore -- Tap the search box to see cards showing local places to eat, drink, sleep and shop.
Enhanced navigation -- As well as current traffic conditions, Google will now alert you to incidents on the road ahead, and if a better route opens up while you're out and about, the app will direct you to take that instead. If anyone at Google ever decides to switch to a life of crime, this feature will come in handy for redirecting armored cars down deserted alleyways…
Reviews, Zagat and Offers -- The app features a new 5 star rating system for restaurants, bars and cafes, and the Zagat badge of excellence and curated lists is being integrated into search results. Offers from major brands will also appear directly on the map.
OK Maps -- replacing the current offline maps feature for Android, this lets you  access maps offline by simply entering "OK Maps" into the search box when viewing an area to save for later.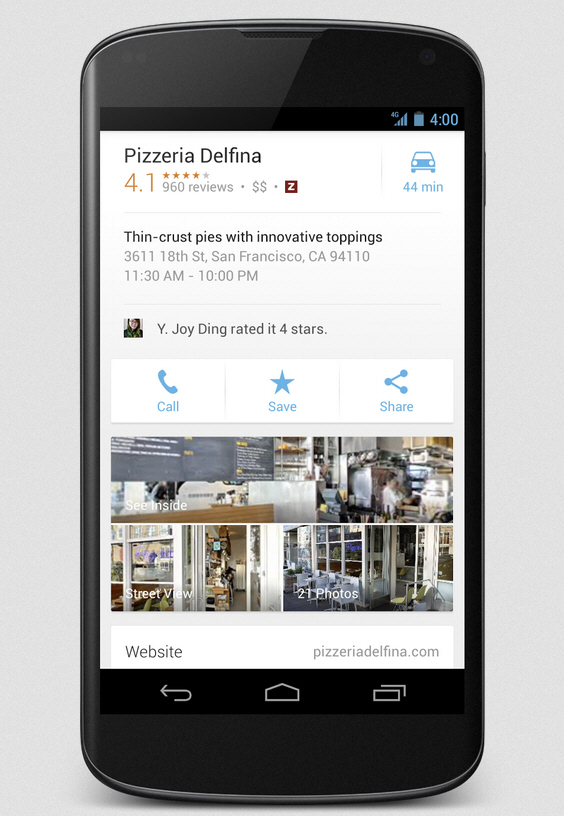 Google has removed Latitude and check-in from the new app, and will be retiring them from older versions on August 9. If you're an avid user of those features, you can still use them, but through the Google+ app.
My Maps functionality is not available in this release either but will be added at a later date.
Daniel Graf sums up the new app saying, "Helping you find great places is what we love to do. And as more of us use mobile phones and tablets in our daily lives, information that's useful to you isn't just about what you need, but also where you might find it. Today's update is an exciting step forward for Google's maps -- one that we hope will make it faster and easier for you to explore and discover places you want to go".
The app update will be gradually rolling out to Android 4.0.3+ users over the next few weeks. For additional information, and to see if it's available for you, take a look at the Google Play store.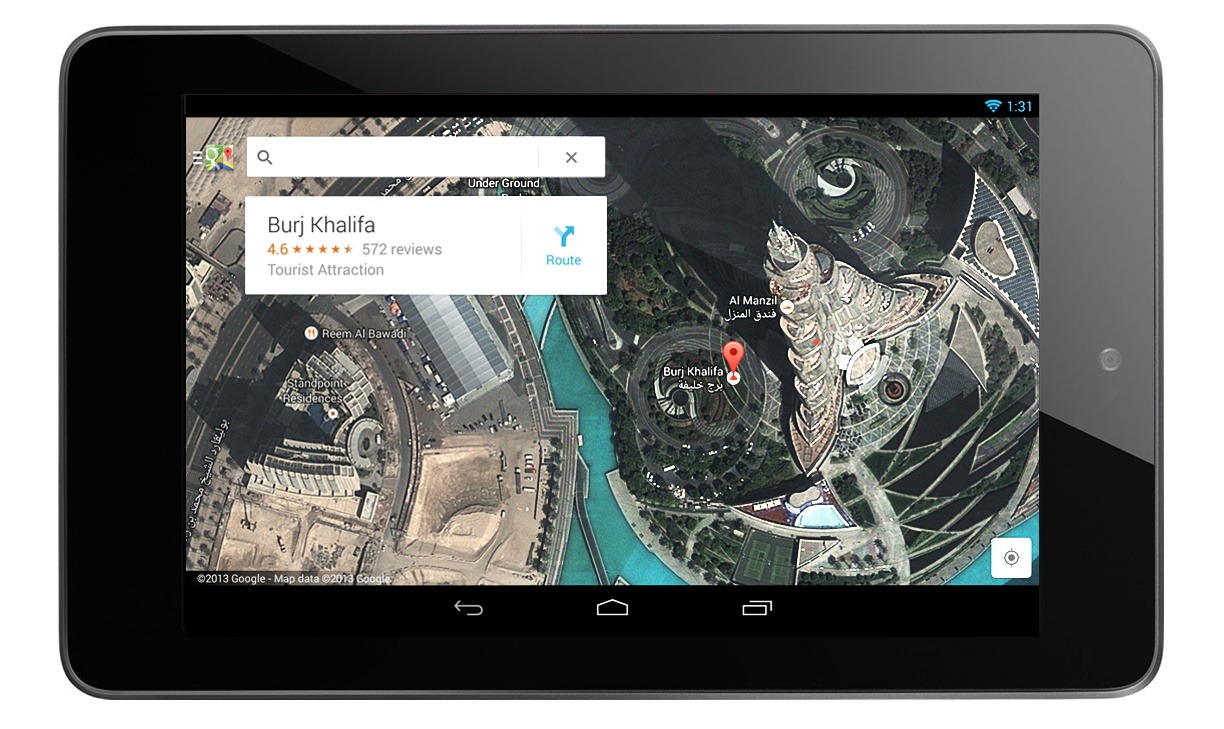 Read more »
---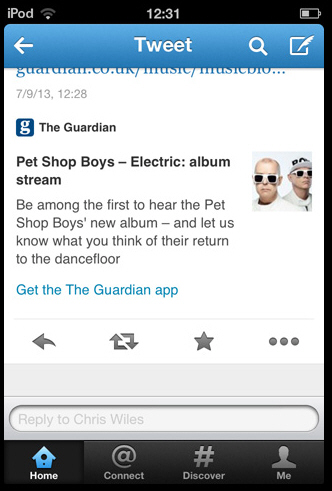 Twitter has updated both its iOS and Mac apps with the release of Twitter 5.8 for iPhone and iPad, and Twitter 2.3 for Mac. Both apps now correctly synchronize the read status of Direct Messages, which means when a DM is read on one platform, it will automatically be marked as read on others too, including TweetDeck 3.0.5 for Windows and Twitter 4.0.2 for Android.
Both updates also come with the promise of minor improvements and tweaks too, such as making it easier to join conversations via the iPhone app and richer search results that alert the user to new tweets matching their search terms.
The major improvements in Twitter 5.8 include making it easier for iPhone users to join existing conversations by way of a new reply composer that appears when in the Tweet details view. Users can now also find new accounts to follow more easily thanks to a New People button that appears in the navigation bar.
The promise of richer search results, which includes the aforementioned alert that flags up new tweets for previous queries, also gives users better account results, providing biographies and a social context for each result.
The iOS update is rounded off with the addition of a More button, allowing users to report unwanted tweets.
Twitter 2.3 for Mac comes with better notifications, alerting users to new followers, when their tweets have been favorited or retweeted, and notifying them when they've been added to a list in their @Connect timeline. Users can also now update their notification settings so interactions are displayed in real time.
Twitter 5.8 for iPhone and iPad and Twitter 2.3 for Mac, plus TweetDeck 3.0.5 for Windows and Twitter 4.0.2 for Android, are all available as free downloads.
Read more »
---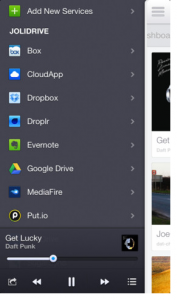 With all of the cloud and social apps these days, our content becomes increasingly spread across vast reaches of the Internet. It is a modern-day problem that is less easy to solve than you may believe and accomplishing the feat has generated its own mini-industry within the tech world.
One service aiming to unify our vast web of data is Jolicloud, which uses its Jolidrive app to bring this sprawling mess together in a central location for customers to access. Now the service releases its iOS app, which is built for both iPhone and iPad and brings together much of your cloud-based life.
Jolidrive unifies services such as Box, SkyDrive, Dropbox, Flickr, Picasa, Facebook and many more into one single location where the customer can access all of their data. The announcement of this new platform is summed up by the company as a way "to give you the power to access all your content scattered across multiple services in one place. Exploring your content, music, photos, videos and documents has never been easier".
You can grab the smartphone or tablet edition of the new app by heading over to the iTunes App Store. The app is free.
Read more »
---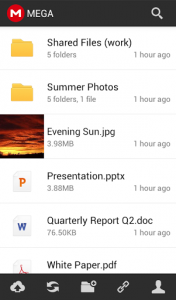 Cloud storage locker Mega has turned a blind eye to the ever increasing popularity of mobile devices, offering no official app for Android or iOS (let alone BlackBerry or Windows Phone) to complement its security-oriented service. Now, though, Mega looks to finally fix the oversight.
The cloud storage locker just introduced its first mobile app called Mega which, at least at the moment, is only available for Android devices. The offering, according to the changelog, was "acquired by MEGA and is now being maintainted [sic] by MEGA contractors". Let's take a look at the features.
Considering that this is the first official iteration, the available functionality is pretty appealing. mega touts "fast up- & downloading", image thumbnails and the ability to manage file and folder links as well as to perform various related operations (like create, delete, move and rename).
The feature that I particularly find as the most interesting is camera sync -- this automatically uploads snapped photos and recorded videos to the user's Mega account. The functionality is also provided by Dropbox and SkyDrive (on Windows Phone).
Mega says that iOS and Windows apps are in the final development stages and will "follow suit". The cloud storage locker has provided no exact date as to when users can expect the new apps.
Mega is available to download from Google Play.
Read more »
---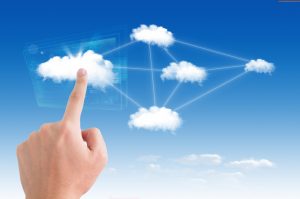 Welcome to the cloud. Microsoft hopes it is not a dark and ominous one. The company is in competition with Amazon, Dropbox and others to get your business in today's growing storage market and is trying to get the upper hand by tightly integrating its SkyDrive service into the latest builds of Windows and Office.
Now the company announces further integration with new Pro apps for both Windows 8 and iOS. "We are pleased to announce that the SkyDrive Pro apps for Windows 8 and iOS are now available in the Windows Store and Apple Store respectively for SharePoint Online users in Office 365. After signing in to your Office 365 account, you can access, view, and upload your documents from anywhere", says senior product manager Mark Kashman.
Customers will be able to use the SkyDrive Pro apps to view documents in their SkyDrive Pro folder, select specific content to take offline when traveling or during times of low bandwidth, organize content by creating new folders, and upload new content and share with others.
While Google, Amazon and others offer excellent cloud storage options, the force of Windows and Office behind Microsoft's offering delivers an instant customer base and a huge boost to the business.
Photo Credit: IdeaStepConceptStock/Shutterstock
Read more »
---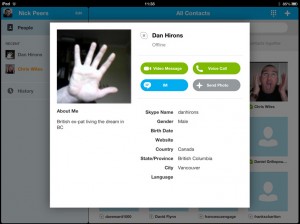 Microsoft has released Skype for iPhone 4.9 and Skype for iPad 4.9, minor updates for its pair of iOS apps. Both updates promise more reliable photo sharing, wider accessibility for video messaging and improved stability for audio and video calls.
Both updates are the first for iOS since Microsoft brought video messaging about of beta and made it universally available to all users.
The latest update also sees video messaging being made free and unlimited -- previously users could record a maximum of 20 video messages before having to upgrade to a premium subscription ($4.99 monthly) in order to continue using the service.
Users can leave video messages of up to three minutes by selecting People, then tapping the name of the recipient. Their profile will pop up, and a Video Message button can be tapped. From here users can select which camera to use, then tap Record. Once the recording is complete, tap Record a second time. From here users can review (and delete if unhappy) their recording, add a title and description to accompany it, and finally send the message to their contact, who can subsequently open it when they're next online.
Video messaging functionality is already present in other Skype builds, including Skype for Windows Desktop, Skype for Mac, Skype for Android and Skype for Windows 8. Skype for iPhone 4.9 and Skype for iPad 4.9 are available now as a free downloads for their respective iOS devices. iOS 5.0 or later is required.
Read more »
---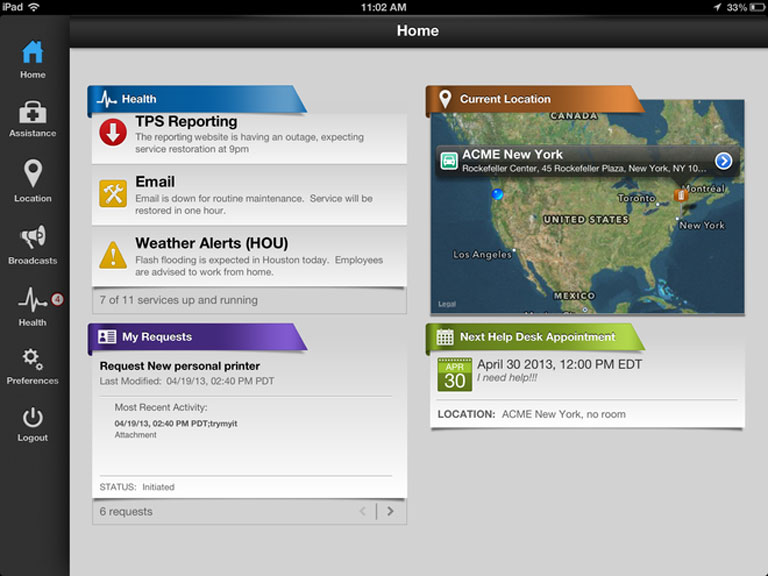 In today's busy world keeping things running smoothly is part of the key to business success. Downtime can mean lost customers and that's especially true when it comes to IT services. However, traditional service desks haven't really kept up with the need to respond fast and keep end users fully updated.
BMC Software believes it has the answer to this in the form of the MyIT app.  MyIT allows users to log problems via a self-service interface, they can then receive updates and check on the progress of the problem without having to call the help desk.
The self-service approach includes the ability to search a knowledge base to help people solve their own problems and it can be linked to a SharePoint portal. The ability to integrate with other apps means that it can automatically add appointments to a calendar.
MyIT can use the floorplan of a building to locate devices such as printers and projection equipment in meeting rooms to allow anyone to report problems with them. Standard issues like low toner can be reported in just a couple of taps. The plan feature can also be used to allocate space for hot desking.
The app is currently available for iOS devices with an Android version due this summer. A universal HTML5 version is also in the pipeline. You can see a video demo of the product on the BMC blog.
Read more »
---
On June 30, the day after my most recent one-year contract expires with AT&T U-verse, I will cancel the service and cut the cord. Last night, while I watched some last-minute Prime Time before it's gone, Apple commercial "Our Signature" aired. The ad is a concise, tweet-like mission statement that encapsulates all of what the company's product design is about. The spot sums up all anyone need know about the fruit-logo company in 60 seconds.
"This is what matters. The experience of a product. How it makes someone feel. Will it make life better", the commercial begins. Yes. Yes. Yes. This is what I have written about Apple for a decade -- that the company's products and marketing are aspirational. That the design goal simply is to make people feel good, to inspire life will be better for choosing the Apple way.
More isn't Good Enough
The message, for customers and partners, isn't the only one. "We spend a lot of time on a few great things. Until every idea we touch enhances each life it touches". For investors, and also developers, complaining about lacking innovation, Apple demands patience. A few products done really well is better than many. I don't invest in any company, for conflict-of-interest reasons, so gain nothing by suggesting those abandoning Apple stock will regret the decision. Good product design and marketing is about feelings, and no tech company gets this right better than Apple.
Four days ago I returned to my local Sony store the Xperia Tablet Z I purchased two weeks earlier. There is much to like about the device. The 10.1-inch slate is thinner than iPhone 5 and is super light, just 495 grams, such that one-handed use is as easy as a 7-inch tab. The device is waterproof, too. But these benefits couldn't satisfy. I didn't feel good using Tablet Z. There was no one usability problem, just a bunch of little ones. Little things among many, I found the system font to be too light and too much visual inconsistency across apps -- the latter a problem even stock Android presents.
Day later, I bought the 32GB iPad 4, in black. Apple's tab is a brick by comparison, 652 grams. Aspect ratio is less-appealing 4:3, and there is the tired user interface and limited multitasking. Yet using Apple's brick makes me feel good. The content experience is much more immersive, an attribute I identified with the original model and have yet to find in any Android, including Nexus 7 and Nexus 10. Naysayers can complain about specs, but content experience is better on iPad, I say. That's quite the statement from someone who boycotted Apple in April 2012 (but ended in January 2013).
Cheap Talk
Tech bloggers and Google Plusers like to babble about how much better Google apps are on iOS than Android, giving credit to the search giant's good work. What about Apple's due? Perhaps iOS is simply the better platform. Immersion is a key usability differentiator. When reading, I spend more time on iPad than any other device. I prefer Google+ or IMDB on iOS, for example, which draw me in more than their Android counterparts. Every publisher, every app developer should want more people spending more time in their thing. For reading frequency, Android and iOS are neck and neck, according to comScore. For immersion, I don't see how Android yet competes.
Still, Google's platform is the one to beat. Yesterday, Gartner released a new multi-device forecast for PCs, smartphones and tablets. Android wins by volume, with more than 1 million units shipped in 2014, compared to 355,000 iOS and OS X devices. But there is another important measure, which goes back to platform usability, application consistency and user experience. "Apple is currently the more homogeneous presence across all device segments, while 90 percent of Android sales are currently in the mobile phone market and 85 percent of Microsoft sales are in the PC market", Carolina Milanesi, Gartner research vice president, says.
I got a laugh last week reading all the Google+ posts, and a few blogs, finger-pointing at Apple for copying Android. Many of the same posters complain that iOS 7's flat design is plain ugly. Oh, yeah? If the flat design is so unappealing, but Apple copies Google's platform, what does that say about Android? Hey, you can't have it both ways, buddy.
Bumper Crop
Apple innovated best when small and scrappy, when fruit flung against Windows. Now Apple is fat and lazy. iPhone humanized mobiles, but rivals like Samsung make smartphones more responsive, more an extension of you.
But Samsung isn't Apple's problem. Once-mobile leaders HTC and Sony look to rise and be influential again. They're hungry and innovating. HTC One is a marvel, and Sony is on a roll with the Z series, which today adds phablet Ultra.
The fruit-logo company's mission statement commercial, which signature is "Designed by Apple in California", is a call to its own people, too. Success, not just cofounder's Steve Jobs' death, is major reason why Apple stands on the past rather than truly represents the future. As competition increases, the old scrappy Apple will emerge, I predict. Anyone betting against Apple this summer will be sorry for it come autumn.
Hey, I'm the last person to defend the company. My reputation speaks for itself (or so BetaNews commenters say). From OS X Mavericks to iOS 7 to iPad mini 2 to iPad 5 to iPhone 5S and those things we don't know about, more good feeling will come your way. Believe it.
Read more »
---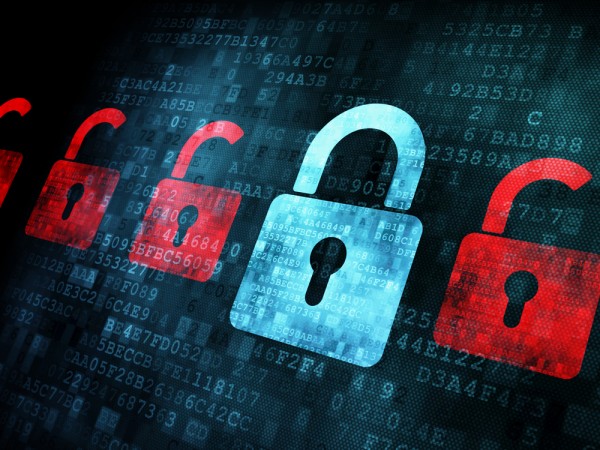 On Tuesday, BlackBerry announced the availability of Secure Work Space for Android and iOS in BlackBerry Enterprise Service 10. The tool, which was unveiled little over three months ago, is designed to provide a safer and BYOD-friendly environment with features like application-wrapping and containerization.
"It offers BlackBerry Balance-like capabilities to provide peace of mind for IT departments in a BYOD environment, while separating personal content for personal use", according to the Canadian maker. BlackBerry's reasons for beefing up the security of Android and iOS devices revolve around expanding needs and the "ever-growing variety of devices" brought into the work space.
Secure Work Space also features basic apps such as calendar, contacts, email client and HTML5-compatible browser and touts secure connectivity "into every level of the solution" with data in transit being routed through the BlackBerry Infrastructure. IT administrators will be able to configure, interact, secure and wipe Android and iOS devices (both smartphones and tablets) through Secure Work Space in BlackBerry Enterprise Service 10.
According to BlackBerry, Secure Work Space is supported by "important solution partners such as Box, Harmon.ie and Splashtop", which will launch compatible tools "in the near future".
BlackBerry Enterprise Service 10 is available as a 60-day trial which includes 50 EMM corporate CALs (Client Access Licenses) and 50 Secure Work Space CALs. A one-year CAL runs for $99 per device.
Photo Credit: Maksim Kabakou/Shutterstock
Read more »
---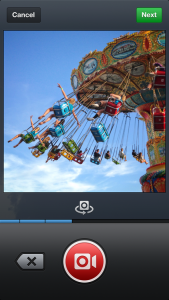 Instagrammers can now rest easier knowing that, earlier today, the popular social network introduced the ability to share filtered videos. The feature, called Video on Instagram, is available through the new Android and iOS apps.
"Over the past two and a half years, Instagram has become a community where you can capture and share the world's moments simply and beautifully. Some moments, however, need more than a static image to come to life", says Instagram co-founder Kevin Systrom. "Today, we're thrilled to introduce Video on Instagram and bring you another way to share your stories".
Users can record short videos, of up to 15 seconds in length, by tapping the movie camera icon on the photo screen. As in Vine, you start recording by holding down the record button and stop by releasing it again. You can add filters to your clips -- Instagram added 13 new ones, specifically designed for videos -- and select a "favorite scene" to use as a cover image. Videos can then be shared in the usual ways.
Instagram is available to download from Apple App Store (on iOS) or Google Play (on Android).
Read more »
---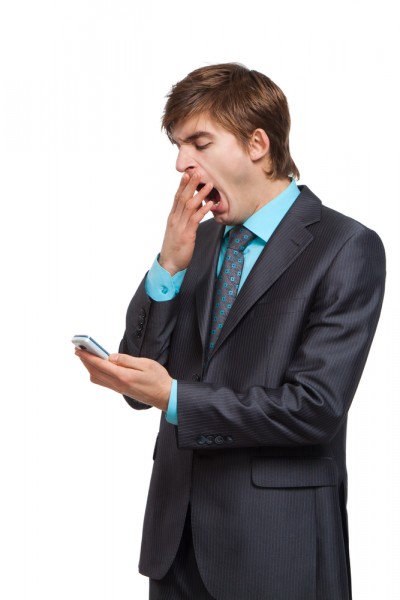 Am I naive in thinking that Freemium-based games should blow your socks off with an amazing gameplay experience during your first taste of the free game period?
This certainly doesn't seem to be the case given nearly all the titles I'm seeing so far. What I'm invariably experiencing is a title that's unremarkable, often tedious and bland by all measures, with the expectation for you to pay money to make it slightly more bearable.
The in-app purchases for the titles also appear to be concentrating on some OCD collector personality trait as the prime target demographic for their digital content. Or, more cynically perhaps for parents with children who play these games, adopting the "sweets & candy displays at the supermarket checkout" tactic, where wide-eyed kids see the goods for sale and guilt-trip you into buying them something as they plead and beg while you try to pay for your shopping.
When designing their projects, developers need to think along the same lines as a person does about their CV when applying for a dream job. Make sure the freaking thing makes a massively positive impact from the first sentence, leaving you with a "Holy Crap! This is awesome. Let's hire them" response. Otherwise you're going to be binned and passed over before the day is done.
A Freemium-based game needs to grab me within the first few hours, leaving me in no doubt that I'm willing to support it by spending my hard-earned money for the additional digital content to further enhance the great time I'm having in the free-game experience.
Do you feel the same about Freemium games, or have you found any apps which really do the model justice? Leave your comments below.
Photo Credit: mast3r/Shutterstock
Read more »
---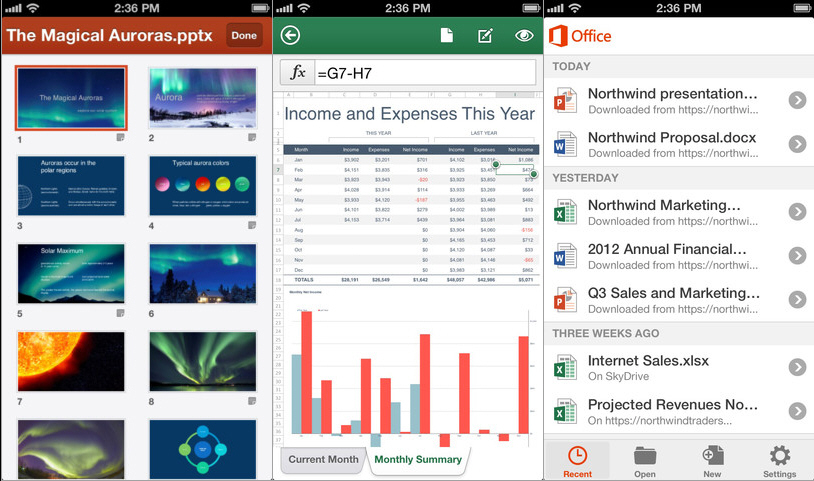 As you'll know by now, Microsoft today announced the launch of Office Mobile for Office 365, an iOS app which allows users to access, view and edit Word, Excel and PowerPoint documents -- provided you have an Office 365 subscription.
We took it for a spin and despite the limitations, were actually pleasantly surprised. There's plenty of functionality in the app to explore. The app can view Office documents stored on SkyDrive, SkyDrive Pro, or SharePoint, for instance, as well as documents which arrive as email attachments. It syncs with your other Office 365 devices, too, so documents you've read elsewhere will appear on your phone's Recent Documents panel, and when you open one it'll resume at whatever point you left off.
Office Mobile for Office 365 also allows you to add comments to a document, carry out various basic edits, or even create Word and Excel documents from scratch. An interface optimized for the smaller screen size helps to keep this as simple as possible.
When you're on the move then it's not always possible to maintain a reliable internet connection, of course, but Office Mobile for Office 365 does its best to assist. You can edit documents even when you're offline, for instance, and any changes will be saved when you next connect to the network.
And once you've created your document, edited it or just added a few comments to someone else's work, you can simply dispatch it via email, or save the file directly to SkyDrive or SharePoint.
There are no real surprises in terms of functionality, then -- Windows Phone 8 comes with very similar features preinstalled.
If you have an Office 365 subscription and an iPhone, though, Office Mobile for Office 365, should be much more interesting. Go take a look.
Read more »
---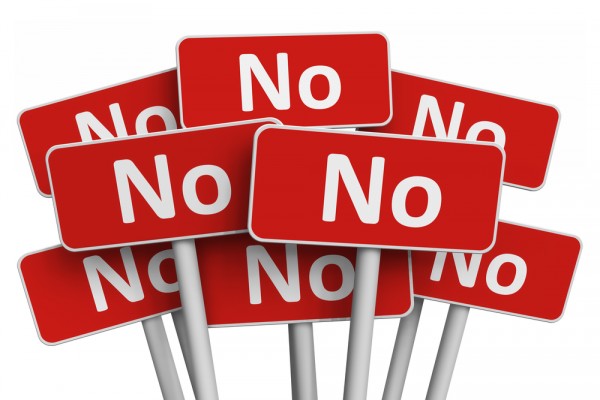 Seven months ago, when rumors burned hot, I explained why "Microsoft Office for Android and iOS is a Trojan Horse" -- that any mobile suite would be all about the cloud service. Sure enough, today Microsoft released the strangely named "Office Mobile for Office 365 Subscribers" to the App Store.
Office 365 is the productivity suite's future. Microsoft now claims to be a "devices and services" company. Smartphones are devices, Office 365 is a service and required for the iOS app. What more reasoning is needed? The Redmond, Wash.-based company provides more functionality than I predicted, but does so strictly in mobile context that doesn't diminish the PC product. That said, what Microsoft gives to iOS should be withheld from Android.
Microsoft's message here is subtle but direct: If you want Office on a mobile platform other than Windows Phone, you need the productivity suite subscription service. If you already have Office 365 and iPhone, Microsoft offers an extra benefit at no extra charge. Android users are left out, as they should be.
Something else: The Office app is strictly for iPhone. iPad can run the app, but it's not optimized for larger screens. That's a deliberate decision and a smart one. Tablets compete with PCs much more than smartphones. In emerging markets, for example, where users are still more likely to go from smartphone to personal computer -- but increasingly to tablets -- the current Office app strategy makes sense. Microsoft shouldn't support the suite on tablets other than those running Windows.
iPhone is sensible, for several reasons:
1. Office runs on OS X, where 365 is also supported. There is no native Office anything on Android. iPhone fits in nicely.
2. Apple and Microsoft have a long development history. Heck, Office got its start on Macintosh, which remains a lucrative platform for the productivity suite. Money matters.
3. Mac owners are more likely to use iPhones than Androids or Windows Phone. Microsoft provides people who likely already have Office reasons to get 365; those that have it now get more usability.
4. Google is an enemy to both Apple and Microsoft, which also share much more in common and equally have much to lose should Android and Chrome become dominant platforms. Google's business model is mostly about giving away stuff for free, supported by advertising and search keywords. Apple and Microsoft sell products, some of which lose value before Google free things.
Resist Temptation
I praise Microsoft for bringing a mobile app suite to iPhone. People want access to their stuff anytime, anywhere and on anything. The company looks to do just that without disrupting the Office system revenue stream. Hybrid apps/cloud strategy lets the company have its cake and customers eat it, too. Many iOS users already are Microsoft customers
But Android is a risky bet. While Google's platform seemingly makes sense by the numbers of devices shipped versus iOS, the temptation to go there is fool's play. The transition from the personal computing to cloud-connected device eras is unmistakable. Google shifts computing and informational relevance to the cloud and drives it back to the device. Microsoft drives it the other way, leveraging off the huge Office customer base. The software giant seeks to provide customers seamless experience whether using applications on a PC, other devices or over the Internet, preserving the relevance of major products like Office. Google seeks to undermine them.
More significantly, Google and Microsoft are huge competitors, much more so than frenemies Microsoft and Apple. OS X and iOS provide platforms for Office suite and service growth. By many measures -- Android, Chrome, Apps, Gmail, Maps and Search, among many others -- Google seeks to disrupt Microsoft products. Some people will argue that Office on Android establishes a beachhead on enemy turf. I say that like Linux, Microsoft shouldn't help Android adoption by supporting its crown jewel there. Analysts now project that combined, iOS and Windows Phone will be mobile platform second to Android in coming years. Microsoft should foster a united front against a common enemy.
This morning, I asked Microsoft: "Are their plans for an Android app?" I got the expected sidestepping-the-question response: "Today our focus is on announcing Office Mobile for iPhone. We don't have additional information to share".
Such response leaves open the possibility there will someday be Office for Android. Go ahead, Microsoft, make Google's day.
Photo Credit: Oleksiy Mark/Shutterstock
Read more »
---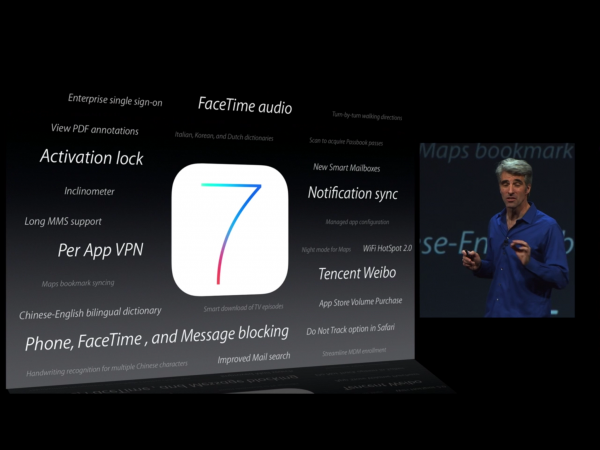 There's no question that iOS 7 is a sexy looking mobile operating system. Jony Ive and his team have done a fantastic job of reinventing and modernizing the interface, but the great news for fans of Apple products is iOS 7 isn't all style and no substance.
Apple ran through a lot of the new or improved features yesterday, including Control Center, AirDrop, Photo app, Siri (with added Bing!), iOS in the Car, FaceTime Audio, and iTunes Radio. But there were features that Craig Federighi, SVP of Software Engineering, didn't mention but which appeared on a slide in the background.
These are:
Enterprise single sign-on
Turn-by-turn walking directions
View PDF annotations
Italian, Korean and Dutch dictionaries
Scan to acquire Passbook passes
New Smart Mailboxes
Inclinometer
Long MMS support
Managed app configuration
Per App VPN
Night mode for Maps
WiFi HotSpot 2.0
Maps bookmark syncing
Chinese English bilingual dictionary
Smart download of TV episodes
App Store Volume Purchase
Do Not Track option in Safari
Handwriting recognition for multiple Chinese characters
Improved Mail search
Streamline MDM enrollment
Some are self-explanatory, others are easy enough to guess at. There are probably more new features too that weren't deemed worthy of inclusion, and it's likely Apple may introduce further functions and options prior to iOS 7's official release.
We can expect to see a new iPhone in the Fall and having been blown away by what iOS 7 has to offer, I think I might be one of the first in the queue (sorry Samsung/Android, it's not you, it's me).
Read more »
---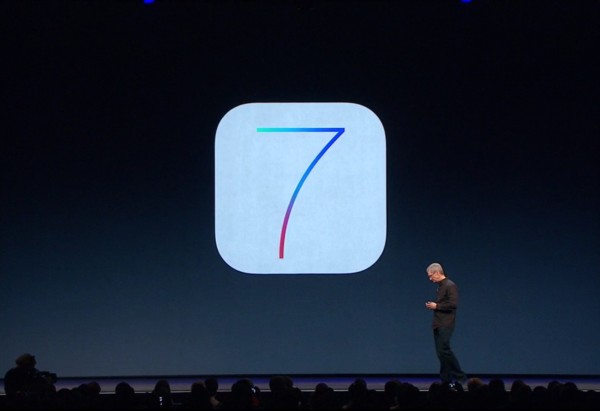 We all knew that Apple would be revealing a redesigned version of its mobile operating system today at the 24th Worldwide Developer Conference in San Francisco, and we've just been treated to an in-depth look.
As was widely reported, the Jony Ive designed iOS 7 has a flatter, functional design and the skeumorphism -- faux wooden bookshelves, green felt and the like -- that was a central theme in previous versions of the operating system is no more.
Apple says it considered the tiniest details in creating iOS 7. It redesigned all the icons, changed the typeface, used a new pallet of colors, and added distinct functional layers. The new design makes clever use of translucency to introduce, in Jony Ive's words, a "sense of depth and vitality". iOS 7 even tracks your motion, and the display responds -- sways really -- accordingly.
iOS 7 is not just iOS 6 with a new coat of paint though. As Tim Cook pointed out twice, it's the biggest change to the operating system since iOS launched.
Apps demoed on stage included an improved weather app, with a smart animated background, a cleaner calendar that lets you quickly switch between different views, and a beautiful version of mail with full screen edge-to-edge photos.
Organizing your apps is a lot easier in iOS 7 too, with folders now able to have multiple pages.
The Notification Center, which is also now available from the lock screen, includes a "Today View" which tells you everything you need to know (Google Now anyone?)
Apple highlighted numerous new and improved features: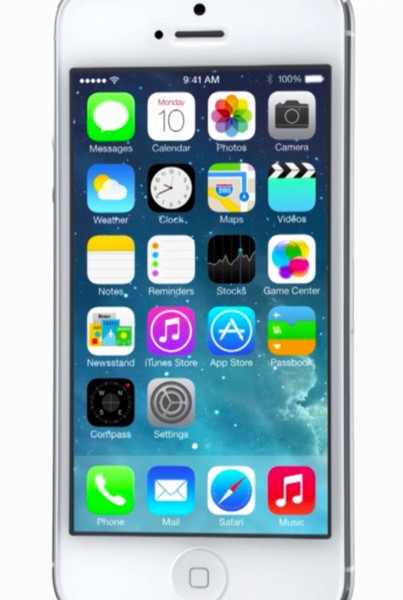 Control Center -- lets you quickly access common functions like brightness, music, flashlight, and airplane mode, and is available from everywhere in the OS.
Multitasking -- available for all apps without killing battery life. Notices how you use apps and updates them in the background according to how frequently you access them. Also makes it easier to swipe between open apps.
Safari -- new full screen look, with tabs at the top, a smart search field, and one tap access to favorites, search and URLs.
AirDrop -- lets you securely share files with friends using a Share Sheet. "No need to bump your phone with others", as Tim Cook puts it.
Camera app -- four cameras in one. Swipe between video, camera, square camera, and pano camera, and apply live photo filters.
Photos app -- organizes your snaps for you into "moments" and makes it easier to share photos (and videos).
Siri -- smarter and with new voices, including ones in French and German (other languages planned). Integrates with Twitter, Wikipedia, and Bing.
iOS in the Car -- get iOS on the built-in screen in your car so you can make calls, view maps, watch video and listen to music. Coming in 2014.
App Store -- lets you look for apps based on age range, and view popular apps based on location. Apps are updated automatically now.
Music -- artist images in your library, iCloud content appears in your library too.
iTunes Radio -- a new radio option built into the Music app. Hundreds of stations available to start you off and you can create your own in several ways. You can explore featured songs, songs trending on Twitter, tap to share music with friends. Free with ads, or ad-free with iTunes Match. Starting in the US and rolling out to the rest of the world over time.
FaceTime audio -- lets you make high quality audio calls
Notification sync -- dismiss a notification on one device you own, and it will be dismissed on all of them.
Activation lock -- if a thief steals your iPhone and turns off Find My Phone or wipes the device, they won't be able to activate the phone again.
iOS 7 is available for developers in beta for iPhone today, with the iPad version available soon. It will be coming this Fall for consumers, and be compatible with iPhone 4 (and later), iPad 2 (and later), iPad Mini and iPod touch 5th gen.
So what do you think? Excited about the new iOS 7? As an iPad user I personally can't wait to get my hands on it.
Read more »
---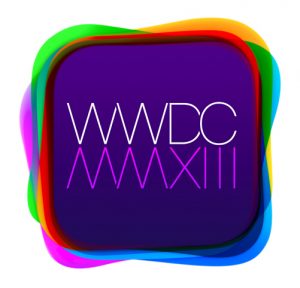 Apple events are always preceded by rumours and occasional leaks, so we usually have at least a rough idea of what to expect prior to the keynote. There haven't been any major leaks ahead of this year's Apple Worldwide Developers Conference which could mean one of two things -- there's nothing really big coming, or there's something so big to be announced, security is super tight.
We do know some of what Apple CEO Tim Cook will talk about when he takes to the stage later today, and we have a good idea of what else might be announced, so prepare to get excited for the following…
Firstly, we know iOS 7 will be revealed, and that it will have a flatter more functional design by Jony Ive, with no skeumorphism -- so say goodbye to faux wooden bookshelves and the like. As for new features, we could well see additional third-party services like Flickr and Vimeo baked in.
The OS won't be available to download until September, though, likely to tie in with the arrival of a new iPhone.
We will also see a new version of Mac OS X -- 10.9. The waves in the banners teasing the OS refresh have led people to speculate it might be called Sea Lion. Snoop Lion is always a possibility too…
There could be updates to iLife and iWork to coo over as well.
There have been persistent rumours about a streaming music service for a while, so maybe iRadio will make its debut today. A new streaming music service will have to compete with plenty of other great rivals, including Google Play Music All Access, but tying it into Apple's Genius feature could give the service an advantage, because iTunes already knows what music you really like and will be able to use that detailed data to suggest new artists and tracks that perfectly match your tastes.
Better Maps is a possibility too, but Apple really hasn't had the time to give its cartography service the overhaul it desperately needs and rushing out a new version is a recipe for disaster. I'm hoping for an update to iCloud as well, to make it just generally more useful.
With this being a developer conference we shouldn't see any major new hardware -- no new iPhones or iPads. We might see a new Mac Pro though, and maybe a more powerful MacBook Air. Both with Intel's latest Haswell processor inside. We might see an update to the Mac Pro desktop too.
If we're ever going to see an iWatch, it won't be at the WWDC.
I also don't think Apple will launching iPRISM today either...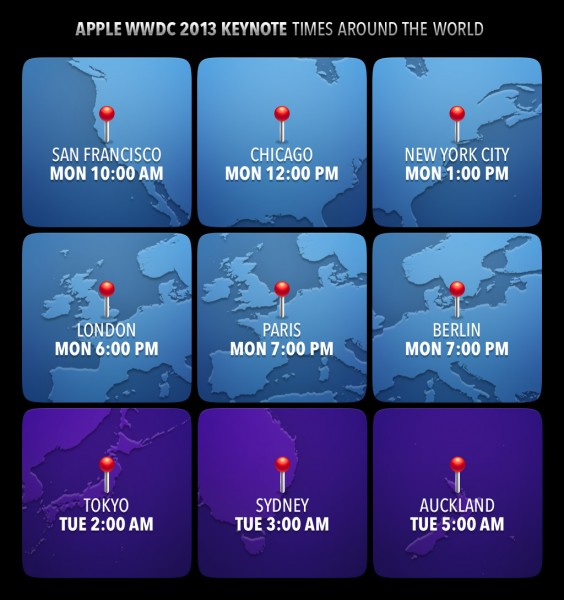 Keynote times image credit: Bjango
Read more »
---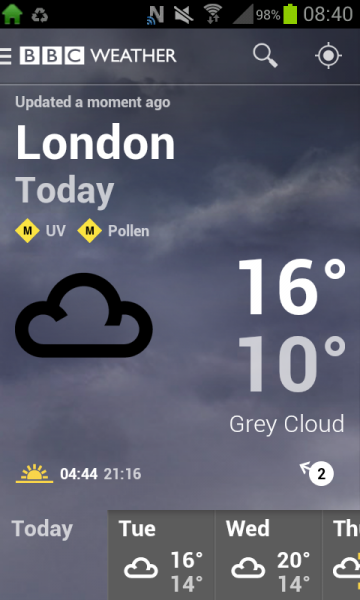 The BBC's weather predictions tend to be reasonably accurate, and now you can check the corporation's latest forecasts on a new app available for iOS and Android.
When you launch the app it detects your location and tells you what the weather is like where you are, providing details such as high and low temperatures, current conditions, humidity, visibility and wind speed.
It also gives you access to a five-day forecast and options to view UK weather on an hour by hour basis, with three hourly forecasts for places overseas. You can search for locations anywhere in the world and save them for future access.
Liz Howell, Head of BBC Weather, says: "The new BBC Weather app is the perfect companion for this summer's great British sport and music events. We know that our audiences really want that at-a-glance forecast when they're out and about, with the option of digging for further detail when they need or want to. That's exactly what we've delivered, squeezing in all of our trusted data into an app that's simple to use and looks fantastic".
You can grab the app from the Apple App Store or on Google Play.
Read more »
---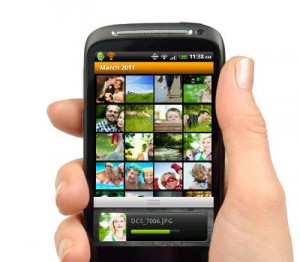 Eye-Fi memory cards can automatically copy photos from your camera to a wireless enabled device, such as your PC, whenever you get in range. The new Mobi card, announced today, is designed to transfer photos from a camera to any iOS or Android handset.
All you have to do is insert the Mobi card into your camera, and use it as you would any ordinary SD card. Install the free app on your phone and pair it to the Mobi by entering a unique 10 digit code. Once paired, photos and videos can be copied over automatically.
The beauty of transferring photos from your camera to your handset is you can then edit and share them using your favorite apps, such as Facebook, Instagram, Snapseed, and Pixlr.
"People like smartphones for taking pictures, mostly because of accessibility and instant sharing. Unfortunately, smartphones fall short for life's many moments that require zooming, high-speed shooting, low light and other features that make digital cameras superior," Matt DiMaria, CEO of Eye-Fi said.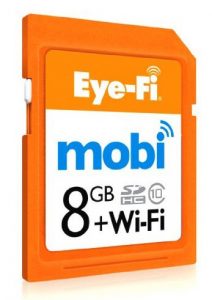 "Mobi is our simplest card yet, designed to provide photo lovers a no-compromises solution: the great quality pictures and videos of a digital camera and instant access on the smartphone to enjoy and share".
The Mobi card is available in 8GB and 16GB capacities for $49.99 and $79.99 respectively.
Read more »
---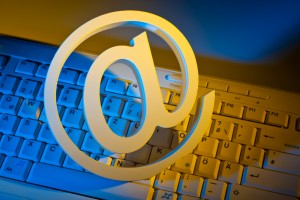 The default Mail app for the iPhone and iPad is capable enough, but sometimes you find yourself craving more. Google Mail users could opt for the official Gmail app, but despite some improvements over Mail, there's still a bit of clunkiness in there, particularly when it comes to handling larger mailboxes. But there's another alternative, one that has just been updated to run natively on the iPad as well as the iPhone. That app is also free, and it's called Mailbox 1.3.
Mailbox takes a different approach to handling your email, providing you with five separate zones in which to work. Mail lands in your inbox and you simply swipe it in the direction of a specific zone to deal with it in a particular way. It allows you to quickly and easily bring order to even the most disorganized mailbox.
When it comes to swiping your messages to deal with them, here are the obvious choices: mark it as read, archive it or go the whole hog and delete it completely. You can also quickly organize messages into lists, but the most intriguing option of all is "snooze". If you're too busy to deal with an email right now, you can "snooze" individual messages, setting a more convenient time when you'd like them to reappear in your mailbox.
The focus of the app is very much on letting you power through your messages, hence the use of single swipe gestures rather than the usual select-and-tap approach of other clients. So a quick, short swipe to the right archives your messages (look for the green tick) while a slower, longer swipe to the right produces the red cross that will delete your message if you complete it (just swipe back to undo unwanted actions).
Similarly, a quick swipe to the left places the message in the Snooze list. You'll be given a choice of how long to hide the message for, from later in the day or the evening to a month's time or the vague "Someday". You can also pick a specific date, but we're a little disappointed that you can set up a custom time of your choosing too. Something for a future update perhaps? In the meantime, snoozed messages are easily available should you find the time to deal with them -- just tap the clock icon, which is basically a shortcut to a special "Later" folder created by Mailbox where these messages are stored.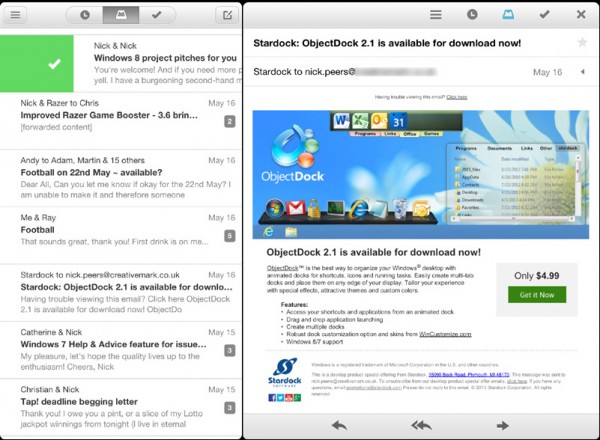 When it comes to arranging your mailbox into lists, a long swipe to the left will bring up the options you need -- by default, three are set up (to buy, to read, to watch), but you can add your own. These lists are again accessible from other Gmail clients or your web browser via the specially created Lists folder.
We found these controls simple and easy to use, and powered through a disorganized mailbox with over 400 messages in minutes, finally getting a job done we'd put off for ages. But Mailbox is more than just a tool for organizing your mail, it's a fully featured mail client in its own right, and we particularly love the way messages are automatically grouped into conversation view, making it easy to keep track of where you are in a particular chat. With the elegant design beautifully upscaled to take full advantage of the iPad's extra real-estate, we think Mailbox could be a winner, which is why -- for now at least -- it's replaced Gmail as our mail client of choice.
Mailbox 1.3 is available now for free for iPhone, iPod touch and iPad.
Photo credit: Gina Sanders/Shutterstock
Read more »
---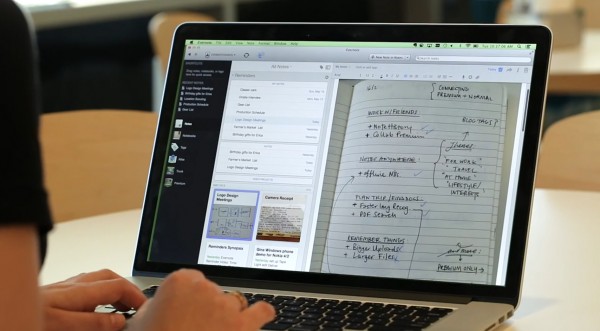 Over the course of the past week, Evernote Corporation has been updating its flagship Evernote client across all supported platforms. As with most Evernote updates, however, the changes implemented have not been equal, with users of Evernote for Mac 5.1.1 and Evernote for iPhone and iPad 5.2.3 getting the best deal.
The big news for Evernote users is the addition of support for reminders -- initially on Mac, iOS and the web-based platform. These can be triggered as email or in-app alarms, and are easily set via the small timer button at the top of a note.
Once the small timer button has been clicked, users are prompted that the reminder has been added. Once a reminder has been set, the note is automatically pinned at the top of the user's list in a new Reminders section, and notes can be repositioned in the Reminders list simply by drag and drop.
Users can also configure a reminder with a date and time, leading to an in-app alarm of email reminding the user of a deadline attached to the note in question, which can now also be marked as "Done" when completed.
Reminders are associated with notebooks, allowing them to be shared with other users too, making it possible to create a hierarchical series of notes for highlighting important entries over others. Shared users can also take advantage of the alarms feature, subscribing to be notified when notes become due.
While the feature has been universally welcomed, improvements have already been suggested, such as adding scheduled alarms for recurring deadlines. The Evernote team have also confirmed that the feature should be migrating to Windows and Android platforms "soon" (it's already being tested in a version 5.1 beta for Android devices).
Other changes to the Mac build include a redesigned vertical list to show more notes on-screen, next superscript and subscript text styles and the ability to edit saved searches.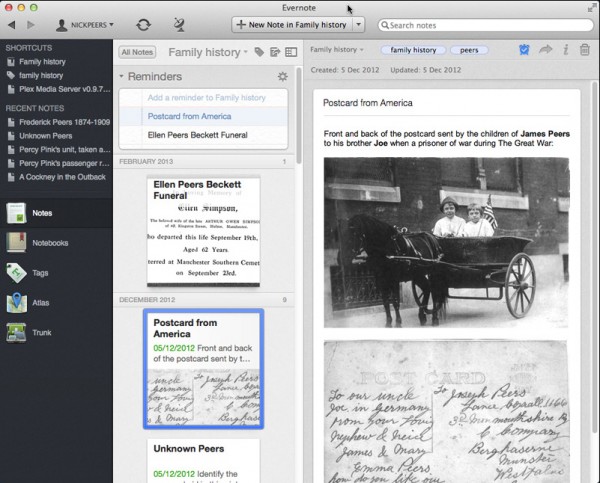 Windows users got a minor update last week -- Evernote 4.6.6 promised nothing more than unspecified bug fixes. Also updated was Evernote for Android 5.0.5, again a minor update consisting mainly of bug fixes and improvements to the Page Camera mode, which allows Android users to digitize photos of documents and pages. It did add support for the new Evernote Smart Notebook by Moleskine, however.
Evernote for Mac 5.1.1, Evernote for iPhone and iPad 5.2.3, Evernote for Windows 4.6.6 and Evernote for Android 5.0.5 are all available as a freeware downloads. Users require a free or Premium Evernote account to use them.
Read more »
---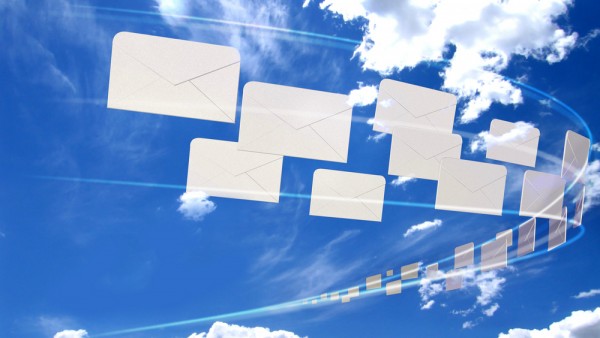 On Thursday, following user demand, Mailbox released an update for its iOS mail app that introduces support for iPads. The service, which delivers more than 100 million messages each day, was previously available as an iPhone-only affair.
Mailbox boasts a better organized and easier to manage inbox, allowing its users to take advantage of swipe gestures to archive or trash messages. Similar to alarm clocks, the app also offers the option to snooze emails in order to receive them at a later date in the inbox.
Mailbox is designed as an alternative to the default iOS Mail app, however it falls short in supporting multiple types of accounts and providers (like Exchange, Outlook.com, POP or Yahoo). Gmail is the only option currently available, but other "email platforms" will arrive "soon".
In mid-March, Mailbox was acquired by Dropbox with the promise to make the service "even better and getting it into as many people's hands as possible". One of the first steps should be supporting Outlook.com and Yahoo, two of the largest email providers today.
Mailbox is available to download from Apple's App Store.
Photo Credit: 2jenn/Shutterstock
Read more »
---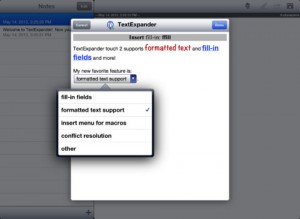 iOS may well have a halfway decent keyboard, but it is still far slower to use than a regular desktop or laptop keyboard. Anything that can be done to reduce the amount of typing that has to be done on a daily basis is to be welcomed, and this is something that TextExpander has offered for some time. Type a few letters and they can be expanded into longer words or even entire sentences. With version 2.0 things just got a whole lot better.
There are a couple of key enhancements to be found in this latest release, not least of which is support for formatting. The context menu can now be used to add richly formatted text so you can save even more time.
But the killer feature here has to be fill-in snippets. While regular snippets comprise static text, fill-in snippets can include input fields such as drop down menus, check boxes and more. This is great if you want to have a stock email on hand, but need the option to easily change a few key words or details here and there -- just call up the relevant snippet and make the changes with a few taps.
Another key new feature is a new Insert menu item which can be used in the creation of new snippets. It makes it much easier to include elements such as date, time and clipboard contents and brings the iOS version of the app more in line with the Mac edition. Snippets can be synced between the desktop and mobile apps so you always have access to the same snippets without the need to recreate them.
Of course, all of this comes at a price. The app will set you back $4.99 and can be purchased from the App Store.
Read more »
---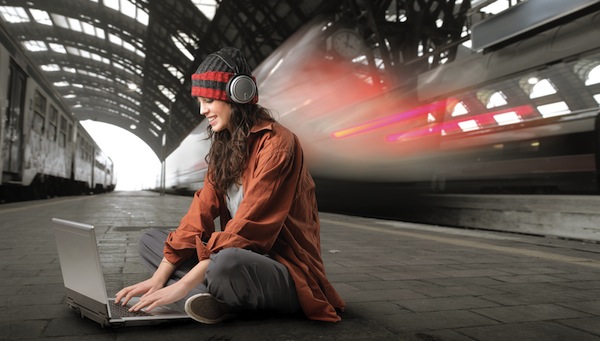 On Wednesday, cloud storage provider MediaFire, which now boasts 30 million users, launched support for native music playback and video streaming in its Android, iOS and web apps. The new feature is available through an update that is rolling out today.
MediaFire currently offers three plans -- basic (free), Pro and Business -- which come with 50GB, 100GB and 1TB of cloud storage, respectively. However, users who do not wish to shell out for a premium plan (either Pro or Business) are stuck with a 200 MB limit for uploaded files, which suggests that they are not able to take full advantage of both music playback and video streaming support.
While music files fall well below the 200 MB limit in most cases, high-definition videos (the norm these days) that folks might want to stream, like movies, well exceed this small size.
MediaFire is obviously aware of this, as the company now offers a 50 percent discount for its paid yearly plans. Both Pro and Business allow users to upload files up to 10GB in size, which is (unsurprisingly) enough to stream large 1080p videos.
What's that saying? Oh, yes, "Pay to play".
Photo Credit: olly/Shutterstock
Read more »
---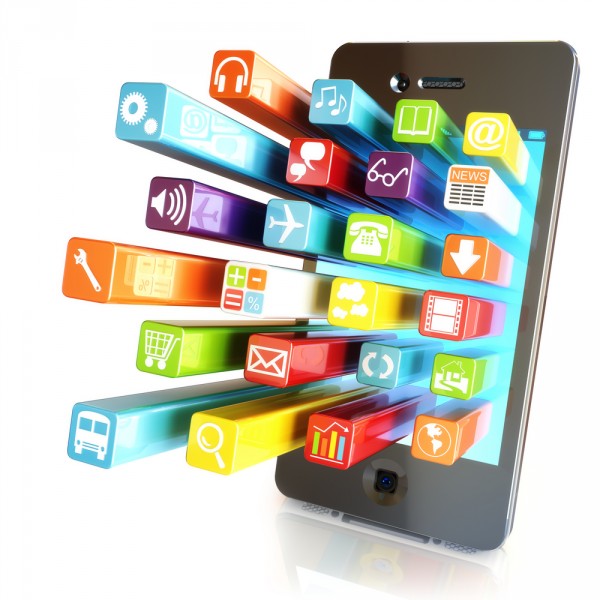 The first stage of developing an app involves no technical skills at all, it's also the hardest, and that's coming up with an original idea. There are already thousands of apps out there so you need to make sure that what you're proposing hasn't been done before. Or at the very least that you have a new and original twist on an idea that will make it stand out from the crowd.
It's important to note that just creating an app isn't going to make you money, research by Canalys in 2012 showed that some two-thirds of apps received fewer than 1,000 downloads in their first year. The store pages have many thousands of "zombie apps" which still appear on the websites but never get downloaded.
Having a quality app that performs a useful function is therefore essential to success. If your app is good it's more likely to stick on people's devices. It's reckoned that on average people only keep 20 or so apps on their phones at any one time so if your app doesn't do something useful, or it doesn't work properly, it will quickly be uninstalled. Plus you're likely to get negative comments on the app store and elsewhere which will damage your reputation when it comes to any future releases you might make.
There are so many apps that you may think all the best ideas have already been done. It's true that the world probably doesn't need another email app or Web browser. But if you can come up with something different -- a novel way of using a hardware feature like the camera or GPS for example, or a way of presenting information in a friendlier format -- then you can still find a market for new apps. A good example of this is the British Gas app for taking meter readings which uses the phone's built-in flash as a torch so that you can see the meter's digits clearly. For an app to succeed it really needs to solve a problem. Plus it's best to focus on one thing and do it well rather than try to pack in too many functions and over complicate the software as a result.
If you're developing an app to complement an existing business, think about how it can improve the customer experience. We've already mentioned the meter reading app, another example might be an app for a lettings agency that uses the phone's geo location feature to show details of properties available in the area.
Once you've had the idea you need to familiarize yourself with the design principles of the OS you're going to use. Apple, Android and other operating system suppliers like you to conform to their vision for how apps should look and how easy they are to use. Your app is more likely to succeed if you follow these guidelines. It also pays to stick with the look of the operating system. Windows, Android and Apple all have different visual styles and you should try to echo these wherever possible. This is where apps that have been developed for one system often fall down when they're exported to others as they fail to adapt to the different appearance of the operating system. You don't have to slavishly copy the look of the OS but you should at least try to make your app look at home on the device.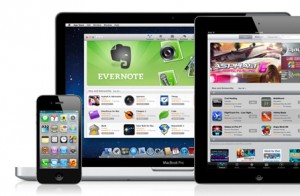 Within the constraints imposed by the operating system you need to think about how design affects the way your app will work. Remember that in most cases you're dealing with a small screen so it pays to keep things as simple and clean as possible. Packing in too many options will make the screen look cluttered and only serve to confuse the user. Try to decide which are the most important functions and make these the easiest to access. A good example here would be the pause button on a music player. Functions that are used less often -- like changing the app's settings -- still need to be accessible but don't have to be as prominent. Using keyboards on touchscreen phones can be fiddly so you should try to keep keyed input to a minimum.
You need to ensure that it's clear what all of the buttons and functions do. Many mobile users don't get the best from their devices because they're not sure how all of the functions work. Where possible use standard or easily understood symbols for functions. Examples would be an envelope for sending email, a handset for phone calls or a "hamburger button" (three short horizontal lines) for accessing program settings. If necessary you should think about including a help page in your app to explain what all of the functions are and how to access them. You can always link to a help page on the Internet rather than bulking out the app itself with this information.
When you're planning how the app looks, designing buttons and logos and so on, do think carefully about colour and contrast. The screens on modern mobile devices are capable of very subtle color variations, but remember that your app will often be used in bright sunlight or other difficult conditions. Using a high-contrast color scheme will make the screen easier to read in all circumstances. For the same reason it's also good to define buttons with solid blocks of color rather than subtle shaded outlines.
Consider The User
The size of the buttons you need people to press is important too. It's unrealistic to expect people to tap accurately on a tiny area of the screen -- especially if they're using the app on the move. Take account of the fact that your app has to be usable by those with fat fingers as well as people with more delicate digits. The same applies to the fonts used on screen, don't be tempted to pack in more information by making the font so small that people will struggle to read it.
Many development tools take a template-based path to creating the interface of your app. This makes it easier to ensure that everything looks as it should and that all of the elements of the app are in the correct places. The downside is that template-based apps can tend to look similar and it can be hard to find a distinctive touch in order to make your offering stand out.
All of this may seem daunting. However, the key message is that design is important and it pays to take your time over it. The best apps are those where the developer has made an effort to understand both the style of the operating system and the needs of the users such that the finished result not only looks good but is also intuitive and easy to use.
This article is adapted from The Instant Guide to Creating an App available now from the Amazon Kindle Store priced $3.06.
Photo credit: Digital Storm/Shutterstock
Read more »
---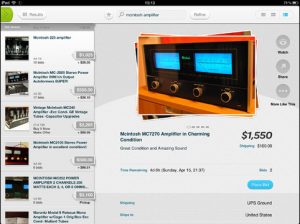 The iOS versions of eBay's app have been updated with a redesigned interface and a raft of other changes. The latest release improves on the stripped back UI that was available in previous versions and larger photos can now be accessed. As before, there are versions of the app available for iPad (which is version 2.3.0) and iPhone (which has reached version 3.0.0).
But there's more than a new look to the latest version of the app. If you're one of those people who has yet to create an eBay account, the signup process just got a whole lot easier -- if you're in the US, that is. Forget time-consuming form filling, you can now sign up for an account with a quick scan of your driver's license.
Improvements have been made for buyers and sellers alike, and anyone looking to grab a last-minute bargain will find that scope for sniping is now more accessible. There are better filtering options so sellers can be sorted by their feedback rating and seller can now more easily list items that are similar to those they already have for sale -- no more starting listing from scratch.
eBay users in both the US and UK can now buy multiple items faster than before thanks to a new option. It is now possible to checkout multiple items at the same time so there's no need to skip back and forth between pages as much.
You can find out more and download a free copy of the app by paying a visit to the eBay for iOS review page -- there are separate versions available for iPhone and iPad.
Read more »
---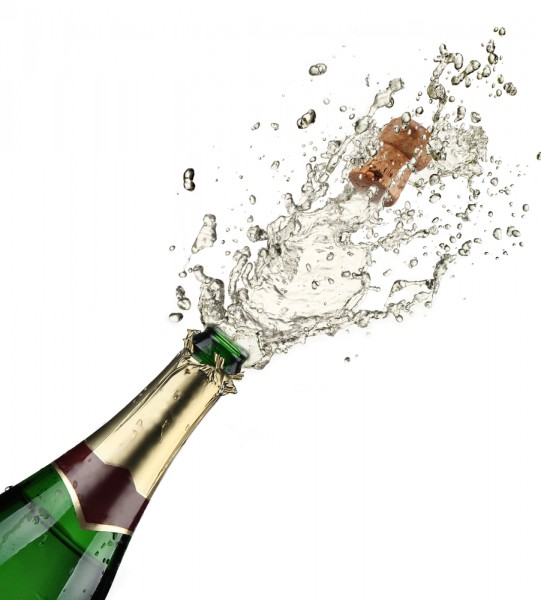 Change the rules of the game and you change the hierarchy. Two days ago research company Gartner released its latest report on the state of smartphone market which, based on sales, places Windows Phone in fourth place, just behind BlackBerry in terms of share. Today, IDC also released its latest report for Q1 2013, that measures shipments, and the two smartphone operating systems trade places -- Windows Phone now surpasses BlackBerry for the third spot in the charts.
That switch means Microsoft and Nokia have a reason to celebrate, in spite of numerous barbs coming from pundits. "Windows Phone claiming the third spot is a first and helps validate the direction taken by Microsoft and key partner Nokia", says IDC's Kevin Restivo. But the research company suggests that the operating system still has a long way to go: "Given the relatively low volume generated, the Windows Phone camp will need to show further gains to solidify its status as an alternative to Android or iOS".
Android and iOS Are Not Untouchable
"Underpinning the worldwide smartphone market is the constantly shifting operating system landscape", says IDC's Ramon Llamas. "Android and iOS accounted for more than the lion's share of smartphones in the first quarter, but a closer examination of the other platforms reveals turnaround and demand for alternatives. Windows Phone has benefited from Nokia's participation, and BlackBerry's new BB10 devices have already hit a million units shipped in its first quarter of availability".
Android and iOS dominate smartphone shipments in Q1 2013. Together, the two operating systems reign over 92.3 percent of the market. Combined, shipments top 199.5 million units, which is 59.1 percent higher compared to the 125.4 million units in the first quarter of 2012.
Android Shipments Surge
The green droid accounts for 75 percent of the market, up from 59.1 percent in Q1 2012, with shipments growing by 79.5 percent to 162.1 million units in Q1 2013 from 90.3 million units in Q1 2012.
Samsung is the top Android manufacturer with 41.1 percent of the market. The South Korean maker is followed by "a long list of vendors with single-digit market share, and an even longer list of vendors with market share less than one percent", says the market research company. "The intra-Android competition has not stifled companies from keeping Android as the cornerstone of their respective smartphone strategies, but has upped the ante to innovate proprietary experiences".
iOS' Aging (Still) Doesn't Affect iPhone Demand
Apple's iOS (or iPhones) claims a smaller piece of the pie with 17.3 percent market share, down from 23 percent in Q1 2012. Shipments increased by 6.6 percent to 37.4 million units in Q1 2013 from 35.1 million units in Q1 2012.
IDC says that the market demand is still strong for iPhones, even though "the iOS experience has remained largely the same since the first iPhone debuted in 2007". The research company briefly discussed the future of the platform: "online rumors and speculation predict a massive overhaul of the user interface when iOS 7 debuts".
Blame Nokia for Windows Phone's Success
The podium is completed by Windows Phone. Microsoft's smartphone operating system accounts for 3.2 percent of the market, up from 2.0 percent in Q1 2012, due to shipments of 7.0 million units, a number 133.3 percent higher compared to the 3.0 million units in Q1 2012.
Nokia is responsible for 79.0 percent of the Windows Phone shipments and has sold 20.3 million units since the company embarked on its Windows Phone journey. "Other vendors continue to offer Windows Phone devices, but mainly as an alternative to their signature Android devices", says IDC. "The gains made by Windows Phone demonstrate both end-user demand and OEM support".
Old Smartphones Keep BlackBerry in the Game
BlackBerry's market share only slightly decreased in Q1 2013, but shipments tumbled. The smartphone operating system is at 6.3 percent share, down from 6.4 percent in Q1 2012, with shipments of 6.3 million units, 35.1 percent lower than the 9.7 million units in Q1 2012.
IDC however is optimistic about the Canadian manufacturer's future. "BlackBerry formally introduced and shipped more than a million units running on its new BB10 platform, a significant breakthrough for the company". The majority of shipments come from BB7 handsets, which "were well received within key markets".
Manufacturers Ignore Linux...
The fifth spot is taken by Linux, which in Q1 2013 had a 1.0 percent market share, down from 2.4 percent in Q1 2012. Shipments decreased by 41.7 percent to 2.1 million units in Q1 2013 from 3.6 million units in Q1 2012.
This is the lowest level since Q1 2012, triggered by manufacturers that have switched to Android. "This is shaping up to be a pivotal year for the open-source operating system, as multiple platforms, including Mozilla, SailFish, Tizen, and Ubuntu are expected to introduce or launch their first smartphones in the coming months", says IDC.
...And Symbian Too
Things aren't looking well for Symbian either. The operating system has a 0.6 percent share of the market, down from 6.8 percent in Q1 2012. Shipments have decreased as well, by 88.5 percent, to 1.2 million units in Q1 2013 from 10.4 million units in Q1 2012.
As I pointed out in "Windows Phone battles BlackBerry for a distant third-place", Symbian's decline is triggered by Nokia's (Symbian's biggest supporter) decision to focus on Windows Phone. IDC confirms: "The decline for Symbian-powered smartphones was expected as its primary OEM supporter Nokia has transitioned to Windows Phone and Japanese vendors have moved to Android". Symbian shipments are still expected to head into 2014, albeit in lower numbers.
Photo credit: Kesu/Shutterstock
Read more »
---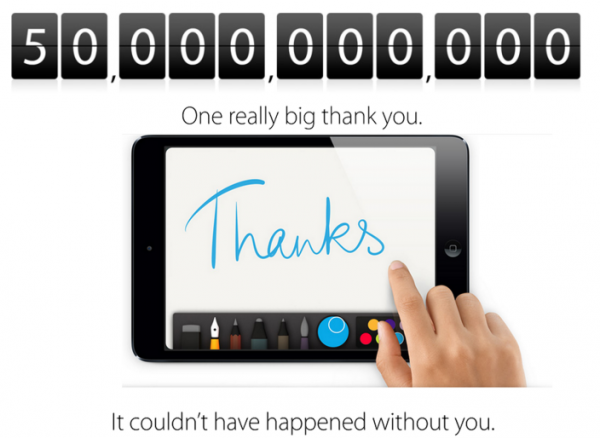 It's been a while coming. Two weeks ago my colleague Alan Buckingham wrote that Apple was fast closing in on a remarkable milestone -- 50 billion unique downloads (excluding re-downloads and updates) from the App Store -- and said the "big event seems destined to take place within the next 24 hours".
It actually took around 14 days from that point for the 50 billionth download to happen (or be announced at least), and for the winner of the $10,000 App Store gift card Apple put up as a prize to be revealed.
The lucky downloader was Brandon Ashmore from Mentor, Ohio who claimed his spot in Apple's record book by downloading Say the Same Thing by Space Inch (personally I was hoping it would be the Condom Size penis-measuring app).
In making the announcement, Apple revealed the usual amazing statistics, including that App Store customers are now downloading more than 800 apps per second at a rate of over two billion apps per month.
Eddy Cue, Apple's senior vice president of Internet Software and Services said, "Apple would like to thank our incredible customers and developers for topping 50 billion apps downloaded. The App Store completely transformed how people use their mobile devices and created a thriving app ecosystem that has paid out over nine billion dollars to developers. We're absolutely floored to cross this milestone in less than five years".
Read more »
---
Music Piracy is now dead. Apple iTunes is now obsolete. Spotify, Pandora, Slacker -- yesterday's news. This is all because of Google Play Music All Access. It will change the way you listen to music. It will change your life. You will subscribe. Resistance is futile. This is the future of music.
The idea of a music streaming service is not new. However, a music streaming service by the most important and influential tech company is. On May 15, 2013, Google unveiled its new music streaming service, named Google Play Music All Access. Other than the ridiculously long name (I will just call it All Access for the rest of the article), the service is near-perfect.
Details
Here are some facts about the service:
Unlimited streaming of millions of songs
Available in the USA only (for now)
It costs $9.99 a month ($7.99 if you subscribe before June 30)
Offers a radio feature so users can discover new music
Available as an app for Android, plus all modern web browsers
Selection
The most important aspect of a streaming service is content. Availability of millions of songs is great but if the music you like is not included, it is worthless. With that in mind, I decided to put it through the paces. I wrote down a random and eclectic list of 10 albums I wanted to find:
Neil Young -- Rust Never Sleeps
Kendrick Lamar -- good kid, m.A.A.d city
Beck -- Sea Change
The Rentals -- Return of
The Velvet Underground & Nico -- The Velvet Underground & Nico
De La Soul -- Stakes is High
Cru -- Da Dirty 30
Radiohead -- OK Computer
Roc Marciano -- Marcberg
Cam'Ron -- Purple Haze
Amazingly, of these 10 albums I picked, nine of them were available. Sadly, it was De La Soul's album that was not available. In fact, none of De La Soul's albums were available. This was a huge disappointment, but not a deal breaker as I already own these albums and can upload them later. However, it shows that the service is not perfect yet and Google has work to do. I scrolled through many other selections and was amazed by the amount of music available for a paltry $7.99/ month.
However, the fun does not stop there. Much like Pandora, All Access gives you virtual radio stations based on the music you like. This gives you the opportunity to explore and discover new music. I have already discovered some new hip-hop songs after creating a radio station based on one of my favorite groups, Ugly Duckling. However, unlike Pandora, you have unlimited music skips. So, you are never stuck listening to a song you don't like. You can even click on the album name from which the song is from and immediately begin to listen to the entire album. You can even click on the artist's name to be presented with their discography.
At the start of the article, I mentioned that music piracy is dead. This selection and price point is the reason why. While there will always be stubborn people who just refuse to pay for media, with this price and level of convenience, piracy just isn't worth the hassle.
Buying songs in iTunes, storing them and synching them is just a waste of time, space, energy and money.
Quality
Besides selection, the next most important aspect is sound quality. Before I discuss quality, I should tell you what I am using to listen:
Windows 8 x64
Google Chrome Browser
FiiO E10 USB DAC
Audio-Technica ATH-M50 Headphones
I was dubious of having good sound quality with a streaming service. However, I am happy to report that sound quality does not disappoint. I fired up There's A World by Neil Young and was blown away at the quality and clarity. I actually own this on CD. Comparing the same song on CD (played through Foobar 2000) with the All Access streaming version, yielded no difference.  I tried countless other songs such as Skrillex Breakin' a Sweat and was blown away by the quality.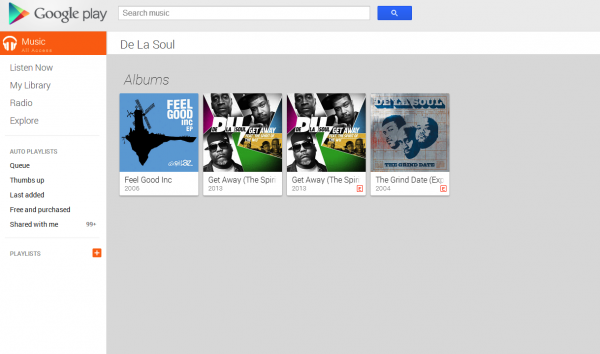 Conclusion
Do I really think Google Play Music All Access renders iTunes, Spotify, Pandora and Slacker as obsolete? Absolutely. I defy you to find a better deal in entertainment. With a price point of $7.99 or $9.99, you have pretty much any song available to you whenever and wherever you want. That is cheaper than a single movie theater ticket! The selection is amazing and the quality must be heard to be believed. But don't take just my word for it; Google is offering a 30-day free trial.
Give it a try and tell me if you agree in the comments below.
Read more »
---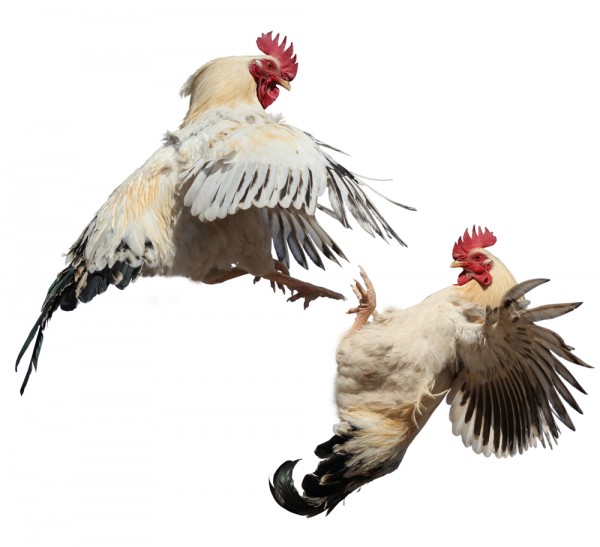 Ouch! The latest report from market research company Gartner crushes Microsoft's dreams of Windows Phone breaking away from the smartphone operating system bottom pack. In Q1 2013, with a low market share of just 2.9 percent, Windows Phone battled with BlackBerry for the consolation spot of third most popular platform (and lost), far away from either Android or iOS. The green droid is still the dominant leader, followed from afar by Apple's OS.
"There are two clear leaders in the OS market and Android's dominance in the OS market is unshakable", says Gartner's Anshul Gupta. "With new OSs coming to market such as Tizen, Firefox and Jolla we expect some market share to be eroded but not enough to question Android's volume leadership". What he doesn't says is that the future is bleak for both Windows Phone and BlackBerry, which have to showcase their strength to survive the future string of contenders. Let's take a look at the numbers.
The Smartphone OS War
In Q1 2013 Android reached a 74.4 percent share in the smartphone market, which represents an increase of 30.75 percent compared to the 56.9 percent from the same period, last year. Green droid sales exceeded 156.1 million units, up from 83.6 million in Q1 2012.
By contrast, iPhone's market share decreased by a significant 19.11 percent from 22.5 percent in Q1 2012 to 18.2 percent in Q1 2013. Sales did not follow the same trend and are higher, up from 33.1 million to 38.3 million units in the same respective time-frames.
"Apple is faced with the challenge of being increasingly dependent on the replacement market as its addressable market is capped", says Anshul Gupta. "The next two quarters will also be challenging, as there are no new products expected to be coming before the third quarter of 2013".
BlackBerry, which is still the third-largest player in the smartphone realm in Q1 2013, reached a 3.0 percent market share. That's down by 55.88 percent from Q1 2012 when it had 6.8 percent of the market. Sales are also down from 9.9 million to 6.2 million units in the same respective time-frames.
Windows Phone, the fourth most popular smartphone OS, closely follows BlackBerry with a 2.9 percent market share in Q1 2013. That's up 52.63 percent from Q1 2012 when it reached a 1.9 percent market share. Sales follow the same increasing trend, rising from 2.7 million to 5.9 million units in the same respective time-frames.
At the bottom of the pile are Bada and Symbian, which have a combined market share and sales of 1.3 percent and 2.7 million units, respectively. That's not enough to trouble Windows Phone nor BlackBerry. Interestingly enough, Symbian fell from 8.5 percent market share and sales of 12.4 million units in Q1 2012 to 0.6 percent market share and 1.3 million sold units.
That's a significant drop, attributed to Nokia's commitment (Symbian's largest supporter at the time) to use Windows Phone as its main smartphone operating system as well as the decay of the platform in the light of Android handsets and iPhones.
The Top Smartphone Vendors
Smartphone sales have increased from 147 million in Q1 2012 to 210 million units in Q1 2013, which represents a 42.85 percent growth. Samsung continues to dominate the smartphone vendor charts in Q1 2013 with 30.8 percent of the market, up by 11.59 percent from the 27.6 percent market share in Q1 2012.
Gartner is confident that the company's latest Android flagship, the Galaxy S4, will be a hit among smartphone buyers. "We expect the new Galaxy S4 to be very popular despite being more of an evolution than a truly revolutionary device compared to the S3" says Anshul Gupta.
The South Korean manufacturer is followed by Apple with 18.2 percent market share. The top five is completed by LG, Huawei and ZTE with 4.5 percent, 4.4 percent and 3.8 percent of the market, respectively.
The top phone manufacturer is also Samsung with 23.6 percent market share and sales of 100 million units, followed by Nokia with 14.8 percent market share and sales of 63.2 million units. But, the Finnish company actually takes the tenth spot in the smartphone vendor charts. Clearly, Windows Phone is not working out so well for Nokia to enter the top five.
Go Cheap
"The Chinese and local manufacturers have been exemplary at addressing the demands of buyers by offering affordable devices with optimum features such as 2.5G (EDGE) instead of 3G in a smartphone", says Gartner. "In the smartphone market, local and Chinese manufacturers are making faster inroads as they account for 29 percent share in the first quarter of 2013, up from 13.2 percent a year ago".
Gartner suggests that the key to increasing sales and market share is low-end and affordable smartphones. At the moment Apple is the sole manufacturer that does not offer such a device, while other makers such as Samsung, LG, Huawei, ZTE and even Nokia have released cheaper smartphones that cater to a less demanding audience.
Photo credit: M.Khebra/Shutterstock
Read more »
---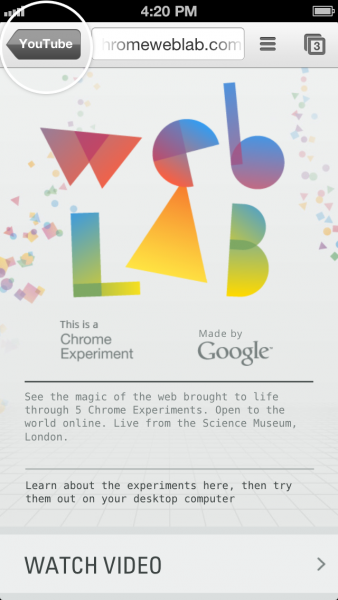 Just yesterday, I suggested that Gmail for iOS, which new version links to Google apps rather than Safari, might be a bigger deal. Sure enough, is it ever. The search and information giant is hellbent on co-opting Apple's mobile platform by offering superior apps tightly tied to web services. But the strategy depends on Chrome.
Contrary to popular tech convention, Android isn't the future of Google platforms, neither is Chrome OS, nor is an amalgamation of the two. The browser is the go-forward platform of choice. Android and Chrome stand apart, competing with operating systems like iOS and Windows. Chrome can co-opt them and others. The browser is more natural fit for Google services and anchors them anywhere. This is the lesson from March's corporate shake-up that put Android under Sundar Pichai, who leads Chrome and Apps.
But Chrome on iOS was an illegal alien granted temporary visa. Now the browser is a resident alien seeking citizenship and cooperation of other Apple platform immigrants. Gmail's new-found capability -- linking to apps like Maps and YouTube -- foreshadows the future. Google plans to help every Tom, Dick and Jane developer bring anarchy to iOS, by providing means to link to Chrome instead. The strategy is brilliant and unfathomable. How could Apple let the maker of Android get away with something so bold?
Perhaps this is a symptom of the post-Steve Jobs era. Remember, Jobs blocked Adobe Flash, spinning falsehood -- that the tech sucks -- to distract from truth: He didn't want a competing development environment on iOS. Apple's cofounder wanted to control the app platform -- his way and not any other. The tactic made Flash a dirty word across the Internet and ensured the App Store's success, under Jobs' watchful eye.
The platform flourished, consumers got consistent user experiences, apps maintained a reasonably high quality and riffraff found placing malware more challenging compared to many other operating systems.
Chrome is far more dangerous to iOS than Flash, because Google packs development punch and the wherewithal to drive apps -- its own and others -- across multiple operating systems. Packaged Apps are coming, for example, and they will make the browser a pseudo operating system usurping others. Put iOS head of the class.
Michele Aiello, Google software engineer, explains: "As an iOS app developer, when your users want to access web content, you currently have two options: create your own in-app web browser frame, or send users away from your app to a browser". Go ahead and say it. Safari. "With Chrome's OpenInChromeController class with x-callback, users can open a web page in Chrome and then return to your app with just one tap".
The project isn't new, but suddenly quite believable, looking at what Google demonstrates with Gmail and Aiello's explanation yesterday. And Apple just lets Google strut around iOS like it owns the place. Developers tapping their apps in the Chrome won't flaunt Safari.
Wait! What's that sound? Do you feel the earth tremble? Steve Jobs just rolled over in his grave. I wonder what apparition will visit Apple CEO Tim Cook in dreams tonight.
Read more »
---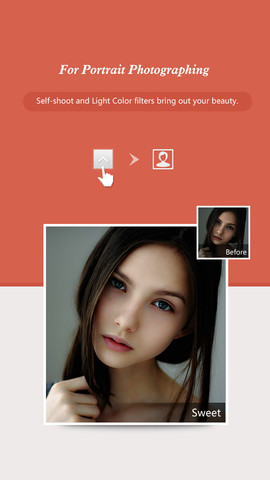 Instagram boasts 100 million users and it gets media attention, but the photo sharing service is far from being the only camera app available for mobile customers. In fact, while I use the service, I cannot say it is my favorite. That title belongs to Camera360, a photo app that brings all sorts of functionality to your smartphone.
Camera360 recently upgraded to version 4.0, bringing along new shooting modes, scenes, cloud integration and more. The upgrade is a hit  and today the company announces that, like Instagram, it now has 100 million customers.
In a statement, Pinguo tells us "Camera360, one of the world's most popular camera apps for smart phones, announced today that it has become the first mobile photography app to pass 100 million global users". The company goes on to explain "after reaching this major milestone, Camera360 will now aim to turn itself from a pure tool app into a multi-service provider to meet growing consumer demands".
The company has also opened Effect SDK to third-party developers and encouraged innovation. In fact, Pinguo claims "Camera360 is now even in talks with a number of smartphone manufacturers to integrate the Camera360 SDK into the stock camera, in order to make their handsets stand out from the crowd".
That last part is perhaps the best news. I discovered Camera360 several years ago and adopted it for the great HDR images it's capable of snapping. Since then, many more shooting modes and filters have been added, and I am pleased to see this success because it means the app will stick around and continue to improve. Camera360 is available for Android and iOS and is free, though I had to pay back in the old days.
Read more »
---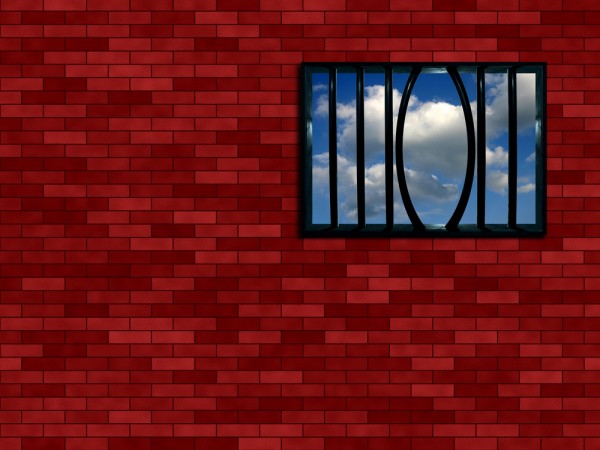 Yesterday (yeah, yeah, I'm late), Google released a stunning new version of Gmail for iPad and iPhone. I tried to write this story several times on May 6, but the newsroom was short-staffed, keeping me extra busy. Vacations, bank holiday in United Kingdom and Orthodox Easter Monday just about emptied BetaNews. So, please, pardon this belated story about the great Google escape.
What a wild one, too. Control-freak Apple uses Safari to keep developers like Google in check. Especially such a rival that invades iOS with a remarkably rich set of apps tightly tied to myriad web services. So Gmail's sudden liberation is quite surprising. Links now go to installed Google apps -- gasp, Chrome, Maps and YouTube -- rather than opening Safari. Chrome linkage really is a shocker, and all the more so with Google kissing WebKit to the wind in favor of its own browsing engine. Expect it in the Chrome stable channel soon.
Google is clearly set out to invade Apple's mobile platform with strong apps and connected services. Last week, Google Now arrived, rivaling Siri, and available to more iOS users than members of the so-called Android Army. How strange a strategy is that?
Many of Google's apps are even better than Apple's. The search giant embraces iOS, extends utility with its own services and extinguishes competing ones, or tries to. That's old business. The company's business is long about co-opting other platforms, everything from desktop search app for Windows to Google Frame for Internet Explorer, and more. But the recent aggressiveness on iOS, which really started after Apple pulled Google Maps, is quite new -- and good for iOS users, but probably bad for the fruit-logo company. That is long-term.
Apple wants iOS users connecting to its services and iCloud. But given Google's far reach, a strategy of booting the search giant's apps is no longer viable. Customers want Google apps and services, which co-opt the Apple experience. Still, I have to wonder if this linkage will last. If Google, why not other developers? Letting every Tom, Dick and Jane developer link to whatever -- gee, like Chrome instead of Safari -- is chaos, a control freak's worst nightmare.
So, I wonder: Is Google's prison break an open tunnel for other developers to follow? Or will Apple shoot the inmates and send the hounds after Gmail?
Photo Credit: Stasys Eidiejus/Shutterstock
Read more »
---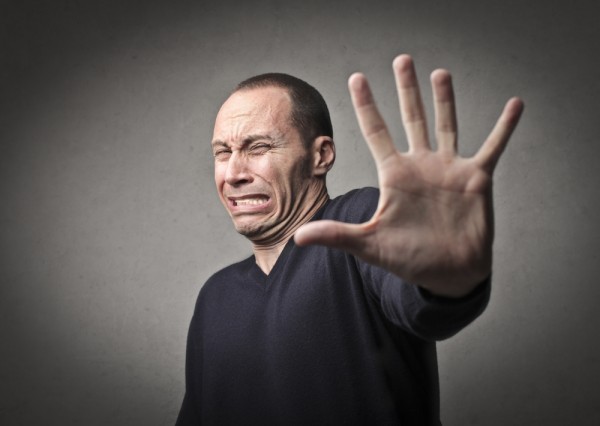 Apple's supremacy as tablet market leader may be even shorter lived than previous analyst forecasts suggest. Already, Android topples iOS share, and there is simple catalyst: White-box slates accounted for one-third of shipments last year -- a level NPD DisplaySearch predicts will continue in 2013 and beyond.
Android is the big beneficiary of the trend. In third quarter 2012, shipments exceeded iOS models, according to IDC. During first quarter this year, green-robot slates took 56.5 percent market share. At this pace, contrary to analyst predictions just a year ago, Android does to iOS in tablets what it did in smartphones -- take early leadership away from Apple.
In October 2009, I explained why "Apple cannot win the smartphone wars" and more than two years later why "iPad cannot win the tablet wars". The factors are similar in both markets. One company against a world of others -- Apple/iOS versus dozens of Android manufacturers -- simply isn't sustainable, repeating the Mac's early rise and eventual decline before DOS/Windows PCs in the 1980s and 1990s; more recently, smartphones.
Why Platforms Succeed
Typically, successful platforms share five common traits:
There are good development tools and APIs for easily creating applications
There is at least one killer application people really want
There is breadth of useful applications
Third parties make lots of money
There is a robust ecosystem
However, in my 2011 "iPad cannot win" analysis, which I strongly encourage you read, I replaced the traditional second point with another: "There is a killer user experience that people want to enjoy". I can't overstate the importance of UX to modern platforms and how it displaces PC-era concepts about killer applications.
For tablets, there is no one killer application, or even thousands. But there is killer UX, which Apple got right in 2007, delivering a far superior smartphone experience than every other competitor. But Google and its manufacturing partners easily copied Apple's UX approach, first on smartphones and then tablets. Today, iOS is a tired-looking user interface compared to stock Android or OEM replacements, such as HTC Sense or Samsung TouchWiz UI. Apple's challenge, during next month's developer conference, is to bring with iOS 7 modern UI and UX.
User Experience is Everything
The UX concept is crucial to understanding the current tablet market. By the traditional view, platforms succeed only if there are applications that people want. But developers only create them if there is demand, which usually requires applications first. But there's no financial demand to develop apps, without platform adoption -- thus the chicken-egg scenario: Which comes first, apps or sales volume?
Tablets capitalize on platform success smartphones established, while offering great, immersive user experience. Apps, and the ecosystems for handsets, carry forward. Money matters more in this scenario -- where partners make the most -- and there extenuates dramatic dynamics that applied to the Mac and DOS/Windows PCs in the late 1980s and through the following decade.
Apple pays developers about $1 billion a month, but volume shifts in Android's favor and competing OEMs take control of specialized, even localized, ecosystems -- like creating their own app stores. Apple's controlled, contained iOS platform restricts who makes money where, while Android openness allows third parties to innovate and create distinct profit streams. That $1 billion today means little tomorrow.
IBM PC clones and white boxes drove DOS/Windows success decades ago. Something similar plays out today, in a category with striking similarities. Tablets are much closer to traditional PCs than are smartphones, and DisplaySearch sees slate shipments exceeding laptops this year -- 256.5 million units to 203.3 million.
Apple's Rivals are Many
White box accounting for one-third of shipments already rivals Apple. The distinction is enormous, and bodes badly for the fruit-logo company in the most-important growth markets, like China. During first quarter, IDC puts iPad market share at 39.6 percent, with Samsung a distant second at 17.9 percent. That makes Apple the indisputable OEM leader. However, assuming white boxes account for one third of shares, iPad's lead is more tenuous, particularly considering the tablet's share fell from 58.1 percent a year earlier.
The whom and where matters here -- white box manufacturers, largely shipping to and from China. They now lead the Android horde Apple cannot defeat. The one against the many is not a long-term winning strategy, particularly as PC spending shifts to tablets.
Google and its partners merely need to get the user experience to be good enough for more people to buy and for a broad ecosystem to thrive -- one where lots of third parties make loads of money. In many ways Android UX is superior, something Apple could change with iOS 7. But the fruit-logo company can't easily solve the volume disparity, something non-big-brand manufacturers widen for Android.
Photo Credit: ollyy/Shutterstock
Read more »
---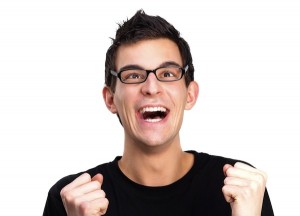 Android may rule the roost when it comes to the mobile market these days, but Apple is certainly not faring poorly with its iPhone offering. Whenever its App Store hits a new milestone the company always makes a big production of it, for both celebration, as well as publicity.
In January of 2011 the Store hit 10 billion app downloads, a milestone that took nearly three years to achieve. However, adoption increased and, in little more than a year (March of 2012), 25 billion apps downloaded was the new cause for celebration. Now, again in just over a year, that number has been doubled.
Apple is currently awaiting the download counter to turn over the 50 billion mark, and to commemorate this event, the company is offering a prize of $10,000 U.S. (in gift card form) to the lucky person who grabs that app. Regardless of what that app is, it will certainly become someone's new favorite. This time around the giveaway does not stop there either -- the next 50 app installations to follow will also be rewarded. Each will receive a $500 gift card.
The counter was approaching 49,252,000,000 as of this writing, and the rate is increasing. The big event seems destined to take place within the next 24 hours. So, if you were thinking of grabbing some new apps, this would be a wise time to do so.
Photo Credits: Yuri Arcurs/Shutterstock
Read more »
---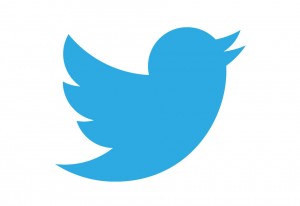 Twitter has released Twitter for iOS 5.6 and Twitter for Android 4.0.2, minor updates to its official apps for iPhone/iPad and Android mobile users. Both apps extend support for trend filtering by location to the mobile platform, the feature is already present in the web-based app.
Other changes to the iOS build include improved playback of Vine video, and the addition of an option to invite other people to join Twitter from within the app. Android users also gain enhancements to the menu button.
The option for switching between tailored and location-based trends is accessed from the Discover tab on the iPhone, iPod touch or Android phone -- tap Trends, scroll down and the new "Change location" option will appear at the bottom (Android users will also need to tap the menu button). Tapping this then allows users to first select a country and then a city or town. At the present time, only major cities are featured.
Version 5.6 for iOS also follows the recent Vine app update in improving the playback performance of Vine videos. It also changes the way replies to retweets are handled – now both the original tweeter and the person retweeting are included by default when replying. Finally, users can now invite other people to join Twitter from directly within the app itself.
Android users gain improvements to the menu button, tapping this now adds options for switching accounts and accessing the settings screen. Both mobile app updates are rounded off with the usual raft of non-specified bug fixes and performance improvements.
The new mobile apps follow hot on the heels of Twitter for Mac 2.2, a surprise update that added Retina display support, a new camera icon to the redesigned Tweet compose box for easy sharing of photos and support for 14 new languages, including French, Chinese, Spanish and German.
Twitter for iOS 5.6 is a free download for iPhone, iPad and iPod touch.Twitter for Android 4.0.2 requires Android 2.1/2.2/2.3 or 4.1, and is also compatible with Kindle Fire and B&N Nooks. Twitter for Mac 2.2 requires OS 10.6.8 or later.
Read more »
---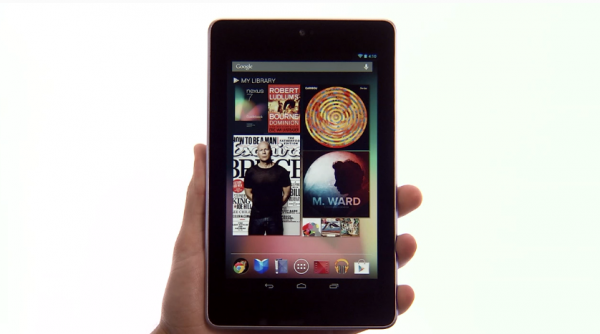 So much for Apple's tablet reign that analysts stoutly stood by even just months ago. Android kicks ass, crushing iOS shipments during first quarter, according to IDC. Among the top four, the fruit-logo company posted the lowest year-over-year growth (65.3 percent), and considerably less than the overall market (142.4 percent). Meanwhile, the company's market share fell by 18.5 points to 39.6 percent.
Among tablet manufacturers, Apple is market leader, with the question being for how much longer. Samsung share rose 282.6 percent -- ASUS even more (350 percent). Strong Nexus 7 shipments pushed ASUS past Amazon to take third place. ASUS' challenge and opportunity could be Google I/O, where the tablet launched last year and new model is rumored for the event starting May 15. Challenge is maintaining shipments during product transition; opportunity is capitalizing on new sales.
Measured by operating system, Android soared 247.5 percent year over year, with market share rising to 56.5 percent from 39.4 percent. iOS was near mirror opposite, falling from 58.1 percent to 39.6 percent.
Despite share losses and slower growth, "sustained demand for the iPad mini and increasingly strong commercial shipments led to a better-than expected first quarter for Apple", Tom Mainelli, IDC research director, says. "In addition, by moving the iPad launch to the fourth quarter of 2012, Apple seems to have avoided the typical first-quarter slowdown that traditionally occurred when consumers held off buying in January and February in anticipation of a new product launch in March".
So there's the silver lining. For the previous three years, new iPads launched in March or April. Apple launched a second iPad in late 2012 concurrent with the mini's introduction, changing the release cycle.
Microsoft is the quarter's biggest surprise, with tablet shipments soaring 700 percent, arguably from smaller base. IDC puts Surface shipments at 900,000 for the quarter, majority the Pro model. A week ago, Strategy Analytics also tallied stronger-than-expected Q1 Surface shipments.
NPD DisplaySearch predicts that 7-7.9-inch tablets will account for nearly half of tablet shipments this year, a big shift downward in screen size. Microsoft is headed there, too.
Top Five Tablet Vendors, Shipments, and Market Share, First Quarter 2013 (Shipments in millions) 
| | | | | | |
| --- | --- | --- | --- | --- | --- |
| Vendor | 1Q13 Unit Shipments | 1Q13 Market Share | 1Q12 Unit Shipments | 1Q12 Market Share | Year-over-Year Growth |
| 1. Apple | 19.5 | 39.6% | 11.8 | 58.1% | 65.3% |
| 2. Samsung | 8.8 | 17.9% | 2.3 | 11.3% | 282.6% |
| 3. ASUS | 2.7 | 5.5% | 0.6 | 3.1% | 350.0% |
| 4. Amazon.com Inc. | 1.8 | 3.7% | 0.7 | 3.6% | 157.1% |
| 5. Microsoft | 0.9 | 1.8% | 0.0 | N/A | N/A |
| Others | 15.5 | 31.5% | 4.9 | 24.1% | 216.3% |
| Total | 49.2 | 100.0% | 20.3 | 100.0% | 142.4% |
Source: IDC Worldwide Tablet Tracker, May 1, 2013
Last month, CFO Peter Klein said that Microsoft is "working closely with OEMs on a new suite of small touch devices powered by Windows. These devices will have competitive price points, partly enabled by our latest OEM offerings designed specifically for these smaller devices, and will be available in the coming months".
Ryan Reith, IDC program manager, sees little promise in "smaller screen Windows RT and Windows 8 tablets hitting the market. He emphasizes: "The notion that this will be the saving grace is flawed. Clearly the market is moving toward smart 7-8 inch devices, but Microsoft's larger challenges center around consumer messaging and lower cost competition".
Top Tablet Operating Systems, Shipments, and Market Share, 2013 Q1 (Shipments in Millions) 
| | | | | | |
| --- | --- | --- | --- | --- | --- |
| Vendor | 1Q13 Unit Shipments | 1Q13 Market Share | 1Q12 Unit Shipments | 1Q12 Market Share | Year-over-Year Growth |
| Android | 27.8 | 56.5% | 8.0 | 39.4% | 247.5% |
| iOS | 19.5 | 39.6% | 11.8 | 58.1% | 65.3% |
| Windows | 1.6 | 3.3% | 0.2 | 1.0% | 700.0% |
| Windows RT | 0.2 | 0.4% | 0.0 | N/A | N/A |
| Others | 0.1 | 0.2% | 0.2 | 1.0% | -50.0% |
| Total | 49.2 | 100.0% | 20.3 | 100.0% | 142.4% |
Source: IDC Worldwide Tablet Tracker, May 1, 2013
Execution will be everything. "If these challenges are addressed, along with the desired screen size variations, then we could see Microsoft make even further headway in 2013 and beyond", Reith emphasizes.
Unlike smartphones, where Apple and Samsung, Android and iOS, dominate the market, tablets are increasingly uncertain, particularly in context of iPad's share losses (even as shipments rise). Where Windows Phone unlikely will gain much share, plenty of opportunity remains for Windows 8/RT. Shipments through fourth quarter will answer how much.
Read more »
---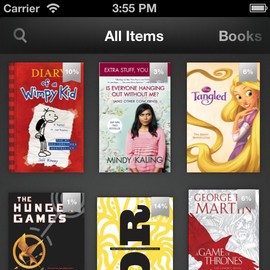 Amazon is not one to miss out on any revenue market and today proves this by making its free Kindle apps more appealing to customers who are either blind or visually impaired. The upgrades are not available on all platforms yet, but are certainly a move in the right direction.
New features will allow customers to access the read aloud feature for the more than 1.8 million titles available in the Kindle Store and seamlessly navigate within their library or within a book, including consistent title, menu and button names.
Customers can also read character-by-character, word-by-word, line-by-line, or continuously. The update brings the ability to search for a book within their library or search within a book, add and delete notes, bookmarks. It even highlights lookup words in the dictionary or from Wikipedia.
"We're excited to introduce these new features to our Kindle for iOS app, making it easier than ever for our blind and visually impaired customers to access the vast selection of over 1.8 million books in the Kindle Store on their iPhone or iPad", Dorothy Nicholls, Vice President for Amazon Kindle, says.
All of this sounds great, but for now it will only sound wonderful to Apple fans -- the enhancements are for the iOS Kindle app only. However, the online retailer promises that these will come to other mobile devices soon. For now, Apple customers can visit the iTunes Store to grab the latest version of the free Kindle app and take advantage of the new updates.
Read more »
---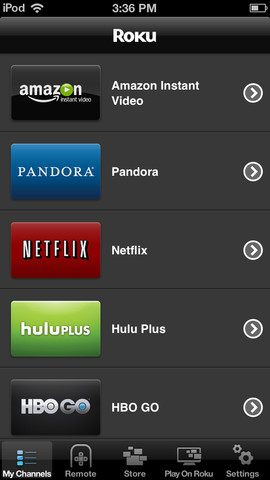 Today's set-top boxes do not all come from the cable or satellite provider and they frequently contain much more functionality than those that do come from the big providers. One is Roku, a company that has been innovating and upgrading at a rather quick pace recently, having only just released the Roku 3 with added functionality.
Now the company rolls out version 2.2 of its mobile apps for both the Android and iOS platforms. Roku promises that this latest update addresses feedback received from users.
Indeed, there are a number of additions in this latest release. Deep scanning is added to look for Roku players on your network using multiple methods. If the first scan does not succeed, just tap "Try again" and give the app another shot. Users can also enter the Roku player's IP address to connect manually and automatically pair with a Roku when that device is the only player associated with a particular Roku user account.
According to Roku's Tom Markworth "version 2.2 adds the ability to play photos and music simultaneously in Play On Roku without pre-selecting music in slideshow settings. Simply start photos, then music. Or vice versa".
Roku is an excellent alternative to mainstream TV providers and this functionality only adds to the tiny device's ability to take over your living room. However, until the company integrates a browser, I will stick with Google TV. This is nothing personal -- I just need that functionality.
Read more »
---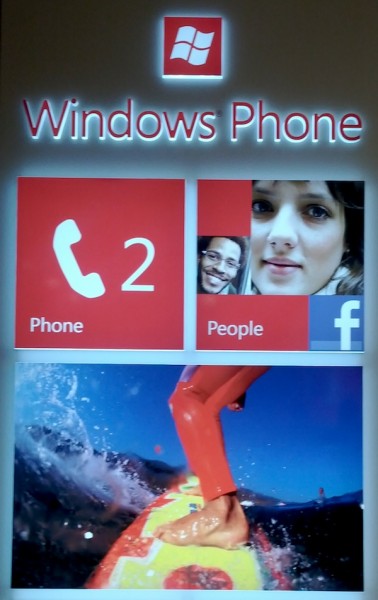 "Windows strength appears to be the ability to attract first time smartphone buyers, upgrading from a feature phone", Mary-Ann Parlato, Kantar Worldpanel ComTech analyst, says about the U.S. handset market for the three months ended in February. "Of those who changed their phone over the last year to a Windows smartphone, 52 percent had previously owned a feature phone".
End of story, or could be, if not for something else. Fifty-five percent of iOS buyers, and 51 percent for Android, are repeat smartphone purchasers. The two more popular platforms, while growing because of their larger bases, sell more to existing customers, which make up a more finite market. "With over half of the U.S. market still owning a feature phone, it's likely that many will upgrade over the coming year, which will ultimately contribute to more growth for the Windows brand", Parlato emphasizes.
Right now, Android and iOS own the U.S. smartphone market, with 93 percent combined share. Windows Phone: 5.6 percent. There's small room for a third platform and potentially bigger space given the untapped feature phone segment. In a rapid-growth market, anything can happen -- as repeatedly mistaken analyst forecasts prove. Consider Windows Phone maker Nokia, which share in Q1 reached 4 percent. While seemingly small, that's up from 1 percent a year earlier. Small gains, big percentage growth.
Like Gartner, but using other metrics, Kantar Worldpanel data is for actual phone sales, which offer better view into the market than analyst firms counting shipments. The difference is handsets going to carriers and dealers that may or may not be sold versus those going to end-user buyers. The latter measure is more reliable. Kantar Worldpanel puts Android sales share ahead of iOS -- 49.3 percent to 43.7 percent.
Carrier share reveals a disturbing trend: T-Mobile smartphone sales share declined 3.2 points to 9.5 percent, the only one of the big four to suffer losses. The real measure of Pink's success will be the period ending in March, following first iPhone 5 sales and introduction of new unlimited talk, text and web plans. Additionally, T-Mobile's MetroPCS merger is official May 1, amid major LTE network expansion.
As for the others, their respective smartphone sales share: Verizon, 37.2 percent; AT&T, 27.9 percent; Sprint, 12.3 percent. By the way, three of the four largest carriers sell Windows Phone. But AT&T has exclusive U.S. distribution for Nokia flagship Lumia 920.
Photo Credit: Joe Wilcox
Read more »
---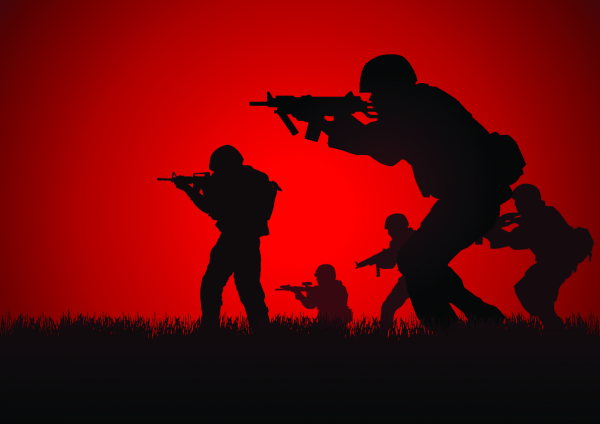 During the 1980s and 90s, Microsoft embarked on what the U.S. Justice Department refers to as an "embrace, extend and extinguish" strategy. Google revises the approach for the new century, but out of necessity. Many of its products or services entered categories where others dominated, such as email, operating systems, productivity suites and web browsers. The company's business is long about co-opting other platforms, everything from desktop search app for Windows to Google Frame for Internet Explorer, and more.
But there's nothing quite like Google's recent invasion of iOS, where many of the apps are even better than Apple's. Today, a new search app brings one of Android's best features, Google Now, to iPad and iPhone. There's irony here, too. On Android, the feature is only available on Jelly Bean, which makes up about 25 percent of the install base. The majority of Apple mobile device users are on iOS 6, and the app supports version 5, too. In short order then, depending on installations, a greater percentage of iPads and iPhones than Androids may have Google Now.
The feature is phenomenal and in some ways frightening. Surely you at least suspect Google watches you online. Saturday, I searched YouTube for Journey song "Don't Stop Believin'", from Google TV. Yesterday morning, on my laptop, Google Music presented album "Escape", which contains the track, to buy -- just $6.99. That can't be coincidence. Google watches you. Now. Google Now is tacit admission of this behavior and brings all that monitoring together into a useful utility.
The search giant refers to the feature as a mobile personal assistant. There's something to that. Google Now presents information, proactively, in cards. Rather than search, relevant information comes to you, like drive-time to work or home, nearby events, flight status, package delivery, real estate listings (close to where you are now), movie showtimes, nearby attractions and much, much more.
Apple also calls Siri a personal assistant, which in my testing can't compete with Google Now coupled with voice search, which is a killer app combination. If using iOS, see for yourself by asking Siri and Google Search questions.
As for Google Now on iOS, I don't have iPad or iPhone in house right now. So I asked colleague Wayne Williams to do some quick testing. Functionality of Google Now, combined with voice search, seems comparable to Android, but I can't confirm full capabilities, such as using Notifications, for example.
Now joins Google Maps and Google+, among others, as exemplary iOS apps, sometimes getting new capabilities ahead of their Android counterparts. The search giant embraces iOS, extends utility with its own services and extinguishes competing ones, or tries to. Like Microsoft, Google leverages a monopoly product (search rather than Windows).
But there's a difference: Google tries to do better and doesn't appear to be trying to extinguish rival platforms so much as competing services on them. That's a departure from Microsoft's triple-E strategy during the height of monopoly influence.
If you use iOS, try out Google Now and offer reaction here in comments. I am especially interested in how you think Siri compares with Google Now and voice search.
Photo Credit: rudall30/Shutterstock
Read more »
---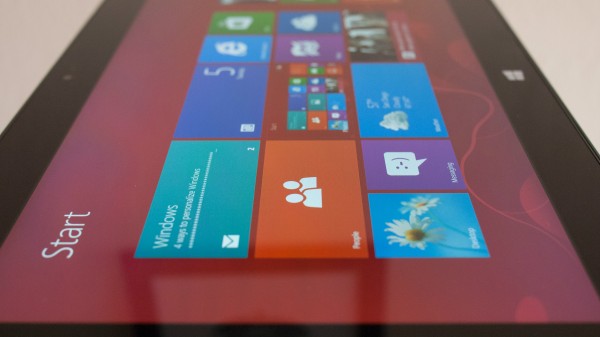 Back in December, I explained: "Surface RT sales are quite good, you just don't know about it". The Internet Idiocracy called the tablet a failure, while based on sales per store I saw success. Surface Pro shipped the following month. Now there are real numbers, and they're quite good -- for all Windows tablets -- validating touch-focused Modern UI.
During first quarter, Windows captured 7.5 percent global branded tablet market share, according to Strategy Analytics. That's up from zero a year earlier. Unit shipments: 3 million. Right now, Microsoft is the major seller of branded Windows tablets. Granted there are others, like Acer, ASUS, Dell, HP and Samsung.
Actually, Strategy Analytics notes that limited distribution, apps selection and market confusion -- not Android or iOS competition -- hold back Windows tablets. If Microsoft and partners get their ducks in a row, the tablet market could look dramatically different in a year. The point: The software giant may prove to be right after all; many buyers want to run a real operating system, one proven to handle the tasks of robust applications, rather than one migrated up from smartphones.
In February, Microsoft extended Surface RT distribution to more than a dozen new countries and yesterday announced Pro expansion, too. That's sign of changing times.
The ecosystem around Windows 8, and RT, is far from mature, which is the barrier to bigger sales success. There, despite all the controversy about Modern UI, Microsoft made the right choice -- that is if Windows tablet share gains continue.
"We built Windows 8 with touch and mobility at the center of the experience, which positions us well in this new era", Microsoft CFO Peter Klein tells financial analysts last week. "However, the transition is complicated, given the size of our hardware and software ecosystem. We still have an immense amount of work to do, yet we feel good about the foundation we have laid and are optimistic about the long term success of Windows".
Something else: Windows 8/RT will come to smaller devices this year, which, according to NPD DisplaySearch is where the tablet market is headed. Microsoft is "working closely with OEMs on a new suite of small touch devices powered by Windows. These devices will have competitive price points, partly enabled by our latest OEM offerings designed specifically for these smaller devices, and will be available in the coming months", Klein says.
Strategy Analytics data shows there is demand for Windows tablets and validates Microsoft's emphasis on touch. Klein is right: "Consumers and businesses are increasingly shifting their focus to touch and mobility". I love Surface Pro, which experience is so good, I came to really like Windows again.
As Microsoft ramps up Surface distribution and partners bring more touch-Windows devices to market, greater share gains are attainable. How much depends on other factors. My expectation is with autumn release of Windows 8.1 nearly certain, Microsoft and partners will invade the market with many touch devices for Christmas.
Global Tablet Operating System Shipments and Market Share
| | | | |
| --- | --- | --- | --- |
| | | | |
| Global Branded Tablet OS Shipments (Millions of Units) | | Q1 '12 | Q1 '13 |
| Apple iOS | | 11.8 | 19.5 |
| Android | | 6.4 | 17.6 |
| Windows | | 0.0 | 3.0 |
| Others | | 0.5 | 0.4 |
| Total | | 18.7 | 40.6 |
| | | | |
| Global Branded Tablet OS Marketshare % | | Q1 '12 | Q1 '13 |
| Apple iOS | | 63.1% | 48.2% |
| Android | | 34.2% | 43.4% |
| Windows | | 0.0% | 7.5% |
| Others | | 2.7% | 1.0% |
| Total | | 100% | 100% |
| | | | |
| Growth Year-over-Year % | | 146% | 117% |
Challenges are ahead. During first quarter, iPad captured 48.2 percent tablet market share, according to Strategy Analytics, while Androids took 43.4 percent. However, when including unbranded, white-box devices, Android tablets lead with 52 percent share to iPad's 41 percent. Windows slates face an uphill road, and yet seen another way downhill.
The discreet tablet market isn't the only measure of success. Most analysts agree that tablets are a major reason for about 10 quarters of PC shipment declines, with Q1 being the worst since IDC started tabulating numbers in 1994. Given that the majority of PCs sold or in-market run Windows and the majority of tablets do not, Android and iOS gains take away from Microsoft's platform. So the measure of that 7.5 percent market share, and any gains to follow, is an iceberg. The number is bigger than it appears. Sales below the surface represent people going from Windows to Windows rather than Windows to something else.
Photo Credit: Joe Wilcox
Read more »
---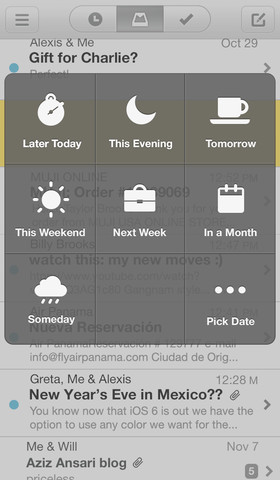 Gmail shows little sign of becoming any less popular, but any iOS user will find that dealing with a Gmail account on an Apple device is not the most pleasant experience. Mailbox was released to help address this fact and proved so popular that newcomers were greeted by a lengthy waiting list before they could get started. The app has now been updated in a number of key areas and, perhaps most importantly, anyone is free to jump right in and get started without the need to wait on a reservation list.
This is obviously great news for people who have been waiting to try out the app, but there is also plenty for existing users to take advantage of. One of the major standout features of the app from its inception was the way in which emails could be dealt with using little more than a swipe; swipe one way to delete or mark as read, and the other way to snooze.
The snooze feature has been enhanced in this latest release. Just as before it is possible to hide emails that you do not want to deal with immediately, but you are now able to deal with multiple messages simultaneously. The actual snoozing process has also been improved so that the options you are provided with are appropriate to the time of day and the day of the week.
Another noteworthy change means that when in the neat conversation view, you can view email addressed by double tapping a message bubble. The latest update includes all of the big fixes and performance improvements you would expect. Check out Mailbox and see if its unique snoozing option can help you to achieve inbox zero and better manage your messages.
You can find out more and download a copy of this free app from the Mailbox review page.
Read more »
---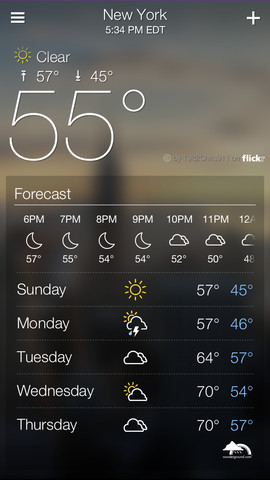 Marissa Meyer is bringing big changes to Yahoo and one of them is apparently getting the old search site back into the public focus with new mobile apps. That process begins today in the world of both Apple and meteorology -- fitting since tornado and thunderstorm season is getting underway and hurricanes are on the horizon.
Today the company announces a sleek new weather app that is compatible with iPhone, iPad and iPod touch -- uninspiringly named "Yahoo! Weather App". Marco Wirasinghe claims the new app will "bring together beautiful images from our Flickr community to show you current local conditions, with all the details you want to know about the forecast".
While this is a weather app at heart, it really is about the photos. You can simply tilt your device to scroll through images of weather in locations that you choose. However, you can still get details of current conditions and a forecast to let you know how to dress today and if you should bring along an umbrella.
Wirasinghe elaborates on the photos: "Our goal is to have amazing photos for every weather condition that cover the globe -- morning, afternoon, and night -- across every city in the world, and we want your help. Whether you're simply a daydreamer or an avid photographer, submit photos of your favorite places to our Flickr Group and your image can be seen by tens of millions in Yahoo! Weather for iPhone".
Yahoo! Weather is now in the iTunes App Store. The app is free and available in English, Bokmål, Norwegian, Chinese, Croatian, Czech, Danish, Dutch, Finnish, French, German, Greek, Hebrew, Hungarian, Indonesian, Italian, Korean, Malay, Polish, Portuguese, Romanian, Russian, Slovak, Spanish, Swedish, Thai, Turkish, Ukrainian, and Vietnames languages.
Read more »
---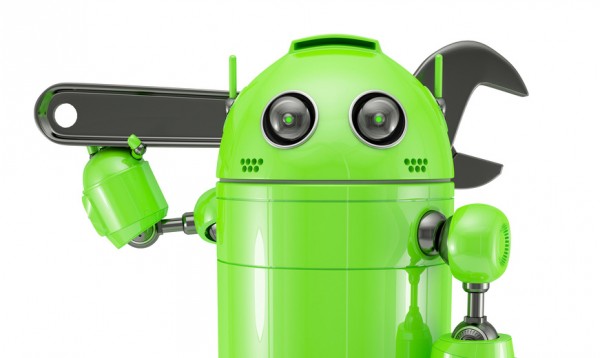 If you don't look after your computer, it will start to slow down and misbehave. Smartphones too can get clogged up and begin to lag as the amount of storage space and available memory starts to diminish with use.
There are lots of good, free apps available that you can use to make sure your Android (or iOS) device is running at peak performance. Here are some of the more recent.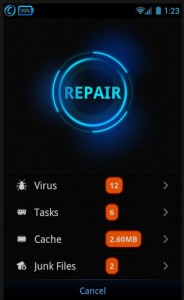 IObit, which is best known for its excellent Advanced SystemCare suite for Windows, has a useful all-in-one Android security and performance optimization app called Advanced Mobile Care.
This performs real-time virus scans and offers a range of handy tools including Anti-theft, Battery Saver, Game Speeder, App Manager, Task Killer, Privacy Locker, Privacy Advisor and Cloud Backup. It works with most devices running Android 2.2 and up.
I generally have to charge my smartphone pretty much every day, which can get annoying. Battery Doctor, available for both Android 2.2+ and iOS 4.3 and later, can help prolong battery life. There's a one-tap power saving option which will automatically optimize battery usage, and the app can tell you exactly how many more minutes of battery life you have left. You can also use it to turn off power draining features to give you an extra boost.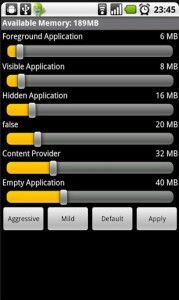 Iolo, the developer responsible for System Mechanic, has an Android app called Auto Memory Manager. As you can guess from the name, this lets you customize the out-of-memory manager settings on Android phones and tablets so you don't have to do it yourself with task killers. The new release shows how much memory has been freed, and how many times it has killed off troublesome apps. It should work on any device running Android 1.6 onwards.
Clean Master, which I covered previously, does a good job of freeing up space and resources on your Android device. It can clean the cache, remove unused files, clear the search history, uninstall unused apps and free up RAM by killing running tasks. It requires Android 2.1 and up.
Piriform also has an Android version of CCleaner in development which should be available soon.
Those of course are just some of the many system cleaning apps available for Android. Do you have any favorites that you use? Share your recommendations in the comments below.
Photo Credit: Kirill__M/Shutterstock
Read more »
---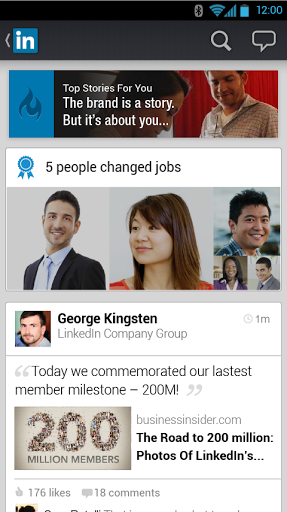 Popular business-oriented social network LinkedIn has unveiled new mobile apps for Android and iOS, touting a "brand new mobile phone experience, completely revamped with the general professional and everyday use case in mind". This comes a day after LinkedIn updated its Windows Phone 8 app, with major new features.
However, unlike the Windows Phone 8 app which offers a similar user experience as before, LinkedIn for Android and iOS sports an overhauled UI (User Interface) that is both more modern as well as better looking. Gone are the darker colors of before as lighter ones take their place instead.
"We want to make it easier for our members to quickly discover and engage with the rich professional insights being shared across LinkedIn to help them make smarter decisions from wherever they may be working", says LinkedIn's Tomer Cohen. "We've designed the new LinkedIn mobile phone app for every professional, with a richer and more engaging stream and more personalization features".
LinkedIn for Android and iOS is designed to provide users with "more relevant and timely professional insights" in the stream, which the social network hopes will lead to a higher level of engagement. Users can now directly comment and like on a post on LinkedIn straight from the "vibrant and visual" stream.
The mobile apps promise a higher level of personalization through the new navigation page which can be triggered by swiping the main homepage to the right. It preloads a number of features which are "handiest on-the-go".
LinkedIn has also provided an interesting insight concerning its users' locations. According to the social network, 64 percent of users reside outside of the US. That is a very important number which explains the expanded language support. LinkedIn for Android now supports Dutch, Norwegian and Turkish while its iOS counterpart also works in Dutch and Norwegian.
LinkedIn promises that further improvements will be made to personalization options and search further down the road this year. Hopefully, LinkedIn is aware that the best move right now is to also update its apps on BlackBerry 10 and Windows Phone 8 to reflect the aforementioned changes and features.
LinkedIn for Android is available to download from Google Play.
LinkedIn 6.0 for iOS is available to download from Apple's App Store.
Read more »
---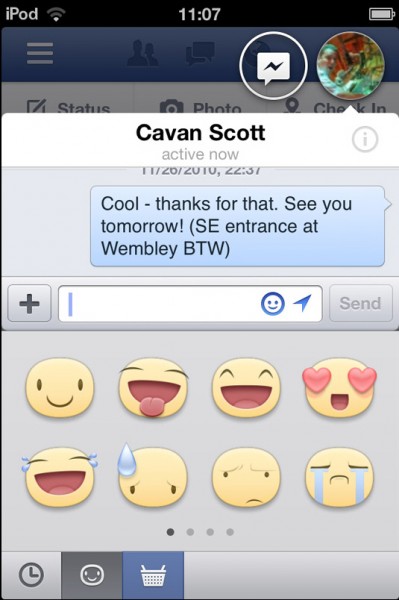 Facebook has released Facebook for iOS 6.0, a major update for its iPhone and iPad app. The major new feature in version 6 is the introduction of "chat heads", which allow users to chat from anywhere in the app -- this feature isn't yet universally available, but should be rolled out to all users "soon", according to Facebook.
Chat heads are small circular icons representing both individual chatters and Facebook Messages. The chat head appears automatically when receiving a message, or can be manually set up by tapping the contact's name in the contacts list.
The chat heads float on top of the main Facebook window: users can continue to use other parts of Facebook such as the news feed, then resume chatting by tapping the appropriate chat head icon. Icons can be dragged into new positions on-screen, while users can temporarily close the chat window by tapping away from it. The chat head icon can be removed simply by tapping and dragging the chat head down on to the close button at the bottom of the screen.
The new feature is accompanied on the iPhone with the addition of support for inserting stickers -- large smiley icons -- into messages. Tap the smiley button to select one of 32 pre-included smiley faces, while more icons can be downloaded via the Sticker Store, which is accessible by tapping the blue basked icon. At the present time seven additional stickers are available -- all free.
iPhone users also gain support for customizing their feed, with support for browsing new feeds like Music, Photos and Games.
While iPad users don't gain stickers with this build, they will find the main screen has been redesigned to bring photos and other pictorial elements front and center. This mirrors developments made to the main Facebook.com news feed last month, a feature that Facebook claims populates the feed with "brighter, more beautiful stories".
Facebook for iOS 6.0 is available now as a free download for iPhone, iPad and iPod touch.
Read more »
---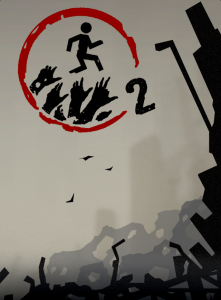 My favorite exercise companion, Zombies, Run!, has just received its promised free upgrade and is available now on both iOS and Android (I'm such a fan I've downloaded both).
The immersive app, which basically turns a real-world run into a fear-filled journey through the zombie apocalypse, is ideal for anyone who struggles with motivation and is a bit like a radio play that takes place through your headphones as you run, with the gripping story -- and the occasional zombie chase -- unfolding in between tracks from your playlist.
The upgraded version comes with seven free new missions to get you started (four main ones and three side-quests), with new missions released weekly starting from 29 April. The new missions, of which there are over 60, pick up from where the original Zombies, Run! missions left off, but I won't say more than that because I don't want to spoil the experience for anyone starting from scratch. There will be three missions released every week -- two main ones advancing the story, and one side mission.
You can purchase the missions separately or buy a season pass. You have a choice of purchase options. If you're in the US, a Season Pass (all 40 story missions) will cost you $1.99, a Season Pass Plus (with the 20 sidequests included) is $4.99 and if you just want the sidequests themselves, that'll set you back $2.99. If you're in the UK, a Season Pass is £1.49 on iOS and £1.59 on Android, a Season Pass Plus is £2.99 on iOS but £3.99 on Android, and the sidequests are £1.99 on iOS and £2.39 on Android.
The difference in price is because iTunes and Google handle VAT in slightly different ways and the Apple app prices are actually artificially low because they were set back when the pound was much stronger.
The prices are around 50 percent cheaper at the moment to celebrate the launch of the app, so if you're thinking of buying a pass now is the time to do it.
In the app itself you can flick between Season 1 (23 main missions) and 2, and also access any race missions. There's no Radio Mode option at the moment, but that's coming back soon.
In addition to the new missions, the upgraded app comes with a Base Builder that lets you create your own vision of Able Township (where the game is based), by adding new buildings, upgrading or demolishing existing ones and so on. The more you run, the more supplies you collect (on average you'll pick up 30 supplies an hour) and the more you can build. You start with the farmhouse, defense tower and an armory, and can add housing, hospitals and recreation areas. Bonus items will be unlocked as you progress in the game.
Zombies, Run! 2 is a free upgrade to the original. If you don't already have the app installed, you can buy it on the App Store or Google Play for $3.99/£2.79 which, like the season passes, is currently 50 percent cheaper than it would be normally.
Read more »
---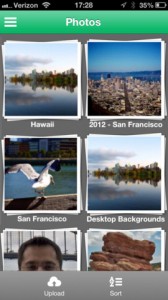 SugarSync, Inc has released SugarSync for iOS 4.0, a major new release for iPad and iPhone owners wishing access to their SugarSync cloud storage on the move. Version 4.0 features a major redesign designed to simplify syncing and sharing, plus integrates with other apps through the "Open in" feature.
The update also adds support for Device Filtering, a feature recently introduced in the SugarSync 2.0.9 desktop app for Windows and Mac, along with Cloud Search, and promises future support for folder labels.
The redesign in SugarSync 4.0 mirrors that found in the desktop and Android apps that were released in February. The aim is to streamline the app's look and make it easier to navigate. In particular, the design is geared towards simplifying access to recently synced content from other devices, plus makes it easier to both share and view shared content from others thanks to new Shared by Me and Shared with Me tabs.
The iOS app also introduces support for the recently implemented Device Filter, which allows users to sync only specific folders to the cloud from their devices. This feature allows users to view all synced folders or restrict browsing to those shared with a specific computer or mobile.
The new feature has also inspired the Cloud Search tool, which makes it possible for users to search across their entire online storage, not just those folders synced with the iPad or iPhone. From here users can then choose to sync, share or view individual files.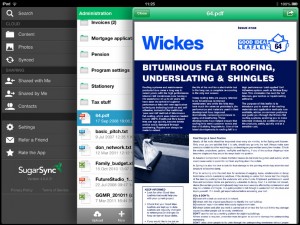 SugarSync now fully supports the iOS "Open in" feature, which allows users to save content to their SugarSync storage from other apps such as Mail or Pages, plus open documents already stored on SugarSync's servers in compatible apps on the iPad or iPhone.
The desktop update introduced folder labels, and support for this feature is promised in a future version. SugarSync for iOS 4.0.0 is available now as a free download, as are SugarSync 2.0.9 for Windows and Mac, and SugarSync for Android 4.0.1. SugarSync offers a free 5GB storage plan, as well as paid-for plans, with prices starting from $7.49 a month ($74.99 a year) for 60GB.
Read more »
---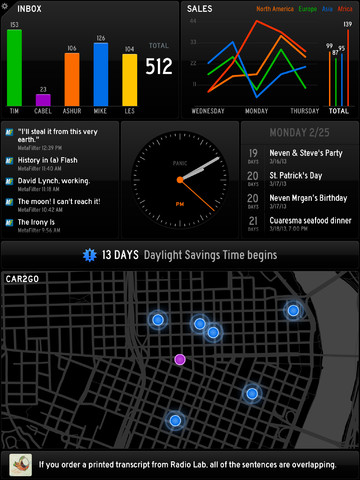 When you pick up your iPad, it's usually with a purpose in mind. You might want to see how many new emails you have, you need to check RSS feeds, or you want to have a scan through Twitter. Each of these activities requires an individual app, and that means that you need to hunt down the relevant shortcut on the home screen. But Status Board could change all that, by displaying the data you need to see in a handy dashboard that gives you a great overview of your data.
This is a handsome app that almost feels as though it would be more at home on an Android tablet -- it could be adapted into a perfect alternative launcher -- but at the moment is only available for iPad users. There is a slightly retro feel to the app, which enables you to configure a series of customizable panels to display a selection of data.
There are a number of options available here. You may opt to have an overview of your email inbox displayed in one panel, your Twitter feed in another and your most important RSS feeds in yet another. There are also pre-designed panels that can be used to display the weather forecast, the time and your calendar.
Other panels with a greater degree of potential customization let you show off data in tables or graphs, or you can put your HTML skills to the test and design your own panels from scratch. Whatever the type of data you have to work with, Status Board has a way to show it off in an attractive and meaningful way.
While you can leave the app tethered to the screen of your iPad, you can also hook up your tablet to a large screen TV via HDMI or AirPlay if you want to visualize your data on a larger scale -- and don't mind making an additional in-app purchase to unlock the option.
At a fraction under $10, this might be an app purchase you hesitate before jumping into, but Status Board is unlikely to disappoint. You can buy a copy from the App Store.
Read more »
---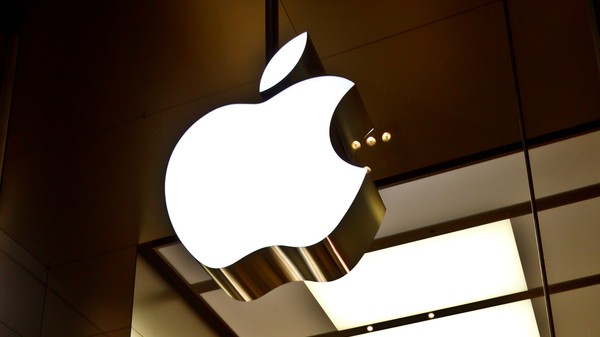 Second in a series. Out of fairness, I follow up my long analysis "The enterprise will never embrace Apple" with some advice for the company. There's room in the enterprise if only Apple made more effect. None of these suggestions is outside the reach of CEO Tim Cook and the core leadership.
Perhaps Apple stays out of the enterprise game because the top brass knows that they have little expertise in the general directions that big business is heading. Their lack of desire (or capability) for true Active Directory integration, for example, is already public knowledge. When it comes to virtualization and the move to virtual desktops, Apple has no public strategy for allowing (or supporting) such an infrastructure on OS X devices, at least first party. To put it plainly, Apple's overall game plan for cozying up to the wants of enterprise is nearly nonexistent.
More precisely, perhaps Apple figures it shouldn't get into a game mistakenly forgotten about years ago -- for the sake of tarnishing its good name. If perfection and secrecy are the golden rules for Apple product development, then perhaps the void in the enterprise is actually a differentiator. The consumer market, on the back of iOS, treats Apple so swell that keeping out of the bare knuckle enterprise sector may be the foretold plan for the Cupertino, Calif.-based company all along.
If you've spent any time researching the prospect of taking your business in an Apple direction, your frustrations are likely similar to that of what I've experienced and heard of from colleagues. A lack of any leverage on pricing for bulk purchases. A sub-part approach to business level support for OS X-based hardware. And headaches in every direction when it comes to fitting OS X into an existing Windows AD ecosystem. But perhaps I fret too heavily; maybe those organizations going Apple are past the usual grievances with Apple.
But I digress. While I think Apple would take my suggestions on deaf ears, there are a few core things the company could easily do to improve its reputation in the enterprise:
1. Get off the high horse and embrace the channel. The very reason Windows and its supporting ecosystem is so strong in big business is squarely due to the value-added offerings and sales positioning from traditional partners. I know this is against the grain for the entire sales strategy, but the company will never grow its foothold by standing behind an Apple Store and retail-only sales model.
NOTE: I know there a sprinkling of Apple Authorized Resellers out there, but ask anyone in IT about how much of a joke the entire program is.
2. Get the channel involved in product development and lifecycle process. Again, I highly doubt Apple would concede defeat in this realm of super-secret development, but it would give the transparency the enterprise so clearly lackd. And this lack of transparency creates the distrust between the organization and business that is core to their butting heads.
3. Create a support structure for enterprise that actually matters. The current Apple Care offerings for business level critical support is laughing stock compared to the likes of what Lenovo, Dell, Microsoft, and HP (to name a few) offer their buyers. Apple needs to get away from the boutique shop mentality that surrounds its consumer offerings and realize that big business doesn't have time to deal with Genius Bar concierge.
4. Make your intentions on dropping products known with plenty of advance notice. The debacle surrounding the death of Xserve is a perfect example of Apple's stuck up "us first" attitude. If you're going to build a legion of followers around solid enterprise-grade products, you better have good intentions to support them with a stated lifecycle. And if that plan needs to change, be transparent -- the "oh, by the way" approach to killing products only fosters enemies.
5. Stop forcing IT to treat Apple devices as second-class citizens in the workplace. It's squarely Apple's fault that its own devices cannot behave nicely in the larger workplace. Apple's hands-off approach to management of its technology needs to change, and change fast. From full Active Directory and Group Policy integration, to competing Windows features like BitLocker and DirectAccess, Apple needs to focus less on coolness and more-so on making workers' lives easier.
6. Realize that virtual desktops are the future, and Mac hardware can't be the center of the Apple experience forever. From VMWare to Citrix to Microsoft, the direction of computing is heading towards VDI and virtual infrastructure as a whole. If Apple believes that a shiny Mac on every worker's desk is the only way to get the Apple experience, then management is greatly mistaken and the company will be left behind.
Even though I primarily support small to midsize businesses in my day-to-day consulting, my reservations with going Apple are still heavily based around similar above gripes. Keeping business IT running smoothly is more than a debate around Windows vs Mac vs Linux. It's an overarching, unifying argument for stability, processes, and known quantities that Apple lacks in every category.
Photo Credit: nui7711/Shutterstock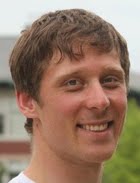 Derrick Wlodarz is an IT Specialist that owns Park Ridge, IL (USA) based technology consulting & service company FireLogic, with over 8+ years of IT experience in the private and public sectors. He holds numerous technical credentials from Microsoft, Google, and CompTIA and specializes in consulting customers on growing hot technologies such as Office 365, Google Apps, cloud hosted VoIP, among others. Derrick is an active member of CompTIA's Subject Matter Expert Technical Advisory Council that shapes the future of CompTIA exams across the world. You can reach him at derrick at wlodarz dot net.
Read more »
---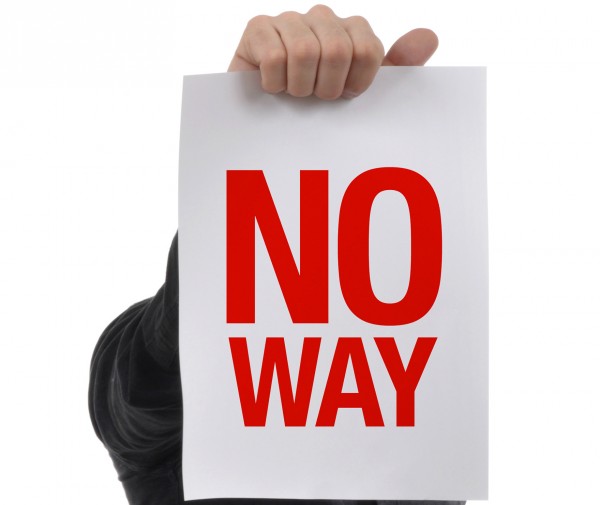 First in a series. If there is one company that clearly doesn't care about the corporate world, it is Apple. As iOS continues to forge flagship status as Apple's core offering, OS X gets second-class-citizen treatment in every possible way from the Cupertino, Calif.-based company. While the enterprise reluctantly builds out BYOD (bring your own device) initiatives to support usage of Apple devices at the workplace, this is a far stretch from openly embracing iOS or OS X as viable corporate platforms. Apple's presence in the boardroom is due to bottom-up organic acceptance as opposed to top-down purposeful planning.
By even conservative estimates, the enterprise IT market is massive, and growing steadily as the recession continues to recede. IDC recently pinned US corporate IT spending for 2013 at $474 billion, a 6 percent increase over the previous year. And globally, Gartner says that this figure is closer to $2.679 trillion, which represents a 2.5 percent year over year bump. Yet while Apple's sales in phones and tablets continues to stay consistently solid, the  company's attitude towards enterprise hasn't changed one bit. For lack of a better description, top Apple executives just "don't care".
Even as iPads and iPhones grace boardrooms around the globe, let's not mistake the true meaning behind this. BYOD programs were put in place to foster a sense of openness and acceptance for technologies that corporate IT refused to support for a bevy of reasons (many of which I'll outline later.) But those who clamor for a sea of Windows devices to be replaced by Macs and iDevices will wait quite a while. You may love to hate Microsoft, but the company represent everything that corporate IT loves: stability, long term product support, flexibility, and standards.
Apple and enterprise IT have had a public hate-hate relationship for some time now. Here's my honest take on the duo's sad state of affairs.
Jobs' Vision for Technology: We Know Best
Steve Jobs is no doubt Apple's greatest (now passed) intellectual asset, and likewise, the biggest obstacle to overcome. Jobs' entire philosophical drive surrounding technology innovation was guided by a tunnel vision mentality that placed form on such a high pedestal, that function always had to take a backseat. You can see it on almost every Apple product today. It's symbolized in Apple's reluctance to use phone connectors on standardized micro USB ports. It's the same reason why you can't buy an Apple notebook that supports a native docking station port. And also the same reason why users can't benefit from self-replaceable batteries in their iDevices.
The enterprise market, and the business world at large, have always tended to embrace technologies that have transparency in repair, port selection, upgrade path, and support options, to name a few. Apple represents the epitome of everything opposite what corporate IT looks for. It's no surprise, then, that Apple's Retina Macbook Pro was labeled the "least repairable laptop ever" by tear-down website iFixit. Apple has a no-compromise viewpoint on form and style, and this overtakes a majority of the devices  introduced to market.
It's not like Steve Jobs himself didn't allude to his distaste for big business' IT needs. Before his passing, Jobs shared frank thoughts with the Wall Street Journal:
What I love about the consumer market, that I always hated about the enterprise market, is that we come up with a product, we try to tell everybody about it, and every person votes for themselves. They go 'yes' or 'no', and if enough of them say 'yes,' we get to come to work tomorrow... With the enterprise market, it's not so simple. The people that use the products don't decide for themselves, and the people that make those decisions sometimes are confused.
While I agree with Jobs that many C-level execs make decisions that are questionable regarding tech direction, I don't think many CIOs or CTOs would level with that statement. The enterprise market demands many things that Apple just refuses to bow down to: timeframes, consistency, support paths, lifecycles, etc. In fact, if Apple had to develop around being more consistent with these ideals, it would probably tarnish what it represents in the consumer sector today. We all know that is something the company would never dare to touch.
Even Google, the mighty trial-by-fire innovator in the cloud arena, understood these very basic facets of competing in enterprise IT when it went primetime with Google Apps for Business. From its public Status Dashboard on Apps' uptime, to its delivery of two separate (Rapid and Scheduled) release tracks for new features, Google gets corporate IT right for the email platform. Until Apple concedes to corporate missteps, it will likely never gain the trust of business IT management in the short term.
What does Business IT think of Apple?
I definitely don't stand alone in my thoughts on Apple. Industry magazine InformationWeek, which caters to the folks keeping enterprise IT running, ran a great story a few months ago on Apple in the big business sector. It covered a summary of the results that they found in a formal Apple Outlook Survey, which dove into where Apple's acceptance in the business world currently sits and where it's headed.
What kind of things did BW discover? Here are some of the most important points culled from 331 IT decision makers, and the results shouldn't be too surprising:
64 percent have no Apple servers being used in their organizations
47 percent believe Apple's products are too expensive for the value provided
Only 11 percent rate Apple's product value as "excellent"
39 percent say that Apple is making no efforts to improve enterprise support
Only 11 percent spend more than 20 percent of their IT budgets on Apple gear
35 percent dislike the difficulty of integrating Apple gear with existing infrastructure
In Apple's defense, however, more than 90 percent of the same respondents already have support for iPhones/iPads or are planning to do so. And over 80 percent have the same attitude towards Mac laptops and desktops. So again, while the organizations themselves are not rushing to internally purchase and support these devices at large, employees use their BYOD freedoms to introduce Apple into the workplace. While I definitely have no issue with users wishing to use technologies they like, at the same time, the folks that maintain the infrastructures (such as myself) are placed with the burden of wrangling these free-spirited devices into a safe and secure environment. And from my own experience, it's definitely easier said than done.
Another glaring hole with Apple's approach to the enterprise has long been reluctance to natively support Active Directory like its Windows brethren (specifically, Group Policies). Most large businesses today rely deeply on AD to provide basic security and organizational needs surrounding deployed technologies, and Apple's efforts to help OS X-based products to fit into this mold is pathetic at best. Face value support for Active Directory does little to cater to this basic need this day in age.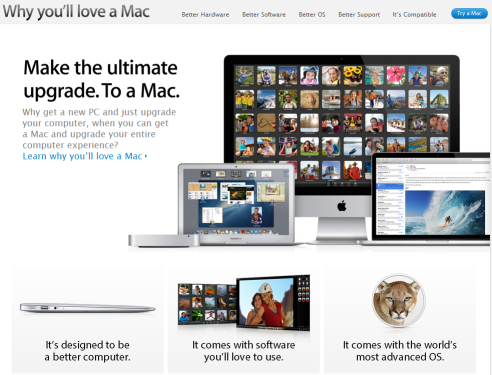 Even Apple's official "Why Mac?" website has zero reference as to why it's a great platform for the workplace. Apple's perception problem, for better or for worse, is entirely centered around the consumer experience. Apple proves it truly doesn't care about the enterprise.
Perhaps this is part of Apple's official anti-enterprise stance, though. Subtleties are paramount in the Apple universe, and this could very well be the company's way of showing without telling how much it despises the enterprise IT sector. Jobs got his wish, and Apple doesn't give two bucks about what big business thinks of their policies.
On the pricing front, it's tough for many businesses (including the ones my company supports) to justify spending on Apple gear when you can equip roughly two people with Windows devices for the price of one low-end Macbook Pro, for example. The starting price for the lowest Macbook Pro is $1,200 USD (before tax), which doesn't include Office in any form. Likewise, I can turn and look at entry level Dell Vostro laptops for my organization going for $420 a unit (as of 4-10-2013) and get both of them loaded with Office for just slightly more than a single Macbook Pro without Office. And the point of my example isn't to start an apples for apples debate on specs alone -- we all know Apple would win in the above scenario. Let's be realistically mindful that most organizations don't need a BMW for every information worker to get the job done. This is exactly what I'm getting at, and what other CIOs attested to in the InformationWeek study, in that Apple's value proposition is not very appealing.
Managing iDevices is Nothing Less than a Chore
Take a quick look at how IT departments have taken to iOS based devices, namely iPads that are the poster children for the BYOD era. Not a single iOS device can be managed through Active Directory (or any other formal LDAP system, for that matter) yet departments worldwide fill in this oversight gap with third party MDM (mobile device management) tools.
While these third-party solutions are great, and many do work wonders, notice that there is no movement from Apple to help alleviate these management woes. Apple's official stance has been (and probably will be) to keep pushing the agreeably painful "center of gravity" for all things: iOS, iTunes. This is terrible policy if you ask me, or any other IT person, for that matter.
I saw first hand just how lackluster Apple's efforts in the enterprise sector are when I used to work in K-12. Attending educational tech conferences multiple times a year taught me one solid lesson: Apple wants an i-device in every kid's hand, but has no desire to make educators' or technology support staffs' lives any easier in managing the iOS ecosystem.
Ask anyone who has to manage a fleet of iPads for a school without the help of expensive third party MDM software. Apple's loose directives on managing these device "silos" for lack of a better term is mind numbing. Why does app licensing have to be twice as complex as Microsoft's? Why does the Apple Volume Purchase Program still rely on a hard-t0-manage consumer-oriented program such as iTunes? And if iTunes is the de-facto platform to manage iPads, how come none of Apple's bright engineers can figure out a way to natively update and manage more than a single iPad at a time? For a company usually billed as cutting edge, these backend fumbles are more embarrassing than some of Microsoft's recent follies.
But I keep telling myself: An Apple that truly cared would have fixed this mess years ago. iOS device management wouldn't be a chore; it would be as simple and elegant as iCloud in execution. OS X devices would seamlessly fit into any existing AD infrastructure, and companies could ideally make the case for moving to an Apple ecosystem. If this is part of Apple's intentions in any way, they surely don't have a knack for showing it.
Apple's Long Term: Zero Stated Outlook for the Enterprise
Without even having remote access to Apple's 10-year outlook, I can safely say that the lack of appetite in the enterprise e sector is very likely tied to the exponential dominance of iOS device sales as a percentage of revenue for the company as a whole. As much as the legions of Apple fans would yearn for the day Microsoft is dethroned in the enterprise, this is a non-starter for me for a number of reasons.
First, you have to extrapolate the subliminal meanings behind Apple's overall intentions in the tech world. With iOS growing, and OS X sales slowing (or standing still, depending on your sales sources) the desire for Apple to compete in the traditional enterprise market with proper vigor becomes less and less important. In some ways, the forceful approach as the anti-enterprise works to Apple's benefit. They would clearly agree that enterprise as a whole shifting to work around the Apple way of doing things is a sign that they just don't have to conform.
The same goes for Apple's slowing on releases of revised laptops and desktops. While the Macbook laptop line has gotten decent attention the past few years, fans of the Mac Pro tower computer clutch to a nearly 3+ year old design by now -- with just rumor of a revised device coming soon. This is a far cry from the dominating lineup Apple used to run in the Mac laptop/desktop sector.
But this shouldn't be entirely surprising to most folks. Let's not forget that Apple dumped on its enterprise fanclub heavily a few years back when discontinuing the Xserve line out of the blue. Just as some thought Apple was warming up to enterprise and giving deserved attention, the plug is pulled on an arguably solid product which was heading in the right direction. This was no doubt a slap in the face to techies making the case for Apple as a viable alternative to Windows in the workplace.
Here's another possible prospect in five years: what if Apple just stops making traditional computers altogether? Is this really that crazy of a prediction to make? It doesn't take a genius to figure out that when you have a growing majority of your revenue (iOS) overtaking a product line that represents the "old vision" of computing according to Apple (laptops, desktops), some kind of drastic change needs to be made. And seeing how blunt Apple generally is with its market statements, I wouldn't at all be shocked to see OS X 10.x be the last of its breed. In true Xserve fashion, the legacy of the Mac cats may be slowly nearing its digital end.
One must also be slightly suspicious as to why Apple has not made a peep about competing with Microsoft in touch on the traditional laptop and desktop side. After all, Windows 8 has been a public reality for Apple since 2011 when the fuller picture about Microsoft's intentions for 8 were solidifying. We're now full force moving into Spring 2013 and there is zero news about anything remotely touch related making its way to Macbooks or Mac desktops. If Apple plans something spectacular to slow the Windows 8 touch train, it certainly hasn't brushed through any of the traditional leak channels as with most prior releases.
Apple's long had a middle finger raised pointedly at big business. If the company wants to change this perception with us folks in IT, it needs to get serious about the intentions from the ground up. I'm not alone in my grim outlook for Apple in the enterprise, and until I see Apple making treads in the right direction, its products will be relegated to the BYOD policy for the foreseeable future.
Photo Credit: igor.stevanovic/Shutterstock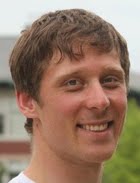 Derrick Wlodarz is an IT Specialist that owns Park Ridge, IL (USA) based technology consulting & service company FireLogic, with over 8+ years of IT experience in the private and public sectors. He holds numerous technical credentials from Microsoft, Google, and CompTIA and specializes in consulting customers on growing hot technologies such as Office 365, Google Apps, cloud hosted VoIP, among others. Derrick is an active member of CompTIA's Subject Matter Expert Technical Advisory Council that shapes the future of CompTIA exams across the world. You can reach him at derrick at wlodarz dot net.
Read more »
---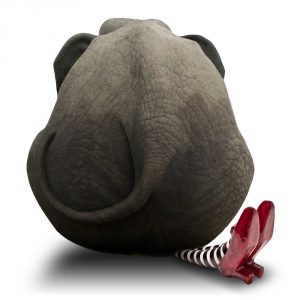 Mobile app store downloads from the four major stores -- Apple, BlackBerry, Google and Microsoft -- reached 13.4 billion in first quarter, generating $2.2 billion revenue, according to Canalys. Combined, revenue from new sales, in-app purchases and subscriptions grew 9 percent from fourth quarter, while number of downloads climbed by 11 percent.
There are a half-dozen measures that mark successful platforms, with money being the most important. Developers typically go where they earn more. That's preface to a fascinating juxtaposition partly explaining developer preference for iOS, even though more Android devices ship and cumulative sales (750 million to 500 million) are larger. Google Play accounted for 51 percent of downloads during Q1. But Apple's App Store generated 74 percent of the revenue. Ponder those numbers for a moment.
Winner takes Bronz
"Apple's App Store and Google Play remain the heavyweights in the app store world", Tim Shepherd, Canalys senior analyst, says. "In comparison, BlackBerry World and the Windows Phone Store remain distant challengers today, though they still should not be ignored".
BlackBerry and Windows Phone, once dominant smartphone operating systems, struggle for relevance with consumers and developers. "BlackBerry and Microsoft particularly need to continue to proactively work to attract fresh, innovative content and services to their respective catalogs, and fill gaps in their inventories", Shepard says. Some of those holes are huge, with homegrown apps for services like Facebook and nothing at for others, such as Instagram.
"They also need to increase device sales around BlackBerry 10 and Windows Phone 8 to increase the addressable market opportunities on offer to developers", Shepard warns. BlackBerry and Microsoft had respective smartphone OS sales share of 3.5 percent and 3 percent during fourth quarter, according to Gartner.
BlackBerry and Windows Phone struggle with the age-old chicken-and-egg scenario. Which comes first users or apps? Developers don't want to invest in platforms if there aren't users for the apps. Meanwhile people don't typically adopt platforms without there being apps. Vying against Android and iOS, which are more widely adopted and pack stores with hundreds of thousands more apps, extenuates the dilemmas.
Platform Winners
Typically, successful platforms share six common traits:
There are good development tools and APIs for easily creating applications
There is at least one killer application people really want
There is breadth of useful applications
Third parties make lots of money
The platform is broadly available
There is a robust ecosystem
By most measures, BlackBerry and Windows Phone currently fail to meet the final four.
"The strength of app ecosystems will increasingly help to determine winners and losers in the smart device industry", Shepard acknowledges. "BlackBerry 10 now has more than 100,000 apps available through its storefront, showing good growth from the 70,000 it boasted at launch, and the new devices on the platform have given BlackBerry a much greater chance to compete for consumer attention. Its app story is going from strength to strength, but there is no room for complacency".
But the majority of newer BlackBerry apps are Android ports, which signals less-than-stellar developer commitment.
"Microsoft, with the help of partners such as Nokia, is also making good progress attracting some important titles to the Windows Phone platform, but it too needs to do more to make building apps for its platform a priority for developers and also do a better job of marketing and communicating the already established strength of its app story", Shepard says.
Android-iOS success leaves room, at best, for one more platform, which puts BlackBerry and Windows Phone in direct competition -- groveling share at the bottom rather than raking it off the top.
That said, "the Apple-Google duopoly creates certain challenges for app publishers, carriers, investors and device vendors, so there is intense interest in the possible emergence of a third ecosystem", Adam Daum, Canalys chief analyst, says.
Global Trends
More broadly, tracking with recent device buying trends, emerging markets -- Brazil, Indonesia and South Africa -- lifted app downloads. Mature markets also saw healthy growth rates: revenue and downloads grew by 8 percent and 6 percent, respectively, in North America and 8 percent and 10 percent in Western Europe.
"Apps have had a huge impact on the way consumers use mobile devices, what they value, and what they expect from smart phones and tablets", Daum emphasizes. "They are now central to how consumers engage with content and connected services, and how they personalize their devices around the app-enabled features that are important to them".
Mobile app success feeds the whole "PC is dead" debate. Last week, Gartner offered grim forecast for the personal computer, as shipments decline, as smartphones and tablets make heady gains.
"This is a multi-billion-dollar growth market, with more and more consumers around the world now comfortable and confident in finding apps, downloading them and making in-app purchases, on a growing addressable base of smartphones and tablets", Daum asserts.
Photo Credit: David Andrew Larsen/Shutterstock
Read more »
---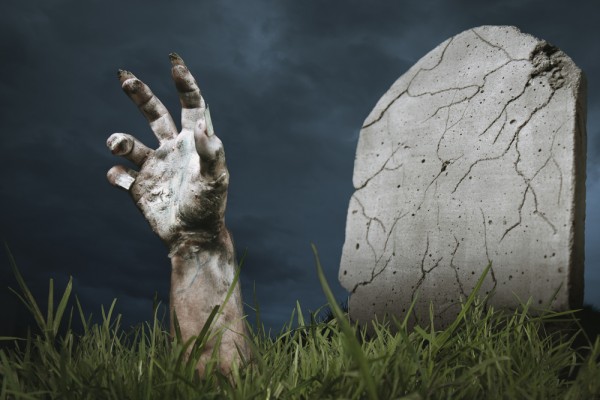 Today, Gartner offers grim prognostications for the PC's future, which is not surprising. That the analyst firm took so long disturbs and reveals much about how all these consultants seek to preserve client contracts before anything else. I've warned for years that connected-devices would diminish the personal computer's relevance, much like the mainframe's decline three decades ago. The PC era is over, as I asserted here 26 months ago. On Halloween 2008, I asked in a Microsoft Watch post: "Will your next PC be a smartphone?" What took Gartner so long? The "new device religion" analysis still misses the mark, too.
Following IDC's lead, Gartner now combines PCs, smartphones and tablets into a single forecast. By that measure, in 2012, Android worldwide device shipments (497 million) exceeded Windows (346.5 million) and will more than double (to 1.07 billion) by 2014. Analysts warn the operating system that defined the PC era will struggle with Apple iOS and OS X to be the second dominant platform. By many measures, the circumstance looks grim for Microsoft and Windows, and that's already the popular sentiment today among blog posts and news stories about Gartner's forecast. Don't believe them.
Two Trends
"While there will be some individuals who retain both a personal PC and a tablet, especially those who use either or both for work and play, most will be satisfied with the experience they get from a tablet as their main computing device", Carolina Milanesi, Gartner research vice president, asserts. "As consumers shift their time away from their PC to tablets and smartphones, they will no longer see their PC as a device that they need to replace on a regular basis". Tell us something new.
Larger businesses hold onto PCs longer, rather than upgrading, because they can; what they've got is good enough. Meanwhile, they allow more employees to bring their own devices to work but don't pay for them. Weak global economies are major factors driving both trends.
According to "Good Technology's 2nd Annual State of BYOD Report", 76 percent of enterprises with more than 2,000 employees have programs in place, and the total is expected to reach 88 percent this year. However, in half the companies with BYOD programs, employees pay for devices and supporting services, such as cellular data for cell phones, tablets and some laptops. You want a new laptop, or to use a smartphone or tablet -- "bring your own" is the new trend. The devices are cheaper to manage than to buy.
There's nothing new in this trend. Analysts suddenly shift their "tablets won't replace PCs positions" because of something else they can no longer deny to clients. PC shipments in emerging markets erode faster than many analysts previously predicted. "In emerging markets, consumer spending typically starts with mobile phones and, in many cases, moves to tablets before PCs", Megha Saini, IDC research analyst, says. "The pressure on the PC market is significantly increasing and we can see longer replacement cycles coming into effect very soon and that, too, will put downward pressure on PC sales".
Ranjit Atwal, Gartner research director, agrees: "Growth in the tablet segment will not be limited to mature markets alone. Users in emerging markets who are looking for a companion to their mobile phone will increasingly choose a tablet as their first computing device and not a PC". This isn't a new trend, just one accelerating -- as often is the case when one thing replaces or displaces something else. Gartner, IDC and other analyst firms are just too slow making public prognostications.
Worldwide Devices Shipments by Segment (Thousands of Units)
| | | | | |
| --- | --- | --- | --- | --- |
| Device Type | 2012 | 2013 | 2014 | 2017 |
| PC (Desk-Based and Notebook) | 341,263 | 315,229 | 302,315 | 271,612 |
| Ultramobile | 9,822 | 23,592 | 38,687 | 96,350 |
| Tablet | 116,113 | 197,202 | 265,731 | 467,951 |
| Mobile Phone | 1,746,176 | 1,875,774 | 1,949,722 | 2,128,871 |
| Total | 2,213,373 | 2,411,796 | 2,556,455 | 2,964,783 |
Problem is this: Most analyst firms count things, which data they can sell clients and around which they offer consulting services (I know having worked in the industry). But numbers deceive, and as we've seen from repeatedly revised forecasts, the major consultants do a piss-poor job counting smartphone and tablet shipments. Look how many times IDC revised tablet forecasts, for example. The numbers aren't trustworthy, and they mislead about future trends.
Context is King
What matters more: How all these devices are used, and there Gartner and IDC combining counts could someday shed something meaningful. For now, counting is insufficient, because the so-called post-PC era is a fiction, as I explained here in November. We've entered the contextual cloud computing era. The companies that succeed will transcend platforms, because all devices connecting to cloud services are relevant. During the PC era, the personal computer acted as the hub connecting devices. Its role shifts to one of many with cloud services as the hub.
The early inference being taken by some people writing about Gartner's data is that the PC, Microsoft and Windows are doomed. The analyst firm feeds this by calling out new category, ultramobile, into which Surface Pro is placed. The PC isn't dead, nor will Android be the platform sweeping developers away from Windows, as is the interference emerging among some bloggers and couch-chair analysts today. History and current events tell a different story.
Worldwide Devices Shipments by Operating System (Millions of Units)
| | | | | |
| --- | --- | --- | --- | --- |
| Operating System | 2012 | 2013 | 2014 | 2017 |
| Android | 497,082 | 860,937 | 1,069,503 | 1,468,619 |
| Windows | 346,457 | 354,410 | 397,533 | 570,937 |
| iOS/MacOS | 212,899 | 293,428 | 359,483 | 504,147 |
| RIM | 34,722 | 31,253 | 27,150 | 24,121 |
| Others | 1,122,213 | 871,718 | 702,786 | 396,959 |
| Total | 2,213,373 | 2,411,796 | 2,556,455 | 2,964,783 |
In the 1980s computing and informational relevance shifted from the mainframe to the personal computer in part because of lower costs and greater availability. PCs cost much less than mainframes and made information more available, essentially more mobile, to more people. Similar transition is happening today, as cloud-connected mobile devices make more information available to more people in more places than do PCs. Computing and informational relevance shifts once again. The mainframe didn't go away because of the PC era, the mainframe's relevancy simply declined. The PC won't go away, but its relevance is declining.
Cheaper tablets accelerate the trend. "Lower prices, form factor variety, cloud update and consumers' addiction to apps will be the key drivers in the tablet market", Atwal asserts. But, again, that statement ignores context and how businesses and consumers will use different devices in many ways depending on where and when and what for.
As early as tomorrow, I'll follow up with an analysis explaining why Microsoft can maintain computing relevance in the next computing era, even while IBM couldn't with mainframes.
Photo Credit: Fer Gregory/Shutterstock
Read more »
---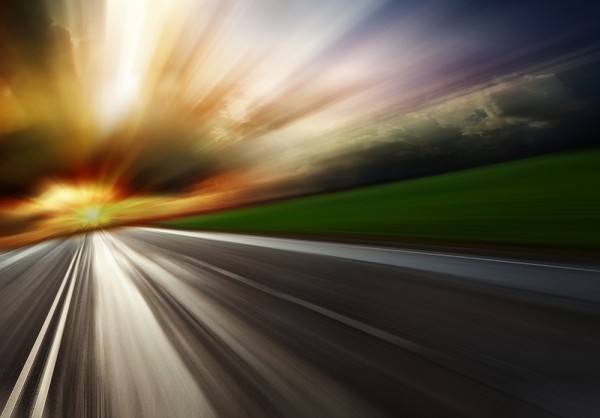 Microsoft continues to match development pace with Google, releasing today yet another app update. SkyDrive 3.0 for iOS follows many other recent releases, including Outlook.com Calendar (this week), Windows 8/RT Mail, Calendar and People apps (last week) and SkyDrive (mid-March), among others.
In my news analysis about the new Windows 8/RT core apps, I asserted: "It's a new Microsoft", explaining how the company has greatly picked up the pace of new product development -- something also seen in Windows Blue, which I expect to ship less than a year after the great 8. A day following my analysis, Frank Shaw, Microsoft corporate communications chief, said that "continuous development cycle is the new normal across Microsoft", which is consistent with reinvention as the "devices and services" company that CEO Steve Ballmer described last year.
The new SkyDrive for iOS version is one more part of a process every Microsoft customer should get used to. Expect more-frequent updates and stronger support for more platforms -- yes, Android and iOS. Mike Torres, Microsoft group product manager ticks through the improvements:
Support for iPhone 5 and iPad Mini
Updated app icons and user experience
Works better with your photos:

Download full resolution photos to your iPhone or iPad
Control the size of photos you upload and download
Photo metadata is retained when you upload to SkyDrive

Opening and saving files to SkyDrive works better with other apps on your iOS devices
Many other small changes, bug fixes and performance improvements
SkyDrive 3.0 requires iOS 5 or later and supports iPhone and iPad. Expect ongoing updates to truly be Microsoft's "new normal" -- and too long coming.
Photo Credit:  Krivosheev Vitaly/Shutterstock
Read more »
---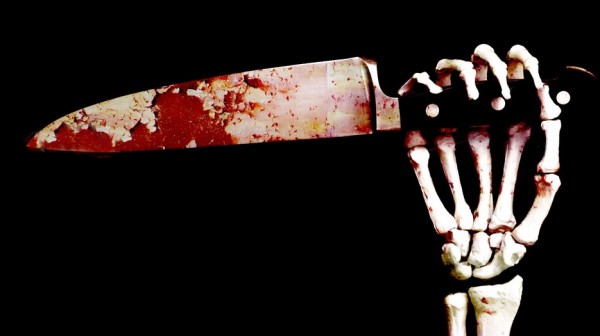 Say, Google, do you feel a sharp burning sensation in your back? That's the knife Samsung just plunged in. Ouch! The twisting motion must really hurt.
Mozilla and Samsung are collaborating on a new mobile web browsing engine, Servo, which success would offer huge benefits to both companies. Apple and Google dominate mobile devices with their respective WebKit browsers, largely shutting out Firefox from the most important device category since the PC. Incumbency is an advantage, with browsers preinstalled on Android and iOS. Users must download rival products, and many don't. Meanwhile the South Korean electronics giant accounted for nearly 43 percent of all Android smarthphone sales in fourth quarter, according to Gartner. The company controls the broader user experience via TouchWiz UI, but Google controls the browser.
"Servo is an attempt to rebuild the Web browser from the ground up on modern hardware, rethinking old assumptions along the way", Mozilla CTO Brendan Eich says. "Servo is written in Rust, a new, safe systems language developed by Mozilla along with a growing community of enthusiasts. We are now pleased to announce with Samsung that together we are bringing both the Rust programming language and Servo, the experimental web browser engine, to Android and ARM".
Eich describes the release as "an exciting step in the evolution of both projects that will allow us to start deeper research with Servo on mobile. Samsung has already contributed an ARM backend to Rust and the build infrastructure necessary to cross-compile to Android, along with many other improvements. You can try this now by downloading the code from Github, but it's just the beginning".
Why Collaborate
The collaboration is smart business and a win-win for both companies, depending how far the electronics giant takes Servo:
Samsung develops ARM processors. If Mozilla really wants to create a new browsing engine, Samsung should want to make sure its Exynos chips are supported at the least. Participating in the development process could give some competitive advantages over ARM rivals.
Google controls too much. Cumulative Android activations exceed 750 million, according to Google, since the OS launched in late 2008 -- that's 250 million more than iOS. Android browser or Chrome came preinstalled on all of them. That's a huge barrier for Firefox, while making Samsung too beholden to Google technology, even as the South Korean company extends the user experience with TouchWiz UI.
Digital lifestyle is key. Samsung could achieve with Servo what Amazon has with Silk, a fully integrated stack of curated products and services. The electronics giant already offers digital content via different "hubs" and sells a digital lifestyle around smartphones and tablets in conjunction with other gear -- everything from digicams to refrigerators to televisions. What Samsung should want to do is unify and curate the experience, much as Amazon does on Android or Apple around its devices and services.
Imagine Servo as default browser, and engine supporting TouchWiz UI, Samsung apps and those developed by third parties. Not just on smartphones and tablets, but on any device where Samsung puts a display and connects to the Internet. Going forward, Chrome is an impedance to a unified, curated Samsung digital lifestyle -- something Amazon already remedies on Kindle Fire HD 7- and 8.9-inch tablets.
Android isn't secure enough. It's not a matter of if but when a major malware attack sweeps the green robot ecosystem. The larger number of users and (presumably) low number using security software is reason enough to expect big trouble. Security is one of Servo's design goals.
"This means addressing the causes of security vulnerabilities while designing a platform that can fully utilize the performance of tomorrow's massively parallel hardware to enable new and richer experiences on the Web", Eich says.
With the Samsung brand on more than 40 percent of smartphones sold, reliance on Google is a fool's errand. The electronics giant should take charge by providing a safer browser.
Who needs Whom?
Mozilla needs Servo's success much more than Samsung. There is the aforementioned barrier to entry, which is severe. According to Net Applications March data, Apple and Google browsers have 86 percent combined usage share on mobile phones and tablets. Firefox's presence is too statistically small to measure. Reasons are more than just incumbency, however. Stability and speed criticisms dog Firefox mobile. So the Samsung collaboration is much bigger then.
"In the coming year, we are racing to complete the first major revision of Rust -- cleaning up, expanding and documenting the libraries, building out our tools to improve the user experience, and beefing up performance", Eich says. "At the same time, we will be putting more resources into Servo, trying to prove that we can build a fast web browser with pervasive parallelism, and in a safe, fun language. We, along with our friends at Samsung will be increasingly looking at opportunities on mobile platforms".
For Google, Servo's success -- and nothing's assured -- could be devastating, because Samsung sells so many more Android devices than any other company -- 7 times its closest rival in Q4, according to Gartner. Imagine if, as part of a TouchWiz update, Samsung installed Servo on all its devices. Wham. Just like that.
Chrome is quite vulnerable, with just 2.43 percent mobile usage share in March, according to NetApps. Android Browser is 9 times greater but no longer Google's development priority. All new versions of Android ship with Chrome.
Can Mozilla and Samsung succeed? You tell me.
Photo Credit:  Margaret M Stewart/Shutterstock
Read more »
---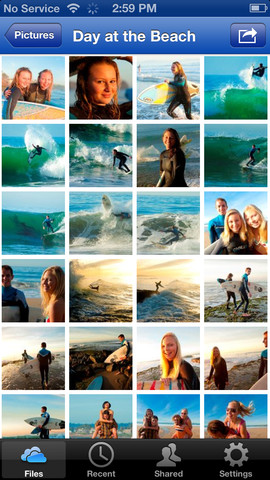 There's certainly no shortage of cloud storage services to choose from these days and Microsoft's SkyDrive provides a fairly generous 7GB of space free of charge. The latest version of the iOS app sees compatibility extending to include not only the iPhone 5, but also the iPad Mini, and there are also a few new features to explore.
The latest release comes after Apple blocked updates to the app following Microsoft's launch of a subscription model. This could be one of the reasons that it is now not possible to sign up for a SkyDrive account from within the SkyDrive app -- if you have an account already you'll be able to sign in straight away, but if you need to create one, you will have to head over to the website to do so.
Perhaps the most obvious change, although by no means the largest, is the new icon sported by the app. This new look continues through the UI, with a darker, cleaner feel now replacing the slightly dated look of the previous version.
There have been improvements made throughout the SkyDrive app which mean that there is now better support for not only opening the files you have stored online in different apps you may have installed, but also better support for saving files from apps to SkyDrive.
Other changes mean that full resolution photos can be downloaded and there is the usual selection of bug fixes.
If you have an iPhone or an iPad, you can download a free copy of the SkyDrive app and take advantage of Microsoft's cloud storage service.
Read more »
---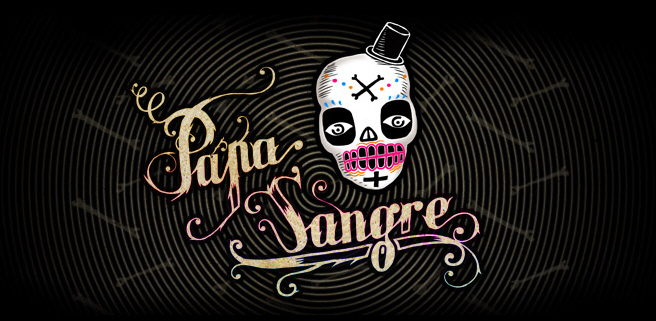 If neither Papa Sangre nor The Nightjar mean anything to you, you're missing out on some real iOS gaming greatness. Both are audio-only adventures for iOS from British developer Somethin' Else. You don't need any major gaming prowess to play them -- just a good pair of headphones and the ability to listen (which a lot of women will say rules out most men then).
The two very immersive games follow a similar style. You use the iPhone, iPod touch or iPad's screen to walk forward, and swipe to turn left or right, listening for sound clues to ensure you're headed in the correct direction -- towards something to collect or an exit, or away from some form of nasty scurrying around in the darkness.
Late last week Papa Sangre received a sound engine upgrade to make the 3D sound more effective, and a similarly updated version of The Nightjar will be rolling out shortly. The New Papa Engine, which uses binaural HRTF (Head Related Transfer Function) audio signal processing algorithms to be able to convincingly play mono sounds anywhere in a 3D space, is now available for developers to create their own apps too, so we can expect more similar audio games in the future, no doubt.
The Nightjar is my favorite of the two games and stars the voice of Benedict Cumberbatch (BBC's Sherlock, Smaug in The Hobbit, and John Harrison in Star Trek Into Darkness). It's only ever been available in the UK, but Something' Else will finally be making it available everywhere from the 23 April.
And if you're a fan of Papa Sangre, you'll be pleased to hear that Somethin' Else is going into full production on the follow up -- called Papa Sangre 2 -- next week, with a view to releasing it sometime this summer. There's no real details about it yet, except that it'll be shorter than the original, but longer than The Nightjar, and feature a new "Gyro Mode".
Read more »
---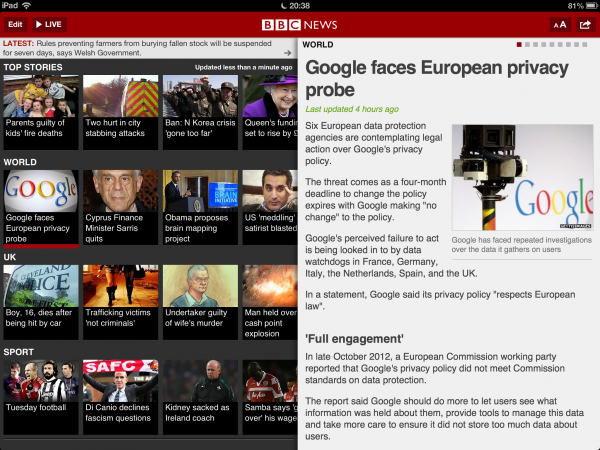 The BBC News app for iOS is pretty good but it's always been rather buggy. The BBC debuted version 2.0 of the app late last night, and as well as bug fixes and improved response times, there have been a few other welcome changes.
Among the tweaks, the app now lets users copy story links to the clipboard, Twitter and Facebook integration has been improved, so it's easier to share stories of interest, and pulling down on the screen refreshes the content.
There are bigger images on the iPhone home screen, and much improved integration with VoiceOver.
For iPad users, the portrait layout has been tweaked to show more headlines, and the BBC has added an extra font size to make for better viewing on the iPad mini.
Although the changes are all fairly minor, the end result is a much more polished app that -- so far at least -- hasn't crashed on me once.
You can download the app from iTunes now.
Read more »
---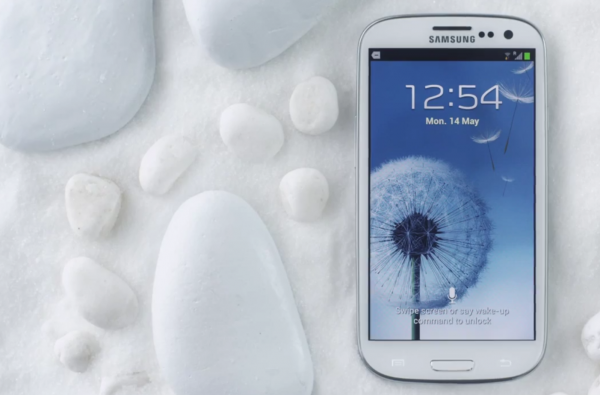 Only T-Mobile can save iPhone now. Apple's U.S. market share, as measured by smartphone operating system, retreated in February, according to data Kantar Worldpanel ComTech released today. With the iPhone 5 initial release sales glow gone, and a rapidly saturating market for a product feature set now three models old, share isn't sustainable. Meanwhile, Android gains -- as does Windows Phone.
iPhone share, based on sales, fell to 43.5 percent for the three months ended in February. That's down from 45.9 percent in January and from 47 percent a year earlier. By comparison Android is up -- to 51.2 percent from 49.4 percent sequentially and 45.4 percent annually. By the same reckoning, Windows Phone rose to 4.1 percent from 3.2 percent and 2.7 percent share.
But there is more than cooling iPhone 5 sales at work here. "Last month we saw that Android's increases were thanks to a large increase in Samsung sales within Sprint", Mary-Ann Parlato, Kantar Worldpanel ComTech analyst, says. "This month, while the increases for Samsung are less pronounced, we're still seeing an increase in uptake of the brand, which is now impacting on Sprint's overall share in smartphone sales".
Read that paragraph again. iPhone was supposed to save Sprint, as T-Mobile USA also hopes. With Samsung sales lift, Sprint's U.S. smartphone sale share rose to 15 percent from 12.9 percent year over year. T-Mobile nicked up, to 9.8 percent from 9.1 percent. By comparison, AT&T smartphone sales share fell 3.7 points to 26.7 percent and Verizon by 1.1 points to 35 percent.
For AT&T, which is most dependent on iPhone, share dipped to 67.9 percent from 68.4 percent, while Android dramatically jumped -- from 20.8 percent to 26.5 percent.
Sales data for all the carriers suggests some ebbing loyalty among existing iPhone users. Meanwhile, Samsung loyalty increases, however, largely at the expense of other Android phone makers rather than Apple.
"Of those who changed their phone over the last year to a Samsung smartphone, 19 per ent had previously owned a Samsung featurephone, 15 percent owned a HTC smartphone, 14 percent owned an LG featurephone, 10 percent owned a Samsung smartphone and 9 percent owned a BlackBerry", Parlato says. "It's apparent that Samsung is successful at capturing users from across the competitor set and not just gaining from their own loyalists".
The data foreshadows much ahead. T-Mobile begins selling iPhone for the first time on April 12, which presumably will unleash unprecedented demand among existing customers. Meanwhile, new, compelling data plans offer iPhone users another carrier option. I just moved three lines to T-Mobile from AT&T for a monthly bill of $120 -- unlimited text, talk and web. I downgraded the remaining two AT&T lines. For 550 minutes calling, unlimited texting and 3GB data for one line and 300MB data for the other, cost is pennies less than T-Mobile. The point: iPhone could get some sales lift during April and May.
Then there is Galaxy S4, which goes on sale later this month. AT&T starts taking preorders in 15 days. For the three months ended in February, Galaxy S III accounted for 52 percent of Samsung sales, followed by 21 percent for its predecessor and 5 percent for Galaxy Note II. The breakdown hints what to expect from the S4 but not whether there will perceptible increase in overall Samsung smartphone sales.
Read more »
---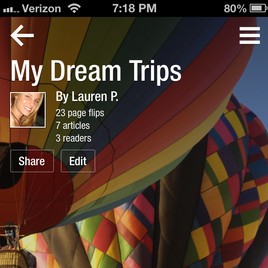 If you're a Flipboard user then you need to read this. On Wednesday, Flipboard 2.0 for iOS made its way onto the App Store bringing along important new features, changes and improvements, among which is the the ability to create magazines.
Users can "collect and save content" into their own magazines by tapping on the "+" button from any item in Flipboard. To fully personalize the experience, Flipboard 2.0 allows you to name the magazine, add a description and choose whether to let other users view it or keep the new creation private. As the company says, "now everyone can be a reader and an editor".
Flipboard users can create as many magazines as they want, according to the company, and pull items from any available source. That includes social networks like Instagram or LinkedIn, cloud music service SoundCloud and micro-blogging platform Tumblr, among others.
Flipboard 2.0 also allows users to take advantage of the new bookmarklet, which can be pulled from share.flipboard.com, in order to add items to the magazine straight from the browser, email or share magazines to various social networks including Facebook, Google+ or Twitter, personalize recommendations and receive notifications when others comment, like or subscribe to the user's own magazine.
The news aggregator app also touts improved search results, faster loading times and flipping performance.
Flipboard 2.0 is available to download from the App Store.
Read more »
---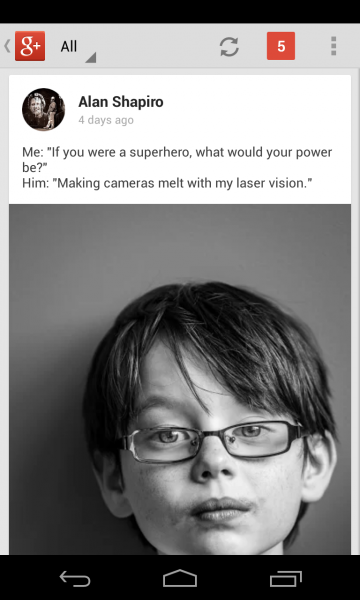 Google updates just keep on coming. Earlier today new versions of Google+ for Android and iOS pushed out, and I've been too busy to handle the goods (Later! Promise!). Two key areas of focus: Sharing and sharing -- as in primping photos and being better part of Communities. The updates are somewhat different for both platforms.
In an unsurprising move, the iOS app picks up some features from Snapseed, which Google acquired last autumn. So now, when you're sharing a photo, you can: "Do basic edits like rotate and crop, as well as select filters like Drama and Retrolux; adjust saturation, contrast, brightness and lots more by sliding your fingers up-and-down, then left-and-right; single tap at any time to compare your creation with the original", Amar Gandhi, Google+ director of product management, says.
Snapseed remains a separate app for iOS, and that's where the real Instagram-like photo-editing capabilities can be found.
What about the Android app? He highlights some new features:
Posts include more text up front -- from the original message, and from comments
Tapping video, photo or link attachments takes you directly to a watch page, lightbox or website
Image previews are rarely cropped, so you'll see portrait photos (for instance) in all their glory
Key actions like +1, reshare and comment are displayed more prominently in each post
You can swipe through photo albums inline
The Communities component is updated on both platforms. Enhancements include:
The ability to adjust the volume of community posts in your Home stream
The option to invite people to a community, or reshare items with a community
Member search, content moderation, and report-remove-ban support for community managers
Reviews are generally positive on both platforms. Average rating for the new version is 4.5 stars at Apple's App Store. Overall average is 4.2 stars for all versions on Google Play, where Bryan Lambert writes: "Excellent!! This such a great app, easy to navigate, very smooth and detailed. With the new update looks fabulous, great job Google!"
Amir Abdullah would "take this over facebook twitter and instagram. That's just my opinion but it just looks better and is the easiest to use. It's better than I thought it would be. Thinking bout switching. This is the place to go if you do. Shoud've done it a long time ago. Stunned. Keep it up".
But other reviewers see things differently. "Every single release this app gets worse as Google panders to the techTards", Shane Monroe opines. "Why does EVERYTHING have to look and act like magazine flow? How is it that I can see shifting comments under posts -- but I can't do something simple like LONG PRESS->MUTE a post in my stream? Sigh".
Similarly, Frank Chagas is "disappointed. Used to use Google+ regularly for news and jokes etc., but latest update killed it for me. Looks better but these Facebook-esque suggestions are a hindrance".
Google+ for Android 3.6 requires version 2.2 or higher of the operating system. Google+ for iOS 4.2 requires version 5.1 or greater of the operating system.
Read more »
---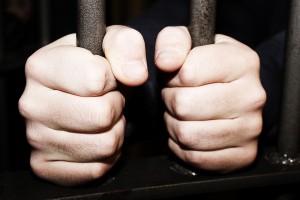 Apple quietly rolled out iOS 6.1.3 yesterday, which touts "improvements to Maps in Japan" and the fix of a bug "that could allow someone to bypass the passcode and access the Phone app". Nothing out of the ordinary, really. But buried deep down in the more extensive changelog, almost hidden, the fruit company credits evad3rs -- the team of developers that jailbroke iOS 6 -- for a number of found bugs.
The extensive changelog is available in Apple's mailing list and lists evad3rs as responsible for four bug findings related to the iOS dyld (dynamic link editor), kernel, lockdown and USB. The said bugs affect the way the operating system handles local user requests to "execute unsigned code", "determine the address of structures in kernel", "change permissions on arbitrary files" and "execute arbitrary code in the kernel".
Even though it took Apple quite some time to wrap its head around the jailbreak, fixing these bugs -- which closes the loophole exploited by evad3rs -- means that iOS 6 is more secure from unwanted exploits. At the same time it also means that jailbreakers should steer clear from iOS 6.1.3 in case they still wish to have Cydia and adjacent unofficial apps and tweaks up and running. That is until evad3rs finds a way to update its evasi0n jailbreak for iOS 6.1.3.
Photo Credit: val lawless/Shutterstock
Read more »
---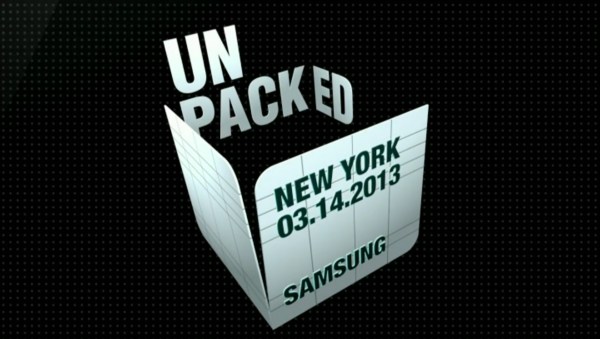 Early this evening, during a New York soiree, Samsung launched the Galaxy S IV smartphone. The venue is atypical. The South Korean electronics giant usually starts from home, offering new smartphones globally before reaching the United States. Now, in a dramatic change, a flagship Galaxy phone lands on Apple's home turf first.
The companies are in a struggle for smartphone supremacy, with Samsung leading in most countries. With one glaring exception: The United States. Today's venue clearly marks the South Korean manufacturer's intentions to take the share lead from its American rival.
Apple responded to today's launch S4 by sending out marketing chief Phil Schiller to talk down Samsung, its products and Android generally. But big headlines from blogs and news sites fall far short of offering a competitive product. The fruit-logo company rarely sends anyone on such a talking-down door. Surely someone is worried in Cupertino, Calif.
Even a year ago, the electronics giant wouldn't have been so bold as to launch here, but Samsung's brand acceptance is up, in part because of the success of Galaxy S III and Galaxy Note II and some aggressive and creative marketing. Samsung also benefits from high-profile conversions, like prominent Mac journalist Andy Ihnatko switching to the S3 from iPhone 4S.
Samsung Soars
To say Samsung is on a roll is an understatement. During 2012, the company captured the No. 1 spot for all handsets and also smartphones. For the full year, as measured in actual phone sales to end users, Samsung share reached 22 percent -- that's from 385 million units, according to Gartner. Share was a tad higher for fourth quarter: 22.7 percent. Meanwhile Samsung smartphone sales soared 85 percent or nearly four times that of Apple.
Samsung's sales success strongly weighs against Android, not just Apple. During fourth quarter, Android smartphone share rose to 69.7 percent from 51.3 percent a year earlier. By comparison, iOS fell to 20.9 percent from 23.6 percent. Samsung sold so many smartphones, it accounted for 42.5 percent of all Android sales in the category.
"The Android brand is being overshadowed by Samsung's brand with the Galaxy name nearly a synonym for Android phones in consumers' mind share", Anshul Gupta, Gartner principal research analyst, says. Samsung's success is mixed for Android as a platform. The South Korean company, and not Google, largely controls customers' experience via TouchWiz UI and other features.
Dollars and Sense
Mobile makes huge contributions to Samsung's bottom line. For Q4, the South Korean electronics giant reported revenue of about $52.45 billion and $6.55 billion profit. Mobile division revenue was $25.35 billion, and Samsung credits success largely to two devices -- Galaxy S III and Galaxy Note II. Interestingly, Samsung mobile ASPs are rising, and analyst data shows expansion across the globe -- particularly markets once dominated by Nokia, China among them. Samsung credits sales to emerging markets as a bright point for the quarter.
They also happen to be where all the big sales growth is and where Samsung displaces, or replaces, leader Nokia. IDC predicts that emerging markets -- Brazil, China and India, particularly -- will be the biggest growth areas for smartphones, which accounted for 45 percent of all handset sales in Q, according to Gartner.
Apple struggles to get beyond the wealthiest consumers in this markets because:
Subsidies make selling prices higher
Contract commitments are required in countries where non traditionally are required
For example, "China is a massive growth prospect, but Apple is not making the market share impact there that it is in other markets", Nicole Peng, Canalys China research director, says. By contrast, Samsung is a top vendor there elsewhere.
Unquestionably, Samsung blindsided Apple, much the way the American company did to competitors BlackBerry and Nokia. They didn't see iPhone coming. Clearly Apple execs expected much less success from the so-called copycat.
Read more »
---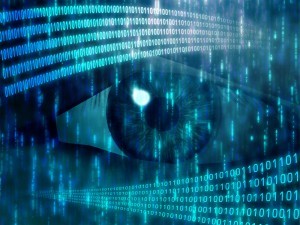 On Thursday, Canadian smartphone maker BlackBerry announced plans to secure Android and iOS devices with Secure Work Space for BlackBerry Enterprise Service 10. The company cites evolving needs and "ever-growing variety of devices" that are used within the work space as the main reason for stepping up to fortify the security of the two mobile operating systems.
BlackBerry targets both smartphones and tablets running Android and iOS through data-at-rest and data-in-transit security capabilities. The company says that administrators will be able to create a "separate and secure work space" which contains corporate apps, calendar, contacts, web email and other features, and configure, interact, secure and wipe the new compatible devices.
BlackBerry claims that Secure Work Space will waive the need for an "expensive VPN infrastructure" to secure transferred data and MDM (Mobile Device Management) providers and multiple vendors, while also featuring easier deployment and worldwide and "flexible technical support".
The Canadian smartphone maker says that Secure Work Space beta testing is underway for both Android and iOS mobile devices with the general availability to happen towards the end of Q2 2013. More details will be shared at BlackBerry Live in May, according to the company.
Photo Credit: Kheng Guan Toh/Shutterstock
Read more »
---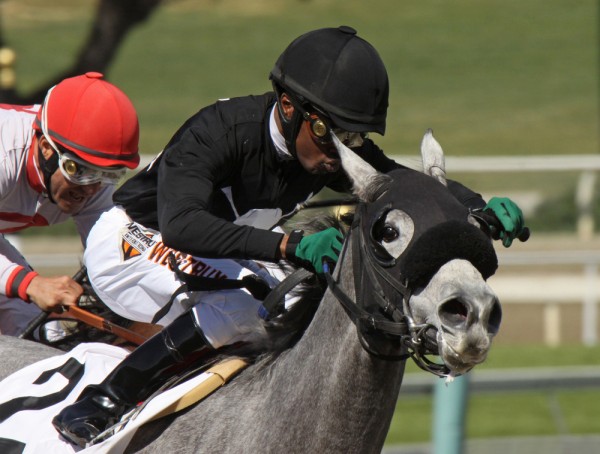 In December, I warned: "You can't trust IDC's 2016 tablet forecast, or any other". That's because the analysts revise predictions every couple months. Well, lookyloo. The firm dropped a new forecast late yesterday, and like every other Android gives iOS another beating. I say, "Perhaps".
The great soothsayers now see Android tablet shipment share rising above iOS for all 2013, a feat already claimed individually for third and fourth quarters. IDC sees the green robot at 48.8 percent share to 46 percent for the fruit-logo. Don't believe it. The market is too volatile and IDC, along with all its competitors, has yet to make accurate predictions. Anything can happen, including an unexpected surge of Windows tablets.
Let's look at the track record for 2012. In June, IDC forecast iOS tablet share of 62.5 percent, but revised downward to 59.7 percent in September and in early December to 53.8 percent. Meanwhile, IDC forecast Android share of 38.8 percent in June, lowered to 35.3 percent in September and raised to 42.7 percent in December. With just three weeks left in the year, the analyst firm couldn't get projections right. Final numbers: 51.3 percent for iOS and 46.3 percent for Android. Statistically, the margins of error here are huge. Just ask NASA sending spacecraft to Mars.
Let's use a different measure. Between March and December last year, IDC raised its tablet forecast for 2012 by 15.3 percent and 2016 by 42.6 percent. This kind of change is huge, taking place during the course of a single calendar year.
A new year means another forecast (through 2017) and more revisions. The analyst firm raised full-year shipment projections to 190.9 million from 172.4 million. That's an 11-percent change, which IDC applies throughout the forecast period. Projection for 2017: 350 million. Don't believe it. The actual number will be considerably more.
That's because smaller slates, which sales potential most analyst dismissed two years ago, are gangbusters. "One in every two tablets shipped this quarter was below 8 inches in screen size -- and in terms of shipments, we expect smaller tablets to continue growing in 2013 and beyond", Jitesh Ubrani, IDC research analyst, says. Geez Louise. NPD DisplaySearch predicts models with 7-7.9-inch screens will account for 45 percent of all tablet shipments in 2013.
Oh, and keeping with the "you can't trust anyone's forecast" theme, DisplaySearch estimates 240 million tablets, or 67.6 million more than IDC projections.
I do expect smaller slates to outsell larger ones, since they double so well as ebook readers (which forecast IDC lowers) and cost so much less. "Vendors are moving quickly to compete in this space as consumers realize that these small devices are often more ideal than larger tablets for their daily consumption habits", Ubrani says. Yes, there are.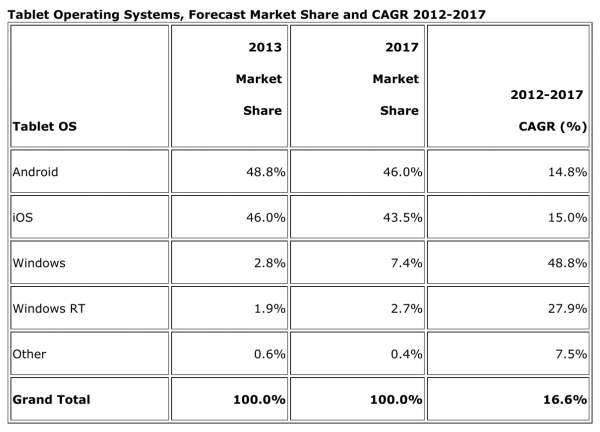 Perhaps it's no coincidence that less than 24 hours after IDC released the forecast, Amazon cut prices by as much as $100 on Kindle Fire HD 8.9".
The tablet, from the maker of Kindle Reader, is good segue to ebook readers, to which IDC says smaller slates are "damaging". The analyst firm cut projections by 14 percent average through 2016.
Photo Credit: Cheryl Ann Quigley/Shutterstock
Read more »
---
Developers must make hard choices when choosing what platforms to support. In mobile, popular convention is iPhone first. But does that approach, in the real world of smartphone ownership, really make sense in 2013? Let us take a look at the hard numbers that were recently published by comScore and see what they can tell us.
This may be a self-perpetuating problem for Apple; according to ComScore, the Google platform simply offers more opportunity because of its larger user base, though that is far from the only consideration for developers. Granted, both mobile operating systems are wildly popular, despite the best efforts of Microsoft to get Windows Phone OS into contention (OK, maybe "best efforts" is going a bit far) -- Android and Apple combine for nearly 90 percent of the smartphone market -- 53 and 36 percent respectively.
But that is only half of the puzzle -- While Android holds a commanding lead in share, it retains only 48 percent of those users, while Apple holds onto 62 percent. That means that just over 25 out of 100 users stick with Google, while a bit more than 22 look at the world through Apple goggles. Sounds good, but if the trend were to continue then the sides would eventually change. Except that is not the case. You see, while 8 out of 10 current iPhone customers are returning buyers, that current 62 percent number means shrinking to only 6 of 10.
Benjamin Travis says that "iOS is popular among a slightly younger demographic than Android users, with 18-24 year olds representing 19 percent of all iPhone owners compared to 16 percent of Android owners". While that may initially sound promising, the news for Apple is not all good here, plus the gap just is not that big and likely could be shrinking.
The two smartphone bases engage differently with mobile content as well. First of all, comScore finds that the Android platform has a greater number of media users in each category. While iPhone users tend to be generally more engaged with their devices and apps, market share becomes important -- shear audience size is hard to beat.
Travis goes on to point out that "iPhone users show a greater propensity to engage in [M-Commerce] behavior with 23 percent having done so versus 17 percent of Android owners. iPhone owners are also more likely to make purchases on their phones on a regular basis". This is also an important consideration for those looking to monetize by means other than in-app ads, but that is less than half of the apps on the market.
comScore also points out that iPhone owners tend to think very highly of their devices and, as a result, they are likely to remain loyal users over time. This is perhaps the red herring. Sixty-two percent of iPhone users would stick with the device versus forty-eight percent for Android.
There are other considerations not mentioned. The biggest one is a users' library of purchased apps -- once you are invested in a platform it becomes increasingly harder to move on. Regardless of income level nobody wants to purchase the same apps twice. Again, the larger share is likely more important to Android now.
In the end, while comScore tries to play fair with both sides and avoid controversy, when you read between the lines, the direction is clear. Android's ever-increasing market share means more potential downloads and, with M-Commerce numbers that are not that far apart, more potential revenue. Google also runs a more open platform, making it easier to gets apps into the market -- something Apple developers have sometimes struggled with.

Read more »
---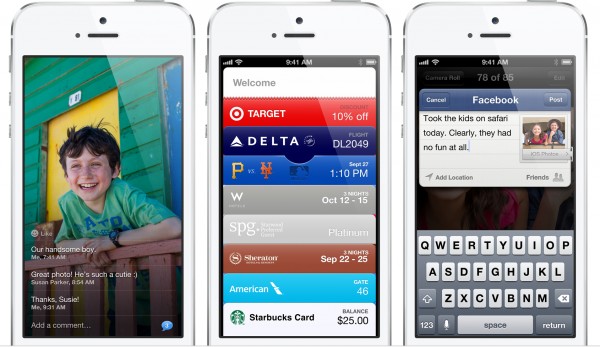 Phil Schiller doesn't cast a big shadow. Sure he is Apple's big cheese over global marketing, but in product briefings or Apple keynotes, Schiller never struck me as having much presence, particularly around the charismatic Steve Jobs. Somehow, I expect lead marketer to be more like Don Draper of AMC's "Mad Men". Schiller has lots of enthusiasm, but not command. He comes across as too nice a guy.
But make no mistake, his contributions to Apple, over nearly two decades, are immeasurable -- and not the topic of this post. There's another kind of presence, one of brilliant ideas and behind-the-scenes leadership. Yesterday, Schiller showed his brilliance, and scored a tremendous marketing coup for Apple in just four words: "Be safe out there".
That tweet and link to F-Secure report on mobile malware spread across the InterWebs, and I'm still reading about it today. The security firm's study might otherwise have gotten little notice if not for Schiller's tweet, which shows that even 140 characters is sometimes too much to have impact. You can do so much more with less.
Like everyone I assume the tweet comes from Apple's Schiller, being a verified account. But there is no photo of the man associated with the account, and the posts really aren't about Apple -- this one being rare exception. If it is the man, he is the man, doing in a few seconds what Draper couldn't in an hour-long TV drama. Have meaningful marketing impact.
Hell, I suggest that Apple take "Be Safe out There" and turn it into an advertising campaign, along the lines of "Think Different". Catchphrases have impact, and there is so much the Cupertino, Calif.-based company could do with this one to take command of mobile security messaging. To put forth iPhone as the safe choice, when Android poses so much risk. Schiller is on to something big. Those four words carry huge connotations, and they're friendly. "Be safe out there".
As for the report, it's a loaded gun just waiting to be fired again, since Schiller already pulled the trigger once. During fourth quarter, the number of new malware variants targeting Android jumped to 96 from 49. Meanwhile, those for iOS fell from two to zero. For all 2012, Android accounted for 79 percent of all malware, up from 66.7 percent a year earlier. By comparison, iOS was too low to measure in 2011, and 0.7 percent last year.
"The rise of Android malware can be largely attributed to the operating system's increasing foothold in the mobile market", according to F-Secure. Gartner puts Android's smartphone sales share at 69.7 percent. Meanwhile, iOS: 20.9 percent, but less than 1 percent of mobile malware. The disparity begs to be highlighted.
Other platforms -- BlackBerry, Symbian and Windows Phone -- are minuscule, too. But in guerrilla marketing, information like that is discarded. Apple has much to gain from promoting iOS as the safer choice over Android, particularly with Samsung Galaxy S IV set to launch a week from today in New York. Caesar, beware the Ides of March.
Samsung is the global leader for smartphones and all handsets, according to Gartner. iPhone follows far behind (well, not in the United States). Apple should seize the marketing high ground by focusing on Android's perceived security weakness. iPhone can't win a feature fight with S4 -- or even S3. So drop the safe bomb instead, by playing off people's fears and offering them something to trust.
"Be safe out there" is just beginning.
Read more »
---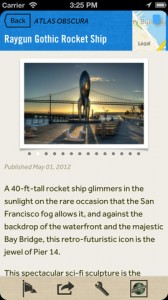 Apple fans can breath a sigh of relief -- not only do they now have Google Maps again, but today they gained another Google travel app, Field Trip. The app quietly rolled to the iTunes Store today with no fanfare, nor even an announcement from the search giant, bringing with it all of the features that many Android users have grown to love.
Field Trip works in the background and is unseen the vast majority of the time. However, when the user is out and about, it can suddenly spring into action when a place of interest is detected nearby. These can include local history as well as the latest and best places to shop, eat and even have fun.
Google pulls the data from TimeOut, Thrillist, Food Network, Zagat, Eater, Sunset, Cool Hunting, WeHeart, Inhabitat, Remodelista, Atlas Obscura, Dezeen and Daily Secret, Songkick and Flavorpill. More services are being added regularly.
The new iOS version is available in multiple languages -- English, Arabic, Catalan, Chinese, Croatian, Czech, Danish, Dutch, Finnish, French, German, Greek, Hebrew, Hungarian, Indonesian, Italian, Japanese, Korean, Malay, Norwegian, Polish, Portuguese, Romanian, Russian, Slovak, Spanish, Swedish, Thai, Turkish, Ukrainian and Vietnamese.
Field Trip for iOS is free and compatible with the iPhone 3GS and newer devices and will also work with the iPod touch and iPad as well. Just a word of caution -- if you are traveling to somewhere historical (like Williamsburg, Virginia), the app can become quite active, to the point of annoying -- but it is a good kind of annoying.
Read more »
---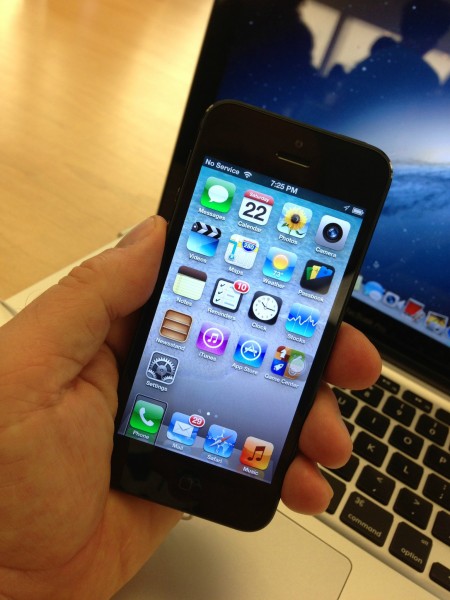 In the highly saturated U.S. smartphone market, Apple's dominance grew, while iPhone nipped upwards towards Android, for the three months ended in January, according to comScore. The analyst firm, unlike most of its competitors, measures actual subscriber share rather than number of units shipped. Like Gartner's counting actual sales, comScore gives a clearer view of real-world dynamics.
During iPhone 5's first full three months of sales, Apple's share reached 37.8 percent -- up from 36.3 percent in December and 34.3 percent in October. By comparison, second-place Samsung nudged up to 21.4 percent share, from 21 percent sequentially and 19.5 percent for the same three months. HTC, Motorola and LG followed, with respective shares of 9.7 percent, 8.6 percent and 7 percent. All three lost share from December, with LG up ever-so slightly from October. Motorola's loses strongly suggest that at Verizon, carrier with the highly-visible Droid line of smartphones, subscribers shift allegiance to other brands. Good thing Moto has a new evangelist.
The numbers, while meaningful, are far from perfect; comScore measures subscribers 13 and older, but counts primary phones only -- no secondary devices.
As the day moves along, you'll read longer versions of stories like this one, which puff Apple's feathers and lament stupid Wall Street for pulling down the company's share price. Sigh. Too many American bloggers and journalists have too little perspective about the great, big world outside of the United States -- where iPhone often isn't treasured and where the dominance of Android and Samsung are indisputable. They just don't get it.
Nor do they recognize, or simply refuse to acknowledge, that this country is no longer the largest market for smartphones, but is one rapidly saturating. For Apple that means Samsung isn't likely to catch up anytime soon, if ever, and Android will likely maintain a long subscriber share lead over iPhone short of some drastic maneuver -- like paying people to buy iPhones.
Don't snicker or dismiss the idea, because ISPs did just that at the turn of the Century. What? You're too young to remember free PCs with three-year ISP contracts? That is kind of the telco model today, given 2-year contracts, but is short of actually massively paying people to buy phones. But don't be surprised if pay-to-buy crops up in the future, as data's importance over voice as major revenue stream increases and saturation means people stop buying new smartphones every new release or so. If one carrier succeeds paying to purchase, others will follow.
Back to blind-to-the-world American bloggers and journalists, I weary of their ethnocentric arrogance. My perspective isn't often big enough either, seeing as I don't live somewhere else and don't directly see the circumstance in your country. But I try, when writing stories like this one: "Smartphone shipments surge ahead of lesser mobiles -- Brazil, China and India lead the way".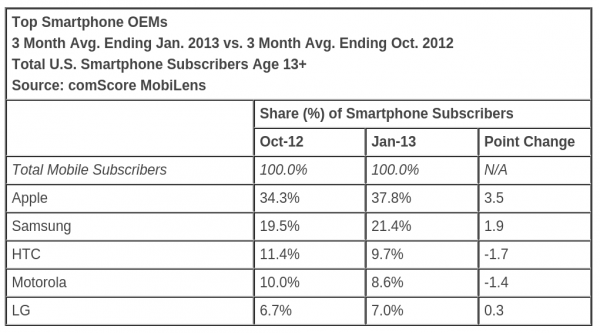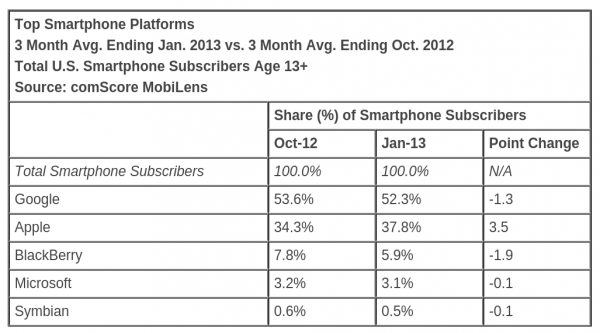 China is now the world's largest market for smartphones, which account for about two-thirds of new shipments there. In India, 80 percent of cellular mobile uses have feature phones, so there's nothing but upside selling smartphones -- as data infrastructure expands, device features increase and prices come down, according to IDC.
Globally in fourth quarter, based on actual sales, Android share significantly outpaced iPhone -- 69.7 percent to 20.7 percent, which is a 2.7 point decline from a year earlier, according to Gartner. The point: It's a big world, and the United States is a small part of it.
Photo Credit: Joe Wilcox
Read more »
---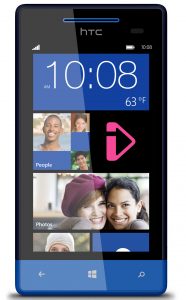 The BBC's excellent on-demand and catchup TV service iPlayer is available for both iOS and Android devices, although owners of phones and tablets running Google's mobile OS remain slightly short-changed when it comes to features compared to their Apple OS counterparts.
Windows Phone users must feel perpetually short-changed at the moment I'm sure, but they too will soon be able to get iPlayer. There's just one catch. Instead of releasing a dedicated app for Microsoft's mobile OS, the BBC will be rolling out a shortcut application that will give users with a Windows Phone 7.5 or Windows Phone 8 handset access to the BBC iPlayer website via a live tile. According to Cyrus Saihan, Head of Business Development, BBC Future Media, "This shortcut will wrap the BBC iPlayer mobile website together with our media player.
Hopefully these and other developments will help to expand our online reach further. Our latest figures show that over 650 different device types can access BBC iPlayer". A shortcut application is hardly the same as a dedicated app, but it's the best that Windows Phone owners can hope for. The BBC says it has no plans to create a special version of iPlayer for Microsoft's platform.
Read more »
---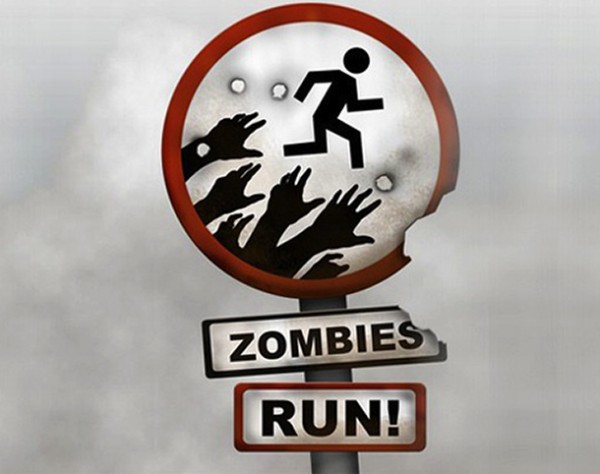 I'm a huge fan of Zombies, Run! The original immersive app, which basically turns a real-world run into a journey through the zombie apocalypse, and helped me get fit and lose weight when it first came out last year.
I've been really looking forward to Zombies, Run! 2 since it was announced, and the great news is it's nearly here. The updated version, which comes as a free upgrade for current players of the game, will arrive on both iOS and Android on 16 April.
If you haven't heard about Zombies, Run!, it's a bit like a radio play that takes place through your headphones as you run, with the story unfolding in between tracks from your playlist.
You play the role of Runner 5, and are sent out on missions to achieve certain goals and collect supplies along the way. Occasionally you'll encounter zombie hordes and will need to run faster in order to outpace them. There are 23 main missions to play through, and when you've exhausted those, there are supply runs to try, a radio mode to entertain you, and even 5K, 10K and 20K race missions. Runs can be uploaded and shared online through the ZombieLink service.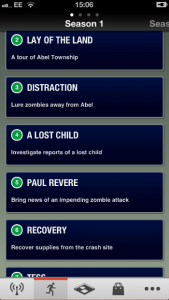 The new version of the app comes with an additional seven free missions (four main ones and three side-quests) and then there will be an additional three missions released every week. These episodic missions won't be free -- you'll either need to buy them separately, or pick up a season pass -- but if you don't want to do that, other free missions will appear from time to time.
Another change in the new version is the addition of a Base Builder. In the first Zombies, Run! items you collected on your runs -- like an axe, tinned food, bottled water or a sports bar -- were used to build up Able Township, where Runner 5 lives. You just drop the items on the relevant building, antibiotics onto the hospital for example, and eventually that building will be upgraded. The population of your base also grows.
In Zombies, Run! 2 you have much greater control over what the base looks like. You can add new buildings, upgrade or demolish existing ones and so on. The more you run, the more supplies you collect, and the more you can do in the game.
Zombies, Run! was originally crowdfunded through Kickstarter and generally retails for around $8 (it's currently on sale at $3.99). It's available on iOS, Android and Windows Phone, but the sequel won't be making its way on to Microsoft's mobile OS, because the developers say they can't justify the time or money necessary to bring it to the platform.
Read more »
---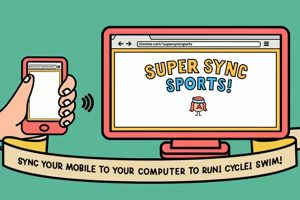 Google has created a new sports game for Chrome, which lets you challenge up to four friends at running, swimming and cycling.
What makes Chrome Super Sync Sports so special is while the game is displayed on your computer screen, the characters are controlled using smartphones or tablets.

To play it you need to have Chrome installed on your computer, and on any Android or iOS devices you want to use as controllers.
To play the game, which makes use of modern web technologies, including HTML5 features such as WebSockets, you just need to visit chrome.com/supersyncsports, pick an event and decide how many people will be playing it -- there's a solo mode on offer. Next visit g.co/super in Chrome on your smartphone or tablet, and enter the unique code generated specifically for your game, and you're all set.
Players can choose from a selection of 50 athletes, and control their character in the game using various gestures. It's great fun and works very well.
Read more »
---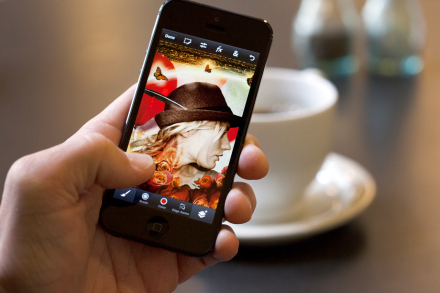 Adobe's Photoshop Touch app for tablets is a great photo editing tool and now it's available for handsets running iOS and Android, so you can polish up your snaps before sharing them online, or do something even more creative.
The app is packed with powerful features such as layers, selection tools, adjustments and filters, and there's even a clever Camera Fill function which will let you use your device's camera to fill an area on a layer. The app can handle images up to 12 megapixels in size and you get 2GB of free Adobe Creative Cloud space to store your pictures in.
The beauty of Creative Cloud is it will allow you to start working on a photo on one device, such as a tablet, switch to your phone and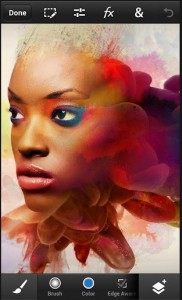 continue there, before firing up Photoshop on your PC or Mac and finishing things off. Of course you'll need to own separate copies of Photoshop for the various different devices.
Speaking about the new app, Winston Hendrickson, Adobe's vice-president products, creative and media solutions said: "Mobile phones are increasingly becoming the primary tool for people to take and edit photos. Adobe is dedicated to serving our customers' evolving creative workflow and we heard, loud and clear, that Photoshop fans wanted some core Adobe imaging magic on their smartphones."
Photoshop Touch is available to download from the App Store or Google Play now, priced at a pretty reasonable $4.99.
Read more »
---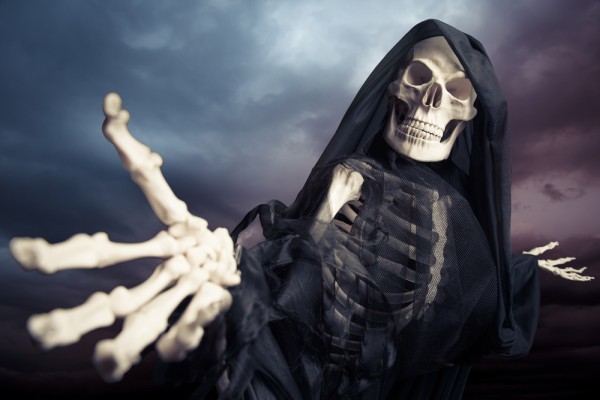 Single sign-on. Universal log-in. It is the Holy Grail of Internet services. Coming into the new century, Microsoft planned to use Passport as a universal, single sign-on authentication system aligned with Windows. Following privacy group complaints, a Federal Trade Commission investigation and subsequent settlement, Microsoft backed off the authentication strategy. A decade later, Facebook emerged as contender; many sites or services request, and some even require, signing in with Facebook credentials. Twitter is another option, and there are other choices, such as OpenID.
Now Google comes calling, today adding Google+ Sign-In as an option developers can include with their apps. I cannot overstate just how bold and disruptive the authentication system could be, or how much Google could -- scratch that, most likely will -- benefit. If widely adopted, the service could, if nothing else, give Google+ huge lift against Facebook. Welcome to the social network wars, and my money is on the the big G winning because Android, search and other assets offer so much leverage.
Simply put: Google makes authentication a development platform tied to its social network and some other assets. Same can be said about Facebook, which offers authentication and apps platform. Both companies promise developers improved customer engagement and visibility over time.
The difference: Facebook apps run within the social network's confines, although authentication reaches beyond and pulls users in. Google has Android, which is the dominant phone OS by huge margin, and extends the authentication platform to iOS, too. Combined, the two operating systems had 90.1 percent smartphone share during fourth quarter, based on actual sales, according to Gartner. Google+ Sign-In also supports web apps.
Successful platforms share six common traits:
There are good development tools and APIs for easily creating applications
There is at least one killer application people really want
There is breadth of useful applications
Third parties make lots of money
The platform is broadly available
There is a robust ecosystem
The most important is the fourth. Developers follow the money. Here Google uses one platform, social networking/authentication, to benefit another -- mobile apps. The concept: Social engagement drives apps usage and sales, whether direct, additional or ancillary.
If developers sign on, they're sure to drive more traffic to Google+, which isn't good for Facebook. Likewise, the search giant offers an alternative to Facebook log-in for apps and some related services.
What You Get
Someone at Google thought out the benefits, by making Google+ Sign-In more than just another authentication mechanism. Among them:
Two-step verification. "If you sign in to Gmail, YouTube or any other Google service, you can now use your existing credentials to sign in to apps outside of Google", Seth Sternberg, Google+ director of Product Management, says about the basic concept. But there's more, two-step verification, which while a hassle sometimes is an excellent safeguard against intruders. I have the mechanism enabled and recommend everyone using a Google Account to do likewise.
One-click install. "Many developers offer web and mobile versions of their app, yet setting things up across a browser, phone and tablet is still a major hassle", Sternberg says. "When you sign in to a website with Google, you can install its mobile app on your Android device with a single click". That means no link to Google Play that takes the user away.
Interactive posts. "When you share from an app that uses Google+ Sign-In, your friends will see a new kind of 'interactive' post in their Google+ stream", Sternberg explains. "Clicking will take them inside the app, where they can buy, listen to, or review (for instance) exactly what you shared". The developer benefits -- and to the social mob -- are obvious. Engagement for both, sales for the developer.
Embedded Hangouts. Already, Hangouts is one of the best Google+ features. Third-party apps run within the Hangout, and developers can place a button on their websites to take users to them.
Potential is big, but much depends on how Google executes on the promise and who actually adopts Google+ Sign-In. The demos do impress: Photo Hunt; Scott & Doodle.
Photo Credit: Fer Gregory/Shutterstock
Read more »
---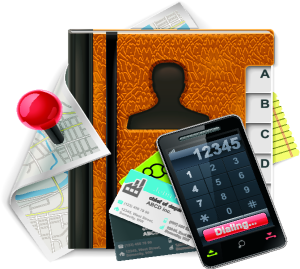 Astonsoft Ltd has released EssentialPIM Free 5.5 and EssentialPIM Pro 5.5, major new versions of its Windows personal information manager. Highlights in this new release include support for iCloud synchronization, native Dropbox support and improved CardDAV tools.
Also updated are EssentialPIM for iOS 2.6 and EssentialPIM for Android 1.8.2, mobile apps designed to give users access to their EssentialPIM data while on the move. While iOS users only see minor bug fixes in this update, Android users will enjoy major improvements to the Calendar and Contacts modules.
The most eye-catching new feature in EssentialPIM 5.5 is native Dropbox support -- users can now easily access their EssentialPIM data from multiple PCs by storing their database in the Dropbox cloud folder. EssentialPIM can automatically download, upload and pack the database from this location, and the effect is seamless.
Also added in version 5.5 is full support for Apple's iCloud and the CardDAV synchronization service, the former being of most benefit to EssentialPIM for iOS users. As with other supported cloud services, including Google, CalDAV and Yahoo!, however, the feature is restricted to EssentialPIM Pro 5.5 users.
Enhancements in version 5.5 include better CalDAV support, plus improved synchronization with both Android and iOS apps. The update also promises to have fixed all known issues since the last release.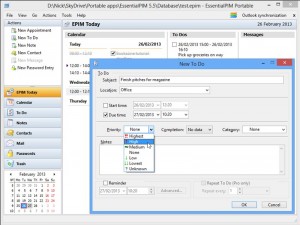 EssentialPIM for Android users also gain new features with the 1.8.2 release. These include a new Calendar module, which now syncs with EssentialPIM's own Calendar module in Android as opposed to the native Calendar app. At the present time, Agenda and Day views are available, with more to follow.
There are also improvements to EssentialPIM's Contacts support, with all contact fields now being synchronized with the native Contacts app along with photo synchronization support.
EssentialPIM Free 5.5 and EssentialPIM Free Portable 5.5 are both free-for-personal-use downloads for PCs running Windows XP or later. EssentialPIM Pro 5.5 is available as a free trial download, with full licenses starting from $39.95. Both EssentialPIM for iOS 2.6 and EssentialPIM for Android 1.8.2 are free downloads.
Photo credit: tele52/Shutterstock
Read more »
---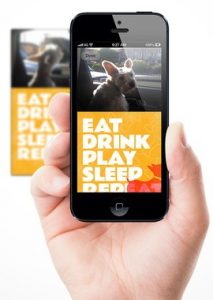 Today HP announced Live Photo for the iOS platform -- an app that claims to bring the user's photos to life using "augmented reality". The company claims the app will bring "a new consumer printing experience by embedding short video moments into printed photos".
According to Annie Weinberger, a general manager at HP-subsidiary Aurasma, "augmented reality is the new medium for bringing the physical world to digital life and HP Live Photo puts the power of this technology into the hands of everyday consumers". The free app purports to merge still images and short videos utilizing Aurasma. Once the app has been downloaded from the iTunes App Store the user can choose a video of up to 45-seconds in length and then select an automatically generated still image. From there it is a matter of choosing a template and sharing the new creation. The new photo/video can be shared via email, Facebook or by printing to any AirPrint-enabled printer.
The app is free and requires iOS 5.1 or newer, but in certain instances can work with iOS 4.2 on some devices. HP promises to bring this technology to other mobile platforms later this year.
Read more »
---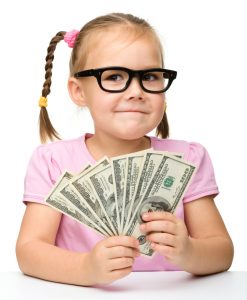 In-app purchases are a lucrative revenue stream for both Apple and the developers who embrace it. It provides a way to try a game and then unlock the full thing, or gain access to additional features. In Temple Run 2, for example, you can use real money to buy coins and gems to use on unlocking new characters and abilities.
The problem is a lot of game makers offer this facility in their apps, and until Apple made a change to its purchasing system in iOS 4.3, it was possible for children to spend money on in-app purchases without their parents knowledge. This, inevitably, lead to a lawsuit against Apple, with the technology giant accused of failing to adequately publicize the existence of the feature in certain App Store games aimed at children.
In response to the lawsuit -- which was originally brought by a Californian man in 2011 after his daughter racked up $200 of charges without his permission -- Apple is now proposing to pay compensation to parents who have lost money in this way.
At the moment this offer only extends to US parents and guardians, and will need to be signed off by a judge on Friday before it can be actioned.
If agreed, American App Store shoppers will receive an email offering them a minimum of $5 compensation in iTunes credit or cash, provided they can show they have had a child spend at least $30 on in-app purchases without permission (and assuming the parents haven't already complained and been refunded of course). The key catch is the child will need to have spent the money in the fifteen minute window originally allowed by Apple for additional purchases made after the password was entered. If your child knows -- and used -- your password to go on their spending spree, it's tough luck.
It is thought Apple will need to contact around 23 million users, alerting them that they may be entitled to compensation. No word at the moment if or when this offer will be extended outside of the US.
Photo Credit: Serhiy Kobyakov /Shutterstock
Read more »
---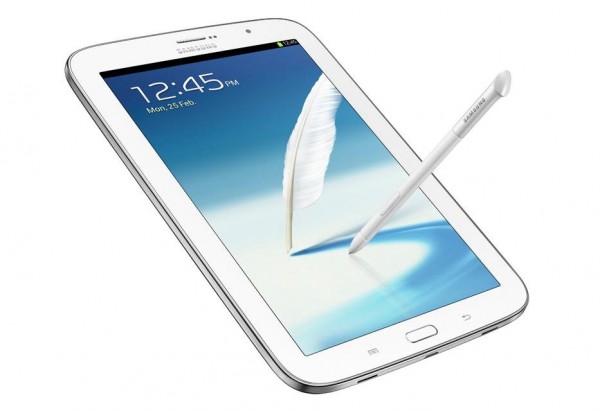 Late February means another Mobile World Congress, and the rush to make big, splashy product announcements before the show starts. Samsung jumped in early today, by announcing an 8-inch tablet with stylus -- Galaxy Note 8.0. The slate is about the same size as Apple's iPad, with comparable screen resolution, but features the S Pen and supporting software. Why just touch and type when you can draw, too?
Samsung's slate joins the Galaxy Note II smartphone and 10-inch tablet, with stylus being the compelling feature that market leader Apple doesn't offer on any iOS device. Like the recent update for its siblings, Galaxy Note 8.0 comes with a split-screen, multi-window function. The tablet runs Android 4.1.2 customized with TouchWiz UI.
Galaxy Note 8.0 is slightly larger than iPad mini -- 210.8 X 135.9mm, 338g vs 200 x 134.7mm, 312g, respectviely. Apple's tablet has 7.9 inch display, with 1024 x 768 resolution and 163 pixels per inch, compared to the Note 8.0's 1280 x 800 and 189 ppi. Samsung plans to start selling the new Note in second quarter.
"Back in 2010 the launch of the first Samsung Galaxy Tab with 7 inch screen opened a new chapter in the mobile industry", JK Shin, president IT & Mobile Communications Division, asserts. "The Galaxy Note 8.0 breaths fresh life into the category as it delivers the perfect fusion of portability and everyday productivity -- the result is a pioneering, pocket-sized solution that enhances and enriches our everyday lives, whether at work or play".
Apple and Samsung are the industry leaders in the tablet market. During fourth quarter, iPad shipment share fell to 43.6 percent from 51.7 percent annually and from 46.4 percent sequentially. Samsung's share rose to 15.1 percent from 7.3 percent year over year.
Samsung has a long way to go to catch Apple, but the market is changing. During third quarter, Android tablet share pushed past 50 percent, snatching iPad's early lead, according to IDC.
"I think the big picture is that for many years people insisted that there wasn't a tablet market, just an iPad market", Tom Mainelli, IDC research director for tablets, says. "The last few quarter have shown that there is indeed a market for tablets beyond the iPad, although that product continues to be quite dominant from a vendor market share perspective".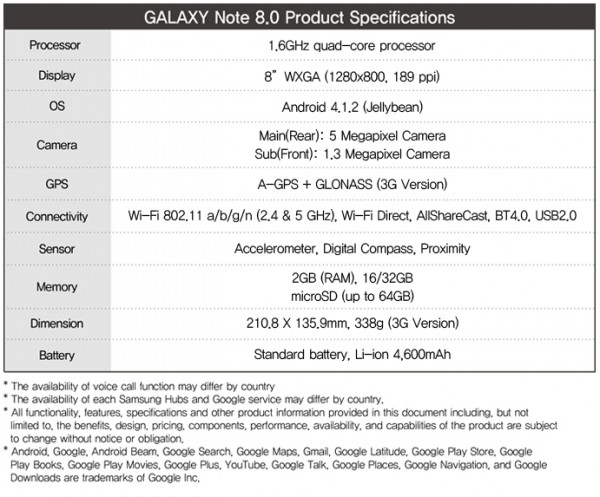 Samsung's renewed push into smaller slates is timely. According to NPD DisplaySearch, market demand shifts towards smaller, and lower-cost models. The firm forecasts that slates with 7-7.9-inch displays will account for 45 percent of shipments this year. By contrast, 9.7-inchers will fall to 17 percent -- that's the size of iPad. Apple introduced iPad mini in late October, in response to changing market conditions and consumer demand for small sizes.
Read more »
---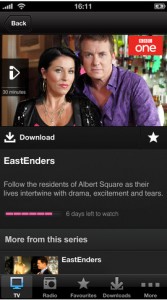 The BBC's iPlayer app is available for both iOS and Android, but owners of Apple devices definitely get the better deal with additional features, such as the ability to download shows to their iPhones or iPads for offline viewing.
The latest update from the BBC widens the gap between the app siblings further by introducing improved AirPlay support. Owners of iOS devices who also have Apple TV will now be able to beam a show from the app to the big screen, and then background iPlayer, and use their phone or tablet for something else while the show continues to play.

In addition, the new version of the app fixes various minor problems and glitches, improves playback quality, and ensures downloads are more reliable.
You can grab the latest version of iPlayer from the App Store now.
Read more »
---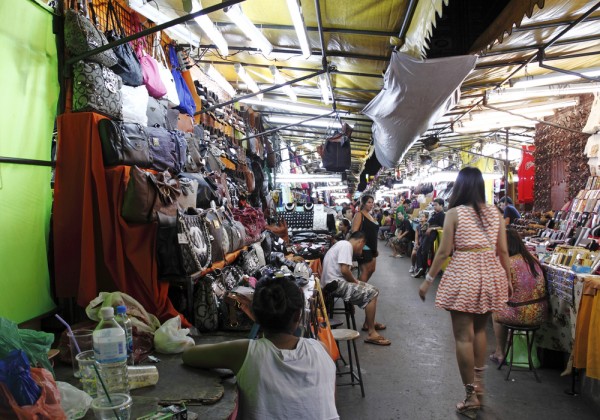 When Windows 8 launched on October 26 2012, the Windows Store had an estimated 9,000 apps available to purchase or download. Today, according to the excellent MetroStore Scanner, that figure has risen to 43,083 worldwide, of which 28,904 are available in the US store, and 26,385 in the UK one.
The biggest problem with the Windows Store is not the overall number of apps -- in four months it's seen reasonable growth although the number of new weekly additions has slowed -- the issue is more with quality. While there's no shortage of third-party apps, many of which are very good, you can't help but notice how many big names are absent.
There's no sign of official apps for Facebook, Twitter, LinkedIn, YouTube, Gmail, Google Maps, Pandora, Spotify, Instagram, Firefox, Groupon, BBC News, or iPlayer… the list goes on and on. The absences aren't immediately apparent because the third-party developers are doing a good job of making their products look official by using the relevant logos and designs, but dig deeper and you'll see the Windows Store is packed with cheap fakes.
There are several excuses why genuine versions of important apps aren't available in the store. For starters not all of them need to be. You can access the services on the web, and -- for Windows RT/Windows 8 Pro tablets and Windows Phone devices -- in mobile-friendly format. Although that argument could be used for iPad and Android platforms, and they both have apps for all the major services.
Email and social accounts can be accessed through the built-in Windows 8 People app of course, but it's far from ideal and lacks the features you'd get in an app dedicated to a particular service.
"It's still early days for the new OS" is another reasonable argument for the lack of official apps, and it's true, although after four months, that excuse is beginning to wear paper thin. After all this is Microsoft Windows we're talking about here. It's hardly a small, unknown platform and we've all known about the Windows Store since September 2011. The biggest problem is a lot of companies, like the BBC, Google and Facebook aren't dragging their heels when it comes to developing apps for Windows 8 and RT (or Windows Phone 8 for that matter) they simply have "no plans" to do so. Instead they are focusing on iOS and Android. Proven ecosystems.
It's often the case that developers will produce an app for iOS first and then follow it up with one for Android (Google's mobile platform is harder to develop for because of OS fragmentation and the sheer variety of screen shapes and sizes to cater for). Occasionally bigger developers will release apps for both platforms simultaneously, and sometimes for Android first. Windows is a third platform, and one which a lot of developers simply see no pressing need to even acknowledge at the moment. Or indeed ever.
While a Firefox app is in development, the majority of the absent apps I listed previously just aren't likely to appear, unless Surface and the other Windows RT and Windows 8 Pro powered tablets really take off.
And let's not forget to mention that some of the official apps which have appeared on Windows 8 -- Dropbox in particular -- are so poor you kind of wish they hadn't been developed in the first place anyway.
So what's the solution to the apps problem? It's simple. Windows 8 needs to perform. Microsoft needs to sell a lot of copies (not just licences), shift a lot of tablets, and prove that the people using its products are also using apps, not just bypassing the Start screen on their way to the desktop. The company has to show the demand is there, it has to convince developers that they need to develop for the OS. It has make Windows 8 a viable app platform.
At the moment I can't see that happening. Surface Pro is reportedly selling well, but it needs to maintain and grow that momentum, because it's tablet and phone sales -- and only tablet and phone sales -- which will drive app downloads and ultimately the demand.
If you're a Windows 8 user what do you think about the lack of official apps? Does it concern you, or have you found enough decent third-party replacements? Leave your comments below.
Photo Credit: Gwoeii/Shutterstock
Read more »
---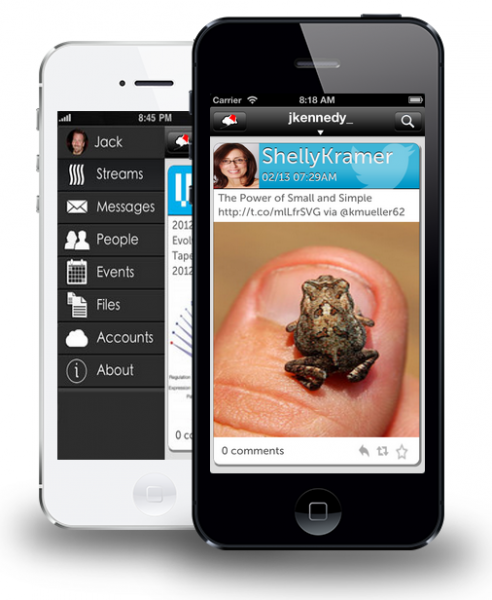 The vast majority of us use multiple cloud services for email, social media, and file storage, which means having to regularly switch between different websites or apps to access our data. KiteDesk aims to solve that problem by aggregating information from all of the popular cloud services into a single application.
Aimed at busy consumers and professionals, the service presents email messages, social media posts, contacts, calendar events, and files from the likes of Google, Yahoo, Twitter, Facebook and Dropbox, in a single stream and lets you search for, share, and comment on content.
As well as displaying all of the aggregated data in a scrollable list, KiteDesk lets you create on-the-fly contextual cross-service streams by source, user, tags, or search words. So you can view everything emailed, posted, or shared by a particular friend or work colleague, for example.
KiteDesk also provides users with a unified inbox (containing messages from your email and social media accounts), contacts database, events list and a file cabinet for content stored in different cloud lockers.
The service originally launched in October 2012, and as well as losing its beta tag today has rolled out a new iOS app with an Android version planned for the future.
Speaking about the launch, Jack Kennedy, co-founder and CEO at KiteDesk commented: "We are excited to announce availability of both our web and native iOS applications which work in concert to act as your Personal Cloud information manager on any device. With the addition of Yahoo and Facebook integration and more services like LinkedIn underway, we believe that KiteDesk will offer a tremendous value proposition to our users who are looking for a more integrated cloud experience".
Read more »
---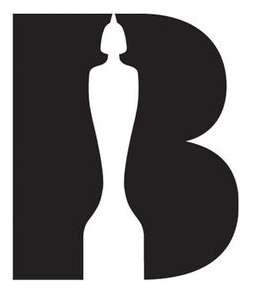 British broadcaster ITV has agreed to a deal with Shazam -- the popular music identification service -- allowing viewers of this year's The Brits music awards to access exclusive content during the live broadcast -- a UK first.
By using Shazam to tag the show between 8pm and 10:15pm on February 20, viewers will get access to exclusive behind-the-scenes content from performers and guest presenters.
Making the announcement, David Jones, EVP Marketing for Shazam said: "We are excited that our first live Shazam-enabled program in the UK is one of the biggest nights of the year for the music industry, the BRIT Awards. People who know and love us for music will now get to experience all the great features we now bring to television".
The Shazam app, which is typically used to identify recorded music by sampling a few seconds of content and looking it up in its ten million strong song database, is available for a range of platforms including iOS devices, Android, BlackBerry, and Windows Phone.
Read more »
---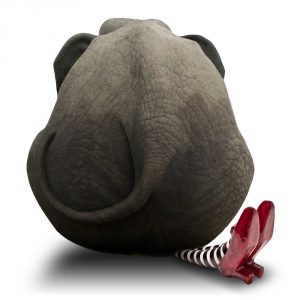 "We're No. 3!" will be BlackBerry's and Microsoft's rallying cry this year. Android and iOS so dominate the smartphone market, the best -- and quite honestly dismal -- hope is third; distant at that. Combined, based on actual phone sales, Android and iOS had 90.1 percent share during fourth quarter, up from 74.9 percent a year earlier, according to Gartner. BlackBerry and Windows Phone are neck-and-neck, with lowly 3.5 percent and 3 percent standings, respectively.
Upstarts want third place, too. Anshul Gupta, Gartner principal research analyst, explains: "2013 will be the year of the rise of the third ecosystem as the battle between the new BlackBerry10 and Widows Phone intensifies. As carriers and vendors feel the pressure of the strong Android's growth, alternative operating systems such as Tizen, Firefox, Ubuntu and Jolla will try and carve out an opportunity by positioning themselves as profitable alternatives".
Looked at differently, BlackBerry and Windows Phone combined-share was less in fourth quarter (6.5 percent) than a year earlier (10.6 percent). That said, while starting from a small base, Microsoft's platform shows promise, with sales up 124.2 percent year over year.
Individual vendor performance tells the story differently. Apple and Samsung combined smartphone sales share rose to 52 percent from 46.4 percent during the quarter.
It's a free-for-all. "There is no manufacturer that can firmly lay claim to the No. 3 spot in global smartphone sales", Gupta says. "The success of Apple and Samsung is based on the strength of their brands as much as their actual products. Their direct competitors, including those with comparable products, struggle to achieve the same brand appreciation among consumers, who, in a tough economic environment, go for cheaper products over brand".
Samsung and Apple smartphone unit sales rose by 85.3 percent and 22.6 percent, respectively. The fruit-logo company accounts for all iOS, "with Samsung commanding over 42.5 percent of the Android market globally", Gupta says, "and the next vendor at just 6 percent share. The Android brand is being overshadowed by Samsung's brand with the Galaxy name nearly a synonym for Android phones in consumers' mind share".
Samsung's success is mixed for Android as a platform. The South Korean company, and not Google, largely controls customers' experience via TouchWiz UI and other features. That can further fragment Android. On the other hand, consumers generally identify with uber-brands, like Samsung or Galaxy S III rather than Android 4.2.
Samsung's Android lift takes a bite out of Apple. For the second straight quarter, iOS lost smartphone sales share, year over year. Apple's mobile operating system dropped to 20.9 percent from 23.6 percent during Q4. Meanwhile, Android leaped again, from 51.3 percent to 69.7 percent share. But unit sales jumped more than share suggests: 144.7 million from 77.1 million.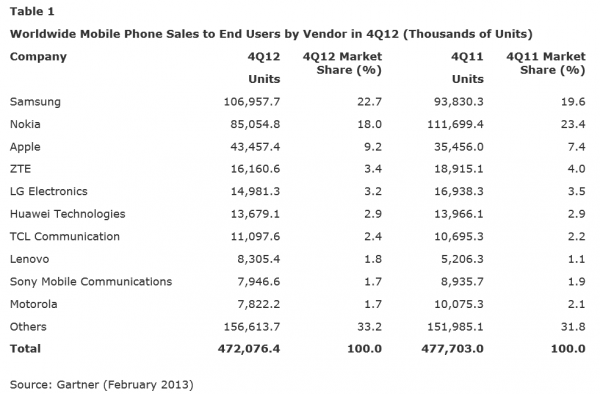 Unlike most other analyst firms, Gartner measures actual sales to end users, not shipments into the channel. So there is no room for Apple apologists to argue about some disparity between the phone maker's stated sales and those from others. Like competitors, Apple calls shipments sales. The company reported 47.8 million in Q4. Gartner says actual sales were 43.6 million, or 4.2 million less than the number the company gave last month. So while iPhone 5 still had a big launch quarter, sales missed analyst consensus (50 million) by wider margin.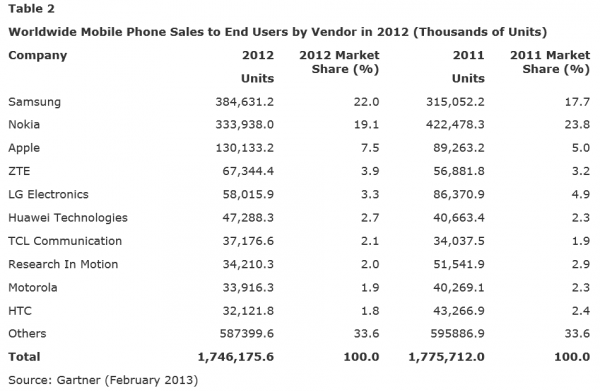 In the broader phone market, Apple share rose to 9.2 percent from 7.4 percent for the quarter and to 7.5 percent from 5 percent for all 2012. The company maintained its third-place ranking for Q4 and the year. Market-leader Samsung grew share to 22.7 percent from 19.6 percent for fourth quarter and to 22 percent from 17.7 percent for all 2012.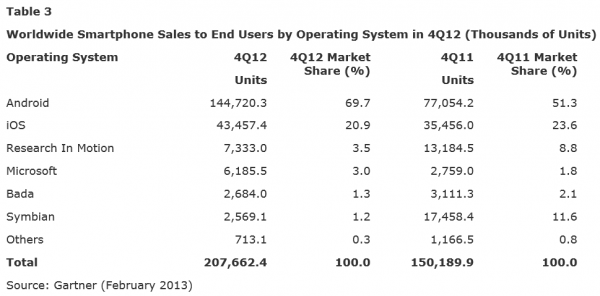 More broadly, worldwide mobile phone sales dipped about two percent for the quarter and year, to 1.75 billion and 472.1 million, respectively. Smartphone sales surged 38.3 percent in Q4, to 207.7 million. Meanwhile, feature phone sales fell 19 percent to 264.4 million. At this pace, smartphone sales should surpass feature phones within a couple quarters. Respective share in Q4: 44 percent and 56 percent.
Photo Credit: David Andrew Larsen/Shutterstock
Read more »
---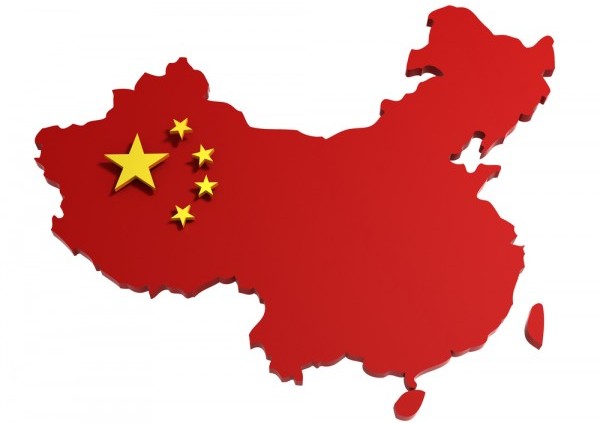 The Chinese smartphone market is dominated by five top manufacturers, none of them Apple, Canalys reveals. As I've warned a couple times recently, despite CEO Tim Cook's prognostications about China's importance or his company boasting 2 million first-weekend iPhone 5 sales, competitors rapidly close out the market for costly fruit-logos.
China is the biggest market for mobiles, largely dominated by smartphones -- 73 percent of the total in fourth quarter, up from 40 percent a year earlier. Shipments soared 113 percent to 64.7 million units, or 30 percent of all smartphones globally. Samsung captured the top spot, followed by Lenovo, Yulong, Huawei and ZTE.
Losing China
"China is a massive growth prospect, but Apple is not making the market share impact there that it is in other markets", Nicole Peng, Canalys China research director, says. "The lack of a device on the China Mobile network is a big drawback, combined with high price points. Addressing these issues with the combination of a TD-SCDMA device and a cheaper model would open the flood-gates".
China accounted for 13 percent of all Apple revenues during calendar fourth quarter. Referring to sales following iPhone 5's release, "we saw our highest growth in China and it was into the triple digits, which was higher than the market there", Cook says (during last month's earnings call). More broadly: "It's clear that China it's already our second largest region as you can see from the data that we have given you and it's clear, there is a lot of potential there".
Yes, but iPhone is the big revenue generator, and the handset faces increased -- and fast-growing -- competition mainly from Chinese phone manufacturers, many of which ship Android devices.
Lenovo was the quarter's big gainer. Shipments grew 216 percent year over year, but mostly to the one country. "China made up 98 percent of Lenovo's shipments with a handful of emerging markets making up the rest", Jessica Kwee, Canalys analyst, says. "Its struggle to gain a foothold in markets outside of China means that it may be forced down the acquisition route -- as it was with its PC business -- hence the speculation about BlackBerry".
Holding the World
Globally, Asian manufacturers, mainly from China, dominated the top-5 during Q4. But there, Apple made strong showing, lifted mainly by more mature markets like the United States where smartphone saturation slows sales compared to many other geographies. Samsung led, followed by the fruit-logo company, Huawei, ZTE and Lenovo. Samsung's lead is solid but tenuous, with 29 percent share to Apple's 22.1 percent. But the Others category, which includes white-box makers shipping Androids to China and other emerging markets, was larger, with 34.5 percent share.
Smartphones accounted for 49.4 percent of all handset shipments -- 216.5 million and 438.1 million, respectively.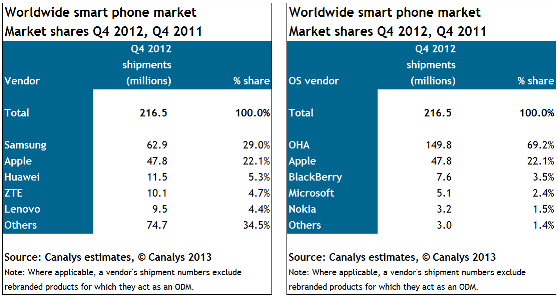 Android shipped on 34 percent of all handsets during fourth quarter, according to Canalys, compared to 11 percent for iOS. The number is greater for smartphones (69.2 percent). However, the green robot lost share sequentially, from 74 percent, largely due to iPhone 5's strong first-full quarter of sales. Share of Apple's mobile operating system rose to 22.1 percent from 15 percent quarter on quarter.
"When we look at the whole of 2012, Nokia remained the number three smartphone vendor, shipping 35 million units, but Apple in second place shipped 101 million more handsets", Pete Cunningham, Canalys principal analyst, says. "First-placed Samsung shipped 74 million more than Apple -- the gaps are colossal. But there is still a big opportunity as smartphone penetration increases around the world".
He emphasizes: "Vendors left in the wake of the top vendors must at the very least improve their portfolios, time-to-market and marketing, as well as communicate their differentiators. Microsoft, BlackBerry and other new OS entrants, such as Mozilla, must make the OS switch as simple as possible and drive and localize their respective app and content ecosystems".
Photo Credit: Alex Wolf/Shutterstock
Read more »
---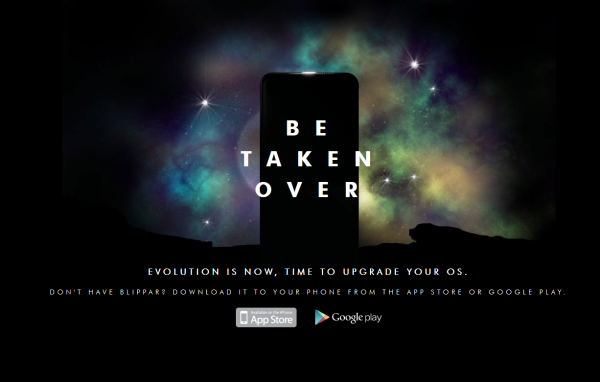 You've read all the press about the new BlackBerry 10 smartphones, and you're intrigued enough to want to know more. Well, a clever new marketing campaign lets you transform your existing iOS or Android device into a BlackBerry Z10 using augmented reality. Well sort of.
Unlike the Playboy interactive cover which uses Layar, you'll need to have the free Blippar app installed on your phone. Once done, scan the special BB Take Over Me webpage (or just scan the image here, if you prefer) and your phone will be instantly transformed into an interactive Z10. Or at least that's the theory.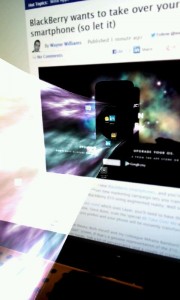 Both myself and my colleague Mihaita Bamburic found it just froze on the "Touch to start" screen. If that's a genuine representation of the Z10, BlackBerry has a real problem on its hands. Still a bit of perseverance (and a couple of crashes later) and I finally got it working.
Once your smartphone has been "taken over" you'll see lots of apps streaming out of the silhouetted phone on the web page. Afterwards you'll be taken to a demo of the Z10 running in your browser and can try out some of the device's features for yourself.
It's obviously just a bit of fun, but it's a clever idea (when it works), and one I'm sure we'll see a lot more of in the future.
Read more »
---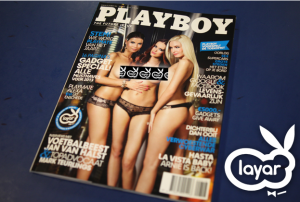 The publisher of the Dutch edition of Playboy has started adding Layar augmented reality codes to the cover and certain pages inside of the magazine, providing a little interactive treat for iOS and Android smartphone owners.
When scanned with the Layar app, the cover of the current Playboy Netherlands comes to life, showing semi-nude, partially animated clips of the three potential Playmate of the Year cover models, Beau, Nadine and Lotte.
Inside the magazine, last year's Playmate winner -- Zimra -- introduces readers to the interactive magazine in a video, and a secret page allows them to ogle 2012's worthy winner via the wonders of AR.
Other content on offer includes videos of gadgets, cars and tech, a flashback to the girls of 1984, music playlist links, movies, TV and videogame trailers, competitions and more.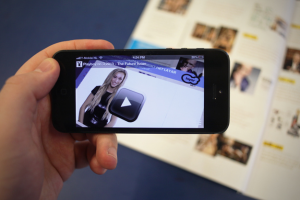 "We saw some other magazines who were experimenting with Layar," Patrick Goldsteen, editor in chief of Playboy NL explains. "This gave us some insights into what we could do with it and we saw some great opportunities to extend the experience of the magazine reader. As Playboy we have a great amount of content but are limited to the 114 pages of the magazine. With Layar we virtually have an unlimited amount of possibilities to publish extra content".
If you install the Layar app on your smartphone, you can experience the delights of Beau, Nadine and Lotte by scanning the cover for yourself. It's NSFW though, so be warned.
Read more »
---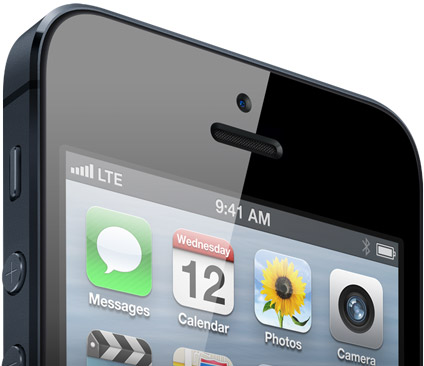 That sound you hear: Emerging markets sucking the margins out of iPhone. Gartner predicts that Chinese brand and white-box handset manufacturers will dramatically change the smartphone market's course this year. Android is likely to be the big beneficiary, while iPhone has the most to lose. Economies of scale will bite Apple, which benefits from one of the tightest supply chains anywhere. Chipset integration, for example, will allow handset makers to ship cheaper devices that are good enough, even if less than market leaders.
"The combination of competitive pricing pressure, open-channel market growth and feature elimination/integration will very soon result in the $50 smartphone", Mark Hung, Gartner research director, says. "Semiconductor vendors that serve the mobile handset market must have a product strategy to address the low-cost smartphone platform, with $50 as a target in 2013". That's right, 50 bucks, not the $650 Apple charges carriers.
Already, shifting market dynamics forebode big trouble for the fruit-logo company. While iPhone is top-seller in the United States, Androids easily own the world, buoyed much by Samsung's sales success. The electronics giant has much greater success selling to emerging markets than Apple, picking up many locales once dominated by Nokia. But what's bad for the American company could be for its South Korean competitor.
"Global, brand-name smartphone vendors must re-examine their product lineups to determine how their low-end offerings are differentiated from the competitive products offered by low-cost vendors", Hung warns. "Otherwise, brand-name smartphone vendors may want to cede this market to the white-box vendors and focus on high-end devices".
Myopic Analysis
The problem is something many American analysts, bloggers and journalists don't see. Their vision is myopic, looking at how handsets are sold here. iPhone 4 is free to a consumer buying locked device with two-year contractual commitment, which obviously is much less than $50. But in many other markets, China and India among them, consumers are accustomed to contract-free purchases -- well, except for iPhone. Carriers still pay Apple that six-fifty or more (less for the oldest iPhone available).
As less-capable smartphone prices go down, features go up and availability expands, buyers in emerging markets will buy what they can afford rather than what they might want. Stated differently: These devices will rapidly expand the low end of the market, where there is greatest growth potential, closing out iPhone, and, should Apple lower prices in response, sap margins.
Gartner hasn't yet released fourth-quarter smartphone figures, which tend to be the most accurate. While other analyst firms measure shipments into the channel, Gartner counts actual sales to end users. Past data reveals increasing demand for white-box smartphones.
Still, based on shipment data now available, emerging markets already favor lower-cost Androids to pricier Apples. For example, in the world's largest smartphone market, China, Android share reached 86 percent during Q4, compared to 12 percent for iOS, according to Strategy Analytics.
Emerging Trouble
"Smartphone shipments surged +64-percent annually in China during the fourth quarter of 2012", Neil Mawston, Strategy Analytics research director, says. "Android and Android forks together accounted for a record volume of all smartphones shipped in China last year".
Apple CEO Tim Cook calls China his company's most important market, accounting for 13 percent of revenues during the quarter, generated mostly by mobile devices.
Globally, Android surged to 70.1 percent smartphone share from 51.3 percent, according to Strategy Analytics. iOS share actually retracted, to 22 percent share from 23.6 percent -- that during iPhone 5's launch quarter. For all 2012, Android climbed to 68.4 percent from 48.7 percent, while Apple nudged up to 19.4 percent from 19 percent.
If Gartner's prediction proves true, Apple's global share -- and likely margins with it -- is likely to retract further. Samsung, which already sells lower-cost smartphones is better-positioned to adapt, also faces trouble, and the company acknowledges risk ahead. In its earnings release late last month, Samsung warns that 2012's smartphone growth would be "pacified" this year. "Demand for smartphones in developed countries is expected to decelerate, while their emerging counterparts will see their markets escalate with the introduction of more affordable smartphones and a bigger appetite for tablet PCs throughout the year".
You won't hear such warning from Apple.
Read more »
---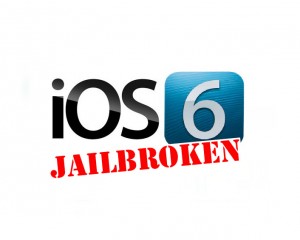 The lack of an untethered jailbreak for iOS 6.x has been frustrating for many iPhone/iPod touch/and iPad users desperate to liberate their devices, install all their beloved jailbreak apps, and apply their favorite tweaks. A friend of mine is keen to buy an iPhone 5, but hasn't purely because he's been waiting to make sure of an iOS 6 jailbreak.
Well the good news for him, and other users keen to remove the limitations on their Apple devices, is the evad3rs team has rolled out its highly anticipated evasi0n hack for all Apple hardware running iOS6-iOS6.1.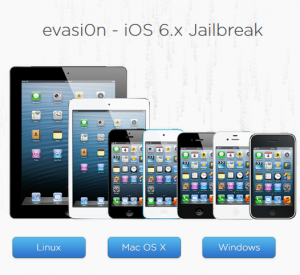 There are downloads for Windows, Mac OS X and Linux and jailbreaking your device takes five minutes and is very straightforward. Before applying the hack make sure you've backed up your device using iTunes or iCloud (triple check everything is backed up before proceeding) and disable the lock passcode feature if on. It's worth doing a fresh install, updating your device to iOS6.1 via iTunes if you haven't already done so.
The evad3rs team warns against using your computer while the jailbreak is going on (especially don't start iTunes or Xcode).
If the process halts midway through you can restart the program or reboot your device.
The important Cydia packages have been updated, so once your device is jailbroken you'll be able to get the apps you want.
Read more »
---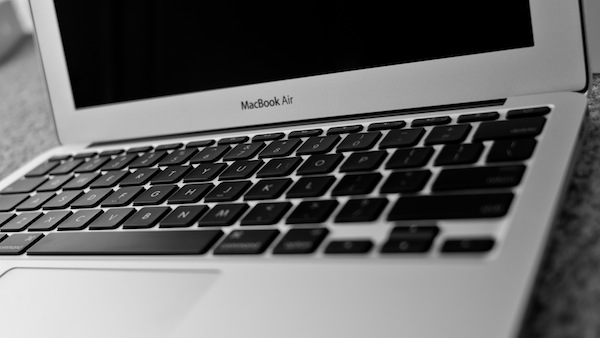 During the mainframe era, you could hear phrase: "No one is fired for buying IBM". In the 1990s and 2000s, the same could be said about Microsoft. As the so-called Post-PC era pushes forward, soon same can be said about Apple, if some IT organizations don't already. Gartner predicts that by 2014, enterprises will accept the fruit-logo as much as Windows, which is something scary for the company owning that market segment.
Consumerization of IT -- or bring your own device to work -- forced Apple on unwilling IT organizations. Now, after tasting the fruit, they like it. More of them than ever are willing to deploy Macs, which encroach on territory Microsoft seeks to claim for Windows 8.
"Although Apple's mobile iPhone and iPads are already as accepted by enterprise IT as is Microsoft, Apple's Mac systems for laptops/notebooks and desktops remain not commonly accepted by IT", David Mitchell Smith, Gartner Fellow, says. "Going forward, Apple will continue to benefit from consumerization and will continue to evolve Macs to take on more iOS characteristics, which will contribute to acceptance of Macs in the enterprise. As such, enterprise acceptance of Apple will continue to be driven by consumer demand".
According to "Good Technology's 2nd Annual State of BYOD Report", 76 percent of enterprises with more than 2,000 employees have programs in place, and the total is expected to reach 88 percent this year. However, the largest and smallest businesses are slowest adopters. Among organizations with 10,000 employees, only 46 percent have BYOD programs in place, up from 35 percent in 2011. One-quarter of businesses with less than 2,000 employees follow suit.
Apple and other Microsoft platform competitors benefit from a startling shift in costs -- to employee up rather than organization down. Good finds that in half the companies with BYOD programs, employees pay for devices and supporting services, such as cellular data for cell phones, tablets and some laptops.
Development Changes
This trend, more than perhaps any other, eases the way for enterprises to embrace non-traditional platforms, such as iPhone and iPad. Mac is next, Gartner says, but who pays is the question yet to be answered.
Apple also benefits from changes in enterprise applications development, which platform independence increases. "Enterprises are finding that they need to support multiple platforms, especially as the BYOD trend gains momentum", Ken Dulaney, Gartner distinguished analyst, says. Increased interest in mobile devices drives demand for hybrid apps that transcend established and emerging platforms. While OS X isn't emerging, many IT shops entrenched in Windows will see it that way -- then there is the Mac operating system's increasing hybridization with iOS.
There are increasing signs that Apple will close the fork between OS X and iOS, creating a single platform for all devices. Google follows similar trend with Android and Chrome OS. The question isn't so much if but when platforms merge. Meanwhile, Microsoft follows a more defi